That Kurdish sense of humor; Espionage indictments a-coming for Rove, Bolton, Wurmser?; plus Pentagon tries to get on spying in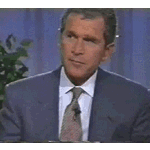 (this fun animated GIF via aethlos.com - why is that blog's author in jail? He doesn't explain..)
Spotted an interesting story on the Agonist about the future of Canada (apparently secession moves in Quebec and Alberta may come to the fore - in particular because of Alberta's rich energy reserves). Anyway, Kurdish joke on someone's .sig: "Our past is full of horror, our present is miserable, fortunately, we have no future." I like it.
When you need an Apocalypse: Left Behind III: World at War is coming out in Churches Nationwide around October 21st. Lots of them in Minnesota. Fortunately the previous Left Behinds are available via BitTorrent - send yourself to hell while finding out How it will Happen! A Double Devil Deal! On the other hand, energy policy seems to be enough to freak everyone out -- this DKos diary about Playing Chicken with the Apocalypse, about the dwindling energy resources leading to Chaos. It's ugly. For some terrible reason ever since I was little I would worry about this, so I guess you could say this problem is deeply built into my weltanschauung.
Rove might be going down over the CIA leak case. There is a lot of chatter among the rightwing guerrilla networks about indictments coming along in the next couple weeks - my guess would be Libby and Rove might get nailed for conspiracy or perjury. Bill Kristol, of all people, said this on Fox News Sunday:
Criminal defense lawyers I've spoken to who are friendly to the administration are very worried that there will be one or more indictments in the next three weeks of senior administration officials, just looking at what Fitzgerald is doing and taking him at his word, you know, being a serious prosecutor here. And I think it's going to be bad for the Bush administration.
Rove is definitely sweating hard right now. He promised Bush that he hadn't spilled anything about Plame, but it seems that he neglected to mention his conversation with TIME Magazine's Cooper to Bush -- and it had to be added to his grand jury testimony in a new session. Murray Waas on the story for National Journal:
In his own interview with prosecutors on June 24, 2004, Bush testified that Rove assured him he had not disclosed Plame as a CIA employee and had said nothing to the press to discredit Wilson, according to sources familiar with the president's interview. Bush said that Rove never mentioned the conversation with Cooper. James E. Sharp, Bush's private attorney, who was present at the president's interview with prosecutors, declined to comment for this story.

Sources close to the leak investigation being run by Special Prosecutor Patrick J. Fitzgerald say it was the discovery of one of Rove's White House e-mails-in which the senior Bush adviser referred to his July 2003 conversation with Cooper-that prompted Rove to contact prosecutors and to revise his account to include the Cooper conversation.

......

Rove on Thursday agreed to appear a fourth time before the federal grand jury, as federal prosecutors warned him that they could not guarantee that he would not be criminally charged, according to sources familiar with the investigation.

According to outside legal experts, it is rare for prosecutors to seek to question a witness before the grand jury so late in the course of a high-profile investigation and after the witness has already testified three times, unless criminal charges are being considered.
As Steve Clemons observes, Judith Miller was decidedly a huckster and a war-profiteer, (maybe worse for the Times than Jayson Blair). Clemons' saying:
As has been widely reported, she seems to have unnecessarily gone off to jail as she was protecting a source who never wanted protection. . .or she strong-armed a deal with Prosecutor Fitzgerald in which she didn't have to tell anything beyond her interactions with Vice President Cheney's Chief-of-Staff Scooter Libby.
That is, perhaps she sat in jail to protect either Ahmed Chalabi, or perhaps people around Chalabi that were channeling the fake WMD/Al Qaeda intelligence - in other words, Miller's actions might have everything to do with the dark, conspiratorial lies that got the war rolling (which Miller marketed to the American public). It seems that Judy Miller "found" some notes about early conversations with Libby - before Wilson's column seemed to trigger the Grand Plot. Lawrence O'Donnell had a couple things to say about Rove going to the grand jury again (across two posts):
What this means is Rove's lawyer, Bob Luskin, believes his client is defintely going to be indicted.

So, Luskin is sending Rove back into the grand jury to try to get around the prosecutor and sell his innocence directly to the grand jurors. Legal defense work doesn't get more desperate than this. The prosecutor is happy to let Rove go under oath again--without his lawyer in the room--and try to wiggle out of the case. The prosecutor has every right to expect that Rove's final under-oath grilling will either add a count or two to the indictment or force Rove to flip and testify against someone else.

.....

Prediction: at least three high level Bush Administration personnel indicted and possibly one or more very high level unindicted co-conspirators.


w00p w00p!!! Billmon is cackling about the possibilities of Espionage indictments.
There's a whole mesh of people that might go down over this - parts of the neo-con "core" around John Bolton, the civilian leadership at the Pentagon, and the Office of the Vice President - in other words the core of people that sold the War Lies. John Hannah, a Cheney/Bolton aide, has been under pressure and might have been flipped by the FBI. As Juan Cole put it:
Libby and Hannah form part of a 13-man vice presidential advisory team, sort of a veep NSC, which helps underpin Cheney's dominance in the US foreign policy area. Hannah is a neoconservative and old cold warrior who is really more of a Soviet expert than a Middle East expert. But in the 90s he for a while headed up the Washington Institute for Near East Policy (WINEP), a think tank that represents the interests of the American Israel Political Action Committee (AIPAC). Hannah is said to have been behind Cheney's and consequently Bush's support for refusing to deal with Yasser Arafat. But he was also deeply involved in getting up the Iraq war.
So there is your hypothetical Plame-to-AIPAC-via-WINEP scandal link. Nice!
Let's have Joe Wilson and Joe Conason bring the Office of Special Plans into the affair. (even Clean Break author David Wurmser comes into this!) Wurmser and Hannah worked for John Bolton - what if they all got indicted? From Wilson's interview this summer in Salon (via Raimondo):
[Wilson:] "Gleaned from all those crosscurrents of information, the most plausible scenario, and the one that I've heard most frequently from different sources, has been that there was a meeting in the middle of March 2003, chaired by either [Cheney's chief of staff] Scooter Libby or the vice president – but more frequently I've heard chaired by Scooter – at which a decision was made to get a 'work-up' on me. That meant getting as much information about me as they could: about my past, about my life, about my family. This, in and of itself, is abominable. Then that information was passed at the appropriate time to the White House Communications Office, and at some point a decision was made to go ahead and start to smear me, after my opinion piece appeared in the New York Times."

"Salon: You mention two other names: John Hannah, who works in the Office of the Vice President, and David Wurmser, who is a special assistant to John Bolton, the undersecretary of state for arms control and national security. Last Wednesday, their names both appeared on a chart that accompanied an article in the New York Times about the Pentagon's Office of Special Plans and the war cabal within the Bush administration. Did these people run an intelligence operation against you?"

"Wilson: I don't know if it's the same unit, but it's very clear, from what I've heard, that the meeting in March 2003 led to an intelligence operation against my family and me. That's what a work-up is – to try to find everything you can about an American citizen."
Hoax Hax0rs Subway Security - for Bush PR needs?: The recent terror alert in New York City was a hoax and NYC officials have to try spinning it. This of course is sparking a lot of cynical conspiracy-theorizing that the Bush Regime is yet again manipulating the level of fear in the public for political purposes. Those level-headed guys at Alex Jones' PrisonPlanet note an article from Capitol Hill Blue that suggests terrorism alerts are based more on political need than fact, according to the ever-popular Disgruntled Insiders. Fear's Empire is an interesting thing like that. Also reported here.
Some more espionage in the White House. Aside from AIPAC excitement and the Plame case, there was a guy on Cheney's staff spying for the Philippine opposition political figures:
Officials say the classified material, which Aragoncillo stole from the vice president's office, included damaging dossiers on the president of the Philippines. He then passed those on to opposition politicians planning a coup in the Pacific nation.
DeLay has a lasting impact on Washington: Vast networks of influence peddlers and patronage distribution systems built over the better part of a decade don't blow away overnight. DeLay Inc. still has a lot of keys to the palace. There is a KStreetProject.com that seems to be part of the DeLay machine, but I'm not sure... It claims to be nonpartisan.
Bush can get testy with uppity reporters: There was an interesting column by WaPo's Froomkin about Bush getting hassled by NBC's Matt Lauer about photo-ops, while appearing at some kind of home rebuilding photo-op. Also he had an interesting followup about "plucky" Irish TV reporter Carole Coleman, who had a really funny interview. Coleman had a column in the UK Times about it. "I wanted to slap him," a great headline. Excellent:
"You were given an opportunity to interview the leader of the free world and you blew it," she began.

I was beginning to feel as if I might be dreaming. I had naively believed the American president was referred to as the "leader of the free world" only in an unofficial tongue-in-cheek sort of way by outsiders, and not among his closest staff.

"You were more vicious than any of the White House press corps or even some of them up on Capitol Hill . . .The president leads the interview," she said.

"I don't agree," I replied, my initial worry now turning to frustration. "It's the journalist's job to lead the interview."

It was suggested that perhaps I could edit the tapes to take out the interruptions, but I made it clear that this would not be possible.

As the conversation progressed, I learnt that I might find it difficult to secure further co-operation from the White House. A man's voice then came on the line. Colby, I assumed. "And, it goes without saying, you can forget about the interview with Laura Bush."
Miers: The New Cipher: I can't really believe that things are flaking apart so badly on the right-wing side. "As Bush slips, GOP faces major shift in '08 vote". Agonist has a bit of the Nelson Report on Miers:
More pragmatic conservatives read the nomination of the President's personal lawyer, a Texas associate with no judicial experience, as a confession of weakness by a White House political operation which is still floundering in the wake of months of bad news from Iraq, Republican scandals on Capitol Hill, then Katrina, followed by more scandals. Bush can't win a really divisive fight with Congress, this reasoning goes...nor, at this point, does he want one. With three years still to go, he is already at risk of being written-off as a "lame duck" by his own Republicans, most of whom plan to run for reelection.

The Dems definitely smell opportunity come 2006, and you can see a leading indicator...attractive candidates are emerging to challenge Republican incumbents, while presumably strong Republicans are refusing to risk fights to unseat potentially vulnerable Democrats: see prime examples in West Virginia, where the almost 88-year old Sen. Robert Byrd won't face a popular GOP House member, and similarly strong Republicans have been scared-off in North Dakota, Washington, State, Florida, Michigan and Missouri.
Everyone gets apoplectic about these judicial selections but I just can't bring myself to worry about it that much. Let this link to some sort of relaxed reporting from PrisonPlanet indicate how much I care. Anyone who covered up Bush's National Guard behavior is square with me!!
Pentagon domestic spying measures sneak into a bill: Maybe all these visits to my site from the DoD, the CIA and DHS will finally make something happen. Newsweek reports (via WarAndPiece - there's an official PDF report along with it):
...the Senate Intelligence Committee recently approved broad-ranging legislation that gives the Defense Department a long sought and potentially crucial waiver: it would permit its intelligence agents, such as those working for the Defense Intelligence Agency (DIA), to covertly approach and cultivate "U.S. persons" and even recruit them as informants—without disclosing they are doing so on behalf of the U.S. government. The Senate committee's action comes as President George W. Bush has talked of expanding military involvement in civil affairs, such as efforts to control pandemic disease outbreaks.

The provision was included in last year's version of the same bill, but was knocked out after its details were reported by NEWSWEEK and critics charged it could lead to "spying" on U.S. citizens. But late last month, with no public hearings or debate, a similar amendment was put back into the same authorization bill—an annual measure governing U.S. intelligence agencies—at the request of the Pentagon. A copy of the 104-page committee bill, which has yet to be voted on by the full Senate, did not become public until last week.

At the same time, the Senate intelligence panel also included in the bill two other potentially controversial amendments—one that would allow the Pentagon and other U.S. intelligence agencies greater access to federal government databases on U.S. citizens, and another granting the DIA new exemptions from disclosing any "operational files" under the Freedom of Information Act (FOIA). "What they are doing is expanding the Defense Department's domestic intelligence activities in secret—with no public discussion," said Kate Martin, director of the Center for National Security Studies, a civil-liberties group that is often critical of government actions in the fight against terrorism...
Total dysfunction between DHS and local police? DHS 'hi-jacked' state police intel network? Another bad day for the National Insecurity State. UPI reports that local law enforcement are breaking off their connections from the Department of Homeland Security (via WarAndPiece):
Relations between the Department of Homeland Security and some key big-city and state police forces have sunk to a new low, CQ Weekly reports. The magazine's "Spy Talk" column, says the flow of intelligence data between the department and many local forces has been at a virtual standstill since May.

At the center of the row is a previously undisclosed May 7 letter to the department from Ed Manavian, chairman of the Joint Regional Information Exchange System, or JRIES -- a state and local police intelligence and information-sharing network.

In the letter, addressed to the director of the Homeland Security Operations Center, retired Marine Gen. Matthew Broderick, he called the decision to cut ties "unfortunate."

"[W]e must inform you that the Board unanimously voted to discontinue our relationship with the (Homeland Security Operations Center)," wrote Manavian, who is also chief of the California Department of Justice's Criminal Intelligence Bureau. The letter added it was a "difficult, but necessary, decision."

"The consensus of the Board is that the (Homeland Security Operations Center) has 'hi-jacked' the system and federalized a successful, cooperative, federal, state, and local project," Manavian wrote. "The failures . . . are a direct result of ignoring the concerns expressed by this Board on numerous occasions."
Perpetual Emergency Spending: The Katrina thing just illustrates that the Bush folks label everything as emergency spending to duck pressure about blowing through our cash and writing treasury notes to the Chinese as fast as they can.
Emergency Spending as a Way of Life:

In approving Mr. Bush's request for $51.8 billion in emergency assistance, Congress passed a three-page law with fewer than 700 words.

Here are the details: $1.4 billion would go to the military, $400 million would go to the Army Corps of Engineers and $50 billion would go for anything else tied to what was described only as "disaster relief."
TheBigPicture talks about Federal Off Balance Sheet Funding - it keeps going up and up! Also government oversight functions seem to have deteriorated badly as reflected by Katrina.
Iraq: Democracy == War: "Iraqis' Broken Dreams". "Hiding as police, militias hold the power in Basra." "Constitutional vote could spell the end for Iraq's unpopular premier". I would recommend this talk on CSPAN with Yosri Fouda, Al Jazeera's London Bureau chief (RealPlayer). It is a long one but full of the interesting shades of gray and so forth. Jazeera, by the way, is starting up an English language satellite international news service with the BBC's David Frost. Josh Rushing, the former Marine spokesman as seen in the documentary Control Room, is joining as a reporter. Nice.
LA Times: "A Central Pillar of Iraq Policy Crumbling:"
Senior U.S. officials have begun to question a key presumption of American strategy in Iraq: that establishing democracy there can erode and ultimately eradicate the insurgency gripping the country.

The expectation that political progress would bring stability has been fundamental to the Bush administration's approach to rebuilding Iraq, as well as a central theme of White House rhetoric to convince the American public that its policy in Iraq remains on course.

But within the last two months, U.S. analysts with access to classified intelligence have started to challenge this precept, noting a "significant and disturbing disconnect" between apparent advances on the political front and efforts to reduce insurgent attacks.

Now, with Saturday's constitutional referendum appearing more likely to divide than unify the country, some within the administration have concluded that the quest for democracy in Iraq, at least in its current form, could actually strengthen the insurgency.
Indeed. NewsDay has the sad headline: "Iraq struggling to survive: Doubts about the future of the war-torn country are growing as citizens prepare to vote on a constitution". I am cynical about Mr. Makiya because it seems as if he may have been tied to the INC's fake intelligence (his house was raided when the Pentagon finally turned on Chalabi), but he seems to get it these days:
"Sectarianism and ethnic self-interest" have led to the writing of a document that divides Iraq along ethnic lines, "perhaps even dealing the death blow to the idea of Iraq that had sustained the opposition for so many years," Kanan Makiya, a Brandeis University professor and Iraqi exile, said at a conference in Washington last week.

It was Makiya, a former ally of Iraqi National Congress leader Ahmed Chalabi, who President George W. Bush chose to join him in the Oval Office to watch as a statue of Saddam Hussein was pulled down after the invasion in 2003. Iraq's problems, driven by the relentless insurgency, have produced "so many dashed hopes and fledgling dreams" that they may have destroyed "the very idea and the very possibility of an Iraq," Makiya said.

Rahim, once the public face of the new Iraq in Washington, said at the AEI-sponsored conference that she agrees with Makiya. The new constitution is so full of ambiguities and creates such a weak central government that it may "spin the state out of control," she said.

........

What it does make clear is that a weak central government in Baghdad would have little control over three regions likely to be carved out for Kurds in the north, Shia in the south and leftover Sunnis in the center. This structure is bitterly opposed by the Sunnis, who would be left with no natural resources or means of support, and threatens to drive even moderate Sunnis into the arms of the insurgency, the experts say. The regions would have the power to veto most national laws, and the central government would not have the authority to enforce its own laws or the constitution, according to experts.

Perhaps most importantly, the ambiguity extends to what many experts describe as the most important issue of all: how Iraq's oil riches would be divided. According to some interpretations, current oil reserves would be divided nationally, but newly discovered oil would belong to the regions, likely providing a windfall for the Shia in the south.

.......

Phebe Marr of the U.S. Institute of Peace, considered by many the leading U.S. expert on Iraq, said in an interview that the creation of a "Shiastan" region of the nine provinces in the south could lead to "an arc of instability" through the Sunni center and the eventual dissolution of Iraq.

.......

Despite Pentagon claims of an emerging Iraqi military force that will soon be capable of taking over the nation's defense, "there is no integrated army. What is there is [ethnic] militias," she said.

Marr said many Iraqis believe that Hussein's Baath Party supporters will one day reclaim the Sunni center of the country by promising stability and honest government. "I am frightened to death of this scenario," Marr said.
On the Zarqawi fact v. fiction line, consider this bit of an interview with Iraq's Vice President (via Juan Cole):
[Tu'mah] How do you see the security challenges facing Iraq, and is [Abu-Mus'ab] Al-Zarqawi fact or fiction?

[Abd-al-Mahdi] Al-Zarqawi is not a myth. He is real. This man is wanted first of all by the Jordanian government. He issues statements. He has a known history and his name was used. He is real, and the actions he commits are not fiction: the killings, death and explosions. The security challenge is really great since it has ramifications and complications, foremost among which are the remnants of the former regime who form the basic infrastructure of terror and sabotage, in an attempt to put the clock back and stop the political process by resorting to the methods of the former authorities, terrorizing people and holding them hostage.
One of those things that seems less true the more you hear it. Cole also notes:
Iraq issued indictments against 27 officials of the government of Iyad Allawi, charging them with over $1 billion worth of fraud. The accused include the Minister of Defense, Hazem Shaalan, and 4 other cabinet ministers. Most of these former officials, installed by old-time CIA asset Iyad Allawi when he was shoe-horned in as prime minister by the US and the UN in late June 2004, have fled the country.
In the same post he adds that 59% of the American public wants the troops out as soon as possible.
Jon Stewart mocks the magazine industry while making $150,000 and asking the publisher of Men's Health why his mag is "so gay?" Hahah nice.
Bob Woodward predicts Cheney Vs. Hillary 2008. And that alone is worthy of picking up a serious heroin habit.



'Ashton Kutcher Hacked' Hoax: apparently the recent Ashton Kutcher Hacked incident was as much of a hoax as the latest NYC subway alert. Fortunately the perpetrator (of zug.com) has explained what fun he had in generating a huge media storm, and subsequently planting the widespread rumor that Demi & Ashton were faking their proposed marriage.
ECONOMICS sux0rs! This Delphi bankruptcy thing is sketchy. Some analyst at Banc of America is now saying that there's around a 30% chance that GM will declare bankruptcy within a few years. Steve Clemons notes that top Delphi executives are going to try to make off with lots of Golden Parachute cash while leaving bondholders screwed. Morgan Stanley guy says (via the Agonist):
Delphi's bankruptcy is a big deal. It is emblematic of a new set of pressures bearing down on the US. The global rebalancing framework that I continue to embrace suggests that the world's growth and asset return dynamic has only just begun a major tilt away from the US and dollar-based assets. If that's the case, America will have little to offer in a low-return world for risk-averse and yield-hungry investors. Could Delphi be the long awaited wake-up call that drives this realization home?
We'll have some more econ stuff later...


Total disease paranoia: What would quarantines look like? Enforced by military firebombs a la Outbreak? Times UK notes that the leaked disaster plan indicates that we are DOOMED.
No bid, bitches! Cheney still has some fat stock options with Halliburton - more than 433,000! Nice. He receives more than $200,000 a year in that deferred compensation, and the stock options have increased in value 3,281%, up to $8.17 million. NICE (via Agonist)
That's Fucked Up: The War Porn guy got arrested for distributing obscene material - the dead bodies and so forth. Which begs the question of whether killing those people was in fact, a much worse, criminal obscenity.
It's up to Fitzgerald to now prove that the real criminal obscenity was the war itself, and the way its architects ruthlessly crushed anyone who tried to stop them.