Fear the Bear! Russians provide Saddam war intelligence, or is it more DC neo-con perception management? (fear, PSY OPS & en
I am going to be in Arizona until April 2. Until then I don't know if anyone is going to post or what, although I'll try to put up some photos and stuff. In the meantime, enjoy a retro-cold war disinformation conspiracy theory... Why not?
March 24: Pentagon report says Russia gave Iraq intelligence (Reuters)
Russia provided intelligence to Iraq's government on U.S. military movements in the opening days of the U.S.-led invasion in 2003, a Pentagon report released on Friday said.

The report said an April 2, 2003, document from the Iraqi minister of foreign affairs to President Saddam Hussein stated that Russian intelligence had reported information on American troops plans to the Iraqis through the Russian ambassador.

....Army Brig. Gen. Anthony Cucolo of U.S. Joint Forces Command told a briefing he viewed Russia's decision to give intelligence to Saddam's government as "driven by economic interests." The report noted Russian business interests in Iraqi oil.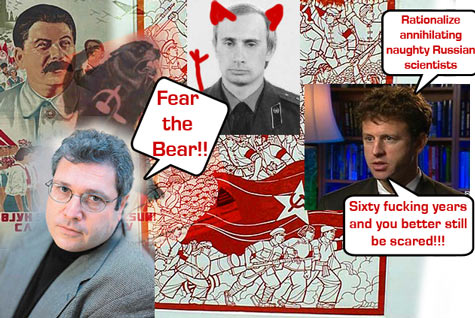 Let us take a gander at those oil contracts, via the famous Cheney Energy Task Force Iraq document collection from Judicial Watch (PDF of this page):



And I am putting up this classic Cheney Energy Task Force map (PDF) because it says way more than a thousand words (remember, this is older than 9/11 - March 2001, to be exact). I have fast hosting now and I just love this damn map and its "exploration blocks" that need to get taken away from the damn Russians. With guns. Classic imperialism. Ok, that's old news.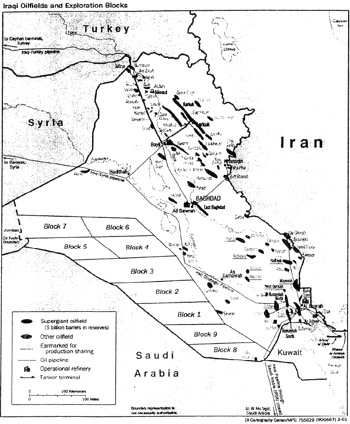 Ok ok, we know about the map, but what does this have to do with these new claims about Russian intelligence in the war? The Russians played some role giving Iraq military goods, including, it has been said, tactical training for soldiers and night vision gear, right up until the low-grade bombing war (10+ years) upgraded to a full invasion in March 2003.
So now the line out of the Pentagon is that the Russians were actively supplying tactical combat intelligence of sorts to Saddam Hussein, and there's some rumor of Russian moles in Qatar or something. It would be interesting if it were true, but I wouldn't really be angry with the Russians because there is no law from God that they couldn't tell Saddam jack shit (and what they did tell, wasn't really helpful, if its true).
However, what we should consider is

A) is this a propaganda front designed to reactivate the classic American hatred of Russians?

B) is this designed to prepare the American public for the dozens of Russian scientists that would be killed if the U.S. or Israel attacks Iran?

C) is this yet another example of some bastards in Washington using petty forgeries (see the Niger Uranium classics) to control perceptions, creating an atmosphere of fear and instability, and in turn offering the ruling party as the solution to the public's constructed fears? (thanks Anti-Flag - the new album fucking rules by the way)
Well, of course Wayne Madsen has a comprehensive claim that this is all a propaganda front from the usual DC bastards that brought us all the original fake Iraq intelligence in the first place. Basically, since the days of Team B scaring everyone about the Russians, they have made a 30-year career of scaring the shit out of people.


Even if this information about the Russians is true, this is exactly the kind of electoral engineering of perception that we have to expect before the election. They call it the October Surprise for a reason!!
Wayne Madsen Report, March 25 2006. Take it for what you will:
The Pentagon's role as a source of media disinformation. First it was the Office of Northern Gulf Affairs, which morphed into the Office of Special Plans. Both served as conduits for neo-con propaganda spewed forth by the American Enterprise Institute (AEI), Heritage Foundation, Washington Institute for Near East Policy (WINEP), the Hudson Institute, the American Israel Public Affairs Committee (AIPAC), among others prior to the invasion of Iraq.

Now the Pentagon has issued an "unclassified report" stating that in the lead up to the U.S. invasion of Iraq, Russia obtained war plans and planned U.S. troop movements from "inside the American Central Command." The Russian Foreign Intelligence Service (SVR) denied the charge, stating that "similar, baseless accusations concerning Russia's intelligence have been made more than once."

The Pentagon cited as its source two captured Iraqi documents that describe Russian penetration of the US Central Command in Qatar. However, the Pentagon's story later changed. The revised story stated the Russian obtained the war plans from signals intelligence intercepts of pre-war U.S. military communications. In either case, the citing of "captured" Iraqi documents has been used in the past to falsely implicate various anti-war international politicians with being in league with Saddam's "Oil for Food" program. Many of these "captured" documents were forgeries emanating from notorious Iraqi con man Ahmad Chalabi. Bogus Niger government documents were forged by a neo-con cabal based in Rome, Washington, and Jerusalem to justify an attack on Iraq based on non-existent weapons of mass destruction.

The information contained in the two "secret" Iraqi documents could have been obtained from any number of open sources, including Jane's Defence Weekly. The "sic" appearing next to "special forces unit 'Papa'" in the purported Iraqi documents is a clue to a forgery. The standard NATO/DoD phonetic code for the letter "P" is "Papa." Why the authors would indicate a possible misspelling of Papa in the document is curious unless its because the real authors include some of our most noted neo-con draft dodgers who are unfamiliar with U.S. and NATO military nomenclatures. The two secret Iraqi documents are handwritten and contain no official government seal or stamps, another clear indication of a forgery. Update: The memo dated March 25, 2003 is also a likely forgery because of the use of the Western calendar and not the lunar Muslim Hijri calendar used in many Arab and other predominantly Muslim countries. The Muslim date would have been 16 Muharram 1424.

The neo-con stranglehold on the Pentagon continues to permit this cabal of provocateurs and dual loyalists to pump out false charges in an attempt to damage relations with Russia and President Vladimir Putin as Russia continues to push for negotiations with Iran and lay the possible groundwork for Russian casualties at Iranian nuclear facilities in the event of war with Iran. Neo-cons would argue that such casualties were legitimate considering previous Russian support for Saddam against the United States.

In fact, the Pentagon neo-cons now have more power than ever considering the current presence of anti-Russian neo-con-influenced governments in Poland, Ukraine, and Georgia. Polish Defense Minister Radek Sikorski, an AEI alum and colleague of Richard Perle and Michael Ledeen, is married to the Washington Post's Anne Applebaum. All four are virulently anti-Putin, especially since Putin began cracking down on the Russian oligarchs who looted the USSR's treasury and resources and made themselves instant billionaires, at the expense of the peoples of the former Soviet Union.

Over 70 percent of Russian and Ukrainian oligarchs carry Israeli passports. Ukraine President Viktor Yuschenko's wife, Kateryna Chumachenko Yushchenko, is an American citizen and held positions in the Reagan White House that were directed against "the evil empire." She was, and remains, close to the leading neo-con war hawks of the Reagan years, including Perle, Ledeen, Douglas Feith, Paul Wolfowitz, and Ken Adelman. Georgia's President, Mikhail Saakashvili, in an anti-Putin U.S.-trained lawyer who ousted his predecessor in a U.S.-financed and supported coup backed by oil companies like Halliburton and Exxon Mobil. In addition to the offices of AEI, AIPAC, Hudson, WINEP, and Heritage, in addition to the Pentagon, the embassies of Poland, Ukraine, and Georgia in Washington have become virtual neo-con nesting places, working overtime to formulate all sorts of anti-Russian propaganda aimed at destabilizing Russia and toppling Putin. They are assisted in these efforts by the US Mission to the United Nations, which under arch neo-con John Bolton, has become a favorite off-site meeting place for Washington-based neo-cons right in the middle of Manhattan.
If it's all true, it's one hell of a problem. How do we, as sane Americans and non-Americans, deal with a Pentagon that is attempting to manipulate all these public perceptions? What is the appropriate response to this problem? Maybe this is all too wild. But I just loved how the whole thing was framed by the usual dickheads in DC thinktanks, in this article in the LA Times:
Russians Told Iraqi Regime of U.S. Troop Movements By Peter Spiegel and Greg Miller: March 25, 2006

....But the documents, made public in a study of the Iraqi military's decision-making, are the first to assert that Russia actively passed sensitive military intelligence to Baghdad during the war.

"This is one step short of firing upon us themselves with Russian equipment," said Michael O'Hanlon, a military analyst with the Brookings Institution. "It's actively aiding and abetting the enemy tactically. It's hard to get more unfriendly than that."

Kevin Wood, a retired Army officer who served as the senior researcher and chief author of the study, said he was surprised when he learned of the Russian actions...... But Frederick Kagan, a Russia and defense expert at the American Enterprise Institute, said the actions would not be out of keeping with other efforts by Moscow to advance Iraq's cause internationally.

"We knew the Russians were opposed to the sanctions; we knew they opposed the war," Kagan said. "I'm not terribly surprised." Analysts also said it would be important to learn whether upper levels of the Russian government were involved, adding that the signals were more likely to have come from diplomatic and intelligence agents in the region rather than from Moscow.

It also was unclear how much of the information was genuine intelligence and how much was educated guesswork.

Regardless, the revelations could undermine efforts to forge a united front against Iran's nuclear program.

"I think we have to assume that we can't trust the Russians to be impartial or even honest with us," Kagan said. "The Russians have ties with the Iranians that are also very worrying."
So Kagan is demanding that you personally should start to hate the Russians on his behalf at the end there. Shocking. Time will tell, if this just fades away, if it is proven to be true. We'll keep an eye on this one. By the way, here is a clip of O'Hanlon saying a crock of shit on CNN in 2003 about Saddam's weapons.
On random yet interesting notes: Global Guerrillas: STARTING AN OPEN SOURCE WAR. This was buzzwordy but interesting. Papers Show Split in Nixon-Iraq Policy
WASHINGTON (AP) - The Nixon administration was split over whether to try to improve relations with Saddam Hussein's Soviet-allied Baathists in Iraq, State Department documents released Thursday show.
Who is Satan? No one trusts the atheists these days. It must be a carryover from the Cold war. I feel like a Russkie!
Commenting on this Story is closed.