Gartrell scores Associated Press story on old miners
Over the weekend, our man Peter got a story about retiring Wyoming mine workers picked up by the Associated Press & the Casper Star Tribune. Peter works at the Gillette News-Record these days. The last 14 days of Peter stories are here.
Aging in the coal mines

By PETER GARTRELL

The (Gillette) News-Record Monday, April 03, 2006

GILLETTE (AP) -- Meet Lee Yake. He has 25 years of experience working in Powder River Basin coal mines.

A couple of years ago, he decided he'd had enough of the long hours and that it was time to retire. At 59, he is his own boss after buying Industrial Alternators and Starters. If offered him a good change of pace, and provides him with a business he plans eventually to turn over to his son, Terry.

Standing in front of shelves filled with rebuilt starters and alternators for every size of vehicle from pickups to 300-ton haul trucks, Yake said many of his friends who began working in the mines during the 1970s are also considering retirement.

"There's a lot of people that started back when I did that aren't in the Social Security range," he said. "Most of the guys I've seen around, they've had enough."

When they leave, they will take with them a wealth of knowledge.

Meet Dave McElhiney. The 46-year-old former sheriff's deputy has been working as a mechanic for Powder River Coal's Caballo mine for the past four years. That's long enough to know that more than one of his co-workers is eying retirement.

"I got one that's retiring in March, one that's retiring at the end of the year and a bunch that are retiring in three to five years," he said.

He worries that when people like Yake begin to clock out for the last time, they will take with them critical knowledge. For example, not many new hires can modify older machinery and bring it up to code.
Also On NewWest.net, a blog-style site about the western US, notes Peter's contribution to ongoing discussions of the western coal industry:
Black Butte Coal Co. estimates the extra 1,400 acres would bring production up to 1.5 million to 3 million tons of coal over about 20 years. But, as Peter Gartrell from the Gillette News Record reports, the question remains: With many of the old-time coal miners nearing retirement, is there a new generation willing to take over?
Yea Peter, you go man!!! (file photo)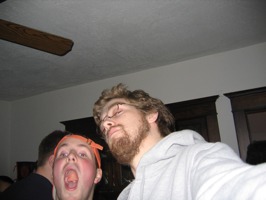 Commenting on this Story is closed.