My aunt's "Tangled up in Bob: Searching for Bob Dylan" Dylan documentary set for Dylan Days in Hibbing this weekend; Am I relate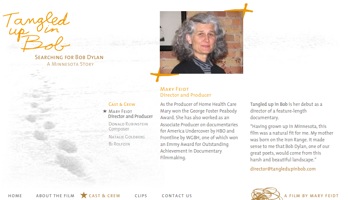 My aunt Mary Feidt has worked on documentaries for a long time. Long ago she used to work at the WCCO investigative unit, and since then has been involved with a number of major projects including HBO's America Undercover and PBS Frontline. After quite a few years of painstaking work, the first documentary she's fully produced and directed, "Tangled up in Bob: Searching for Bob Dylan: A Minnesota Story" is going to be aired to Dylan's hardest core of fans at Dylan Days in Hibbing tomorrow, though it was formally released a while ago. It's also going to be screened Friday and I'll probably go up with my dad and Uncle Dan to check that out. Here's the press release.
It was a long slog of a production. They got in a bad car accident at University & Snelling after shooting around Dinkytown (everyone knows that Dylan lived where the Loring Pasta Bar is today. This is below the Witch's Tower that I tend to associate with being all along the Watchtower, but that's just me). I have heard about the production process on a number of Macs, using Final Cut Pro and about 5 portable hard drives.
One of the tough things was that, unlike that p0nk Scorcese, they could not license any of the music for the production, which is a big deal for legal matters and distribution. This meant that a lot of weird and unknown gems that they uncovered from visiting eccentric Canadian guys couldn't go in. However, there was still a bit of Fair Use law to skirt, such as when Dylan's old High School English teacher sings along to a song – that was apparently enough of a critical modification to get by.
The following was featured in StarTribune's ItemWorld on Jan 19 but has since vanished off their site:
Bob Dylan, M.I.A.

I.W. felt right at home in Taos, N.M., last week when author Natalie Goldberg ("Writing Down the Bones") and Minneapolis-bred filmmaker Mary Feidt premiered their mini-documentary on Bob Dylan's Minnesota roots. "Tangled Up in Bob" (www.tangledupinbob.com) follows Goldberg's search for the former Bobby Zimmerman to Minneapolis, where she interviewed buddies Erik Storlie (meditating on icy Lake Calhoun) and John Palmer (serving cheese at the Wedge Co-op). Then off to Hibbing, where she wormed her way into Dylan's childhood home and fell in love with Bobby's high-school English teacher BJ Rolfzen, who called Dylan "the Shakespeare of our time." Musicians Spider John Koerner and Tony Glover also make cameos, but Dylan, per usual, remains elusive. As Glover recalled a 1959 encounter in Dinkytown, Bobby boasted he'd been out West, but "we suspected he'd gone to visit his folks in Hibbing."Tangled" will air May 24 at Hibbing's Dylan Days. -LINDA MACK
On a side note, MPR has a music wiki with a Dylan entry?!?!
The movie has been noted here, and its premiere at the trippy Mabel Dodge Luhan House in Taos, NM is noted here. And by trippy, I mean that Aldous Huxley, DH Lawrence and the gang probably took a lot of peyote there, and Lawrence painted the bathroom. My family stayed there once and this room was sweet. Odd coincidence. Anyway.
The film is also being screened at a Zen Center in Mary's current home of Santa Fe on May 31. It's been linked to at this Dylan site. In 2004, MPR's Cathy Wurzer did an interview with my aunt.
Oh yah, the bonus thing. I might be related to Bob, actually, via my mom's family. My mom's grandfather was a Zimmerman (or Zimmermann) from Duluth. Bob's family were Zimmermans from Duluth. How man Zimmermans could Duluth have had in those days? (I guess that would make me a bit Jewish too. Shalom!)
Major story in the Duluth News Tribune:
Dylan, revisited: HIBBING: A new documentary on Bob Dylan's early influences ends up as an ode to the Midwest.

BY LEE BLOOMQUIST - NEWS TRIBUNE STAFF WRITER

HIBBING - Like many Bob Dylan fans, filmmaker Mary Feidt and her friend Natalie Goldberg, a creative writer, came to Hibbing to learn more about the songwriter's formative years.

They came away with much more.

"We kind of marched around and did things that people would do as a fan," said Feidt, a filmmaker from Santa Fe, N.M. "We went to B.J.'s (Dylan's high school English teacher B.J. Rolfzen) house, and B.J. started talking. After about 10 minutes, I said, 'We have a story.'

"What we found out is that this is an interesting town and an interesting part of the world. This (film) is as much about Hibbing as it is about Bob Dylan. It's about how the place where you grew up affects who you are." "Tangled up in Bob," a 68-minute documentary tracing Dylan's upbringing in Hibbing, gets its first public screening at 7 p.m. Wednesday at the Hibbing Community College theater. The screening kicks off Dylan Days -- a music, writing and arts celebration.

This year, the event includes a "Blood on the Tracks" concert, a singer/songwriter competition, literary readings and a bus tour. Dylan was born in Duluth as Robert Zimmerman and raised in Hibbing. His 65th birthday is Wednesday.

"We've been getting a lot of attention every year," said Aaron Brown, Dylan Days spokesman. "We get a lot of Dylan pilgrims who have followed Dylan's career, and we've gotten international attention." Feidt's original film, more than three years in the making, will be the center of attention on the opening day of the four-day event.

Feidt and Goldberg first came to Hibbing in December 2003 to begin filming. Goldberg is a native of Long Island, N.Y., who now lives in Santa Fe. "When we went up there, the idea was believing that Dylan was a genius and the voice of our generation," Feidt said. "We said, 'Let's see if this place has anything to do with what you've become.' We did find out a lot about him. I believe he took a lot of things from Hibbing that were a part of his life."

In the film, Goldberg acts as a guide. She talks to Hibbing residents who knew Dylan, visits local sites linked to Dylan and has a coffee conversation with Rolfzen at his home. "It's just a wonderful film, and ultimately it's not about Bob," said Goldberg, the author of 10 books that have been translated into 14 languages. "It's about all of us. It's really more about Hibbing, place and the Midwest. It's a sweetheart poem to Hibbing."

During filming, Goldberg said she fell in love with Hibbing and its people. "To tell you the truth, I expected them to be more rough," Goldberg said. "What I found were people that are open, warm, intelligent and accepting of us. I just came back from France, and I tell you what -- I'd rather be in Hibbing."

Dylan gained a lot from Hibbing, she said. "If you read 'Chronicles,' he talks about the weather all the time," said Goldberg. "And even now, on his first radio show on XM Radio, his first show was about the weather. I also think he was influenced in that he continued making new songs and not just playing the old ones," Goldberg said. "And that's a Minnesota value."

The film has received a private showing in Santa Fe. After its debut in Hibbing, Feidt hopes to show it at film festivals and release it to the public.

In addition to footage shot in Hibbing, the crew traveled to Shreveport, La., to interview radio personalities who worked at KWKA, an AM station that Dylan listened to as a youth, and from which he ordered rhythm and blues records. Another portion of the film is shot in Dinkytown, a coffeehouse neighborhood in Minneapolis that Dylan frequented. Dylan's fascination with polka music and with his Jewish heritage on the Iron Range also are explored in the film. Iron Range people and local scenes are shown.

"I wanted to go home to Minnesota and tell a story," said Feidt, whose mother grew up on the Iron Range. "It's kind of a valentine to Minnesota."

The film isn't a Dylan biography, she said. Instead, it's designed to leave viewers pondering how their childhood affected their adult life. "There's a story of a Dylan childhood everywhere," Feidt said. "In the last scene, she (Goldberg) goes home to her hometown. It's all sort of about what she learned about Dylan and herself. What we learned is you can go looking for Bob Dylan in Hibbing, but you won't find him -- you may find somebody else."
Commenting on this Story is closed.