Yellowcake breakout & Black PSY OPS: DC insiders go on the record to label the Niger forgeries White House "Black Propaganda
"To me there is no benign interpretation of this," says Melvin Goodman, the former C.I.A. and State Department analyst. "At the highest level it was known the documents were forgeries. Stephen Hadley knew it. Condi Rice knew it. Everyone at the highest level knew." Both Rice and Hadley have declined to comment.
The great Meta-Story – the major narrative, the center of gravity of the past few years – is the "core reality" of why the war in Iraq started, and its interesting corollary, the Republican claim that "investigations will make us sad and hurt America." More or less, all along, the plan was to scare the shit out of America and make the Democrats appear weak. This was done by planting fake stories about evil foreign menaces, and as time goes by, more and more details about this essential backdrop to the 'War on Terror' burble up from the morass of this young, dumb century.
The story of the Niger forgeries is definitely woven into the major Bush Administration scandals - the fake war intelligence, the AIPAC spy scandal, the Chalabi-defector manipulations, and it directly spawned the Valerie Plame scandal. When Plame's husband publicly called out the forgeries, Scooter Libby and others "outed" his wife as a CIA agent, more or less because they wanted to "play dirty" to defend fake elements of the war propaganda, such as the forgeries.
On March 14, Senator Jay Rockefeller IV, the ranking Democrat on the Senate Intelligence Committee, wrote a letter to F.B.I. chief Robert Mueller asking for an investigation because "the fabrication of these documents may be part of a larger deception campaign aimed at manipulating public opinion and foreign policy regarding Iraq." But Senator Pat Roberts, of Kansas, the Republican chair of the committee, declined to co-sign the letter.

Then, on March 19, 2003, the war in Iraq began.
The core of the war's meaning is a kind of elusive ghost, having iterated through WMD paranoia, the fun of Democracy Building, the heavily implied 9/11 link, Palestinian militant financing, and of course a handy sense of racism and imperial control fantasies, along with the often acceptable oil seizure (and for quite a few million fundamentalists, cleansing Babylon of evil, clearing a path for Zion and the Second Coming).
We should observe that Iraq's WMD chase distracted the army from stabilizing Iraq, saving its bureaucracies and businesses, and instead sent it on wild goose chases for mustard gas shells in the desert. So this deception, labeled "classic psy-ops" in the article, not only started a 'fake war', it directly killed American soldiers and thousands of Arabs. These fuckers are going to prison, someday.
The dicey thing about the invasion of Iraq was that it was a 'heavily engineered' event in history, and the vast majority of reporters and media people can't quite handle the problem, though they're finally getting better. To a true conspiracy theorist, "engineering" is always behind everything, while in reality, historical events come around as much as by chance, self-delusion among leaders (groupthink) and social trends. However, the Iraq war was a centrally propagated, mean little joke on history, and its perpetrators were clustered in the DC beltway. Crucial points that persuaded Congress to support the war were based on planted information and disinformation, subverting the democratic public's ultimate right to make the biggest decisions of war and peace.
Let's summarize what is pretty much known: Basically, in a nutshell, some neo-cons (widely thought to be Michael Ledeen and his boys like Michael Maloof and Larry Franklin) planted Niger government documents forged in French to the U.S. embassy in Rome, using shady Italians to cover their tracks as "cut-outs." Ledeen, a top neo-con all-around, and his allies like John Bolton, Scooter Libby, Douglas Feith, Paul Wolfowitz, David Wurmser and a pretty narrow cluster of people used this planted intelligence to spread terrifying stories like "Saddam is getting the Bomb" and "he is allied to this big Zarqawi conspiracy" throughout 2002, preparing Americans to accept another war.
Ledeen is also suspected to be tied to this scheme because he spent a long time in Italy hanging around with crazy right-wing P2 Masonic Lodge types (P2 is Propaganda Due - known for doing cool shit in the Vatican Bank scandal and Operation Gladio - a covert European strategy during the Cold War, intended to suppress Communists and leftists, which spawned all manner of strange and perhaps mythical episodes of rightwing violence, "false flag" incidents, intended to psychologically manipulate the public - or so say disputed Wikipedia articles.). Ledeen developed a loving interest in "Universal Fascism", more or less.
One strange thing is that any low-level analyst could determine they were forgeries because they were incredibly bad. This was one reason that Sy Hersh suggested maybe Ledeen didn't actually do it. They were so bad that they had the wrong ministers for their supposed date, and the French was really, really bad.
Now, the Counter-Attack: A bunch of the CIA's oldest and meanest, Colin Powell's chief of staff, and others have stepped forward to label this manipulation as "Black PSY OPS" or something along those lines. They have been in the background, steadily emerging since 2003 (especially on the Internet), offering a flipside alternative to the scrupulously observed media narratives about the war and WMDs as "honest mistakes", supporting Rummy, Bush, and Karl Rove's ballot box engineering nearly every step of the way. Tragically, in 2004, Kerry's "centrist" campaign consultants lacked the cojones to attack the intel spoofing, even though Kerry helped bust up Iran-Contra, their grandest scheme.
What is a Black PSY OP?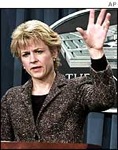 Aside from the drug trafficking, the trickiest aspect of the War on Terror to understand is the shadowy idea of "information operations," information dominance or information warfare, military doctrines whose effects on democratic public knowledge and behavior are both highly partisan and quite subversive in nature. Check out the military's Information Operations overview for info (PDF). Layered above this is the Pentagon's "public relations" or "strategic communication" (PDF) strategy - the well-lit, Victoria Clarke world, the embedded reporters, the in-your-face narrative, emotionally exciting, an intense Confrontation with that Other presented in the media, especially television.
The process of creating, planting, laundering and marketing those fake stories would properly be called "black propaganda" or "black PSY OPS", especially as they manipulate the American public. "Black" signifies misdirection or deception in source or content of information or disinformation.
A psychological operation or "PSY OP" is a sort of operation which manipulates the perceptions of a target audience or group. Sun Tzu understood this. For example, using a vast visual display of weapons to intimidate an enemy into surrender is a basically psychological operation. This can also include planting contradictory stories to divide and confuse an enemy. Background here at the Information Warfare site:
'Psychological Operations: Planned operations to convey selected information and indicators to foreign audiences to influence their emotions, motives, objective reasoning, and ultimately the behavior of foreign governments, organizations, groups, and individuals. The purpose of psychological operations is to induce or reinforce foreign attitudes and behavior favorable to the originator's objectives. Also called PSYOP. See also consolidation psychological operations; overt peacetime psychological operations programs; perception management. ' US Department of Defense


Here's an example of where the military PR blends into information operation and Black PSY OPS. These are my rough categories, basically suggestions based on authenticity of content and source, and intended target audience - and its political relationship to the source of the information, especially voter blocs:
1) A school is rebuilt in Fallujah and a New York Times reporter is embedded with a unit that is helping open it. This is an authentic "strategic communication" which could also be a White PSY OP, but not deceptive in itself.

2) The military spokesman falsely says a school is being rebuilt in Fallujah but no reporters can get there and no media offer any dissenting reports. This is an information operation, but perhaps not a Black PSY OP because the source is authentic.

3) A authentic school story is purchased (by say the Lincoln Group) in an Iraqi newspaper to reinforce Iraqi public perception of the "clear-hold-build" strategy. This is a PSY OP, but not a Black PSY OP because its content is true. It could be a Gray PSY OP because its source is mis-represented, though. The Iraqi paper is essentially a "cut-out" for the US military PSY OP unit's work.

4) A fake school story is purchased by the US military in an Iraqi paper. A military spokesman or media contact tips an American reporter (or a right-wing blogger looking for the "real happy news the media hides") to the story in the Iraqi paper. The translated, planted report boosts the emotions of those Americans who hear it. This is a Black PSY OP and Covert Propaganda. This especially matters to Democrats because:

5) The Covert Propaganda and Black PSY OPS directed at the American public by the executive branch and its allies will always be designed, by habit or accident, to favor the ruling party.
Technically it is illegal for the government to plant "covert propaganda" into the American public's brains, but what this means is unclear. The Bushies have been caught a few times sending video news releases that have been repackaged by TV networks as authentic news segments.
4th Generation Warfare: The US gets manipulated via information operations: In 4th generation warfare theory, a multi-tiered strategy to achieve political objectives in a tactically fluid and confusing environment is applied by all parties. Unfortunately, with everything in Iraq, some parties have found ways to manipulate the Pentagon by their own information operations. The goal is to trick the US into attacking different parties against their own interest.
This would include how Iran helped Chalabi generate the fake "defector" intelligence before the invasion of Iraq, and how petty squabbles between Iraqi parties are mis-represented as Terrorists vs Counter-Terrorists, and the US hits one side with overwhelming air and land-power for no compelling reason. In those situations, the US itself has suffered an information operation that caused it to overreact and alienate the population, increasing power for some local parties while directly killing off their rivals. Chalabi purged the many middle-class professional "Baathists" (in name only), people the US didn't need to attack, but did anyway, because Chalabi manipulated U.S. perceptions. Recent U.S. attacks against recent Marsh Arab tribes around Basra bear the marks of manipulation, according to a source for Juan Cole:
' The [sectarian conflict near Suwayra] faded out in November of last year. It suddenly errupted three days ago. There were actually three days of violence in that area. The first day was an attack on Obaid by members of the Ghuran tribe who were members of the Mahdi army (at least they carried Mhdi army id's). 14 people were killed. The second saw an attack from Suwaira security forces (although the area administratively belongs to Baghdad).

The third day saw a massive assault by Iraqi and US army accompanied by helicopter gunships and fighter planes. The assault lasted for 10 hours . . . It is absolutely fascinating for me to see that piece of information being propagated on Iraqi news channels, newspapers and websites as a land dispute. It was originally based on a "police source".

It is now almost certain that the US army was misled into taking action against one of the two parties yesterday. The whole thing was a 'sectarian' assault that failed miserably the first time. It failed again this time . . .

In yesterday's 'American' raid only one man was killed – young Marwan (!!) 6 were injured and about a dozen detained (exact number unconfirmed).

Today, all tribes in the area (Sunni and Shiite) were in uproar against the Ghurraan. Their 3 acts were seen as treacherous. The Ghurraan shaikh, Saad A. A. al-Bassi sent word to Obaid that he was enlisting support from his tribe to disown the sub-clan that was responsible (known as Rattaan). A few hours ago I received word (unconfirmed) that Saad was arrested by the Iraqi National Guard!
Another staged petty confrontation would be the U.S./Shiite operations against the Turkmen Sunnis of Tal Afar & northern Iraq. These could all be examples of the U.S. military suffering from successful PSY OPS targeting.
Back to the Forgeries: Two of the "pissed off CIA dudes" we have listed on the sidebar, Larry Johnson and Pat Lang, have gone on record with Vanity Fair that the Niger uranium forgeries – the claim that "Saddam Hussein sought uranium in Africa" – was systematically fabricated and inserted by neo-cons into the American intelligence community, a colossal conspiracy which led to trapping the American army in the snake pit of Iraq. The story weaves a byzantine path through the unique hell of Italian intelligence, such as this:
Among those Berlusconi appointed to powerful national-security positions [in 1994] were two men known to Ledeen. A founding member of Forza Italia, Minister of Defense Antonio Martino was a well-known figure in Washington neocon circles and had been close friends with Michael Ledeen since the 1970s. Ledeen also occasionally played bridge with the head of SISMI under Berlusconi, Nicolò Pollari. "Michael Ledeen is connected to all the players," says Philip Giraldi, who was stationed in Italy with the C.I.A. in the 1980s and has been a keen observer of Ledeen over the years.

Enter Rocco Martino. An elegantly attired man in his 60s with white hair and a neatly trimmed mustache, Martino (no relation to Antonio Martino) had served in SISMI until 1999 and had a long history of peddling information to other intelligence services in Europe, including France's Direction Générale de la Sécurité Extérieure (D.G.S.E.).

By 2000, however, Martino had fallen on hard times financially. It was then that a longtime colleague named Antonio Nucera offered him a lucrative proposition. A SISMI colonel specializing in counter-proliferation and W.M.D., Nucera told Martino that Italian intelligence had long had an "asset" in the Niger Embassy in Rome: a woman who was about 60 years old, had a low-level job, and occasionally sold off embassy documents to SISMI. But now SISMI had no more use for the woman—who is known in the Italian press as "La Signora" and has recently been identified as the ambassador's assistant, Laura Montini. Perhaps, Nucera suggested, Martino could use La Signora as Italian intelligence had, paying her to pass on documents she copied or stole from the embassy.

Shortly after New Year's 2001, the break-in took place at the Niger Embassy. Martino denies any participation. There are many conflicting accounts of the episode. According to La Repubblica, a left-of-center daily which has published an investigative series on Nigergate, documents stolen from the embassy ultimately were combined with other papers that were already in SISMI archives.

SISMI director Nicolò Pollari acknowledges that Martino has worked for Italian intelligence. But, beyond that, he claims that Italian intelligence played no role in the Niger operation. "[Nucera] offered [Martino] the use of an intelligence asset [La Signora]—no big deal, you understand—one who was still on the books but inactive—to give a hand to Martino," Pollari told a reporter.

Rocco Martino, however, said SISMI had another agenda: "SISMI wanted me to pass on the documents, but they didn't want anyone to know they had been involved."
As the frightening forgeries materialized in the American intelligence community, one analyst after another marked them as forgeries, but soon one neo-con after another kept stuffing their claims into the speeches of Cheney, Bush, the talking points of pundits on the radio & TV (this was a particular function of the Office of Special Plans, Kwiatkowski has said).
Vanity Fair describes the "echo" effect that manipulated allied intelligence agencies into perpetuating the fake charges. Basically, it is like telling your 10 most arrogant and powerful acquaintances the same bullshit, but passing it through intermediaries or "cut-outs". This makes the artificial disinformation (aka a "PSY OP" that intel agencies are supposed to detect) instead appear authentic and broad.
The Niger forgery is merely one piece that has been traced pretty far back along the chain, via all these pissed off CIA people and others around various parts of the chain. But the same pattern of...
Terrifying Claim->lots of intel agencies get claims->international echo effect in analysis/policy->scary public leaks and tales - a la Judith Miller->drumbeat of scary media stories->WAR
...was the basic pattern around the false stories from Ahmed Chalabi and his defectors, which people like Larry Johnson, Kwiatkowski, essentially this whole gang have railed against for years. So Vanity Fair describes how the intel agencies were bombarded with "Yellowcake" reports:
Over the next two years, the Niger documents and reports based on them made at least three journeys to the C.I.A. They also found their way to the U.S. Embassy in Rome, to the White House, to British intelligence, to French intelligence, and to Elisabetta Burba, a journalist at Panorama, the Milan-based newsmagazine. Each of these recipients in turn shared the documents or their contents with others, in effect creating an echo chamber that gave the illusion that several independent sources had corroborated an Iraq-Niger uranium deal.

"It was the Italians and Americans together who were behind it. It was all a disinformation operation," Martino told a reporter at England's Guardian newspaper. He called himself "a tool used by someone for games much bigger than me."

What exactly might those games have been? Berlusconi defined his role on the world stage largely in terms of his relationship with the U.S., and he jumped at the chance to forge closer ties with the White House when Bush took office, in 2001. In its three-part series on Nigergate, La Repubblica charges that Berlusconi was so eager to win Bush's favor that he "instructed Italian Military Intelligence to plant the evidence implicating Saddam in a bogus uranium deal with Niger." (The Berlusconi government, which lost power in April, denied the charge.)
Then there are the surface political motives for SISMI doing special disinformation favors for the New Bush White House:
During the Clinton era, the neocons persisted with their policy goals, and in early 1998 they twice lobbied President Clinton to bring down Saddam. The second attempt came in the form of "An Open Letter to the President" by leading neoconservatives, many of whom later played key roles in the Bush administration, where they became known as the Vulcans. Among those who signed were Michael Ledeen, John Bolton, Douglas Feith, Richard Perle, Donald Rumsfeld, Paul Wolfowitz, and David Wurmser.

According to Patrick Lang, the initial Niger Embassy robbery could have been aimed at starting the war even though Bush had yet to be inaugurated. The scenario, he cautions, is merely speculation on his part. But he says that the neocons wouldn't have hesitated to reach out to SISMI even before Bush took office. "There's no doubt in my mind that the neocons had their eye on Iraq," he says. "This is something they intended to do, and they would have communicated that to SISMI or anybody else to get the help they wanted."

In Lang's view, SISMI would also have wanted to ingratiate itself with the incoming administration. "These foreign intelligence agencies are so dependent on us that the urge to acquire I.O.U.'s is a powerful incentive by itself," he says. "It would have been very easy to have someone go to Rome and talk to them, or have one of the SISMI guys here [in Washington], perhaps the SISMI officer in the Italian Embassy, talk to them."

Lang's scenario rings true to Frank Brodhead. "When I read that the Niger break-in took place before Bush took office, I immediately thought back to the Bulgarian Connection," he says. "That job was done during the transition as well. [Michael] Ledeen … saw himself as making a serious contribution to the Cold War through the Bulgarian Connection. Now, it was possible, 20 years later, that he was doing the same to start the war in Iraq."

Brodhead is not alone. Several press outlets, including the San Francisco Chronicle, United Press International, and The American Conservative, as well as a chorus of bloggers—Daily Kos, the Left Coaster, and Raw Story among them—have raised the question of whether Ledeen was involved with the Niger documents. But none have found any hard evidence.
My evidence is that I personally talked to Ledeen for a while at Macalester and he seemed diabolical, anarchic and crazy. However that ain't fingerprints. After 9/11, the article describes the path of the Niger forgeries as "murky," and moves on to tackle how tightly Michael Ledeen himself was tied into the rest of the neo-con rhetroric & action machine that catapulted the U.S. into Iraq on all that dodgy intelligence. Of course around here, I have stuck by the line from Dr. Rashid Khalidi, who told me in an interview way back in October 2003:
Me: A Frontline interview with Richard Perle was published with the documentary "Truth, War and Consequences." He talked about the Pentagon's Office of Special Plans, which reviewed intelligence on Iraq prior to the war. Perle said the office was staffed by David Wurmser, another author of the Clean Break document. Perle says that the office "began to find links that nobody else had previously understood or recorded in a useful way." Were the neo-cons turning their ideology into intelligence data, and putting that into the government?



RK: I can give you a short answer to that which is yes. Insofar as at least two of the key arguments that they adduced, the one having to do the connection between the Iraqi regime and al-Qaeda, and the one having to do with unconventional weapons programs in Iraq, it is clear that the links or the things they had claimed to have found were non-existent. The wish was fathered to the reality. What they wanted was what they found.

It was not just the Office of Special Plans, or whatever. There are a lot of institutions in Washington that were devoted to putting this view forward. Among them, other parts of the bureaucracy, and the vice president's national security staff. The vice president's chief of staff Lewis Libby is a very important member of the neo-con group. He and the vice president have created the most powerful national security staff that anybody has ever had in the office of the vice president. I've read published assessments, which say that this is actually more influential than Condi Rice's staff, the real NSC. This is another center of these views.

And then there are the think-tanks—I would use the word 'think' in quotes—like the American Enterprise Institute, the Heritage Foundation, the Hoover Institution and so on, all of which are devoted to spreading similar ideas. Basically any fantasy that Chalabi's people brought in, "we have a defector who says," was turned into gold by these folks.

We now know this stuff, with a few exceptions, to be completely and utterly false, just manufactured disinformation designed to direct the United States in a certain direction. Whether the neo-cons knew this or not is another question, but I believe Chalabi's people knew it. I would be surprised if some of them didn't know it.


Along this basic line, we have followed along on this case at Hongpong.com pretty much since it opened up, though we've let it slide lately since very little has happened in the case in a long time, and the Scooter Libby trial it spawned has basically dragged on with only a trickle of information.
Well, that's all for now. I am going to the DFL convention in Rochester now. Remember that your brain is a military target.
Commenting on this Story is closed.
Tags for Yellowcake breakout & Black PSY OPS: DC insiders go on the record to label the Niger forgeries White House "Black Propaganda