Major Florida coke bust conspiracy? Mexican election mess; Underlings misinform Bush; Gaza; Italian intrigues; Army skinheads


Massive 5 ton cocaine bust tied to Bush cronies?: Yummy stuff. This weird company called SkyWay Aircraft, which claimed to sell security products to the Department of Homeland Security, got busted with a huge amount of cocaine from Mexico, and both Mexican and American authorities are being curiously silent about it. The Mexican press, on the other hand, has been speculating that high-ranking members of Vincente Fox's government are involved. Of course, SkyWay is based in Venice, Florida, right by where some of the 9/11 hijackers trained.


MadCowProd.com is offering the goods in this case. They conclude:
DC9's cost money. But the twin airliners weren't being used to demonstrate SkyWay's products, for the simple reason that the company never had a product to demonstrate. The fact is both inescapable and mind-boggling at the same time. Two DC9's painted to impersonate U.S. Government planes were being used for an as-yet unknown purpose… for almost two years.

Like the FAA, the attitude of the DEA toward a drug trafficking case involving 5.5 tons of cocaine seems remarkably laissez faire. A call to the DEA to inquire whether the Agency had mounted an investigation of an American-owned airliner busted with 5.5 tons of cocaine elicited a terse "no comment."

The duty officer at the Tampa Office of the Drug Enforcement Administration revealed no indication that the DEA has taken any interest in the case. Two days of phone calls to the Agency's Public Information Officer in Miami yielded nothing but busy signals.

.........The answer, both here in the U.S. as well as in Mexico, appears to be: Damage Control, for what clearly appears to have been officially-sanctioned drug trafficking. The silence in the U.S. and Mexico is a tell-tale sign of clandestine activity gone horribly awry. The bust was a mistake.

Once again, low-level personnel just hadn't been "clued-in" to the protected nature of the trade. Because of the sensitivity, everything is on a need to know basis. This creates a continuing problem.

You can't tell just anyone.
Cheney seems to be investing in securities that favor a weak dollar: That's pretty fucked up, observed at Attu Sees All and dissected on Kiplinger's Personal Finance Magazine.
Are they going to gut the Freedom of Information Act under the mask of 'counter-terrorism'? (via The Agonist)


The Mexican election is starting to look pretty ugly. How could there possibly be voting fraud south of the US?? More here.
UK Times: Leftist calls supporters onto streets in Mexican crisis

Mexico's electoral crisis deepened today after a recount separated the two leading candidates by less than 0.5 per cent of the vote and the leftist, Andres Manuel López Obrador, called his supporters onto the streets to protest against the result.

With 99.48 per cent of the vote reviewed by election officials, Felipe Calderon, a pro-business former energy secretary, led Señor López Obrador, a former mayor of Mexico City, by 0.41 per cent, or just 170,000 of the 41 million votes cast on Sunday.

Señor Calderon appeared relaxed at a party in the headquarters of the ruling National Action Party (PAN), saying: "Now is the hour for unity and agreements between Mexicans."

But Señor López Obrador said he would challenge the result in Mexico's highest electoral court, the Federal Electoral Tribunal. He asked his supporters to rally in Mexico City's huge Zócalo square on Saturday afternoon.

"We have taken the decision to challenge the electoral process," he told a press conference. "We cannot recognize or accept these results. There are lots of irregularities."

......

Señor López Obrador, whose Party of the Democratic Revolution (PRD) was founded by a populist famously cheated of the presidency in a rigged election in 1988, has alleged throughout the week that PAN activists had counted votes twice in some districts and ignored votes in others.

Today he said that a case before the Federal Electoral Tribunal would expose the "lack of transparency, the lack of independence of the electoral body".

"We have triumphed and this is what we will demonstrate to the tribunal," he said.
Aryan Nations & other hate groups infiltrating the US Army: An army desperate for recruits might be handing guns to unsavory criminal lunatics: NY Times:
A decade after the Pentagon declared a zero-tolerance policy for racist hate groups, recruiting shortfalls caused by the war in Iraq have allowed "large numbers of neo-Nazis and skinhead extremists" to infiltrate the military, according to a watchdog organization.

The Southern Poverty Law Center, which tracks racist and right-wing militia groups, estimated that the numbers could run into the thousands, citing interviews with Defense Department investigators and reports and postings on racist Web sites and magazines.

"We've got Aryan Nations graffiti in Baghdad," the group quoted a Defense Department investigator as saying in a report to be posted today on its Web site, www.splcenter.org. "That's a problem."

.......

The report quotes Scott Barfield, a Defense Department investigator, saying, "Recruiters are knowingly allowing neo-Nazis and white supremacists to join the armed forces, and commanders don't remove them from the military even after we positively identify them as extremists or gang members."

Mr. Barfield said Army recruiters struggled last year to meet goals. "They don't want to make a big deal again about neo-Nazis in the military," he said, "because then parents who are already worried about their kids signing up and dying in Iraq are going to be even more reluctant about their kids enlisting if they feel they'll be exposed to gangs and white supremacists."

The 1996 crackdown on extremists came after revelations that Mr. McVeigh had espoused far-right ideas when he was in the Army and recruited two fellow soldiers to aid his bomb plot. Those revelations were followed by a furor that developed when three white paratroopers were convicted of the random slaying of a black couple in order to win tattoos and 19 others were discharged for participating in neo-Nazi activities.

.......

An article in the National Alliance magazine Resistance urged skinheads to join the Army and insist on being assigned to light infantry units. The Southern Poverty Law Center identified the author as Steven Barry, who it said was a former Special Forces officer who was the alliance's "military unit coordinator." "Light infantry is your branch of choice because the coming race war and the ethnic cleansing to follow will be very much an infantryman's war," he wrote. "It will be house-to-house, neighborhood-by-neighborhood until your town or city is cleared and the alien races are driven into the countryside where they can be hunted down and 'cleansed.' "



He concluded: "As a professional soldier, my goal is to fill the ranks of the United States Army with skinheads. As street brawlers, you will be useless in the coming race war. As trained infantrymen, you will join the ranks of the Aryan warrior brotherhood."
Holy shit. And let's not forget about Gulf War vet Timothy McVeigh.
The twisted Internal Disinformation of the Bush Regime:
I thought this was pretty nuts. Ron Suskind's new "One Percent Doctrine" is selling pretty well, and the
review in the NY Times was disturbing, for it paints a portrait of a president protectively misinformed in order to defend the illogical madness of the war. This is madness:


During a November 2001 session with the president, Mr. Suskind recounts, a C.I.A. briefer realized that the Pentagon had not told Mr. Bush of the C.I.A.'s urgent concern that Osama bin Laden might escape from the Tora Bora area of Afghanistan (as he indeed later did) if United States reinforcements were not promptly sent in. And several months later, he says, attendees at a meeting between Mr. Bush and the Saudis discovered after the fact that an important packet laying out the Saudis' views about the Israeli-Palestinian situation had been diverted to the vice president's office and never reached the president.

Keeping information away from the president, Mr. Suskind argues, was a calculated White House strategy that gave Mr. Bush ''plausible deniability'' from Mr. Cheney's point of view, and that perfectly meshed with the commander in chief's own impatience with policy details. Suggesting that Mr. Bush deliberately did not read the full National Intelligence Estimate on Iraq, which was delivered to the White House in the fall of 2002, Mr. Suskind writes: ''Keeping certain knowledge from Bush -- much of it shrouded, as well, by classification -- meant that the president, whose each word circles the globe, could advance various strategies by saying whatever was needed. He could essentially be 'deniable' about his own statements.''

''Whether Cheney's innovations were tailored to match Bush's inclinations, or vice versa, is almost immaterial,'' Mr. Suskind continues. ''It was a firm fit. Under this strategic model, reading the entire N.I.E. would be problematic for Bush: it could hem in the president's rhetoric, a key weapon in the march to war. He would know too much.''
Plainly nuts.
The situation in Gaza is pretty ugly right now. On the one hand, the Israeli strategy is brutal, but even worse, it's pointless. HAMAS has offered a prisoner swap, like the old days with Hezbollah. Check out "The Ideology of Occupation, Revisited" from Israeli peacenik Ran HaCohen. James Zogby observes the Deadly Silence over the matter. I haven't said much about it, but this piece pretty much sums up the problem.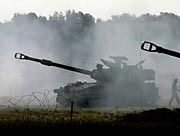 Captive in Gaza: Israel has several objectives in Gaza -- all mutually exclusive, writes Graham Usher
There are four aims behind operation "Summer Rain", the Israeli army's latest invasion of Gaza, according to ministers, officers and analysts. The first is to free "unconditionally" Gilad Shalit, the Israeli soldier captured by Palestinian guerrillas just outside the Strip on 25 June. The second is to end Palestinian "rocket fire" that, in the last month, has peppered Sederot and other Israeli areas on the Gaza border, so far without serious injury.

The third aim -- undeclared but acknowledged -- is to force the Palestinian government from office via a rising curve of pre-emptive strikes. So far this has included tightened economic and political blockades, destruction of civilian power plants and bridges, military re-occupation, rocket attacks on the prime and interior ministers' offices and the wholesale arrest of Hamas ministers, members of parliament and local authority officers.

The ouster has little to do with the government's refusal to recognise the legitimacy of the Jewish state -- a rejection that suits Israel since it frees it from having to deal with an elected Palestinian Authority. It has more to do with Hamas's success not only in surviving the siege but in enshrining resistance as a central policy in its and any future National Unity Palestinian government, courtesy of the recently agreed Prisoners' Document.

The fourth aim is to repair the battered status of Israel's "deterrence". It is now clear to most Israelis that the relative quiet they enjoyed for the last year or so was not due to their army's military prowess. It was due to the Palestinian ceasefire, observed above all by Hamas's military arm, Izzeddin El-Qassam (IQ). Since it was renounced, 200 mortars have been fired into Israel, four soldier abductions have been attempted or carried out and two soldiers and one settler have been killed.

Threats Hamas may now take the fight "deep into Israel" reminds most Israelis of the bloodiest days of the Intifada. It destroys the illusion that the Gaza disengagement was somehow a military success. And it casts Israeli Prime Minister Ehud Olmert's project to determine unilaterally Israel's eastern border as absolute folly.
Vanity Fair had a lengthy feature on the Duke Cunningham/hookergate scandal and here's a summary.
Italian intrigues: In a small tidbit perhaps related to the Valerie Plame scandal, some of the top-ranking guys in Italy's SISMI intelligence service were arrested, as noted in the Italian media and the AP. This probably has more to do with furious Italian judges going after SISMI and CIA agents who helped get some terror suspect abducted.
.....the Italian military intelligence organization's deputy director and director of the first "foreign" or counterintelligence division Marco Mancini has been arrested in Italy, allegedly for his role in the CIA extraordinary rendition of Egyptian cleric Abu Omar from Milan in 2003. When I was in Rome on a few recent reporting trips, Mancini was the guy who everybody was literally frightened of even saying his name. I mean literally, people just referred to him as Marco. He was highly involved in Sismi's Middle East affairs, as well, apparently, I am hearing from Rome, in several recent cases of illegal wiretapping and illegal domestic spying in Italy. Arrest warrants have apparently been issued in the same Abu Omar case for four more CIA officials as well, including for the former CIA station chief in Rome.

In fact, on Sismi's behalf, Farina and Libero led the bogus charge that France was responsible for the Niger forgeries. Farina was also the beneficiary of illegal wiretaps seemingly conducted by friends of Sismi. Interesting times indeed.

From my brief exposure to politics there, I would say Mancini is far more comparable to a Lewis Libby figure than to his ex-CIA deputy director counterpart John McLaughlin, far more wired into the Byzantine politics of the Berlusconi project than a straight intel professional. Although this arrest would seem to be lapping pretty high on the ankles of the ex-Berlusconi administration itself, a friend in Rome writes that it may not go any further, and Prodi is giving indications he may not wish it to, especially as far as Sismi is concerned.

.......

Update: A reader in Rome writes that Libero's Farina is "under investigation not for his articles but because he has allegedly been identified as a Sismi source code-named 'Betulla.' ... [Sismi's] Mancini and Pignero are suspected of having studied Abu Omar's habits and having prepared an initial plan for his abduction which would have the airport of Ghedi as the first destination of Abu Omar after his kidnapping. The plan went otherwise, as Aviano was opted for. They are also accused of spying on Repubblica's Giuseppe D'Avanzo as of May 12th..."

If I understand this and other recent Italian news reports correctly, Mancini was allegedly a liaison to several private Italian dirty tricks intelligence operations.
More on this here.
Ann Coulter's plagarism situation seems not that serious, but here's the comprehensive index. Xenu, the Scientology warlord, is involved.
The LA Times tries to claim that anti-Lieberman-ism is a "purge" of the Democratic Party by antiwar fanatics, while in fact it's more of a reaction to the fact that Lieberman is a crappy senator all around.
Around the paranoid side: I was advised to check out "The Resistance" on MySpace. As always PrisonPlanet will fill your daily conspiratoria quotient. Some Montana guy that sold (legal) gun kits was raided by the FBI, ATF and Canadian law enforcement for handing out 'subversive' Alex Jones material, according to... Alex Jones. In a crossposted story from the Sacramento Bee, Homeland Security denies tracking political activity after the state office got word of a peace rally on April 18. There was a new al-Qaeda video released to mark the 7/7 London bombings, and PrisonPlanet asks a bunch of questions about 7/7 anomalies, suggesting as they have from the beginning it was staged by the UK government.
The guy who invented Ren & Stimpy (a particularly raunchy but funny one that never went on TV is here) is in a battle with Warner Bros. because he's been posting their really good but forgotten cartoons on YouTube as Examples of the Art.
Worse than a Star Trek 'red shirt': 10 worst jobs to have in the action film universe.
Well that should tide folks over for a bit of the weekend here...
Commenting on this Story is closed.
Tags for Major Florida coke bust conspiracy? Mexican election mess; Underlings misinform Bush; Gaza; Italian intrigues; Army skinheads