Lebanon War II
Hezbollah's television station, Al Manar, was attacked by Israel in Lebanon. Their website appears to be offline, or perhaps the US has cut it off.
The question is whether anyone will be able to walk down this crisis. Literally we are looking at a combination of the Six Day War, Lebanon 1982 (Big Pines) and the Cuban Missile Crisis, though a shitload of missiles have already been fired on both sides. It will be a great feat if the diplomats can fish the world out of this one.
LA Times had a good story on it.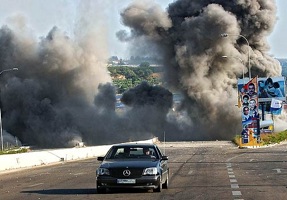 Israel Enters Lebanon After Militants Capture 2 Soldiers

Olmert, now facing conflicts on two fronts, calls Hezbollah's raid an act of war. The group's leader issues a taunt, the U.S. a condemnation.

By Laura King and Vita Bekker, Special to The LA Times

8:25 PM PDT, July 12, 2006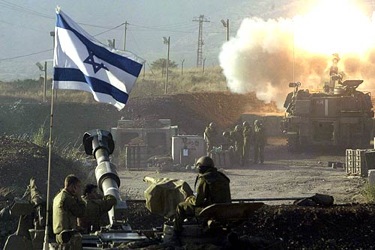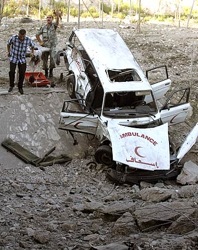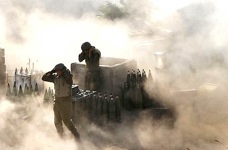 SAFAT, Israel — Israeli troops and tanks Wednesday drove deep into Lebanon for the first time in six years after guerrillas with the Shiite Muslim group Hezbollah seized two Israeli soldiers in a meticulously planned cross-border raid.

Eight Israeli soldiers died in fighting on both sides of the frontier, the army said. At least one Hezbollah fighter and two Lebanese civilians also were reported killed.
Israel's thrust across its northern border left it waging simultaneous warfare on two fronts: in the Gaza Strip, where nearly 80 Palestinians have been killed during a 2-week-old offensive that also began after the seizure of an Israeli soldier, and in Lebanon, where Israeli troops spent two decades locked in a debilitating and inconclusive conflict.
Israeli Prime Minister Ehud Olmert described Hezbollah's raid as an act of war, for which he said the Lebanese government bore responsibility.
The ramifications threatened to spread across the region. The White House and Israeli officials quickly cast blame on Syria and Iran, Hezbollah's patrons.
Haaretz: ANALYSIS: Israel is at risk of embarking on three-front war

By Ze'ev Schiff, Haaretz Correspondent

Two weeks after the start of the IDF's extensive operation in the Gaza Strip, Hezbollah opened a second front on the northern border. The second front, which could expand into Israel, started just as the first did - with the abduction of soldiers from inside Israel and the deaths of others.

Israel faces the danger of a third front if Syria steps in to assist Hezbollah. Strategically, Israel faces an extreme foursome: Hamas, Hezbollah, Syria and Iran. Two extremist Islamic organizations considered terror organizations, and two states Washington names in the Axis of Evil.

Israel has no choice but to hold Lebanon responsible for what happens in its borders and for what comes out of it. Lebanon will likely wail as Israel strikes inside its territory and hits its infrastructure, but the Lebanese government must see itself as responsible for what Hezbollah does out of Lebanon. Particularly since Lebanon essentially rejected UN resolution 1559, which called for disarming the militia. Hamas and Hezbollah made the rules of the game with the ongoing rocket fire into Israel and the abduction of Israeli soldiers. If Israel loses in handling this, its strategic and military standing in the region will change and its deterrence of guerrilla warfare and high-trajectory weapons will be undermined.

From the moment the ground incursion into Gaza started, it was possible Hezbollah would try to help Hamas by attacking on the Lebanese border. This option was rejected by most military analysts. No unusual alert was evident.

In addition to the desire to help Hamas, Hezbollah has its own grudge to bear with Israel. On May 28, Hezbollah taunted Israel with a Katyusha barrage at an IDF base on Mt. Meron. In response, Israel immediately hit a number of Hezbollah positions along the border. It was clear that Hezbollah, whose leader has often declared his organization would abduct Israelis, was waiting for the right moment, which came Wednesday. There is no need for (res.) Major General Giora Eiland to investigate the event in the north as he did the one in the south. It is better to focus on upcoming developments and the question of how to conduct a war on two and maybe three fronts. Hopefully Israel's leaders will give up the harsh words and exaggerated threats we have seen in the past two weeks.

Israel's options now are aggression on two fronts. Israeli would best act cautiously in order not to open a third front with Syria, unless Damascus taunts Israel.

Clearly Israel will strike Lebanese infrastructure related to Hezbollah and may expand its targets in its wrath. For years, Israel neglected the rocket system Hezbollah built in Lebanon with Iranian and Syrian help. It took no preventative measures against the convoys and storehouses of weaponry. We thought they would rust and now they are directed at Israel. There is also an absurd situation where we ignored Hezbollah positions adjacent to the border and to our Galilee communities. Some of those positions were once IDF outposts.

Israel must not allow Hezbollah to return to border positions. This is a clearcut defensive tactic and, in any case, Hezbollah is taking the offensive against Israel. Israel's operation in Gaza is not enough. The Gaza front will become secondary if the fighting in the north expands. If Israel wants even partial international support, it must avoid causing a humanitarian crisis in Gaza. After Wednesday's events on the northern border, international efforts to mediate on the matter of the abductees and the prisoners will increase and address additional issues. In which case, Israel will have little time for a broad military operation.
Israeli woman killed in Katyusha attack on Nahariya; IAF attacks Beirut airport, Hezbollah TV station

29 Israelis also hurt in rocket attack on north

By Jack Khoury, Amos Harel, Aluf Benn and Gideon Alon, Haaretz Correspondents and Agencies

A Katyusha rocket fired from Lebanon hit a house in the northern border town of Nahariya on Thursday morning, killing an Israeli woman and wounding 29 others, including a number of children.

Despite IDF orders to all residents to stay in shelters, the 40-year-old woman had been sitting on her fifth-floor balcony when the rocket hit the floor above, cutting through the ceiling and killed her, Israel Radio reported.

Most of the casualties were lightly wounded; one person sustained serious wounds.

The Israel Defense Forces began preparing Wednesday night for a widespread aerial assault on Lebanon, after the cabinet approved a "severe" response to Hezbollah's attack on the northern border on Wednesday, which ended with eight soldiers dead and two kidnapped.

Although nothing is definitely known about the condition of the abducted soldiers, they are believed to be alive, since little of their blood was found at the scene of the attack.

Israel said on Thursday its naval vessels were in Lebanon's territorial waters and blocking access to ports as part of its offensive.

"Since this morning Israeli naval vessels have enforced a full naval closure on Lebanon, because Lebanon's ports are used to transfer both terrorists and weapons to the terror organizations operating in Lebanon," an IDF spokesman said.

The IDF confirmed that several rockets landed more than 20 kilometers south of the border, signaling that Hezbollah is becoming increasingly successful in expanding the reach of the crude projectiles. The group has declared it has over 10,000 rockets to use against Israel.

A resident of the northern town of Zirit was lightly wounded by a Katyusha earlier Thursday. Hezbollah fired another 10 Katyushas overnight at an IDF base on Mount Meron. No injuries were reported in that incident.

Nahariya Mayor Jackie Sabag said the whole town, about 10 kilometers south of Israel's border with Lebanon, has shut down. Sabag urged all residents to comply with army orders to stay in underground shelters. At Nahariya Hospital, patients were moved to secure rooms on lower floors.

As Israel widened its offensive against Hezbollah overnight, an Israel Air Force aircraft fired a rocket into the Hezbollah's al-Manar television station in the group's stronghold in Beirut's southern suburb on Thursday, wounding six people, witnesses and a security source said. The station continued to broadcast, reporting that an Israeli rocket had hit a "minor transmission unit."

The IAF also struck the runway of the country's only international airport in the suburbs of Beirut, forcing its closure, and blasting southern Lebanon for a second day, police and airport officials said.

A shell crashed shortly after 6 A.M. on the eastern runway, one of three, airport employees reported. Another impact was heard shortly afterward.

Two flights approaching the airport were diverted to Larnaca airport on the island of Cyprus. A senior airport official announced the facility had been closed and diverted scheduled flights to Cyprus.

The main terminal building of the $500 million airport, which was built in the late 1990s, remained intact.

It was not clear if all the shells came from aircraft or if gunboats participated in the attack on the airport, which lies close to the sea in the southern suburbs of Beirut, a stronghold of Hezbollah guerrillas.

The IDF confirmed it had struck Beirut airport, saying the facility is "a central hub for the transfer of weapons and supplies to the Hezbollah terrorist organization."

It was the first time since Israel's 1982 invasion of Lebanon and occupation of Beirut that the airport was hit by Israel. In 1968, Israel sent commandos to Beirut airport, blowing up 13 passenger planes on the runway in retaliation for Arab militants firing on an Israeli airliner in Athens.

Israel said its air offensive was the fiercest since its 1982 invasion of Lebanon. The last major air, ground and sea offensive against Lebanon was in 1996 when about 150 Lebanese civilians were killed.

In southern Lebanon, at least 26 civilians were reported killed in overnight IAF attacks, including a family of 10 and another family of seven in the village of Dweir, Lebanese officials said.

The IDF response was to include a series of aerial attacks against Hezbollah, and particularly against the batteries of rockets aimed at Israel that the organization has stationed along the northern border. This operation is expected to last for several days. The IDF also recommended various operations aimed at the Lebanese government and strategic targets in Lebanon.

In a sharp departure from Israel's response to previous Hezbollah attacks, the late-night cabinet session unanimously agreed that the Lebanese government should be held responsible for Wednesday's events. In the past, Israel has generally pointed its finger at Hezbollah's patrons, Syria and Iran.

"Israel holds the sovereign government of Lebanon as responsible for the action which emanated from its territory and for the safe return of the abducted soldiers," the government said in a statement issued after the meeting.

"Israel must act with appropriate severity in response to this attack and it will do so. Israel will respond in a forthright and severe manner against the perpetrators responsible and will act to prevent future efforts and actions directed against Israel."

Ministers declined to give details of the measures approved last night, saying that Prime Minister Ehud Olmert had asked them to stay mum. However, the IDF's recommendations including attacks on Lebanon's power grid, which Israel struck once before, in 1999. The army also recommended imposing a partial or complete naval and aerial blockade on Lebanon - for instance, preventing civilian aircraft from landing in Beirut.

The IDF did not recommend moving ground forces into Lebanon at this time.

Hezbollah is likely, however, to respond to the Israeli attacks with massive rocket launches at Israel, and in that case, the IDF might move ground forces into Lebanon, both to create a temporary buffer zone in the southern part of the country and to destroy Hezbollah's network of outposts and rockets along the border. The goal of any such operation would also be to ensure that this network could not be rebuilt.

Residents of northern border communities have already been ordered into shelters, and Defense Minister Amir Peretz ordered the Home Front Command to prepare for the defense of dozens of other communities that were not vulnerable to Hezbollah fire in the past, but are now reachable with the

long-range rockets Hezbollah has deployed in recent years.

"We may be facing a completely different reality, in which hundreds of thousands of Israelis will, for a short time, find themselves in danger from Hezbollah's rockets," said a senior defense official. These include residents of the center of the country.

The army also began preparing for a limited call-up of the reserves, since this might be necessary if a ground operation in Lebanon is approved. Thus far, however, no call-up has been approved.

Wednesday's attack, the cabinet agreed, had created a completely new situation on the northern border, and government sources said that Israel must take steps that will "exact a price" and restore its deterrence.

Olmert rejected Hezbollah's demand that Israel purchase the kidnapped soldiers' freedom by releasing Lebanese and Palestinian terrorists jailed in Israel.

The cabinet also decided to demand that the international community enforce UN Security Council resolutions calling for the Lebanese army to disarm Hezbollah and assume control of the border with Israel. Currently, Hezbollah effectively controls southern Lebanon, and the Lebanese army stays away.

On Wednesday, Olmert accused Lebanon of an act of war against Israel and threatened a painful Israeli response. "This morning's events are not a terror attack, but the act of a sovereign state that attacked Israel for no reason and without provocation," he said. "The Lebanese government, of which Hezbollah is a part, is trying to undermine regional stability. Lebanon is responsible, and Lebanon will bear the consequences of its actions."

He also lashed out at Syria, calling it a "terrorist government by nature that supports, backs and encourages terrorist operations." However, he did not blame Damascus for the Hezbollah attack, and in contrast to his harsh threats against Beirut, said merely that "suitable preparations must be made to deal with this behavior by Syria's government."

"The State of Israel and the citizens of Israel are currently facing a test," Olmert continued. "We have managed to pass difficult tests [in the past], even more difficult and complex than the current ones. We, the State of Israel, the entire nation, will also succeed in overcoming those who are trying to harm us now."

Peretz also placed the blame for the attack squarely on Beirut. "We're skipping the stage of threats and going straight to action," said Peretz. "The goal is for this incident to end with Hezbollah so badly beaten that not a man in it does not regret having launched this incident."

The IDF General Staff took a similarly hard line, with one senior officer declaring that Israel should send Lebanon's infrastructure "30 years backward" in response to the attack.
Commenting on this Story is closed.