Shit: Lebanon war launched with vigor
Well that's pretty much fucked. Compare this to the Gulf of Tonkin - that was just a weird radar ping. This is a full-blown invasion (of sorts) combined with massive air assault. What more do you really need? Nukes?
The question is: A) how far does this go? Pakistan? B) Who the fuck is in charge in Israel? Defense Minister Amir Peretz or a military establishment launching wars all day long?
And the Beirut airport was bombed too.... Israeli video news from JerusalemOnline.com...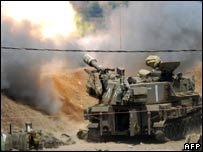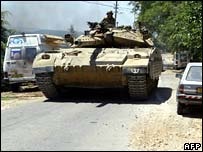 Haaretz charts what will surely be a banner day for the middle east :
Government okays massive strikes on Lebanon

By Amos Harel, Aluf Benn and Gideon Alon, Haaretz Correspondents and Agencies

The Israel Defense Forces began preparing Wednesday night for a widespread aerial assault on Lebanon, after the cabinet approved a "severe" response to Hezbollah's attack on the northern border on Wednesday, which ended with eight soldiers dead and two kidnapped.

Although nothing is definitely known about the soldiers' condition, they are believed to be alive, since little of their blood was found at the scene of the attack.

The response will include a series of aerial attacks against Hezbollah, and particularly against the batteries of rockets aimed at Israel that the organization has stationed along the northern border. This operation is expected to last for several days. The IDF also recommended various operations aimed at the Lebanese government and strategic targets in Lebanon.

In a sharp departure from Israel's response to previous Hezbollah attacks, the late-night cabinet session unanimously agreed that the Lebanese government should be held responsible for Wednesday's events. In the past, Israel has generally pointed its finger at Hezbollah's patrons, Syria and Iran.

"Israel holds the sovereign government of Lebanon as responsible for the action which emanated from its territory and for the safe return of the abducted soldiers," the government said in a statement issued after the meeting.

"Israel must act with appropriate severity in response to this attack and it will do so. Israel will respond in a forthright and severe manner against the perpetrators responsible and will act to prevent future efforts and actions directed against Israel."

Ministers declined to give details of the measures approved last night, saying that Prime Minister Ehud Olmert had asked them to stay mum. However, the IDF's recommendations including attacks on Lebanon's power grid, which Israel struck once before, in 1999. The army also recommended imposing a partial or complete naval and aerial blockade on Lebanon - for instance, preventing civilian aircraft from landing in Beirut.

The IDF did not recommend moving ground forces into Lebanon at this time.

However, Hezbollah is likely to respond to the Israeli attacks with massive rocket launches at Israel, and in that case, the IDF might move ground forces into Lebanon, both to create a temporary buffer zone in the southern part of the country and to destroy Hezbollah's network of outposts and rockets along the border. The goal of any such operation would also be to ensure that this network could not be rebuilt.

Residents of northern border communities have already been ordered into shelters, and Defense Minister Amir Peretz ordered the Home Front Command to prepare for the defense of dozens of other communities that were not

vulnerable to Hezbollah fire in the past, but are now reachable with the

long-range rockets Hezbollah has deployed in recent years.

"We may be facing a completely different reality, in which hundreds of thousands of Israelis will, for a short time, find themselves in danger from Hezbollah's rockets," said a senior defense official. These include residents of the center of the country.

The army also began preparing for a limited call-up of the reserves, since this might be necessary if a ground operation in Lebanon is approved. Thus far, however, no call-up has been approved.

Wednesday's attack, the cabinet agreed, had created a completely new situation on the northern border, and government sources said that Israel must take steps that will "exact a price" and restore its deterrence.

Olmert rejected Hezbollah's demand that Israel purchase the kidnapped soldiers' freedom by releasing Lebanese and Palestinian terrorists jailed in Israel.

The cabinet also decided to demand that the international community enforce UN Security Council resolutions calling for the Lebanese army to disarm Hezbollah and assume control of the border with Israel. Currently,

Hezbollah effectively controls southern Lebanon, and the Lebanese army

stays away.

Olmert was informed of the Hezbollah attack while he was meeting with the

parents of Corporal Gilad Shalit, the soldier who was kidnapped on the Gaza border last month. After that, he held a scheduled meeting with Japanese Prime Minister Junichiro Koizumi, who is on his first visit to Israel. The joint press conference afterward, however, inevitably focused on the events in the north.

At the conference, Olmert accused Lebanon of an act of war against Israel and threatened a painful Israeli response. "This morning's events are not a terror attack, but the act of a sovereign state that attacked Israel for no reason and without provocation," he said. "The Lebanese government, of which Hezbollah is a part, is trying to undermine regional stability. Lebanon is responsible, and Lebanon will bear the consequences of its actions."

He also lashed out at Syria, calling it a "terrorist government by nature

that supports, backs and encourages terrorist operations." However, he did not blame Damascus for the Hezbollah attack, and in contrast to his harsh threats against Beirut, said merely that "suitable preparations must be made to deal with this behavior by Syria's government."

"The State of Israel and the citizens of Israel are currently facing a

test," Olmert continued. "We have managed to pass difficult tests [in the past], even more difficult and complex than the current ones. We, the State of Israel, the entire nation, will also succeed in overcoming those who are trying to harm us now."

Peretz also placed the blame for the attack squarely on Beirut. "We're skipping the stage of threats and going straight to action," said Peretz. "The goal is for this incident to end with Hezbollah so badly beaten that not a man in it does not regret having launched this incident."

The IDF General Staff took a similarly hard line, with one senior officer

declaring that Israel should send Lebanon's infrastructure "30 years

backward" in response to the attack.
BBC: Israel attacks Beirut's airport

Israeli aircraft have fired rockets at the runways of Beirut's international airport, forcing its closure and the diversion of flights.

The attack comes as 27 civilians were killed in overnight Israeli raids on southern Lebanon.

Militant group Hezbollah says it has fired rockets into northern Israel. One person has been reported killed.

The violence follows the capture of two Israeli soldiers by Hezbollah. Israel has said it holds Lebanon responsible.

The Beirut airport is Lebanon's only international airport.

It is located in the Lebanese capital's Hezbollah-controlled southern suburbs.

'Weapons hub'

The Israeli military confirmed that its aircraft had struck the facility.

"The airport is used as a central hub for the transfer of weapons and supplies to the Hezbollah terrorist organisation," an Israeli army spokesman said.

Shortly after Israeli shells began falling on the runways, a senior airport official announced the facility was closed and asked scheduled flights to divert to Cyprus.

There were no immediate reports of casualties at the airport.

Bridges destroyed

Israeli PM Ehud Olmert said the soldiers' capture was an "act of war", but Hezbollah leader Hassan Nasrallah insisted the two would only be returned via talks.

Mr Olmert said he held Beirut responsible, but Lebanese Prime Minister Fuad Siniora denied any knowledge of the Hezbollah operation and refused to take responsibility for the soldiers' capture.

Before targeting the airport, Israel launched night air strikes on bridges and roads in southern Lebanon. Many bridges were destroyed.

The BBC's Kim Ghattas in Beirut says it is the first time in a decade that Beirut airport had been hit by Israeli fire.

The airport, rebuilt after the civil war, is a symbol of national pride for the people of Lebanon, our correspondent adds.
Commenting on this Story is closed.