Israel is "proper fucked": Strategically, there is no way this can work
Pre-1982 war ethnic layout of Lebanon: What could go wrong?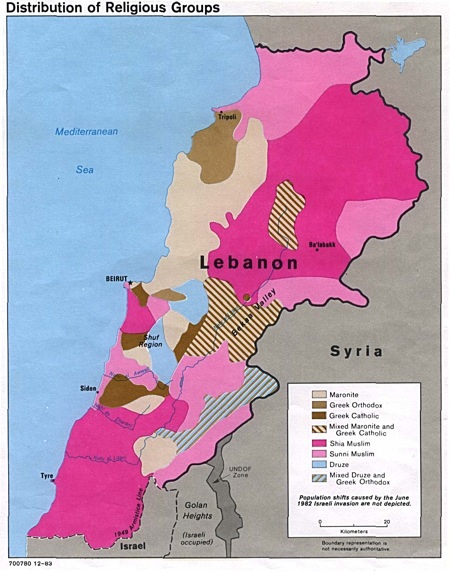 (Via the sweet UTexas map collection)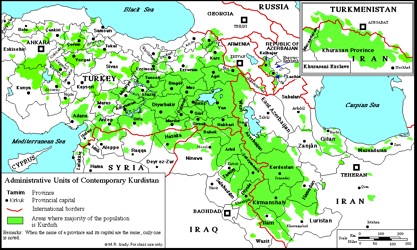 There is a sense that this is finally the Clean Break scenario happening, but there is one more problem yet to be un-tethered from order into chaos. What happens when the chaos spills into Syria? As Stratfor notes, the Israelis are 'terrified' of any regime after Bashar Assad, since it would be made of A) rebellious Kurds - who are somewhat friendly, if not allied, to Israel. B) Sunni tribes branching down into Iraq, into Anbar province and beyond, deep into the Iraqi insurgency. C) Small religious minorities like Alawites, Christians, Druze and Armenians D) A pretty good number of Palestinians. That is not a good situation for Israel, and they probably won't try to topple Assad's government. But someone else might. (Kurdish map from here, the Vladimir-Kurdistan blog)
A couple bits from Stratfor to post. They don't want people reposting their special report alerts, so I will make do with excerpts. They have a pretty close view of what the thinking is inside the Israeli military.
Basically, Stratfor makes it clear that their view is that Hezbollah's strategy is to fight until the bitter end, trapping Israel in a very high-intensity occupation and 'counter insurgency' situation, but Hezbollah has the kind of advanced anti-ship, surface-to-surface, anti-tank and anti-personnel missiles (from Iran, who knows where else? China? Russians?) to make the Israeli mission an impossible weight, far beyond what the Palestinian militant groups could achieve on their own.
So Stratfor has a pretty intricate description of what the Israelis think they can accomplish. However, if I were playing this situation in a video game like, say "Command and Conquer: Generals", the Bekaa Valley with hundreds, if not thousands, of hidden Hezbollah rockets is the last place anyone sane would want to go.
The neo-cons often harbor fantasies about breaking up ethnically diverse states like Iran and Syria, then attempting to create dominating power relationships with the US and Israel at the top, and the various bickering ethnic groups below, set against each other in high British colonial style. The Baluchis and Azeris are two that neocons are known to court in Iran, and look what has happened in Iraq. Anyone who tries to stop them is another 'terrorist,' usually a 'fascist' to boot.
This is like what Ariel Sharon thought he could engineer in Lebanon in 1982, putting the Christian Phalangists on top in a bloody civil war, crushing the Shia and other sects supported by Syria and Iran, as well as the PLO. While occupying Lebanon, Israel managed to kick the PLO out to Tunisia, which bought more time to throw settlement colonies into the West Bank. As the occupation dragged on, the Iranians helped band the Shia in southern Lebanon together under Hezbollah, and they organized a guerrilla war of attrition to force Israel to withdraw in 2000. This was a prime example of 'fourth-generation warfare,' and it now appears that the 'warfare' part of that equation is back in full force again.
Yet absorbing more of the West Bank is clearly where Israel's real interests lie: (wikipedia)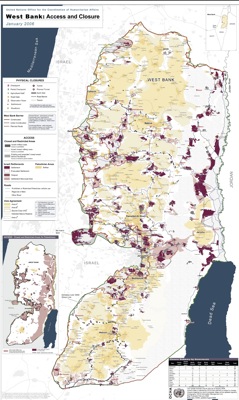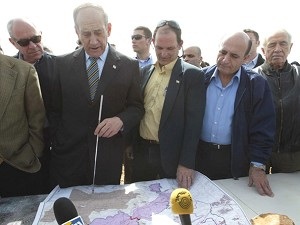 Epoch Times: Israeli acting Prime Minister Ehud Olmert (Center-L), his Defence Minister Shaul Mofaz (2nd-R) and former Israeli Prime Minister Shimon Peres (R) gather together in front of a map as they visit March 14, 2006 the Israeli west bank town of Ariel. (Pavel Wolberg-Pool/Getty Images)
Apart from the sheer bloodiness and hellish horror of such an 'ethnic re-engineering', which disgusts me deeply, setting that aside, the strategy doesn't fucking work. The basic concept in Revisionist Zionism – and now, obviously the Bush doctrine – that more bombs will inspire surrender and obedience has failed every time. Hezbollah is well-prepped for the current Israeli strategy – they know how the airstrikes work, they know from experience how Israeli intelligence has tried to catch them in this area. Most of all, they know they won straight up last time, and this time, the Israelis have better technology, but Hezbollah sure does too. They can keep falling back farther north, while still tossing long-range rockets into Haifa, and resisting all the Israelis' brutal methods by folding the organization into thousands of unstoppable, independent, rocket-bearing cells, or teams of about three, surrounded by a radicalized populace. Far better terrain for the guerrilla than the occupier, in 4GW terms.
Another point is that Israel and the United States (who obviously planned this all in tandem - hence, more U.S.-manufactured bombs on their way today to Israeli planes, Lebanese craters and Arab blood generally) have grossly underestimated the quality of Hezbollah's arsenal. This was a classic, grievous mistake on the order of Israel's foolish idea in 1973 that the Arabs were far too weak to attack – then came the Yom Kippur war.
Believing your enemies too weak and too strong, simultaneously, is a key marker of Fascist thinking.
Listen carefully to what Stratfor is saying: you can sense a waning confidence that Hezbollah could be 'eliminated' tactically, no matter how many bombs are dropped. Also, note the lack of brakes on the situation: Israel doesn't want Syria's government to fall, even while attacking the nearby Bekaa Valley. However, if, say, Al Qaeda or the Muslim Brotherhood happened to have a little luck with assassinations, anarchy across the Levant, all the way to Iran, Afghanistan, would be certain. That would not be in the interests of Israel, the United States, Iran, the EU, Turkey (especially!) or any other states.
It would be just another winning round for Al Qaeda, whose record so far in 'sharpening contradictions,' erasing stability to create 'the base', seems to be on a winning tack. The vast numbers of refugees generated in the last few days (hours!) will also help Al Qaeda style militants find converts among South Lebanon's "New Palestinians" of the 21st century. Another well thought out strategy from Washington.
Also note in particular the loss of Israeli initiative. From Sun Tzu to Clausewitz, a key aspect of warfare, especially 4GW, is retaining the initiative (PDF) – staying on the move, massing up & picking battles – but Hezbollah's dispersed, long-range nature has taken Israel's initiative apart. Israel will fight where and when Hezbollah wants them to, in a sense. Yesterday at noon from Stratfor I got:
Red Alert: The Battle Joined

The ground war has begun. Several Israeli brigades now appear to be operating between the Lebanese border and the Litani River. According to reports, Hezbollah forces are dispersed in multiple bunker complexes and are launching rockets from these and other locations.

Hezbollah's strategy appears to be threefold. First, force Israel into costly attacks against prepared fortifications. Second, draw Israeli troops as deeply into Lebanon as possible, forcing them to fight on extended supply lines. Third, move into an Iraqi-style insurgency from which Israel -- out of fear of a resumption of rocket attacks -- cannot withdraw, but which the Israelis also cannot endure because of extended long-term casualties. This appears to have been a carefully planned strategy, built around a threat to Israeli cities that Israel can't afford. The war has begun at Hezbollah's time and choosing.

Israel is caught between three strategic imperatives. First, it must end the threat to Israeli cities, which must involve the destruction of Hezbollah's launch capabilities south of the Litani River. Second, it must try to destroy Hezbollah's infrastructure, which means it must move into the Bekaa Valley and as far as the southern suburbs of Beirut. Third, it must do so in such a way that it is not dragged into a long-term, unsustainable occupation against a capable insurgency.

Hezbollah has implemented its strategy by turning southern Lebanon into a military stronghold, consisting of well-designed bunkers that serve both as fire bases and launch facilities for rockets. The militants appear to be armed with anti-tank weapons and probably anti-aircraft weapons, some of which appear to be of American origin, raising the question of how they were acquired. Hezbollah wants to draw Israel into protracted fighting in this area in order to inflict maximum casualties and to change the psychological equation for both military and political reasons.

Israelis historically do not like to fight positional warfare. Their tendency has been to bypass fortified areas, pushing the fight to the rear in order to disrupt logistics, isolate fortifications and wait for capitulation. This has worked in the past. It is not clear that it will work here. The great unknown is the resilience of Hezbollah's fighters. To this point, there is no reason to doubt it. Israel could be fighting the most resilient and well-motivated opposition force in its history. But the truth is that neither Israel nor Hezbollah really knows what performance will be like under pressure.

Simply occupying the border-Litani area will not achieve any of Israel's strategic goals. Hezbollah still would be able to use rockets against Israel. And even if, for Hezbollah, this area is lost, its capabilities in the Bekaa Valley and southern Beirut will remain intact. Therefore, a battle that focuses solely on the south is not an option for Israel, unless the Israelis feel a defeat here will sap Hezbollah's will to resist. We doubt this to be the case.

The key to the campaign is to understand that Hezbollah has made its strategic decisions. It will not be fighting a mobile war. Israel has lost the strategic initiative: It must fight when Hezbollah has chosen and deal with Hezbollah's challenge. However, given this, Israel does have an operational choice. It can move in a sequential fashion, dealing first with southern Lebanon and then with other issues. It can bypass southern Lebanon and move into the rear areas, returning to southern Lebanon when it is ready. It can attempt to deal with southern Lebanon in detail, while mounting mobile operations in the Bekaa Valley, in the coastal regions and toward south Beirut, or both at the same time.

There are resource and logistical issues involved. Moving simultaneously on all three fronts will put substantial strains on Israel's logistical capability. An encirclement westward on the north side of the Litani, followed by a move toward Beirut while the southern side of the Litani is not secured, poses a serious challenge in re-supply. Moving into the Bekaa means leaving a flank open to the Syrians. We doubt Syria will hit that flank, but then, we don't have to live with the consequences of an intelligence failure. Israel will be sending a lot of force on that line if it chooses that method. Again, since many roads in south Lebanon will not be secure, that limits logistics. [Get ready for this one, it's been key in Iraq -Dan]

Israel is caught on the horns of a dilemma. Hezbollah has created a situation in which Israel must fight the kind of war it likes the least -- attritional, tactical operations against prepared forces -- or go to the war it prefers, mobile operations, with logistical constraints that make these operations more difficult and dangerous. Moreover, if it does this, it increases the time during which Israeli cities remain under threat. Given clear failures in appreciating Hezbollah's capabilities, Israel must take seriously the possibility that Hezbollah has longer-ranged, anti-personnel rockets that it will use while under attack.

Israel has been trying to break the back of Hezbollah resistance in the south through air attack, special operations and probing attacks. This clearly hasn't worked thus far. That does not mean it won't work, as Israel applies more force to the problem and starts to master the architecture of Hezbollah's tactical and operational structure; however, Israel can't count on a rapid resolution of that problem.

........

An extended engagement in southern Lebanon is the least likely path, in our opinion. More likely -- and this is a guess -- is a five-part strategy:

1. Insert airmobile and airborne forces north of the Litani to seal the rear of Hezbollah forces in southern Lebanon. Apply air power and engineering forces to reduce the fortifications, and infantry to attack forces not in fortified positions. Bottle them up, and systematically reduce the force with limited exposure to the attackers.

2. Secure roads along the eastern flank for an armored thrust deep into the Bekaa Valley to engage the main Hezbollah force and infrastructure there. This would involve a move from Qiryat Shimona north into the Bekaa, bypassing the Litani to the west, and would probably require sending airmobile and special forces to secure the high ground. It also would leave the right flank exposed to Syria.

3. Use air power and special forces to undermine Hezbollah capabilities in the southern Beirut area. The Israelis would consider a move into this area after roads through southern Lebanon are cleared and Bekaa relatively secured, moving into the area, only if absolutely necessary, on two axes of attack.

4. Having defeated Hezbollah in detail, withdraw under a political settlement shifting defense responsibility to the Lebanese government.

5. Do all of this while the United States is still able to provide top cover against diplomatic initiatives that will create an increasingly difficult international environment.
In my view, this is the part where Israel is "proper fucked." Maybe only one of these will actually work, at best:
There can be many variations on this theme, but these elements are inevitable:

1. Hezbollah cannot be defeated without entering the Bekaa Valley, at the very least.

2. At some point, resistance in southern Lebanon must be dealt with, regardless of the cost.

3. Rocket attacks against northern Israel and even Tel Aviv must be accepted while the campaign unfolds.

4. The real challenge will come when Israel tries to withdraw.

No. 4 is the real challenge. Destruction of Hezbollah's infrastructure does not mean annihilation of the force. If Israel withdraws, Hezbollah or a successor organization will regroup. If Israel remains, it can wind up in the position the United States is in Iraq. This is exactly what Hezbollah wants. So, Israel can buy time, or Israel can occupy and pay the cost. One or the other.

[..........]

Hezbollah has dealt Israel a difficult hand. It has thought through the battle problem as well as the political dimension carefully. Somewhere in this, there has been either an Israeli intelligence failure or a political failure to listen to intelligence. Hezbollah's capabilities have posed a problem for Israel that allowed Hezbollah to start a war at a time and in a way of its choosing. The inquest will come later in Israel. And Hezbollah will likely be shattered regardless of its planning. The correlation of forces does not favor it. But if it forces Israel not only to defeat its main force but also to occupy, Hezbollah will have achieved its goals.
Sounds like Israel has blundered into a pretty ugly situation, if not an outright trap. Apart from the moral horror of injecting Israel into a giant war, killing hundreds of civilians, there is the more cold horror that it's not even going to fulfill the outwardly proclaimed goals.
Unless the goal is simply to escalate the region into a huge war, causing panicked Americans to rally round the flag again.
The problem is that once Israel has a really bad stalemate on its hands, the neo-cons will 'flight forward' from the crisis, escalating like Nazis going into Russia. And that means a war with Iran. In all likelihood, we will soon see all the theatrical staged shit like WMDs in Iran, and perhaps some false flag terror attacks will drive things into a frenzy, apart from the brinkmanship of guys like Iran's Ahmedinejad. I can't believe I'm saying this kind of shit these days, but hey, look where we are.
Unless, of course, more sane elements in the U.S. and elsewhere can intervene.
This, by the way, is the basic shape of your "October Surprise" intended to get people to vote Republican this fall. There will be plenty of well-packaged sequels until November, but we can basically see now that Clean Break is the 2006 Congressional Campaign Roadmap, and the Democrats ought to fucking act to put the brakes on and articulate an alternative, NOW.
Commenting on this Story is closed.