Goals, resources & tactics in a "New Middle East": it's still about WATER and OIL, folks
Iraqi intuition: As Joe Biden and Chris Matthews talked about on Hardball the other night, apparently President Bush did not expect Iraqi Shiites to support Hezbollah. This is the shrewd leadership of the War on Terror, folks. Sy Hersh was talking about how Cheney's office spoofed the intelligence on Lebanon and Israel. Again, the rosy shock-and-awe type scenarios failed tactically and stategically, as they always do. Strategic bombing never really works.
Apparently, The Pentagon's Air Force types were convinced Israel's planned tactical air campaign (long planned) would work. According to Hersh and others, the Marines and the Army are very skeptical about attacking Iran, since they would get sent in to invade Iran when the Air Force plan fails. It turns out that the intuitions of the Pentagon skeptics were right, not surprisingly. Any kind of military action on Iran would make our whole Middle East situation completely fall apart – and yes, the Iranians have a lot of fancy missiles they've bought with all the oil money. Iran's mountainous terrain makes South Lebanon look like a golf course.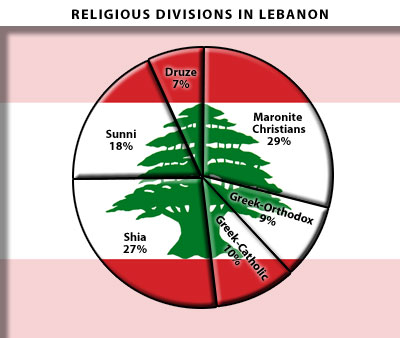 This image comes from former Defense Intelligence Agency officer Pat Lang's blog, Sic Semper Tyrannis, which has had some of the best commentary on the tactics between the IDF and Hezbollah.
Various commentaries: "How I found myself with the Islamic fascists" by Jonathan Cook. This essay would make Bill O'Reilly's head explode. "Israel, Defeated: Round one: Lebanon, 1 – Israel, 0" by Justin Raimondo at AntiWar.com.
Huzzah for Shias: Check out the book review of The Shia Revival.
Hezbollah's suicide bombers in past campaigns were mostly not Shiite: this is fascinating because it indicates that 'religion' per se is not the motivating factor for suicide attacks. What is? Foreign military occupation. Evidence: Professor Robert Pape found this, posted in the Guardian: What we still don't understand about Hizbollah, August 6:
This week, world terrorism expert Robert Pape will share with the FBI the findings of his remarkable study of 462 suicide bombings. He concludes that such acts have little to do with religious extremism and that the West must engage politically to halt the relentless slaughter: Israel has finally conceded that air power alone will not defeat Hizbollah. Over the coming weeks, it will learn that ground power won't work either. The problem is not that the Israelis have insufficient military might, but that they misunderstand the nature of the enemy.

In terms of structure and hierarchy, it is less comparable with, say, a religious cult such as the Taliban than to the multi-dimensional American civil rights movement of the 1960s. What made its rise so rapid, and will make it impossible to defeat militarily, was not its international support but the fact that it evolved from a reorientation of pre-existing Lebanese social groups.

Evidence of the broad nature of Hizbollah's resistance to Israeli occupation can be seen in the identity of its suicide attackers. Hizbollah conducted a broad campaign of suicide bombings against American, French and Israeli targets from 1982 to 1986. Altogether, these attacks, which included the infamous bombing of the marine barracks in Beirut in 1983, involved 41 suicide terrorists. Researching my book, which covered all 462 suicide bombings around the globe, I had colleagues scour Lebanese sources to collect martyr videos, pictures and testimonials and biographies of the Hizbollah bombers. Of the 41, we identified the names, birth places and other personal data for 38. We were shocked to find that only eight were Islamic fundamentalists; 27 were from leftist political groups such as the Lebanese Communist Party and the Arab Socialist Union; three were Christians, including a female secondary school teacher with a college degree. All were born in Lebanon. What these suicide attackers - and their heirs today - shared was not a religious or political ideology but simply a commitment to resisting a foreign occupation. Nearly two decades of Israeli military presence did not root out Hizbollah. The only thing that has proven to end suicide attacks, in Lebanon and elsewhere, is withdrawal by the occupying force.

Previous analyses of suicide terrorism have not had the benefit of a complete survey of all suicide terrorist attacks worldwide. The lack of complete data, together with the fact that many such attacks, including all those against Americans, have been committed by Muslims, has led many in the US to assume that Islamic fundamentalism must be the underlying main cause. This, in turn, has fuelled a belief that anti-American terrorism can be stopped only by wholesale transformation of Muslim societies, which helped create public support of the invasion of Iraq. But study of the phenomenon of suicide terrorism shows that the presumed connection to Islamic fundamentalism is misleading.

There is not the close connection between suicide terrorism and Islamic fundamentalism that many people think. Rather, what nearly all suicide terrorist campaigns have in common is a specific secular and strategic goal: to compel democracies to withdraw military forces from territory that the terrorists consider to be their homeland. Religion is rarely the root cause, although it is often used as a tool by terrorist organisations in recruiting and in other efforts in service of the broader strategic objective. Most often, it is a response to foreign occupation.

Understanding that suicide terrorism is not a product of Islamic fundamentalism has important implications for how the US and its allies should conduct the war on terrorism. Spreading democracy across the Persian Gulf is not likely to be a panacea as long as foreign troops remain on the Arabian peninsula. The obvious solution might well be simply to abandon the region altogether. Isolationism, however, is not possible; America needs a new strategy that pursues its vital interest in oil but does not stimulate the rise of a new generation of suicide terrorists. The same is true of Israel now.....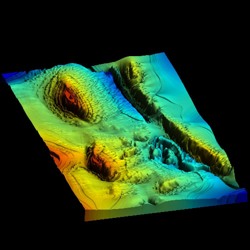 The backdrop is energy resources, and water too. From The Wilderness teased a pay story:
AS THE WORLD REELS FROM ISRAELI ATTACKS ON INNOCENT CIVILIANS DURING THE PAST THREE WEEKS, CULMINATING IN THIS WEEKEND'S ATROCITIES AT QANA, WE HEAR LITTLE ABOUT THE PIPELINE POLITICS AND WATER ISSUES BEHIND THE SCENES. BUT ISRAEL'S DESPERATE MILITARY MADNESS CANNOT BE FULLY UNDERSTOOD WITHOUT GRASPING THE FRANTIC RESOURCE WARS THAT FORM THE BACKDROP OF THE CURRENT MIDDLE EAST CARNAGE.
True enough. Encircling the Shiite's area of oilfields is important to guys like Dick Cheney. The situation in Iraq is fueled by the conflict over Iraq's oil revenue, of course. That crazy relief map is from here. It shows the Rumaila and other key oilfields around the Kuwaiti-Iraqi border. Rumaila was one of the key reasons Saddam invaded Kuwait. He claimed they were slant-drilling under the border, which was probably true since the Kuwaitis are dickheads.
Here is a map of the Sunni-Shiite distribution. In my opinion it actually doesn't show the Shiites of eastern Saudi Arabia correctly, but oh well... Shiites are darker.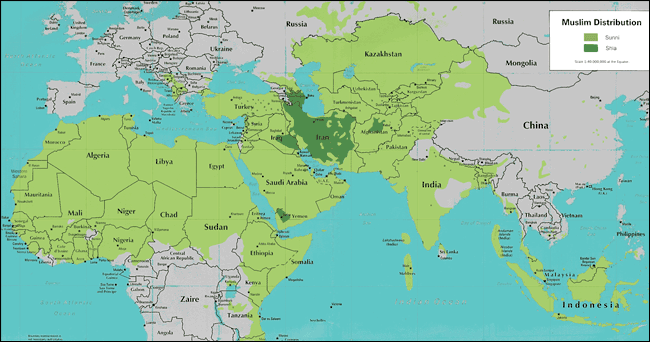 And here is the famous Iraq oil map (PDF) from Cheney's energy task force: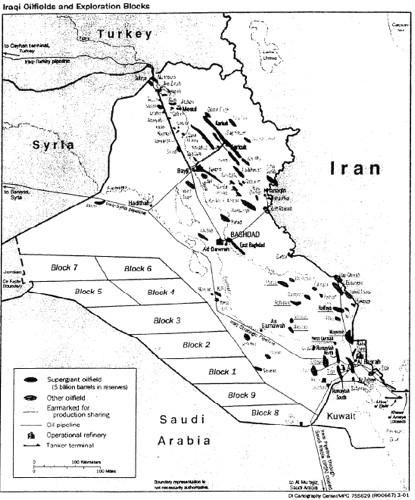 There is this kind of strategy to encircle the general area... The Christian Science Monitor had this badass map showing where American troops are, relative to the pipelines: (more on this here)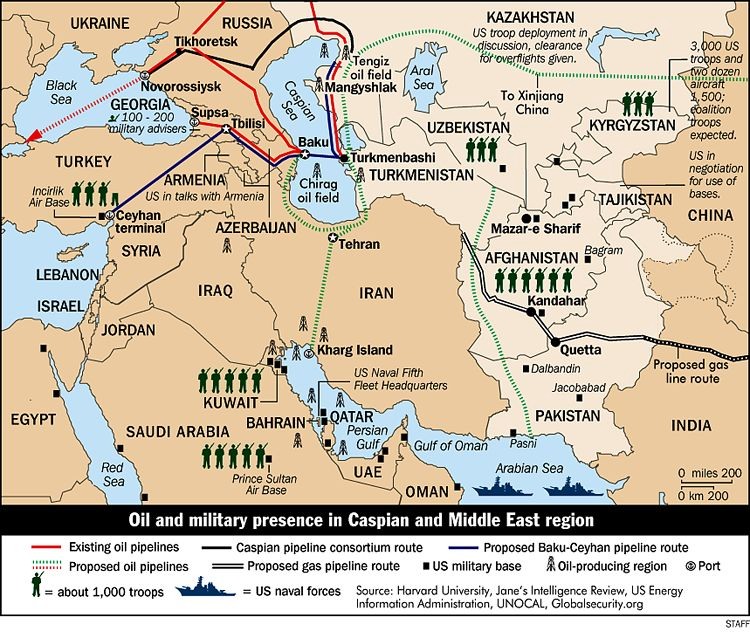 I don't know what the hell this is, some kind of "heat map", but it looks cool from a cool-looking site: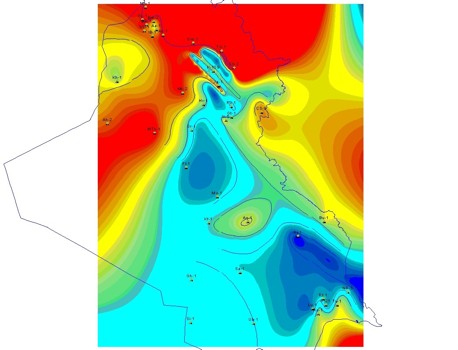 The Israelis are holding the Golan Heights because of water, as they tell you, and the West Bank wall is laid out to cut off many wells from Palestinian access. The largest settlement in the West Bank, Ariel, is situated on a ridge area in the north, directly above the main aquifer. One wonders why the Litani River is such a big deal anyway. More on Ariel.
I recommend reading this page about Israel's water wars. It's very relevant. For your comparison here, the 'nose' of the West Bank that juts just outside of the red mountain aquifer is Kalkilya - the northern West Bank's westernmost Palestinian city. Ariel, the most horizontal blob, is centered on the red aquifer, as you can see with the power of imagination (since the American media is never going to fucking tell you this).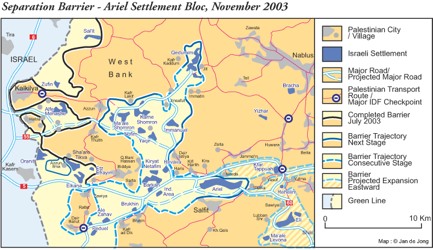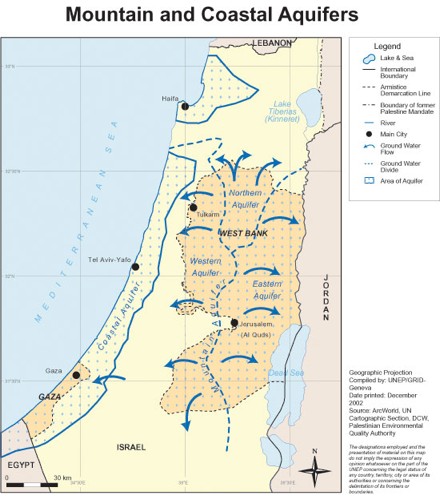 Iran noise: so we've gathered that this whole thing was an overture to a war in Iran (aka "World War III"). As one pretty pissed off international studies professor, Alon Ben-Meir put it:
The war of perception: Israel`s failure will undoubtedly embolden Iran to challenge it at a different time and circumstance, while Syria may decide that Israel is not such a formidable military after all and resort to more aggressive tactics to regain the Golan.

Hamas` resolve to resist Israel may harden, and Hezbollah which, by every objective military standard, suffered a strategic defeat, has already emerged as triumphant in the eyes of the Arab world for having withstood the Israeli onslaught with valor, may be emboldened to lie in wait for the next confrontation.

Having lost the war of perception Israel must be careful not to translate this into real strategic losses in dealing with the Arab-Israeli conflict or with Iran.

.......

The real danger in the future comes from Iran, and it looms extremely large. If it is to respond effectively, Israel must develop strategies that deny Iran not just the opportunity to meddle in the Arab-Israeli conflict but make Tehran fear for its very existence, and so refrain from even contemplating any act of hostility against Israel.

An Israel that is, rightly or wrongly, perceived as weak, will simply invite more serious military challenges because Israel`s real enemies like Iran are relentless, and now they smell blood.
That's all for now. I really like maps!
Commenting on this Story is closed.
Tags for Goals, resources & tactics in a "New Middle East": it's still about WATER and OIL, folks