Google Analytics indicates global interest in HongPong: Hi to Pakistan, Iran & elsewhere
Having run the Google Analytics system for a couple weeks, consider the geographic distribution of hits here on Hongpong.com for 11/29 to 12/5. It is not a very large number of hits, but they are all over the world, including Peru, Ukraine, quite a few in Iran, Kuwait, UAE, Egypt, Pakistan, Saudi Arabia, India, Israel, Turkey. Many from UK, Spain and Germany, Australia as well.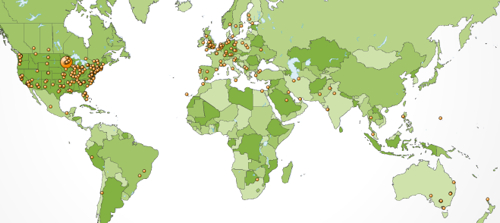 Sadly this map does not show the hit I got from Isfahan, Iran, the heart of their nuclear operations, because that was before 11/29. Without a doubt the Internet is a very global thing, and I have a lot of keywords of interest. Huzah!
A great many of these hits are in the old MovableType archives as random people hit google. However the old archives (located at /hp-archives) are not all tracking with Google Analytics yet. Due to glitches only about 1/3 of archives are registering the hits.
Thanks to all for visiting. We always have interest and respect for the global audience. It is quite cool to be able to view these rendered on a map. (and yeah, the big bubble on the Twin Cities was probably caused mostly by me working on my own site. I will knock out my own IP number from charting eventually!)
Commenting on this Story is closed.