OS X 10.5 around the corner; Photoshop CS3 beta success promises major Mac Pro sales this year, say analysts

Good news for Mac fans - Adobe is finally almost done with the Photoshop CS3 package, which will finally run natively (universal binary) on Intel Macs. However, even G5 users have been impressed with speed gains for CS3.
Piper Jaffray analysts think that next year will be a hot one for Intel-based Mac Pro sales, as creative companies and others who depend on Adobe software have put off buying new Intel Macs until Adobe gets rid of the CS2 version, which runs in emulation at about 1/2 the proper speed on Intel macs.
For those of you that are not insane nerds, I'll explain briefly what all this means. Well basically a couple years ago, Apple switched from IBM/Motorola chips called the PowerPC series, to Intel chips, as the central processing unit (CPU) of the Macintosh product line. They did this because Motorola had perpetual problems keeping up with demand, as well as not being able to boost the speed of Macs very well at all. Motorola is better suited to just make cell phone CPUs, not redesigning to boost heavy speed all the time.
Intel is a lot better at this, and they make powerful mobile-sized CPUs as well, which opened possibilities for Apple in designing a stripped-down version of the OS X operating system that could run, say, an iPhone. However, the iPhone will not have an Intel chip.
Anyhow, finally a lot of consultancies and larger businesses will be ready to drop big money for a batch of new Mac Pros and laptops, once everyone can do their Adobe work on Intel properly. Surprisingly, in the public beta testing phase of CS3's development, there were no negative comments and something above
AppleInsider reported all good news from the Wall Street Watchers:
Experts at the financial research firm PiperJaffray said on Wednesday that a wave of positive feedback on the Photoshop CS3 beta is a harbinger of much stronger Mac sales waiting in the wings.


As part of two separate research notes for investors, PiperJaffray's Gene Munster and Michael Olson noted that testers of the new photo editor were overwhelmingly in favor of the changes made since the CS2 edition and that the software was likely to have a "measurable positive impact" on Apple's pro computer sales. If released during the expected mid-spring window, they say the suite could boost Apple's total marketshare as much a full percentage point in combination with other factors.



This is due in no small part to Apple's dependence on creative pros, the analysts said. They claimed in the notes that roughly 15 percent of all Mac owners use at least one Adobe program as the backbone of their careers. Munster and Olson also pointed to an almost deafening level of requests for an Intel-native update to the Creative Suite as the primary reason so many Mac users were keeping their wallets closed.



"My company was ready to get 2 new Mac Pros," wrote one user quoted by the research firm. "But I recommended against [them] until CS3 is out. We can't run at half (quarter?) speed for months until they get their act together."



Thankfully for both Adobe and Apple, feedback on the Photoshop CS3 beta released last month was uniformly positive, according to PiperJaffray's data. An astounding 88 percent of respondents said they were pleased at some level with the overall quality of the beta, with 71 percent of the entire group saying it was "very satisfied." Surprisingly, not a single negative comment was received in the feedback.



Most of the testers studied by the financial group praised the sheer speed of the Photoshop build, even on PowerPC Macs that many thought would gain little from the transition to a Universal Binary. They also saw Adobe's new features, such as Smart Filters and automatic layer alignment, as genuinely useful.



To Munster and Olson, the early software seeds may bear real fruit for pro Mac sales when mixed with the rest of the CS3 release, which will be the first to see Fireworks and other ex-Macromedia applications interface directly with Adobe's software.



"Our belief is that the true value in CS3 is the collaborative workflow between the Adobe and Macromedia products," they said. "The real user excitement will not be apparent until Adobe releases the integrated suite."



besides that, OS X 10.5 is also on its way down the pike. Babygotmac, A site that was hosting sweet screenshots of the new softs got hit with a DMCA notice from Apple and so they tossed in some old joke shots from the Next OS that eventually became OS X.
Gizmodo has a bunch of shots that they got from babygotmac, and we'll take our chances to put one up. It is nothing too insane, but: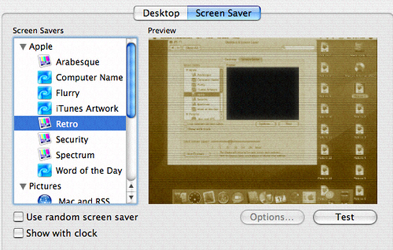 And evidently the Terminal icon will look like the Matrix.

We'll let this one up for now and see if they notice.
Commenting on this Story is closed.