Virginia Tech loose ends: Cho Seung-Hui's a Lone Gunman with a military-industrial family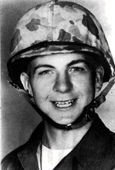 It's been good to spend some time away from blogging. The massacre at Virginia Tech presented that ugly, insane side of America again. Everyone makes really familiar arguments, gun-control this-and-that, they crack down on the weird kids for a while.
The night before I was reading something of a JFK classic, The Man Who Knew Too Much, about US Army intel spook Richard Nagell (at left), who nearly stopped Lee Harvey Oswald. Nagell and Oswald spent years in the spy world of Tokyo and Mexico City at the same time. Oswald's bizarre past created the man in the Book Depository: even Lone Gunmen have a past, that's what we need to learn from Nagell.
When the news broke it was a "lone gunman" at VTech, there was almost palpable relief on the TV. Within hours, the conceptual frame of the murderous act was cemented in solitude. In strictly symbolic terms, Cho Seung-Hui was removed from his past and his connections, placed by the TV in some separate continuum that blew up colliding with our own. The indifferent bureaucracies, the gun distributors, all these factors that add up to such a heinous crime are flattened by the sledgehammer conclusion: he's a lone gunman. Whew!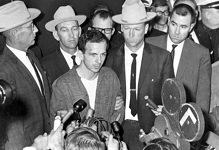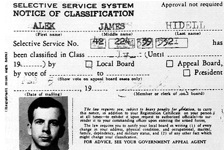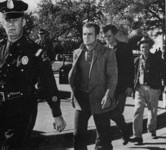 Out of respect for the victims I refrained from posting much on such an ugly topic. But in any case, in the exactly 7 days since the shooting, we shouldn't already exclude any particular factors that might have compelled this individual to cross that terrible line. All the stuff in his life added up to the act, and the morally self-satisfied frame their arguments by tilting this basic reality.
Realistically I think poor Cho Seung-Hui was an example of something we're going to see more of: violently unstable, self-motivated "suicide by cop" type cases. Right now I generally believe the mainstream reported narrative is essentially the accurate one. Naturally Alex Jones sez he was a mind controlled assassin, and I would say if you are including Prozac and video games that might be fair.
However, comparing VTech to the template of Conspiracy Stuff ©, there are a couple doozies left unquestioned: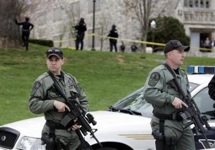 1) Security Drills prior to incident: A classic of conspiracy theorists who believe Terror is Staged, carefully compartmentalized security drills offer Illuminati© teams the chance to stage 9/11, 7/7, etc. At VTech there were three bomb scares days before the massacre, many around the ROTC area. Police from all over combed the area just days prior. Likely, Cho Seung-Hui created the scares to wear out the security response: this is worthy to take note of. But conspiracists will claim the opposite.
2) SSRI anti-depressant: Like with VTech, A number of mass murders have been carried out by people on serotonin reuptake inhibitor (SSRI) drugs. Including Columbine and others. SSRIs can also suddenly cause suicidal thinking.
3) Violent video game trance created by SSRIs? A little bit more strange. Basically, what is the real mental state of someone on a high Paxil dose who plays CounterStrike more than 20 hours a week? You could easily say that they could get detached from reality, basically trapped in a militaristic hall of mirrors.
4) Family ties to Military-industrial complex: His sister works for a huge shady contractor complex: honestly, if DynCorp can't create Manchurian Candidate assassins, I would be seriously disappointed. MK-ULTRA was not just a punchline...
WMR: April 20-22, 2007 -- Mass killer Cho Seung Hui's link to Iraq occupation and private military contractors. It has been discovered that Cho's older sister. identified as Cho Sun Kyung by South Korea's Chosun Ilbo newspaper, works as a contractor for the State Department's Iraq Reconstruction Management Office.

Her employer is McNeil Technologies of Springfield, Virginia. McNeil, which was involved in prisoner interrogations for the Defense Department, is owned by Veritas Capital, a defense industry acquisitions firm that also owns two other Defense and US intelligence contractors, Dyncorp International and selected remnants of the former company of Mitchell Wade (of Duke Cunningham infamy), MZM Inc., renamed Athena Innovative Solutions, Inc. Cho Sun Kyung is three years older than her brother. While attending Princeton, Cho's sister served a stint as an intern at the US Embassy in Bangkok, where among other tasks, she studied the plight of Burmese migrant workers on the Thai-Burmese border.
5) Federal law enforcement orders stand down of VTech campus police? There are rumors that the feds held off a campus lockdown after the morning shooting. I don't know, but the campus administration's failure to email everyone was extremely dubious. If not "suspicious" it's at least "stunning" & fucked up!
6) Copycat trigger? The media response to all this matters a lot: they could trigger copycat killings. The government & media must be conferring on ways to prevent this...
7) Mysterious photo attributed to Cho Seung-Hui: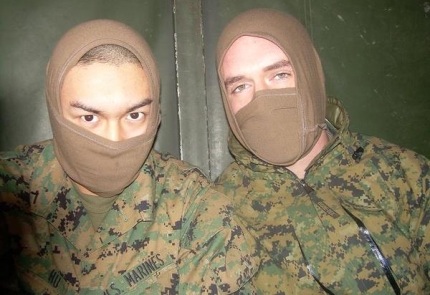 Of course this might not be him: Hu and Hui aren't the same name. But it's weird.
8) CIA operations around Blacksburg, VA: Virginia has some shady government facilities so why not throw in all that stuff? CIA also recruited from VTech. In a triple-tinfoil-hat multiplier, a woman named Cathy O'Brien who claimed to be a CIA brainwashing subject claimed the area had "mind control" schemes in the classic pulp-fiction sense. There is some kind of mysterious underground facility nearby which may be involved with DARPA and energy.
This little cartoon was grim and weird but funny: Yikes!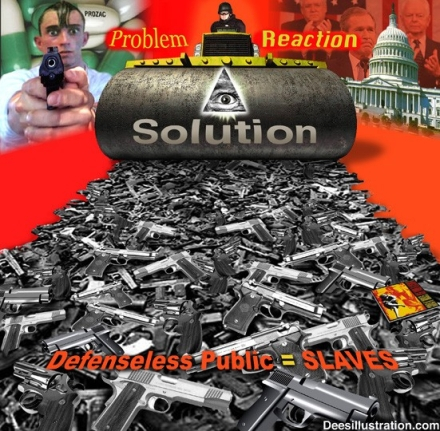 Ok that's a little nuts. Anyway see also: Daily Kos: I'm Asian-American. I fear for my life. Some material on here was from stuff he may have posted on MySpace beforehand.
I mean no disrespect to anyone harmed by the VTech massacre by posting material about some apparent loose ends around the case. Only by picking over each individual part of the story does the whole arc emerge – and people ought to be honest about that. My best regards to the families and friends suffering on that campus.
Commenting on this Story is closed.