The main avenue to discrediting Ron Paul, GOP libertarian candidate: some old newsletter bits! Yikes!!
As per the last couple posts, I've been talking about the effects of a Ron Paul candidacy on the scene as a whole. I'm hardly some hardcore libertarian (they're a disparate strand in America today) but I do want to see Paul's ideas get some more exposure, because he's really a lot more decent, and interesting, than the other GOP candidates.
So let's get a bit into where Paul is coming from. His column at Antiwar.com is a good one. The most recent story makes sense about how the Homeland Security department was a terrible idea.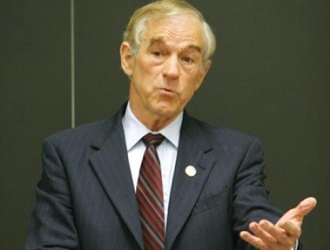 To understand the guy, this is where you gotta start:
Congressman Ron Paul Reiterates Danger Of Foreign Troops Being Used For Martial Law

Speaks out on phony UN-US dog and pony show, EPA testing pesticides on children

Paul Joseph Watson & Alex Jones | November 24 2005

Republican Congressman Ron Paul recently appeared on nationally syndicated radio and again reiterated his deep concern that foreign troops are mobilizing outside and inside America to be used as assets in a martial law takeover by the Bush administration. "It's a horrible precedent and it's all part of the NAFTA scheme and globalization and world government," Paul told the Alex Jones Show.

"Obviously they shouldn't be permitted. What I'd like to see is that we don't have our troops in foreign countries and if we needed a national guard that they were back here at home, that's the bigger problem. Then if there were foreign troops on our soil maybe our state officials could deal with that with their own national guard."

Paul elaborated on his fear that after the next crisis the government, in line with their own public statements, will use military assets to police Americans on a regular basis. "They're putting their back up against the wall and saying, if need be we're going to have martial law."

"We've heard all these statements by the President, by the administration, why they need more militarism at the federal government to keep people in check so nobody knows how this will turn out but I do know that the only thing we can do about it is try to alert the American people to what's going on so they can be prepared.

......On the subject of his drive to get the US out of the UN, Paul pointed out the staged good cop, bad cop nature of the US-UN relationship.

"The Bush administration started bashing the UN and threatening the UN with cutting some of the funding but it was all a game they were playing because they literally gave the UN more power in the name of a reform."

"Who do we have at the UN, Bolton, the arch Neo-Con warmonger and actually what they've done is taken the Neo-Con position on intervening on the internal affairs of other nations and regime change and they've institutionalized that in the United Nations, now the UN is in the business of regime change."
Well you gotta start with the paranoia basics: Alex Jones and the UN schemes!!! Not surprisingly, this is the kind of candidate Jones supports.
Pissed off conservatives are finding stuff to like about Paul. Andrew Sullivan, who long ago had to eat his hat over Iraq, is just one of the new Paul fans. The National Review crowd also had to give him due credit. A CNN commentator defends Paul's view of 9/11 and Blowback.
A right-wing talk show banned talk of Ron Paul. Interesting example of spontaneous censorship. Libertarian Reason Magazine is checking him out. U.S. News reports on his "online rise."
Anywho now we gotta get to the skeletons in the closet, the traditional instruments to discredit a political candidate. In Lyndon Johnson's first 1948 race for Congress, he told his campaign adviser to put out a rumor his opponent was having sex with livestock. Hunter Thompson's telling of the "ancient and honorable" tale of how LBJ defeated a wealthy pig farmer goes like so:
'Lyndon was running about 10 points behind, with only nine days to go... He was sunk in despair. He was desperate... he called his equally depressed campaign manager and instructed him to call a press conference at two or two-thirty ( just after lunch on a slow news day) and accuse his high-riding opponent (the pig farmer) of having routine carnal knowledge of his barnyard sows, despite the pleas of his wife and children... His campaign manager was shocked. 'We can't say that, Lyndon,' he said. 'It's not true.' 'Of course it's not,' Johnson barked at him, 'but let's make the bastard deny it.'
Ah, good times. LBJ went on to join forces with Brown & Root, one of his biggest financial patrons, helping them along to build military bases all over Vietnam. Profits for all except the taxpayers and families of dead soldiers. Gotta keep the wheel turning!
More below the fold - we'll lay out the major method to discredit Dr. Paul!
Now we have an angle intended to discredit Dr. Paul. To be fair, he handled this whole episode badly. Basically here's the scenario: he published the Ron Paul Survivor Report back in the day. In the 1980s one of his staff put a bunch of racist bullshit into the newsletter, and it went out. He didn't directly refute the newsletter head-on, instead going about it a delayed and roundabout way because it harmed himself to even let this happen. It was a pretty old episode, but it's cropping up around the Internets today as a counter-Paul instrument. Here's his response in Texas Monthly from quite a while ago:
"In one issue of the Ron Paul Survival Report, which he had published since 1985, he called former U.S. representative Barbara Jordan a "fraud" and a "half-educated victimologist." In another issue, he cited reports that 85 percent of all black men in Washington, D.C., are arrested at some point: "Given the inefficiencies of what D.C. laughingly calls the 'criminal justice system,' I think we can safely assume that 95 percent of the black males in that city are semi-criminal or entirely criminal." And under the headline "Terrorist Update," he wrote: "If you have ever been robbed by a black teenaged male, you know how unbelievably fleet-footed they can be."

In spite of calls from Gary Bledsoe, the president of the Texas State Conference of the NAACP, and other civil rights leaders for an apology for such obvious racial typecasting, Paul stood his ground. He said only that his remarks about Barbara Jordan related to her stands on affirmative action and that his written comments about blacks were in the context of "current events and statistical reports of the time." He denied any racist intent. What made the statements in the publication even more puzzling was that, in four terms as a U. S. congressman and one presidential race, Paul had never uttered anything remotely like this.

When I ask him why, he pauses for a moment, then says, "I could never say this in the campaign, but those words weren't really written by me. It wasn't my language at all. Other people help me with my newsletter as I travel around. I think the one on Barbara Jordan was the saddest thing, because Barbara and I served together and actually she was a delightful lady." Paul says that item ended up there because "we wanted to do something on affirmative action, and it ended up in the newsletter and became personalized. I never personalize anything."

His reasons for keeping this a secret are harder to understand: "They were never my words, but I had some moral responsibility for them . . . I actually really wanted to try to explain that it doesn't come from me directly, but they campaign aides said that's too confusing. 'It appeared in your letter and your name was on that letter and therefore you have to live with it.'" It is a measure of his stubbornness, determination, and ultimately his contrarian nature that, until this surprising volte-face in our interview, he had never shared this secret. It seems, in retrospect, that it would have been far, far easier to have told the truth at the time."
Here's a recent commentary from Ron Paul about racism and the Don Imus flap:
The controversy surrounding remarks by talk show host Don Imus shows that the nation remains incredibly sensitive about matters of race, despite the outward progress of the last 40 years. A nation that once prided itself on a sense of rugged individualism has become uncomfortably obsessed with racial group identities.

The young women on the basketball team Mr. Imus insulted are over 18 and can speak for themselves. It's disconcerting to see third parties become involved and presume to speak collectively for minority groups. It is precisely this collectivist mindset that is at the heart of racism.

It's also disconcerting to hear the subtle or not-so-subtle threats against free speech. Since the FCC regulates airwaves and grants broadcast licenses, we're told it's proper for government to forbid certain kinds of insulting or offensive speech in the name of racial and social tolerance. Never mind the 1st Amendment, which states unequivocally that, "Congress shall make NO law."

Let's be perfectly clear: the federal government has no business regulating speech in any way. Furthermore, government as an institution is particularly ill suited to combating bigotry in our society. Bigotry at its essence is a sin of the heart, and we can't change people's hearts by passing more laws and regulations.
McClatchy News Service did a profile on Dr. Paul:
Paul was one of six House of Representatives Republicans who voted against the 2002 authorization to use force in Iraq, based on the same wariness of excessive international involvement that long guided Republican foreign-policy thinking. Traceable to George Washington's warning against entangling foreign alliances, its post-World War II followers -- including "Mr. Republican" Sen. Robert Taft of Ohio -- likely would share Paul's view of President Bush's adventures in democratic nation-building as muddleheaded folly.

"He touches a nerve out there," said Bruce Buchanan, a political scientist at the University of Texas. "There are Republicans who believe it was a mistake to get in there to begin with, and that's the Paul constituency."

The rest of Paul's platform is a jet-fueled version of the small-government, low-tax conservatism espoused by Barry Goldwater, whose principled stands became the foundation of the modern GOP. It's what the nine other declared Republican presidential hopefuls all claim to want, too, even though none dares follow Paul's embrace of its stronger features.

"He's performing an enormously valuable service," said Michael Tanner, author of "Leviathan on the Right: How Big-Government Conservatism Brought Down the Republican Revolution."His very existence on the stage pressures the others. There is a small-government, libertarian conservative base in the Republican Party. It may or may not be as big as the religious right. It's open for the taking."

But who is he?

Who he is: An Air Force veteran, Duke-educated ob-gyn who has delivered, by his estimation, more than 4,000 babies. A 10-term member of the House, making him among the most politically experienced of the presidential candidates. A savvy enough politician to ensure that Texas' 14th congressional district gets its share of federal loot, including those earmarks that many conservatives despise.

.....Whippet-thin, with intense hang-dog eyes, the 71-year-old Paul comes across as a loopily enthusiastic professor, voice rising in pitch and pace, arms waving, as he delves into pet issues, especially the folly of taking the country off the gold standard (which sparked his initial interest in politics).

.....But on the presidential campaign trail, Paul lags at 1 or 2 percent in polls. Even so, he has some things going for his unlikely bid.

He's positively huge in cyberspace, a virtual nation teeming to embrace Paul's leave-me-the-hell-alone approach. Paul's MySpace page lists more than 12,000 friends, trailing only Arizona Sen. John McCain and former Massachusetts Gov. Mitt Romney among Republican presidential hopefuls. That popularity helped catapult Paul to victories in several online polls after the debate. And lately he's been the No. 1 search subject at technorati.com, a blog search engine.

Philosophy of freedom

Paul also has raised enough real-world money to stay in the race for a while. Thanks to a network of donors cultivated through years of nationally distributed libertarian writings, Paul has out-raised some of the more "mainstream" candidates. His $640,000 first-quarter haul placed him a respectable -- if distant -- sixth among the 10 announced Republican candidates.

Enough to finance a winning campaign? Unlikely. But probably enough to ensure Paul's continued presence as a sort of Ghost of Conservatism Past, causing uncomfortable moments for any other candidate trying to claim the conservative mantle.

And as the war becomes less popular, as conservative Republican primary voters wonder just what the Bush administration was doing nationalizing education policy (through the No Child Left Behind Act) and expanding entitlements (through the Medicare prescription drug benefit), Paul will tout his small-government bona fides.

"I'm very reluctant to have any grandiose predictions. ... I don't know what the future will bring," Paul said. "I know the message is powerful. There's no limitations on the philosophy of freedom. People are begging for it."