Ron Paul & the "Sanjaya Strategy" to crash the 2008 election, get rid of Dana Milbanks and destroy DC's corrupt & wicked power
It's apparently a modern reality that a 10-year-old from the developing world, who has literally never before experienced electricity, can still somehow discern how to use a laptop in three minutes without a teacher. Check out the OLPC (One Laptop Per Child) project.
Yet we are supposed to accept that the preening nannies of the mainstream media know what's good for all of America. Nasty, greasy little squares like Dana Milbank know what's good for us, and we'll never come close to their level of shrewd political sophistication. As junkies like me finally observed, everything sucks about the 2008 election. The candidates are heavily "managed" and journalists are spoon-fed incredibly dull storylines, in an effort to develop starched identites with low negative ratings.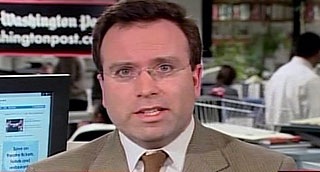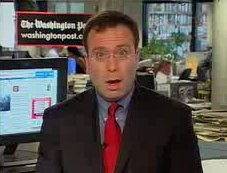 The REAL problem: Washington Post Nanny / Columnist Dana Milbank and all his kind:

A vain little WaPo toadie who makes shit up to make Dems look bad, looks to be he got his forehead jacked with Botox. And these Beltway people think Jim VandeHei is hot. Dana's a perfect example of the Howard Finemans-in-action, the Kool Kids who know exactly what's good for us in 2008. He gets taken seriously by everyone, and he managed to look good enough all along the way. Guys like Dana (Dana?) are going to make the 2008 election suck. A lot.
What in the fuck is wrong with these people? Once you get inside the Beltway, you become stupid, greedy, and blithely unaware of reality beyond the American Enterprise Institute. They could not administer a cat in a grocery bag without starting a kitchen fire and making off with the good china.
These people are about to make the election campaign suck (chattering like morons about Hillary vs Obama vs Rudy till my head explodes).
Things were looking desperate. Then, finally, came an appealing prospect on the 2008 election.
I'm convinced the establishment is terrified that the American public is too stupid to realize they're not allowed to vote for Ron Paul. Hence the rather forceful, even brusque, media blackout upon Dr. Paul. In a nutshell, here's how we crash the presidential campaign: knock off the candidates one by one, like American Idol. Like Sanjaya, everyone votes for Paul. Paul becomes president, dissolves Washington's entrenched bureaucracies, and all the lobbyists go home because the federal government as surrendered its authority back to its constitutional boundaries. The military-industrial complex drowns in the bathtub and we never have to hear from Dana Milbank ever again.
Here is how Wonkette.com summarized the Sanjaya strategy to destroy the election:
It's based on the exciting principle of that shiny-haired weirdo on American Idol, the dude who cannot sing yet stays in the competition due to an intentional open conspiracy by the public (or Howard Stern) to make a mockery of the "talent" portion of the talent show....

Using the methodology, every major candidate can be destroyed and Ron Paul will become president by default.

This is awesome because Ron Paul is such a hard-core libertarian that he doesn't believe Washington exists, or something, and politics will be done forever and all the lobbyists will go back to their first career (fluffers) and Washington will be like that crappy remake of "Planet of the Apes." The end.
Follow along for a grand strategy from one Jonathan David Morris. I don't really think Paul would be the best, but I appreciate where he's coming from: The Sanjaya Principle: Why Ron Paul Can Be Our Next President:
The 2008 presidential election is now less than 19 months away. As far as I'm concerned, that means now is the time to start planning how to destroy it.... There is a reason third-option candidates never stand a chance in presidential elections, and that is because Americans not only like to vote for someone they roughly believe in—they like to vote for someone they think can actually win.

But something different is happening at the moment. And that something different makes me believe something different can happen in next year's election.

The something different in question is a lanky, long-haired Indian kid named Sanjaya Malakar, who, despite his lack of charisma and talent, is somehow taking this year's "American Idol" by storm. More than just a passing fad, I believe Sanjaya's unlikely success means something. A hundred years from now, I predict historians will credit him as the reason a little known Republican congressman from Texas became our next U.S. president.

.... each week, every contestant sings better than the shaky 17-year-old Malakar. Somehow, phone-in voters keep voting to keep him on the show. Some people believe this is because he is popular with 12-year-old girls. But as we all know, 12-year-old girls have no souls.

The real reason Sanjaya has stuck around is because he has captured the adoration of a site called votefortheworst.com, which, itself, has captured the adoration of Howard Stern and millions of other people who wish to mess with "American Idol." These people aren't voting for Sanjaya because they like him. They're voting for him because it's ironic—because it turns the whole idea of a glitzy, commercialized singing competition on its head.

There is nothing glitzier or more commercialized in American culture than our presidential elections. For years, people like me have wanted to change this—not because we care, but because it would give us great pleasure to ruin the fun for anyone who truly believes in them. ....Millions of people will still vote for the interchangeable Hillary Clinton or Barack Obama next year, and millions of people will still vote for John McCain or whichever candidate the Republicans decide to trot out. But there is another Republican, a little known Texas congressman named Dr. Ron Paul, who represents the perfect chance for tired, bored, or fed-up Americans to turn this election completely on its head.

I don't want to discuss whether Ron Paul is what's "best" for America. I do believe it, but I'm not going to say it, since that's the kind of thing a Hillary Clinton supporter would say. Instead, I want to focus on this idea of voting "for the worst." There isn't a doubt in my mind that Ron Paul would be the establishment's worst nightmare.

First of all, there's the fact that you've never heard of him. This is a good thing. Unlike Obama or John Edwards, Ron Paul isn't a prepackaged candidate. Secondly, not being prepackaged means his congressional record actually means something. You can literally tell what Ron Paul believes in just by looking at how he's voted.

Finally, his congressional record is impressive. Unlike most congressmen, Ron Paul goes to the trouble of reading legislation before voting for it. For this reason, he knows better than to vote for most of it. A true conservative, he typically votes to conserve our nation's money and resources. He has never voted himself a pay raise. And he is the only congressman who checks every one of his votes against the United States Constitution.....

I'm tired of hearing what's "best" for America. Most of the candidates who say they're what's "best" are, in fact, the same people who keep screwing things up. I want 2008 to be the year Americans realize a third-option candidate can win the White House. I want it to be the year everyone who goes on and on with all their complaints finally puts up and shuts up when it comes to Election Day.

No more saying, "Politics are corrupt, but there's nothing we can do about it." With that attitude, you're right: There's nothing we can do. But if a lanky, long-haired Indian kid who can't sing can nonetheless succeed on "American Idol," then it only goes to show that attitude is everything—especially when the people have the power to vote. ........

Ron Paul would be the status quo's worst nightmare. But if we all got behind him, it would be an American dream.
Again, I'm no hard-core Paul supporter. My basic point is that I want to have this guy's ideas out there in the arena for a while to stave off the total Orwellian bullshit spree that currently passes for a national campaign. Guys like Milbank are so invested in their style, they'll do everything to lock Paul out!
Commenting on this Story is closed.
Tags for Ron Paul & the "Sanjaya Strategy" to crash the 2008 election, get rid of Dana Milbanks and destroy DC's corrupt & wicked power