Ron Paul raises major dough from 'V for Vendetta' inspired fundraising!
Image source DeesIllustration.com / Rense.com :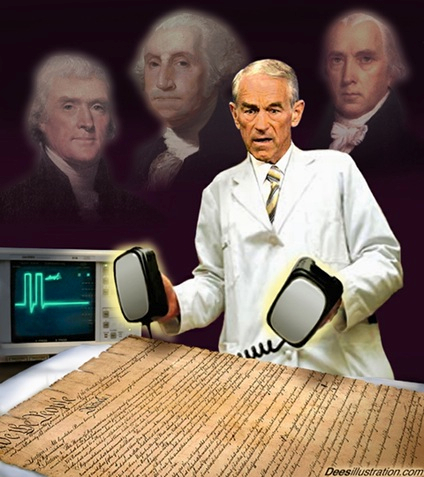 Play to the Base! You gotta hand it to the Ron Paul campaign, they are cashing in directly on Guy Fawkes and 'V for Vendetta'! Paul blew away the GOP single-day fundraising record, and now he's sitting pretty.
Meanwhile, it is quite likely that New Hampshire independents will wander into the Republican primary and vote for Ron Paul. This is also the plan in Minnesota, I have been told by a top MN-Ron Paul organizer. New York Times:
Candidate's Pleased to Remember This Fifth of November

By DAVID D. KIRKPATRICK

Historians and British schoolchildren remember Guy Fawkes as the Roman Catholic, anti-Protestant rebel who on Nov. 5, 1605, tried to assassinate King James I by blowing up the Parliament. Supporters of the Republican primary campaign of the libertarian Representative Ron Paul may remember Fawkes as a wildly successful fund-raising gimmick.

On Monday, a group of Paul supporters helped raised more than $4.07 million in one day — approaching what the campaign raised in the entire last quarter — through a Web site called ThisNovember5th.com, a reference to the day the British commemorate the thwarted bombing.

Many fans of Mr. Paul know of the day primarily through a movie based on the futuristic graphic novel "V for Vendetta," by Alan Moore and David Lloyd, in which a terrorist modeled after Fawkes battles a fascist government that has taken over Britain.

The Paul campaign has raised more than $6.84 million in the first five weeks of this quarter, more than the $5 million it raised from July 1 to Oct. 1. Many of the contributions appeared to come through the independent Fawkes effort, but how much was unclear.

On Monday alone, the campaign signed up more than 21,000 new donors, said Jesse Benton, a campaign spokesman.

Among 2008 presidential candidates, Senator Hillary Rodham Clinton of New York holds the record for raising the most in a single day: $6.2 million on June 30. But Mr. Paul has surpassed the best day of Mitt Romney, the former Massachusetts governor, who raised $3.14 million on Jan. 8.

ThisNovember5th.com includes video clips and the text of a speech by Mr. Paul, a 10-term Texas congressman. In it, Mr. Paul declares, "The true patriot challenges the state when the state embarks on enhancing its power at the expense of the individual."

Mr. Paul has stood out from the Republican field for his opposition to the war in Iraq. In the speech he argues that the fight against terrorism is threatening American democracy.

"The American Republic is in remnant status," he says. "The stage is set for our country eventually devolving into military dictatorship, and few seem to care."

Mr. Benton clarified that Mr. Paul did not support blowing up government buildings. "He wants to demolish things like the Department of Education," Mr. Benton said, "but we can do that very peacefully, in a constructive manner."
Ron Paul's web traffic continues to zoom away from the pack, the Alex Jones conspiracy guys note with glee: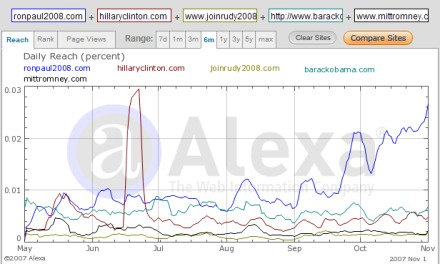 Regardless of whether it's possible to be polite about it, the reality of contemporary America is that the legal trappings of total tyranny have already been set up. Weird, subjective parameters for declaring you and me 'terrorists' beyond the reach of the Magna Carta have already been drafted into law with little attention.
On the upside, this has inspired $4 million in donations to the Ron Paul campaign yesterday! While I differ with Dr. Paul on many policies, his whole message is anti-police state, and its good to have messaging in that direction today.
Commenting on this Story is closed.