Bilderberg announces 2008 conference! Charlie Rose!? Obama? Sebelius? Bernanke, Perle, Wolfowitz, Kissinger = PARTY TIME, EXCELLENT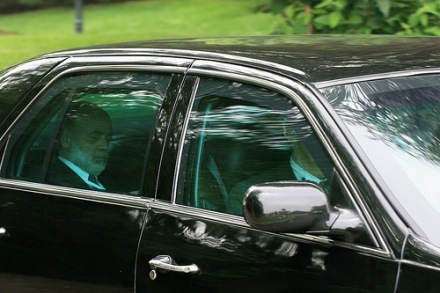 Ben Bernanke: I want COFFEE and FRESHLY MINTED $20s. NOW dammit.....
What's New at Bilderberg 2008?

Obama, Clinton staying mum on Bilderberg globalist confab

Turkish paper Today's Zaman: Rice hopes Turkey will solve issues through democracy

Off to Bilderberg conference

Responding to a question regarding his weekend schedule in the US later in the day, [Turkish Foreign Minister] Babacan revealed that he would be attending an international conference of people of influence in the fields of business, media and politics, known as the Bilderberg conference.

The unofficial invitation-only conference will take place from June 5 to June 8 at the Westfields Marriott Hotel in Chantilly, Virginia, this year. Last year, it was hosted at the Ritz Carlton Hotel in İstanbul. "We hosted this conference in İstanbul last year," Babacan said, without mentioning its name. He also said this is the fifth time he has been invited to the elite gathering.
The bad kids have shown up and made a mess of things! Dirty Tricks Campaign Against Alex Jones
Bilderberg 2008 - Day 3 Footage, U.S. Corporate Media Blackout On Bilderberg Meeting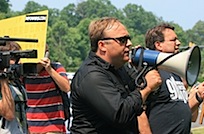 Due to unexpected publicity from the usual New World Order protester types, everyone's favorite secret annual conference (which can never be reported upon inside the United States) was forced to spell out the nature of their gig. Lulz...
Unexpected press release!! And now according to the Internets, Charlie Rose is in on it! Democratic governors Mark Sanford and Kathleen Sebelius (Tom Daschle too) - which means that you can bet your hat Sanford or Sebelius will be Obama's vice presidential choice.
Bilderberg Announces 2008 Conference: Financial News - Yahoo! Finance
Press Release
Source: American Friends of Bilderberg
Bilderberg Announces 2008 Conference
Thursday June 5, 8:10 pm ET
CHANTILLY, Va.--(BUSINESS WIRE)--The 56th Bilderberg Meeting will be held in Chantilly, Virginia, USA 5 – 8 June 2008. The Conference will deal mainly with a nuclear free world, cyber terrorism, Africa, Russia, finance, protectionism, US-EU relations, Afghanistan and Pakistan, Islam and Iran. Approximately 140 participants will attend, of whom about two-thirds come from Europe and the balance from North America. About one-third is from government and politics, and two-thirds are from finance, industry, labor, education and communications. The meeting is private in order to encourage frank and open discussion.
Bilderberg takes its name from the hotel in Holland, where the first meeting took place in May 1954. That pioneering meeting grew out of the concern expressed by leading citizens on both sides of the Atlantic that Western Europe and North America were not working together as closely as they should on common problems of critical importance. It was felt that regular, off-the-record discussions would help create a better understanding of the complex forces and major trends affecting Western nations in the difficult post-war period. The Cold War has now ended. But in practically all respects, there are more, not fewer, common problems - from trade to jobs, from monetary policy to investment, from ecological challenges to the task of promoting international security. It is hard to think of any major issue in either Europe or North America whose unilateral solution would not have repercussions for the other. Thus the concept of a European-American forum has not been overtaken by time. The dialogue between these two regions is still - even increasingly - critical.
What is unique about Bilderberg as a forum, is the broad cross-section of leading citizens that are assembled for nearly three days of informal and off-the-record discussion about topics of current concern especially in the fields of foreign affairs and the international economy; the strong feeling among participants that in view of the differing attitudes and experiences of the Western nations, there remains a clear need to further develop an understanding in which these concerns can be accommodated; the privacy of the meetings, which has no purpose other than to allow participants to speak their minds openly and freely. In short, Bilderberg is a small, flexible, informal and off-the-record international forum in which different viewpoints can be expressed and mutual understanding enhanced.
Bilderberg's only activity is its annual Conference. At the meetings, no resolutions are proposed, no votes taken, and no policy statements issued. Since 1954, fifty-five conferences have been held. The names of the participants are made available to the press. Participants are chosen for their experience, their knowledge, and their standing; all participants attend Bilderberg in a private and not an official capacity.
There will be no press conference. A list of participants is available by phone request at 703-818-3647 between 9am-5pm EDT June 6-7, 2008.


Contact:
American Friends of Bilderberg
Steven Lee, 703-818-3647
Source: American Friends of Bilderberg
PRESENTING THE ESTABLISHMENT (in alphabetical order!)
LiveLeak.com - Bilderberg Attendee List 2008
Bilderberg Attendee List 2008
Bilderberg Attendee List 2008
Chantilly, Virginia, USA
5-8 June 2008
CURRENT LIST OF PARTICIPANTS
Honorary Chairman
BEL Davignon, Etienne Vice Chairman, Suez-Tractebel
DEU Ackermann, Josef Chairman of the Management Board and the Group Executive Committee, Deutsche Bank AG
CAN Adams, John Associate Deputy Minister of National Defence and Chief of the Communications Security Establishment Canada
USA Ajami, Fouad Director, Middle East Studies Program, The Paul H. Nitze School of Advanced International Studies, The Johns Hopkins University
USA Alexander, Keith B. Director, National Security Agency
INT Almunia, Joaquín Commissioner, European Commission
GRC Alogoskoufis, George Minister of Economy and Finance
USA Altman, Roger C. Chairman, Evercore Partners Inc.
TUR Babacan, Ali Minister of Foreign Affairs
NLD Balkenende, Jan Peter Prime Minister
PRT Balsemão, Francisco Pinto Chairman and CEO, IMPRESA, S.G.P.S.; Former Prime Minister
FRA Baverez, Nicolas Partner, Gibson, Dunn & Crutcher LLP
ITA Bernabè, Franco CEO, Telecom Italia Spa
USA Bernanke, Ben S. Chairman, Board of Governors, Federal Reserve System
SWE Bildt, Carl Minister of Foreign Affairs
FIN Blåfield, Antti Senior Editorial Writer, Helsingin Sanomat
DNK Bosse, Stine CEO, TrygVesta
CAN Brodie, Ian Chief of Staff, Prime Minister's Office
AUT Bronner, Oscar Publisher and Editor, Der Standard
FRA Castries, Henri de Chairman of the Management Board and CEO, AXA
ESP Cebrián, Juan Luis CEO, PRISA
CAN Clark, Edmund President and CEO, TD Bank Financial Group
GBR Clarke, Kenneth Member of Parliament
NOR Clemet, Kristin Managing Director, Civita
USA Collins, Timothy C. Senior Managing Director and CEO, Ripplewood Holdings, LLC
FRA Collomb, Bertrand Honorary Chairman, Lafarge
PRT Costa, António Mayor of Lisbon
USA Crocker, Chester A. James R. Schlesinger Professor of Strategic Studies
USA Daschle, Thomas A. Former US Senator and Senate Majority Leader
CAN Desmarais, Jr., Paul Chairman and co-CEO, Power Corporation of Canada
GRC Diamantopoulou, Anna Member of Parliament
USA Donilon, Thomas E. Partner, O'Melveny & Myers
ITA Draghi, Mario Governor, Banca d'Italia
AUT Ederer, Brigitte CEO, Siemens AG Österreich
CAN Edwards, N. Murray Vice Chairman, Candian Natural Resources Limited
DNK Eldrup, Anders President, DONG A/S
ITA Elkann, John Vice Chairman, Fiat S.p.A.
USA Farah, Martha J. Director, Center for Cognitive Neuroscience;
Walter H. Annenberg Professor in the Natural Sciences, University of Pennsylvania
USA Feldstein, Martin S. President and CEO, National Bureau of Economic Research
DEU Fischer, Joschka Former Minister of Foreign Affairs
USA Ford, Jr., Harold E. Vice Chairman, Merill Lynch & Co., Inc.
CHE Forstmoser, Peter Professor for Civil, Corporation and Capital Markets Law, University of Zürich
IRL Gallagher, Paul Attorney General
USA Geithner, Timothy F. President and CEO, Federal Reserve Bank of New York
USA Gigot, Paul Editorial Page Editor, The Wall Street Journal
IRL Gleeson, Dermot Chairman, AIB Group
NLD Goddijn, Harold CEO, TomTom
TUR Gö?ü?, Zeynep Journalist; Founder, EurActiv.com.tr
USA Graham, Donald E. Chairman and CEO, The Washington Post Company
NLD Halberstadt, Victor Professor of Economics, Leiden University; Former Honorary Secretary General of Bilderberg Meetings
USA Holbrooke, Richard C. Vice Chairman, Perseus, LLC
FIN Honkapohja, Seppo Member of the Board, Bank of Finland
INT Hoop Scheffer, Jaap G. de Secretary General, NATO
USA Hubbard, Allan B. Chairman, E & A Industries, Inc.
BEL Huyghebaert, Jan Chairman of the Board of Directors, KBC Group
DEU Ischinger, Wolfgang Former Ambassador to the UK and US
USA Jacobs, Kenneth Deputy Chairman, Head of Lazard U.S., Lazard Frères & Co. LLC
USA Johnson, James A. Vice Chairman, Perseus, LLC
SWE Johnstone, Tom President and CEO, AB SKF
USA Jordan, Jr., Vernon E. Senior Managing Director, Lazard Frères & Co. LLC
FRA Jouyet, Jean-Pierre Minister of European Affairs
GBR Kerr, John Member, House of Lords; Deputy Chairman, Royal Dutch Shell plc.
USA Kissinger, Henry A. Chairman, Kissinger Associates, Inc.
DEU Klaeden, Eckart von Foreign Policy Spokesman, CDU/CSU
USA Kleinfeld, Klaus President and COO, Alcoa
TUR Koç, Mustafa Chairman, Koç Holding A.S.
FRA Kodmani, Bassma Director, Arab Reform Initiative
USA Kravis, Henry R. Founding Partner, Kohlberg Kravis Roberts & Co.
USA Kravis, Marie-Josée Senior Fellow, Hudson Institute, Inc.
INT Kroes, Neelie Commissioner, European Commission
POL Kwasniewski, Aleksander Former President
AUT Leitner, Wolfgang CEO, Andritz AG
ESP León Gross, Bernardino Secretary General, Office of the Prime Minister
INT Mandelson, Peter Commissioner, European Commission
FRA Margerie, Christophe de CEO, Total
CAN Martin, Roger Dean, Joseph L. Rotman School of Management, University of Toronto
HUN Martonyi, János Professor of International Trade Law; Partner, Baker & McKenzie; Former Minister of Foreign Affairs
USA Mathews, Jessica T. President, Carnegie Endowment for International Peace
INT McCreevy, Charlie Commissioner, European Commission
USA McDonough, William J. Vice Chairman and Special Advisor to the Chairman, Merrill Lynch & Co., Inc.
CAN McKenna, Frank Deputy Chair, TD Bank Financial Group
GBR McKillop, Tom Chairman, The Royal Bank of Scotland Group
FRA Montbrial, Thierry de President, French Institute for International Relations
ITA Monti, Mario President, Universita Commerciale Luigi Bocconi
USA Mundie, Craig J. Chief Research and Strategy Officer, Microsoft Corporation
NOR Myklebust, Egil Former Chairman of the Board of Directors SAS, Norsk Hydro ASA
DEU Nass, Matthias Deputy Editor, Die Zeit
NLD Netherlands, H.M. the Queen of the
FRA Ockrent, Christine CEO, French television and radio world service
FIN Ollila, Jorma Chairman, Royal Dutch Shell plc
SWE Olofsson, Maud Minister of Enterprise and Energy; Deputy Prime Minister
NLD Orange, H.R.H. the Prince of
GBR Osborne, George Shadow Chancellor of the Exchequer
TUR Öztrak, Faik Member of Parliament
ITA Padoa-Schioppa, Tommaso Former Minister of Finance; President of Notre Europe
GRC Papahelas, Alexis Journalist, Kathimerini
GRC Papalexopoulos, Dimitris CEO, Titan Cement Co. S.A.
USA Paulson, Jr., Henry M. Secretary of the Treasury
USA Pearl, Frank H. Chairman and CEO, Perseus, LLC
USA Perle, Richard N. Resident Fellow, American Enterprise Institute for Public Policy Research
FRA Pérol, François Deputy General Secretary in charge of Economic Affairs
DEU Perthes, Volker Director, Stiftung Wissenschaft und Politik
BEL Philippe, H.R.H. Prince
CAN Prichard, J. Robert S. President and CEO, Torstar Corporation
CAN Reisman, Heather M. Chair and CEO, Indigo Books & Music Inc.
USA Rice, Condoleezza Secretary of State
PRT Rio, Rui Mayor of Porto
USA Rockefeller, David Former Chairman, Chase Manhattan Bank
ESP Rodriguez Inciarte, Matias Executive Vice Chairman, Grupo Santander
USA Rose, Charlie Producer, Rose Communications
DNK Rose, Flemming Editor, Jyllands Posten
USA Ross, Dennis B. Counselor and Ziegler Distinguished Fellow, The Washington Institute for Near East Policy
USA Rubin, Barnett R. Director of Studies and Senior Fellow, Center for International Cooperation, New York University
TUR ?ahenk, Ferit Chairman, Do?u? Holding A.?.
USA Sanford, Mark Governor of South Carolina
USA Schmidt, Eric Chairman of the Executive Committee and CEO, Google
AUT Scholten, Rudolf Member of the Board of Executive Directors, Oesterreichische Kontrollbank AG
DNK Schur, Fritz H. Fritz Schur Gruppen
CZE Schwarzenberg, Karel Minister of Foreign Affairs
USA Sebelius, Kathleen Governor of Kansas
USA Shultz, George P. Thomas W. and Susan B. Ford Distinguished Fellow, Hoover Institution, Stanford University
ESP Spain, H.M. the Queen of
CHE Spillmann, Markus Editor-in-Chief and Head Managing Board, Neue Zürcher Zeitung AG
USA Summers, Lawrence H. Charles W. Eliot Professor, Harvard University
GBR Taylor, J. Martin Chairman, Syngenta International AG
USA Thiel, Peter A. President, Clarium Capital Management, LLC
NLD Timmermans, Frans Minister of European Affairs
RUS Trenin, Dmitri V. Deputy Director and Senior Associate, Carnegie Moscow Center
INT Trichet, Jean-Claude President, European Central Bank
USA Vakil, Sanam Assistant Professor of Middle East Studies, The Paul H. Nitze School of Advanced International Studies, Johns Hopkins University
FRA Valls, Manuel Member of Parliament
GRC Varvitsiotis, Thomas Co-Founder and President, V + O Communication
CHE Vasella, Daniel L. Chairman and CEO, Novartis AG
FIN Väyrynen, Raimo Director, The Finnish Institute of International Affairs
FRA Védrine, Hubert Hubert Védrine Conseil
NOR Vollebaek, Knut High Commissioner on National Minorities, OSCE
SWE Wallenberg, Jacob Chairman, Investor AB
USA Weber, J. Vin CEO, Clark & Weinstock
USA Wolfensohn, James D. Chairman, Wolfensohn & Company, LLC
USA Wolfowitz, Paul Visiting Scholar, American Enterprise Institute for Public Policy Research
INT Zoellick, Robert B. President, The World Bank Group

Rapporteurs
GBR Bredow, Vendeline von Business Correspondent, The Economist
GBR Wooldridge, Adrian D. Foreign Correspondent, The Economist
AUT Austria HUN Hungary
BEL Belgium INT International
CHE Switzerland IRL Ireland
CAN Canada ITA Italy
CZE Czech Republic NOR Norway
DEU Germany NLD Netherlands
DNK Denmark PRT Portugal
ESP Spain POL Poland
FRA France RUS Russia
FIN Finland SWE Sweden
GBR Great Britain TUR Turkey
GRC Greece
USA United States of America

Meanwhile here is the list of attendees going around the Internets!
Barack Obama ditches his press corps to go hang out!! Behind the Scenes: Obama press 'hijacked' during Clinton meeting - CNN.com
The press soon noticed there were far too few people aboard for a standard campaign flight. Something was different. It's fair to say that the term "everyone" was used a bit loosely -- especially when the presumptive nominee appeared to be missing.

As the plane taxied, communications director Robert Gibbs admitted that Obama was remaining behind because he "wasn't going to be back in D.C. for a while" and had "scheduled some meetings" before he left.

Obama staffers, including Gibbs and Linda Douglass, a newly appointed senior adviser and campaign spokeswoman, didn't ask the reporters on board if they'd prefer to wait on the runway in Washington until the meetings concluded. They were going to Chicago. Without Barack Obama.....

Once airborne, a timid and slightly giggly Gibbs granted the confused and agitated press corps a meeting, one that any eyewitness would have easily labeled contentious and heated. Watch the riled press corps grill Gibbs »

Gibbs took on a barrage of questions, and, to his credit, listened to what he called the "anticipated grievances" from the press for almost 20 minutes.

"He's having a secret meeting tonight, and we're not going to see him until Monday" because of three scheduled "down days," one reporter began. "I'd like to say that's unacceptable. He's the -- "

"Presumptive Democratic nominee?" Gibbs finished, adding a giggle. "Yeah."

Questions centered largely on why the press was essentially held hostage with no candidate and no choice but to fly to Chicago on a chartered plane -- a flight many news organizations pay thousands of dollars to keep their journalists stationed on, ideally with the candidate.

"We're not paying however much this plane is to be here -- no offense -- with you," one reporter said to Gibbs as the largely newsless news conference wrapped up.

When pressed, Gibbs admitted he was responsible for how the situation was handled.

"It wasn't an attempt to deceive in any way," he said. "It was just private meetings."
LiveLeak.com - Hillary & Obama In Secret Bilderberg Rendezvous, LiveLeak.com - Bilderberg boys will decide who's Obama's "chosen" Veep Sure, why not?!
Photos! Bilderberg Meeting 2008 Photos, Flickr: shepherdjohnson's Photostream
And don't forget, you government schlubs! Meeting with foreign heads of state and other agents of influence without filing your activities with the State Department is illegal under the Logan Act!
Can't wait to cut off their government salaries!
Here's some quality satire: Bilderberg Group orders end to Obama-Clinton contest « Sir Satire's New World Order News Service
The two presidential hopefuls were summoned to the Bilderberg Group annual meeting, where they were both informed that Obama would play the part of the Democratic candidate this election year. Clinton is reported to have begged Lord Rothschild and David Rockefeller — both senior level Bilderbergers — for forgiveness following her poor campaign performance this past year.

"Mrs. Clinton was very upset," said a male prostitute who services some of the male Bilderberg members. "She said David Rockefeller was behind the push to oust her from the race. She had apparently been promised a comeback effort by Lord Rothschild like the kind that was granted to her husband Bill Clinton in the early 1990s, when it looked like he was going to be out of the presidential race."
Commenting on this Story is closed.
Tags for Bilderberg announces 2008 conference! Charlie Rose!? Obama? Sebelius? Bernanke, Perle, Wolfowitz, Kissinger = PARTY TIME, EXCELLENT