Sy Hersh: Covert war in Iran escalates: Baluchis used as pawns in risky scheme, Special Ops out of control
I noted all this nonsense a while ago: March 27, 2007: New GeoMap; Kremlin warns of "Operation Bite" American attack on Iran April 6? More rumors etc.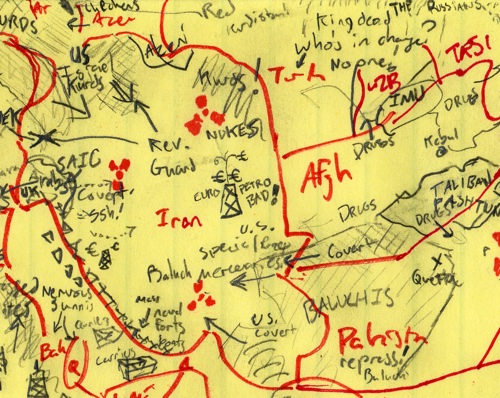 The latest twist is that apparently the Democrats agreed to give Bush as much money as they wanted in order to do the "U.S. Covert - BALUCHIS" attack detailed on this sketch here. At roughly the time of my post, actually!
April 4, 2007: Iran paranoia, covert war escalates; Tensions rise as Persian Gulf fills with carriers, media crews, tribal revolts; US Air Force buzzes infiltrated Iranian Khuzestan
At that time we had the excellent "Approximate Covert Crisis GeoMap: Shitstorm 2007: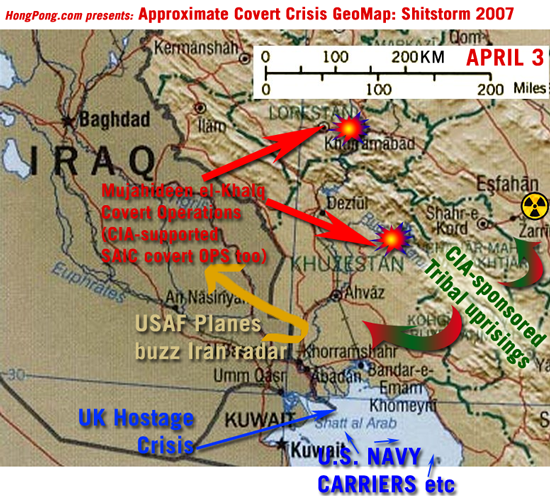 April 8, 2007: Jundullah: Baluchi ally of the United States... And Al Qaeda... in covert Iran war.
Since those heady days, I haven't had too much to say about the Baluchi pawn situation. However, the drums of war have continued and my tasty diagrams are as accurate as last year. Both the CIA-sponsored tribal uprisings and the Mujahideen el-Khalq actions are going forth accordingly.
At least, that's what good ol Seymour Hersh has divined from his vast array of establishment sources, who generally seem quite frightened of the alternate chains of command that Dick Cheney has built up from his office.
Annals of National Security: Preparing the Battlefield: Reporting & Essays: The New Yorker

Late last year, Congress agreed to a request from President Bush to fund a major escalation of covert operations against Iran, according to current and former military, intelligence, and congressional sources. These operations, for which the President sought up to four hundred million dollars, were described in a Presidential Finding signed by Bush, and are designed to destabilize the country's religious leadership. The covert activities involve support of the minority Ahwazi Arab and Baluchi groups and other dissident organizations. They also include gathering intelligence about Iran's suspected nuclear-weapons program.




Clandestine operations against Iran are not new. United States Special Operations Forces have been conducting cross-border operations from southern Iraq, with Presidential authorization, since last year. These have included seizing members of Al Quds, the commando arm of the Iranian Revolutionary Guard, and taking them to Iraq for interrogation, and the pursuit of "high-value targets" in the President's war on terror, who may be captured or killed. But the scale and the scope of the operations in Iran, which involve the Central Intelligence Agency and the Joint Special Operations Command (JSOC), have now been significantly expanded, according to the current and former officials. Many of these activities are not specified in the new Finding, and some congressional leaders have had serious questions about their nature.
Pay very close attention to this part, kiddos, because herein lies the primary potential source of a cataclysmic Iran war: the "small group" at the White House who are developing an alternate chain of command.
Fallon's early retirement, however, appears to have been provoked not only by his negative comments about bombing Iran but also by his strong belief in the chain of command and his insistence on being informed about Special Operations in his area of responsibility. One of Fallon's defenders is retired Marine General John J. (Jack) Sheehan, whose last assignment was as commander-in-chief of the U.S. Atlantic Command, where Fallon was a deputy. Last year, Sheehan rejected a White House offer to become the President's "czar" for the wars in Iraq and Afghanistan. "One of the reasons the White House selected Fallon for CENTCOM was that he's known to be a strategic thinker and had demonstrated those skills in the Pacific," Sheehan told me. (Fallon served as commander-in-chief of U.S. forces in the Pacific from 2005 to 2007.) "He was charged with coming up with an over-all coherent strategy for Iran, Iraq, and Afghanistan, and, by law, the combatant commander is responsible for all military operations within his A.O."—area of operations. "That was not happening," Sheehan said. "When Fallon tried to make sense of all the overt and covert activity conducted by the military in his area of responsibility, a small group in the White House leadership shut him out."




The law cited by Sheehan is the 1986 Defense Reorganization Act, known as Goldwater-Nichols, which defined the chain of command: from the President to the Secretary of Defense, through the chairman of the Joint Chiefs of Staff, and on to the various combatant commanders, who were put in charge of all aspects of military operations, including joint training and logistics. That authority, the act stated, was not to be shared with other echelons of command. But the Bush Administration, as part of its global war on terror, instituted new policies that undercut regional commanders-in-chief; for example, it gave Special Operations teams, at military commands around the world, the highest priority in terms of securing support and equipment. The degradation of the traditional chain of command in the past few years has been a point of tension between the White House and the uniformed military.

"The coherence of military strategy is being eroded because of undue civilian influence and direction of nonconventional military operations," Sheehan said. "If you have small groups planning and conducting military operations outside the knowledge and control of the combatant commander, by default you can't have a coherent military strategy. You end up with a disaster, like the reconstruction efforts in Iraq."

Admiral Fallon, who is known as Fox, was aware that he would face special difficulties as the first Navy officer to lead CENTCOM, which had always been headed by a ground commander, one of his military colleagues told me. He was also aware that the Special Operations community would be a concern. "Fox said that there's a lot of strange stuff going on in Special Ops, and I told him he had to figure out what they were really doing," Fallon's colleague said. "The Special Ops guys eventually figured out they needed Fox, and so they began to talk to him. Fox would have won his fight with Special Ops but for Cheney."

The Pentagon consultant said, "Fallon went down because, in his own way, he was trying to prevent a war with Iran, and you have to admire him for that."
There you have it. This is huge. Bigger than the usual British-style strategy of renting local warlords like the Baluchis. Also duly noted:
A strategy of using ethnic minorities to undermine Iran is flawed, according to Vali Nasr, who teaches international politics at Tufts University and is also a senior fellow at the Council on Foreign Relations. "Just because Lebanon, Iraq, and Pakistan have ethnic problems, it does not mean that Iran is suffering from the same issue," Nasr told me. "Iran is an old country—like France and Germany—and its citizens are just as nationalistic. The U.S. is overestimating ethnic tension in Iran." The minority groups that the U.S. is reaching out to are either well integrated or small and marginal, without much influence on the government or much ability to present a political challenge, Nasr said. "You can always find some activist groups that will go and kill a policeman, but working with the minorities will backfire, and alienate the majority of the population."

The Administration may have been willing to rely on dissident organizations in Iran even when there was reason to believe that the groups had operated against American interests in the past. The use of Baluchi elements, for example, is problematic, Robert Baer, a former C.I.A. clandestine officer who worked for nearly two decades in South Asia and the Middle East, told me. "The Baluchis are Sunni fundamentalists who hate the regime in Tehran, but you can also describe them as Al Qaeda," Baer told me. "These are guys who cut off the heads of nonbelievers—in this case, it's Shiite Iranians. The irony is that we're once again working with Sunni fundamentalists, just as we did in Afghanistan in the nineteen-eighties." Ramzi Yousef, who was convicted for his role in the 1993 bombing of the World Trade Center, and Khalid Sheikh Mohammed, who is considered one of the leading planners of the September 11th attacks, are Baluchi Sunni fundamentalists.




One of the most active and violent anti-regime groups in Iran today is the Jundallah, also known as the Iranian People's Resistance Movement, which describes itself as a resistance force fighting for the rights of Sunnis in Iran. "This is a vicious Salafi organization whose followers attended the same madrassas as the Taliban and Pakistani extremists," Nasr told me. "They are suspected of having links to Al Qaeda and they are also thought to be tied to the drug culture." The Jundallah took responsibility for the bombing of a busload of Revolutionary Guard soldiers in February, 2007. At least eleven Guard members were killed. According to Baer and to press reports, the Jundallah is among the groups in Iran that are benefitting from U.S. support.

The C.I.A. and Special Operations communities also have long-standing ties to two other dissident groups in Iran: the Mujahideen-e-Khalq, known in the West as the M.E.K., and a Kurdish separatist group, the Party for a Free Life in Kurdistan, or PJAK.

The M.E.K. has been on the State Department's terrorist list for more than a decade, yet in recent years the group has received arms and intelligence, directly or indirectly, from the United States. Some of the newly authorized covert funds, the Pentagon consultant told me, may well end up in M.E.K. coffers. "The new task force will work with the M.E.K. The Administration is desperate for results." He added, "The M.E.K. has no C.P.A. auditing the books, and its leaders are thought to have been lining their pockets for years. If people only knew what the M.E.K. is getting, and how much is going to its bank accounts—and yet it is almost useless for the purposes the Administration intends."
I have zero faith in any element of America's political class to even understand what is happening, let alone get some degree of control over these covert operations, ever escalating and widening out into the aggressive galaxy of contractors and militant baby boomers, all set in motion on their own, partitioned even from the regional American military commanders.
When even the President's direct regional commander, General Fallon, couldn't find out what the fuck Special Forces are actually doing, then by definition we have a serious and insane war conspiracy unfolding.
And for now, that is basically all I can say.
Commenting on this Story is closed.
Tags for Sy Hersh: Covert war in Iran escalates: Baluchis used as pawns in risky scheme, Special Ops out of control