Thanks to Rose for finding my phone! Plus: I'm starting a design company!
I nearly had a horrible day today, leaving my trusty old Helio phone on a bench at the University of Minnesota mall. A good samaritan named Rose picked it up and called the Boiler Room coffee shop back after I tried the phone. I got it back! Thanks a ton, Rose, you saved yet another messy situation from befalling me.
What happened?!
It's been a strange July! I parted ways with my job of four years & change @ Politics in Minnesota as a staff writer and Web Editor. We were really at the top of our game, which is as good as anything you might hope for. The PoliticsMN Twitter account hit 4000 followers right when I left! And I'll leave it at that.
What about the car?!
That was its own dramatic tale. It involved a savage journey somewhere near the heart of the American dream. I still need to get sent the photos.
What are you doing next?!
I am setting up a design and web development company!
For a long time I have fixed up Macs, developed Drupal themes and other websites, edited video, done various tweaks and twists on technical stuff, but I never tried to establish a proper company to marshall this stuff under one roof -- because of course, that means getting a solid business operation together.
I've spent a bit of time in corporate America and a long time working for smaller businesses, as well as a really nice time at a temporary gig developing at Macalester College's development office after I graduated. (I picked up enough ASP.net / C# / Oracle to get the job done pretty quickly, thanks to Lloyd's really solid training, and other skills as well.)
Overall it has been a productive experience, and I've come to know a lot of talented and cool people all over the place -- many of them, small business proprietors of their own. If these people can do it, I can do it. I'm feeling pretty much ready to get stuff going on my own -- if it doesn't work, it doesn't work.
I've got a good feeling about this, though, because...
Demand exceeds supply for Drupal skills!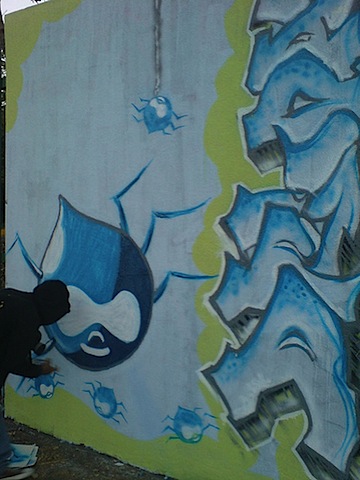 [Photo at right © Xamanu]
The really good news is that Drupal demand is growing rapidly, much faster than the availability of Drupal developers, coders and themers. Drupal has really delivered well, and it seems to have a sunny future that's attracting a giant global community of good talent.
Drupal has the benefit of being more versatile and modular than most other content systems, so it's easily extended for different types of websites. It's overkill for a regular blog, but if you want to get complex, have social media type functions (for example, making Facebook clones), then Drupal is really what you want.
Who the hell uses Drupal anyway?
Hmm... Recovery.gov, the New York Senate, the Emmys, Foreign Affairs magazine, the Australian prime minister, USAspending.gov, businesses like Dogfish Head brewery, this crazy Open Atrium thing, About Zappos, Wellstone Action!, Dutch and French government portals, the Australian Broadcasting Corporation, Radio Netherlands Worldwide, MIT Media Lab, IFRA, the global newspaper industry association, and yes, even Britney Spears!!
Also, the all-important core private team at Acquia is getting venture capital infusions. Much like RedHat put the legs under Linux in the wobbly early days, Acquia has the fancy high-end services and community-friendly engine to advance Drupal over its main rivals, Wordpress and Joomla on the CMS end, as well as the various PHP frameworks that let you develop your sites more from scratch.
OK, that seems fairly plausible!
Yes, it mainly consists of working through design gigs and running Quickbooks. Unlike in the physical economy, there's actually more than enough aggregate demand to keep things rolling. That, my friends, is not too bad.
Commenting on this Story is closed.