The DSM-IV Bipolar Pharma-Industrial complex: I just saw an ad for Abilify, it's able to scare the hell outta me w 'Zombie'-like
Pros: Gave me energy

Cons: then gave me akathisia and blurry vision


The new energy quickly morphed into marked akathisia. I couldn't not move for more then 5 minutes at a time, extreme restlessness, and extreme anxiety. The akathisia if largely gone after 3 days after discontinuation but blurry vision remains. Terrible stuff, especially at that price.

I caught an ad for "Abilify" on the Conan show, I believe, and it was billed as a secondary drug for depression.
The name itself was quite artful... 'Abilify' makes you able to do things! Hooray... How did we get here? Iowa's Senator Grassley is after the pharma corporations for ghost-writing drug studies...
One clue was provided six years ago by four researchers who, using the Freedom of Information Act, obtained FDA reviews of every placebo-controlled clinical trial submitted for initial approval of the six most widely used antidepressant drugs approved between 1987 and 1999—Prozac, Paxil, Zoloft, Celexa, Serzone, and Effexor.[10] They found that on average, placebos were 80 percent as effective as the drugs. The difference between drug and placebo was so small that it was unlikely to be of any clinical significance.


[....] Of the 170 contributors to the most recent edition of the American Psychiatric Association's Diagnostic and Statistical Manual of Mental Disorders (DSM), ninety-five had financial ties to drug companies, including all of the contributors to the sections on mood disorders and schizophrenia.


--Drug Companies & Doctors: A Story of Corruption - The New York Review of Books

The handy AdPharm blog had a copy of an ad run in People Magazine pitching this as an add-on depression med: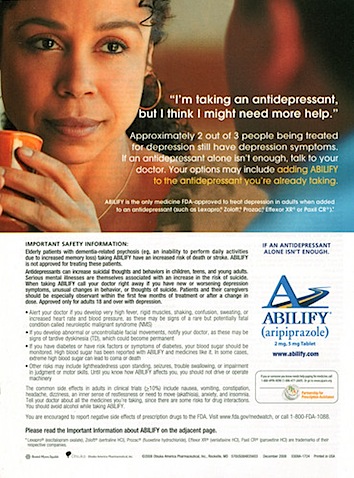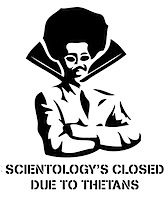 Thetans or Abilify? What's Better for the Modern Unhappy Mind?
I went past the Scientology outpost on Nicollet Avenue this afternoon, thinking that it's a bad idea to bug them, lest a bunch of Thetans get stuck to your soul. (Can E-Meters spook the Thetans from hanging around the Nicollet shop? I wonder...)
It's funny how they have to take the lead on criticizing the mass pharmaceutical treatment of society... Not a perfect advocate against big pharma!
After checking out this yummy add-on, I have to concede that I'd rather recalibrate my worldview to L. Ron Hubbard's invisible alien-oriented model of psychotherapy than sample the delicious world of Abilify. [[image via IrinTech.com-source]]
What is Abilify? A large and yummy molecule that intervenes with dopamine and serotonin, intended for whatever it gets approved for. It's aripiprazole, and appears to enter into the cocktail for severe bipolar cases and others, but also plain depression, according to the People ad.
It also carries a really large warning about adult dementia patients. I found the rather depressing Psychcentral thread of reviews of Abilify, and it reminded me of the vast, growing galaxy of entirely off-kilter people getting pumped full of drugs and corn syrup out there.

It definitely jacks your blood sugar, and causes 'zombie' like behavior according to FIVE people on the thread. The akathisia ("jumping out of skin") problem also seemed quite pronounced. But tons of people on the thread already had 'tactile' hallucinations and took tons of different drugs in combination.
It's such a damn mess to push these pills on people, as more and more get marked with permanent, drug-oriented mental disorders, newly minted in the DSM IV. Abilify looks pretty rough for most -- it seems only 20% of the people on the thread got any better.
Another review...

| | |
| --- | --- |
| Pros: | None |
| Cons: | Zombie like feeling, extreme weight loss, extreme dry mouth, catatonic. |


Trying to keep this short ... I think the drug nearly killed my mother. She had 22 years since diagnosis (bipolar w/psychosis) under her belt and was fairly stable (occassional manic and psychotic epidsodes, but overall if she was doing great) they had her on depakote but she gaining weight on it so she complained. They put her on abilify and she did well at first.
There were a TON of side effects for her... but when I finally got her off the drug 6 months later she was 90 lbs lighter, sat staring at walls for days on end, not eating, not showering, unresponsive, and when she did respond it was violent. It was EXTREMELY unlike her and doctors told me she was going into dementia. I had her hospitalized - she was dehydrated, malnourished, had a BAD kidney infection , was diagnosed as diabetic and had lesions in her mouth that were severe. I thought it was the end (she is elderly) and I'd be putting her in a nursing home and telling her good bye soon. Then I started trying to figure out what "started" this and the abilify came back as a glaring change around the time the decline started.
I got her off the drug and within a week she was up, moving around, responding. It was like her brain was on vacation for 6 months ... she didn't remember any of it. Within 2 months she was pretty much her old self and stable again. And she doesn't have diabetes.

Check out the delicious health warning on the official label/website:
Lightheadedness or faintness caused by a sudden change in heart rate and blood pressure when rising quickly from a sitting or lying position (orthostatic hypotension) has been reported with ABILIFY.
Decreases in white blood cells (infection fighting cells) have been reported in some patients taking antipsychotic agents, including ABILIFY. Patients with a history of a significant decrease in white blood cell (WBC) count or who have experienced a low WBC count due to drug therapy should have their blood tested and monitored during the first few months of therapy.
ABILIFY and medicines like it can affect your judgment, thinking, or motor skills. You should not drive or operate hazardous machinery until you know how ABILIFY affects you.
Medicines like ABILIFY can impact your body's ability to reduce body temperature; you should avoid overheating and dehydration.
ABILIFY and medicines like it have been associated with swallowing problems (dysphagia). If you had or have swallowing problems, you should tell your healthcare professional.
Tell your healthcare professional if you have a history of or are at risk for seizures, or are pregnant or intend to become pregnant, and about all prescription and non-prescription medicines you are taking or plan to take, since there are some risks for drug interactions.
While taking ABILIFY, avoid:
Drinking alcohol
Breast-feeding an infant
Most common side effects (≥10%) from all clinical trials involving adults or pediatric patients include:
ADULTS: Nausea, vomiting, constipation, headache, dizziness, an inner sense of restlessness or need to move (akathisia), anxiety, insomnia, and restlessness
PEDIATRIC PATIENTS (10 to 17 years): Extrapyramidal disorder (for example, uncontrolled movement disorders or muscle disturbances such as restlessness, tremors and muscle stiffness), headache, sleepiness, and nausea
It is important to contact your healthcare professional if you experience prolonged, abnormal muscle spasm or contraction which may be signs of a condition called dystonia.
For patients who must limit their sugar intake, ABILIFY Oral Solution contains sugar.
INDICATIONS: ABILIFY is indicated for:

Use as an add-on treatment to antidepressants for Major Depressive Disorder in adults
Treatment of manic and mixed episodes associated with Bipolar I Disorder in adults and in pediatric patients 10 to 17 years of age
Treatment of Schizophrenia in adults and in adolescents 13 to 17 years of age

IMPORTANT SAFETY INFORMATION:

Elderly people with psychosis related to dementia (for example, an inability to perform daily activities as a result of increased memory loss), treated with antipsychotic medicines including ABILIFY, are at an increased risk of death compared to placebo. ABILIFY is not approved for the treatment of people with dementia-related psychosis (see Boxed WARNING).

Antidepressants may increase suicidal thoughts or behaviors in some children, teenagers, and young adults, especially within the first few months of treatment or when the dose is changed. Depression and other serious mental illnesses are themselves associated with an increase in the risk of suicide. Patients on antidepressants and their families or caregivers should watch for new or worsening depression symptoms, unusual changes in behavior, or thoughts of suicide. Such symptoms should be reported to the patient's healthcare professional right away, especially if they are severe or occur suddenly. ABILIFY is not approved for use in pediatric patients with depression (see Boxed WARNING).

Contraindication: Patients should not use ABILIFY if they are allergic to aripiprazole or any of the ingredients in ABILIFY. Allergic reactions have ranged from rash, hives and itching to anaphylaxis, which may include difficulty breathing, tightness in the chest, swelling of the mouth, face, lips, or tongue.

Serious side effects may include:

An increased risk of stroke and ministroke have been reported in clinical studies of elderly people with dementia-related psychosis
Very high fever, rigid muscles, shaking, confusion, sweating, or increased heart rate and blood pressure. These may be signs of a condition called neuroleptic malignant syndrome (NMS), a rare but serious side effect which could be fatal
Abnormal or uncontrollable movements of face, tongue, or other parts of body. These may be signs of a serious condition called tardive dyskinesia (TD), which could become permanent
If you have diabetes, or risk factors for diabetes (for example, obesity, family history of diabetes), or unexpected increases in thirst, urination, or hunger, your blood sugar should be monitored. Increases in blood sugar levels (hyperglycemia), in some cases serious and associated with coma or death, have been reported in patients taking ABILIFY and medicines like it

For patients with phenylketonuria or PKU, ABILIFY DISCMELT® (aripiprazole) contains phenylalanine. [[i.e. delicious aspartame - Equal/NutraSweet]]
*****
Oh, Bristol-Myers Squibb, why in the hell did you have to buy an ad for this tonight? Why did I have to get exposed to this?!!? And >10% from "all" clinical trials is really impressive!!
This sort of thing really got put in perspective for me by a pretty serious piece in the New York Review of Books about the corruption of the DSM IV and the accepted practices of the medical community these days. You can't just blame Big Pharma and the insurance companies for this mess, not at all!
You have got to read the tri-fold review of several books in the scorching article by Marcia Angell, including "Shyness: How Normal Behavior Became a Sickness, "Our Daily Meds: How the Pharmaceutical Companies Transformed Themselves into Slick Marketing Machines and Hooked the Nation on Prescription Drug" and "Side Effects: A Prosecutor, a Whistleblower, and a Bestselling Antidepressant on Trial."
I can't help but share some grafs of this mess... it's such a big mess!
Drug Companies & Doctors: A Story of Corruption - The New York Review of Books
Take the case of Dr. Joseph L. Biederman, professor of psychiatry at Harvard Medical School and chief of pediatric psychopharmacology at Harvard's Massachusetts General Hospital. Thanks largely to him, children as young as two years old are now being diagnosed with bipolar disorder and treated with a cocktail of powerful drugs, many of which were not approved by the Food and Drug Administration (FDA) for that purpose and none of which were approved for children below ten years of age.

Legally, physicians may use drugs that have already been approved for a particular purpose for any other purpose they choose, but such use should be based on good published scientific evidence. That seems not to be the case here. Biederman's own studies of the drugs he advocates to treat childhood bipolar disorder were, as The New York Times summarized the opinions of its expert sources, "so small and loosely designed that they were largely inconclusive."[1]

In June, Senator Grassley revealed that drug companies, including those that make drugs he advocates for childhood bipolar disorder, had paid Biederman $1.6 million in consulting and speaking fees between 2000 and 2007.

[........] No one knows the total amount provided by drug companies to physicians, but I estimate from the annual reports of the top nine US drug companies that it comes to tens of billions of dollars a year. By such means, the pharmaceutical industry has gained enormous control over how doctors evaluate and use its own products. Its extensive ties to physicians, particularly senior faculty at prestigious medical schools, affect the results of research, the way medicine is practiced, and even the definition of what constitutes a disease.

Consider the clinical trials by which drugs are tested in human subjects.[5] Before a new drug can enter the market, its manufacturer must sponsor clinical trials to show the Food and Drug Administration that the drug is safe and effective, usually as compared with a placebo or dummy pill. The results of all the trials (there may be many) are submitted to the FDA, and if one or two trials are positive—that is, they show effectiveness without serious risk—the drug is usually approved, even if all the other trials are negative. Drugs are approved only for a specified use—for example, to treat lung cancer—and it is illegal for companies to promote them for any other use.

But physicians may prescribe approved drugs "off label"—i.e., without regard to the specified use—and perhaps as many as half of all prescriptions are written for off-label purposes. After drugs are on the market, companies continue to sponsor clinical trials, sometimes to get FDA approval for additional uses, sometimes to demonstrate an advantage over competitors, and often just as an excuse to get physicians to prescribe such drugs for patients. (Such trials are aptly called "seeding" studies.)

Since drug companies don't have direct access to human subjects, they need to outsource their clinical trials to medical schools, where researchers use patients from teaching hospitals and clinics, or to private research companies (CROs), which organize office-based physicians to enroll their patients. [....]

A few decades ago, medical schools did not have extensive financial dealings with industry, and faculty investigators who carried out industry-sponsored research generally did not have other ties to their sponsors. But schools now have their own manifold deals with industry and are hardly in a moral position to object to their faculty behaving in the same way. A recent survey found that about two thirds of academic medical centers hold equity interest in companies that sponsor research within the same institution.[6] A study of medical school department chairs found that two thirds received departmental income from drug companies and three fifths received personal income.[7] [...]

Because drug companies insist as a condition of providing funding that they be intimately involved in all aspects of the research they sponsor, they can easily introduce bias in order to make their drugs look better and safer than they are. Before the 1980s, they generally gave faculty investigators total responsibility for the conduct of the work, but now company employees or their agents often design the studies, perform the analysis, write the papers, and decide whether and in what form to publish the results. Sometimes the medical faculty who serve as investigators are little more than hired hands, supplying patients and collecting data according to instructions from the company.

In view of this control and the conflicts of interest that permeate the enterprise, it is not surprising that industry-sponsored trials published in medical journals consistently favor sponsors' drugs—largely because negative results are not published, positive results are repeatedly published in slightly different forms, and a positive spin is put on even negative results. A review of seventy-four clinical trials of antidepressants, for example, found that thirty-seven of thirty-eight positive studies were published.[8]But of the thirty-six negative studies, thirty-three were either not published or published in a form that conveyed a positive outcome. It is not unusual for a published paper to shift the focus from the drug's intended effect to a secondary effect that seems more favorable.

The suppression of unfavorable research is the subject of Alison Bass's engrossing book, Side Effects: A Prosecutor, a Whistleblower, and a Bestselling Antidepressant on Trial. This is the story of how the British drug giant GlaxoSmithKline buried evidence that its top-selling antidepressant, Paxil, was ineffective and possibly harmful to children and adolescents. [....]

The book follows the individual struggles of these three people over many years, culminating with GlaxoSmithKline finally agreeing in 2004 to settle charges of consumer fraud for $2.5 million (a tiny fraction of the more than $2.7 billion in yearly Paxil sales about that time). It also promised to release summaries of all clinical trials completed after December 27, 2000. Of much greater significance was the attention called to the deliberate, systematic practice of suppressing unfavorable research results, which would never have been revealed without the legal discovery process. Previously undisclosed, one of GlaxoSmithKline's internal documents said, "It would be commercially unacceptable to include a statement that efficacy had not been demonstrated, as this would undermine the profile of paroxetine [Paxil]."[9]

Many drugs that are assumed to be effective are probably little better than placebos, but there is no way to know because negative results are hidden. One clue was provided six years ago by four researchers who, using the Freedom of Information Act, obtained FDA reviews of every placebo-controlled clinical trial submitted for initial approval of the six most widely used antidepressant drugs approved between 1987 and 1999—Prozac, Paxil, Zoloft, Celexa, Serzone, and Effexor.[10] They found that on average, placebos were 80 percent as effective as the drugs. The difference between drug and placebo was so small that it was unlikely to be of any clinical significance. The results were much the same for all six drugs: all were equally ineffective. But because favorable results were published and unfavorable results buried (in this case, within the FDA), the public and the medical profession believed these drugs were potent antidepressants.

[...]. In short, it is often possible to make clinical trials come out pretty much any way you want, which is why it's so important that investigators be truly disinterested in the outcome of their work.

Conflicts of interest affect more than research. They also directly shape the way medicine is practiced, through their influence on practice guidelines issued by professional and governmental bodies, and through their effects on FDA decisions. A few examples: in a survey of two hundred expert panels that issued practice guidelines, one third of the panel members acknowledged that they had some financial interest in the drugs they considered.[11] In 2004, after the National Cholesterol Education Program called for sharply lowering the desired levels of "bad" cholesterol, it was revealed that eight of nine members of the panel writing the recommendations had financial ties to the makers of cholesterol-lowering drugs.[12] Of the 170 contributors to the most recent edition of the American Psychiatric Association's Diagnostic and Statistical Manual of Mental Disorders (DSM), ninety-five had financial ties to drug companies, including all of the contributors to the sections on mood disorders and schizophrenia.[13] Perhaps most important, many members of the standing committees of experts that advise the FDA on drug approvals also have financial ties to the pharmaceutical industry.[14]

In recent years, drug companies have perfected a new and highly effective method to expand their markets. Instead of promoting drugs to treat diseases, they have begun to promote diseases to fit their drugs. The strategy is to convince as many people as possible (along with their doctors, of course) that they have medical conditions that require long-term drug treatment. Sometimes called "disease-mongering," this is a focus of two new books: Melody Petersen's Our Daily Meds: How the Pharmaceutical Companies Transformed Themselves into Slick Marketing Machines and Hooked the Nation on Prescription Drugs and Christopher Lane's Shyness: How Normal Behavior Became a Sickness.

To promote new or exaggerated conditions, companies give them serious-sounding names along with abbreviations. Thus, heartburn is now "gastro-esophageal reflux disease" or GERD; impotence is "erectile dysfunction" or ED; premenstrual tension is "premenstrual dysphoric disorder" or PMMD; and shyness is "social anxiety disorder" (no abbreviation yet). Note that these are ill-defined chronic conditions that affect essentially normal people, so the market is huge and easily expanded. For example, a senior marketing executive advised sales representatives on how to expand the use of Neurontin: "Neurontin for pain, Neurontin for monotherapy, Neurontin for bipolar, Neurontin for everything."[15] It seems that the strategy of the drug marketers—and it has been remarkably successful—is to convince Americans that there are only two kinds of people: those with medical conditions that require drug treatment and those who don't know it yet. While the strategy originated in the industry, it could not be implemented without the complicity of the medical profession.

[...] Christopher Lane's book has a narrower focus—the rapid increase in the number of psychiatric diagnoses in the American population and in the use of psychoactive drugs (drugs that affect mental states) to treat them. Since there are no objective tests for mental illness and the boundaries between normal and abnormal are often uncertain, psychiatry is a particularly fertile field for creating new diagnoses or broadening old ones.[17] Diagnostic criteria are pretty much the exclusive province of the current edition of the Diagnostic and Statistical Manual of Mental Disorders, which is the product of a panel of psychiatrists, most of whom, as I mentioned earlier, had financial ties to the pharmaceutical industry. Lane, a research professor of literature at Northwestern University, traces the evolution of the DSM from its modest beginnings in 1952 as a small, spiral-bound handbook (DSM-I) to its current 943-page incarnation (the revised version of DSM-IV) as the undisputed "bible" of psychiatry—the standard reference for courts, prisons, schools, insurance companies, emergency rooms, doctors' offices, and medical facilities of all kinds.


Given its importance, you might think that the DSM represents the authoritative distillation of a large body of scientific evidence. But Lane, using unpublished records from the archives of the American Psychiatric Association and interviews with the principals, shows that it is instead the product of a complex of academic politics, personal ambition, ideology, and, perhaps most important, the influence of the pharmaceutical industry. What the DSM lacks is evidence. Lane quotes one contributor to the DSM-III task force:

There was very little systematic research, and much of the research that existed was really a hodgepodge—scattered, inconsistent, and ambiguous. I think the majority of us recognized that the amount of good, solid science upon which we were making our decisions was pretty modest.

Lane uses shyness as his case study of disease-mongering in psychiatry. Shyness as a psychiatric illness made its debut as "social phobia" in DSM-III in 1980, but was said to be rare. By 1994, when DSM-IV was published, it had become "social anxiety disorder," now said to be extremely common. According to Lane, GlaxoSmithKline, hoping to boost sales for its antidepressant, Paxil, decided to promote social anxiety disorder as "a severe medical condition." In 1999, the company received FDA approval to market the drug for social anxiety disorder. It launched an extensive media campaign to do it, including posters in bus shelters across the country showing forlorn individuals and the words "Imagine being allergic to people...," and sales soared. Barry Brand, Paxil's product director, was quoted as saying, "Every marketer's dream is to find an unidentified or unknown market and develop it. That's what we were able to do with social anxiety disorder."

Some of the biggest blockbusters are psychoactive drugs. The theory that psychiatric conditions stem from a biochemical imbalance is used as a justification for their widespread use, even though the theory has yet to be proved. Children are particularly vulnerable targets. What parents dare say "No" when a physician says their difficult child is sick and recommends drug treatment? We are now in the midst of an apparent epidemic of bipolar disease in children (which seems to be replacing attention-deficit hyperactivity disorder as the most publicized condition in childhood), with a forty-fold increase in the diagnosis between 1994 and 2003.[18] These children are often treated with multiple drugs off-label, many of which, whatever their other properties, are sedating, and nearly all of which have potentially serious side effects.
Save me from the Thetans!!!! :-/
Commenting on this Story is closed.
Tags for The DSM-IV Bipolar Pharma-Industrial complex: I just saw an ad for Abilify, it's able to scare the hell outta me w 'Zombie'-like