Diamond Dave & Direct Democracy in Detroit: Crib notes from the 2010 US Social Forum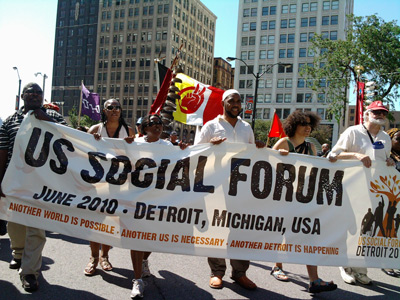 A decade after the first World Social Forum in Porto Alegre, Brazil, more than ten thousand activists have arrived from around the world in Detroit for the 2010 US Social Forum, the first since 2007's Atlanta conference. Over four days USSF is hosting a huge program with more than a thousand workshops and dozens of Peoples Movement Assemblies on 14 subject tracks like Detroit and the Rust Belt, Indigenous Sovereignty, Capitalism in Crisis, International Solidarity and Responsibility, Media Justice, Ensuring Community Needs, Transformative Justice & more. I'm currently in the People's Media Center at Cobo Hall, with a view of Windsor Canada and the downtown monorail right outside. The second day has just wrapped up — if only it were possible to experience these dozens of workshops at once!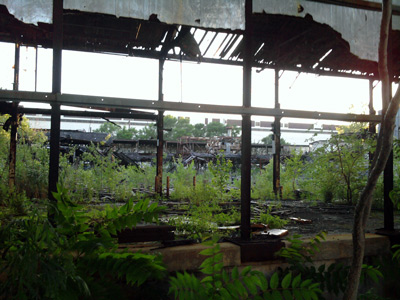 Detroit has more than enough space available for an event like this, and the city's residents have all been friendly. What better place to reflect on America's deteriorating infrastructure and the sunset of the old American capitalist model? We keep hearing an urban legend about a roving band of feral pit bulls, but I haven't seen any wild dogs cruising around these desolate & depopulated neighborhoods. There's no angry graffiti, just tags and murals, and no one glares at you like they do down south. To paraphrase a friend from Pittsburgh, working class people can so often internalize their economic troubles — they don't get angry, they get resigned.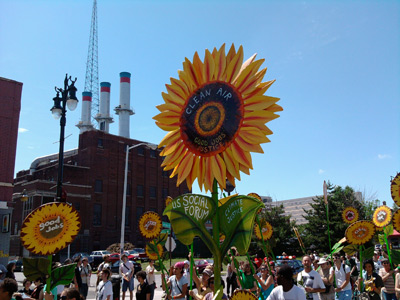 USSF kicked off Tuesday morning with Detroit workshops ("Detroit Highlighted"), touring projects on food security, youth projects and more. [I missed these because I got in at 5 AM.] In the afternoon came a street march into downtown along Woodward Avenue, with many indigenous, labor, peace, socialist, anarchist and environmental groups — other than the strangely paramilitary security team hired as marshals, there was great energy.
The official tent city on Woodward Avenue is fenced and guarded, as Brian reports on Bluestem Prairie, while the anarchist/anti-authoritarian space in a Unitarian church has none of these strange trappings. (New World From Below is a leading spot for USSF Anarchist/anti-authoritarian info)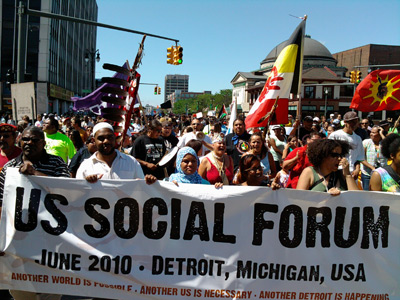 The staggering array of workshops brings in the grassroots leadership from seemingly every pocket of political activity one could imagine, sharing skills and presentations. I'm relieved that it's not just the usual suspects like the big socialist groups or the well-fed foundation-sponsored left. Tenacious small local orgs are sharing what they know and how they work -- a few examples: Missourians Organizing for Reform & Empowerment, jersey shore neighborhood cooperative, The Alliance For Appalachia, Drug Policy Alliance, The Prison Birth Project, the Raging Grannies of Metro Detroit, Progressive Omaha, the Icarus Project, the Michigan Young Farmer Coalition, among the hundreds hosting workshops and Peoples Movement Assemblies.

The Peoples Movement Assemblies (PMAs) are intended to produce, via a facilitated consensus process, a solid afternoon-sized array of policy points and action items -- these move further into some kind of merged policy statement later. Regional PMAs have been happening around the country in recent months.

One factor hard to overlook: there aren't many journalists here, and the USSF hasn't attracted a fraction of the media attention lavished on the Tea Party Convention some months back, even though that event was much, much smaller. It really highlights how happy the media is to point to a libertarian/right activist teapot, but thousands of people discussing and sharing how millions of hours of real grassroots social and political work really happen can barely collect AP coverage.

Last night I tried to help the USSF media/tech support crew resolve some day-one problems: the Drupal/CiviCRM-based registration server nearly ground to a standstill -- and the media center's DSL line splitter croaked. My grand contribution: a line of explanatory help text for the all-important registration lookup field. Today I got the track workshop index on organize.ussf2010.org working, Drupal URL-based Views argument handling FTW!

You never know who you'll find around the corner -- the track workshop index got going as Danny Glover gave interviews on the other side of the room. Hardly any celebrities though. Of course, high profile activists like Code Pink's Medea Benjamin are around, but it's great to once again hang out with so many people you met in previous crazy situations, people you're sure you could trust when the sh*t hits the fan, and expanding your tribe of friends and acquaintances, new people to visit in far-flung cities.

Yesterday I spotted an older man, an unmistakable true veteran of the 1960s hippie/beatnik scene. I remembered taking a great photo of him at the 2004 Republican National Convention, outside the UN building. I said hi, I loved that photo of you, I'm just here from Minneapolis. He chuckled and said he'd traveled around a lot, part of the beatnik thing, now he was helping out with Food Not Bombs.

Back in the 60s, he said, he'd been something of a guru in Dinkytown (Minneapolis' college neighborhood), and he added, turned a certain young man on to Woody Guthrie. Of course, he meant Bob Dylan. With a soft laugh he talked about getting a postcard from the 18-year old Dylan, a note that Guthrie really liked his stuff. Six years after that photo I learned his name, Diamond Dave Whitaker. Dylan himself wrote: "A great curiosity respecting the man had also seized me and I had to find out who Woody Guthrie was. It didn't take me long. Dave Whitaker, one of the Svengali-type Beats on the scene happened to have Woody's autobiography, Bound for Glory, and he lent it to me. I went through it from cover to cover like a hurricane, totally focused on every word." [More Pics of Whitaker]

So then, in this Cobo Hall packed with activists of every stripe, it's all about connections and crossed paths. If Diamond Dave hadn't loaned Dylan that book, if someone meets someone here for the first time, inspiring new tools, new collaborations. It reminds me of what Hunter Thompson said of Diamond Dave's heyday: Here at the 2010 US Social Forum, you could strike sparks anywhere.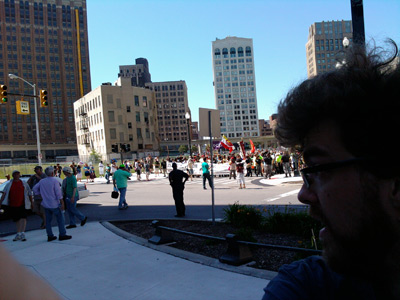 Looking sideways now -- tomorrow: The Techie Congress!

Commenting on this Story is closed.