Randomly enough: Spotting today's Obama motorcade on Franklin Avenue
Entirely by random I ended up right where & when President Obama left an unannounced evening event with his entourage -- over at Franklin & LaSalle Avenues. I'm pretty sure I saw him in this car. I didn't even want to be dealing with the stuff, but it happened to be right in front of me when going to get a scratchy thing for the kitteh we've had for a few days.
It was a strange week, so it rounded things out well to spot the President for a moment -- sadly not having a good camera on me.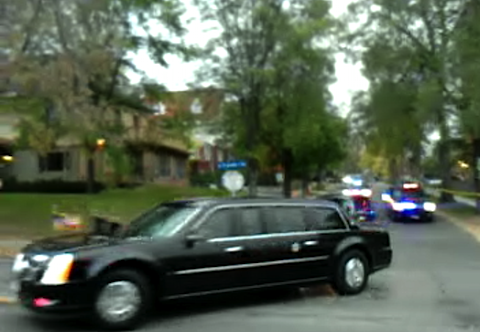 Definitely some interesting vehicles in the entourage including a mysterious black ambulance looking thing, and various weird electronic antenna things.
I inquired to a suburban cop about whether there was overtime going on, and where the money was coming from. He didn't know, but it must have been borrowed debt, sadly, a stimulus of the moment.
I've seen and heard a lot of weird stuff this week, but at least when the President goes cruising by, it underscores that the Institutions, the hoopla, it's all really not so big, in a way. Like, that's it, there you go, the droids you're looking for. It's weird to think that the President has authority which all these other various people (judges, law enforcement etc) are supposed to defer to -- and there he goes, from one point to the next.
A lot of people can experience a kind of reification of authority -- this kind of got drummed out of my head while working at the Legislature. I've seen way too much strange government misconduct this week to feel very positive about anyone, but we can hope at least things don't become completely unglued and all of us get screwed.
Drive on Mr. President -- and take note of that extreme Lyndale/Franklin pothole situation!
Commenting on this Story is closed.