Teacher! Leave those kids alone - Psychiatric coercive schools for youth & teens; Elan, Teen Challenge, therapeutic boarding school trade associations, very dark rooms & mass drugging for minors
The kids ain't all right, with a steady diet of ennui, blinking lights and stimulants, things are looking grim. I bumped into a pile of research about frequently coercive residential education sites for teens and children. It's a troubling area... I feel quite fortunate I never had an upbringing to cross paths with creepy behavior modification like this. Overall my education was pretty cool but that was due to good fortune -- how many smart and awesome people were damaged, traumatized, committed suicide, got abused, raped, etc due to programs like these?
Texas Youth abuse followups: Earlier on HongPong March 2007: Late Breaking: Upcoming Texas Youth Commission Rove-sparked pedophilia scandal promises to kill off Gonzales??!! | HongPong.com Well that got papered over. Blog: peopleagainstprisonabuse.com/blog/. Update: Report: Juvenile Correction Agency Has Improved — Texas Youth Commission | The Texas Tribune. Panel urges TYC get 6 more years. Texas Youth Commission had 4100 young inmates 5 years ago, now fewer than 1600. Texas Kaos:: Texas Youth Commission Abuses Make the News Again.
Don't miss Dr. Gabor Maté on ADHD, Bullying and the Destruction of American Childhood && Incarcerated kids drugged with antipsychotics.
"Fifty years ago, we were tying kids up with leather straps, but now that offends people, so instead we drug them," Robert Jacobs, a former Florida psychologist and lawyer who now practices psychology in Australia, told Kelly. "We cover it up with some justification that there is some medical reason, which there is not," he said. The atypical drugs include Bristol-Myer Squibb's Abilify, Pfizer's Geodon, Seroquel from AstraZeneca, Eli Lilly's Zyprexa, and Risperdal and Invega from Johnson & Johnson.
A lot of schools have shut down in part because of the "Stop Child Abuse in Residential Programs for Teens Act of 2009" - Official summary - The Stop Child Abuse in Residential Programs for Teens Act of 2009 | EdLabor Journal | Committee on Education and Labor
Some of the stuff is just weird. Some shocking. Minors have basically no rights when their parents send them off. Techniques of control include methods derived from Esalen Institute, and other weird group therapy approaches. Early orgs included the odd Synanon, and later CEDU set up by Mel Wasserman.
The industry term has become Therapeutic boarding schools and the trade association is National Association of Therapeutic Schools and Programs. Here is the giant index of schools. (Scribd here)
The Troubled Teen Industry is pretty creepy. 2006 book: Help at Any Cost which linked the methods to the classic 70s group therapy soft cult 'Est' or Erhard Seminars Training.
This reddit thread incited me to pull these links together -Even skimming this post once will blow your mind, most probably think thats its made up but you would be dead wrong : self
Possibly the most controversial is called Élan School in Maine. A whole batch of Élan material is out there: The Elan School Former Resident Guestbook tumblr.
Élan's official forum posts are left unlocked right now - let's see a really sad one. First phone call | Elan School
Our 13 year old son has been at Elan since May 1. We've been told that he is behaving just as one would expect...lots of behaviour issues. We have finally accepted his last guilt letter and have just set up a date/time for our first phone call to him which is supposed to take place on Wednesday. I am feeling very anxious about speaking with him. He told his staff person that he is planning to try and manipulate me into feeling guilty enough that I will want to take him home. I have no intention of taking him out of the program. Our decision to send him to Elan was made because Mitchell's attitude, behaviour and conduct had reached such offensive proportions that we believed that if we didn't take drastic action he would some day end up either in jail or dead. As it is, the day my husband flew down to see the school, personally hand in his application materials and meet with the admissions team, Mitchell was arrested and charged with criminal charges. Mitchell's attendence at Elan was sanctioned by the crown attorney. Who knows what the outcome of his trial would have been?
The bottom line here is we have our first phone call approaching, we know he is going to manipulate us, and I don't want the phone call to turn into an argument which will leave us angry and disappointed. Does anyone have any advice to help us prepare?
Sandy :arrow:
Wow that is a pretty grim Stockholm Syndrome or something remark. The reddit peeps dug thru these pretty well.
Program Staff Information for Élan. Old Elan forum.
More programs - Wilderness Adirondack Leadership Expeditions. Bridges Boys Academy in Oregon.
The Straight mishmash of shells: Convoluted chain of these organizations....Straight, Incorporated collapsed. Help: Surviving Straight Inc - Home. Chart from here.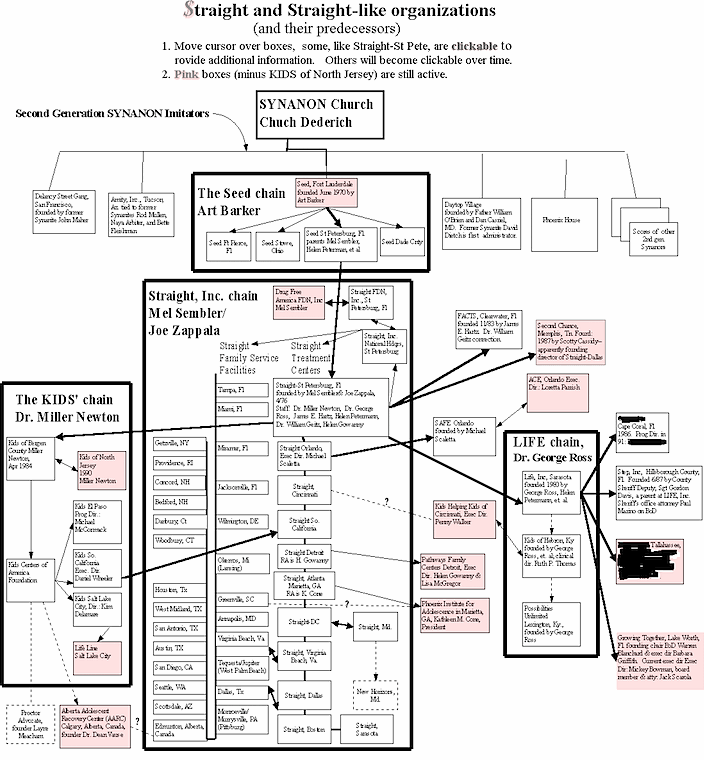 In Minnesota a high profile one is Minnesota Teen Challenge, part of a larger Teen Challenge Network. pandagon.net - Klobuchar $500K for ex-gay ministry linked stuff. Positive coverage for heroin addicts recently - Recovering heroin users find help | mndaily.com - Serving the University of Minnesota Community Since 1900. & Also Minnesota Teen Challenge shares sobering, inspirational stories « Minnesota Prairie Roots.
They have a website up Home - Know the Truth - which is "This project was supported by Grant No. 2008-JL-FX-0073 awarded by the Office of Juvenile Delinquency Prevention, Office of Justice Programs, U.S. Department of Justice. Points of view or opinions in this document are those of the author and do not necessarily represent the official position of the U.S. Department of Justice." Glad to see FedGrants going to religious programs.
Behind the Walls: The Teen Challenge You Won't See. MN Teen Challenge got tangled up in the Tom Petters thing and the weird and Tom Petters-related figure Frank Vennes. Back in 2008 this was going around. Dump Michele Bachmann: Pardongate Update: KSTP Mentions Bachmann's Pardon Letter in Story About Vennes and Petters. Also Lloydletta's Nooz and Comments: Amy Klobuchar, Tom Petters and Minnesota Teen Challenge - Oh My!. Deeper bits: 'Dirty money': MN Teen Challenge returned Bachmann's contribution « Minnesota Independent. And MinnPost - Teen Challenge's Petters investments: a wake-up call for nonprofits.
One entry - Minnesota Teen Challenge Sober Living home in Minneapolis MN. Older: Investigating Teen Challenge
Via Heal-Online.org -Abusive Teen "Treatment" Centers, Programs, Boot Camps, Wilderness Camps, and Cults Exposed!
Minnesota Teen Challenge in Minneapolis, MN is highly suspected of being a teen torture facility. Teen Challenge is the only group of programs endorsed by the Drug Free America Foundation (DFAF). DFAF was founded by Mel Sembler, former owner and director of Straight, Inc. a confirmedly torturous group of institutions for teens. Straight, Inc. was endorsed by former US presidents Ronald Reagan and George H.W. Bush. In George W. Bush's first term (2000-2004) he appointed Mel Sembler as US ambassador to Italy. George W. Bush instituted the "New Freedom Commission" in 2000. The "New Freedom Commission" is a group of psychiatrists and pharmaceutical lobbyists working to insure that every child in America is drugged and virtually enslaved through behavior modification. Please do not sent your child to any Teen Challenge program. If you were abused or had your rights violated by Teen Challenge, please contact us and we will post your story here as a warning to others. To view confirmed statements regarding abuse at other Teen Challenge programs, click here. To read about Straight, Inc. and the Semblers, please click here. To visit a survivor site for Teen Challenge survivors, click here. For staff and background info, click here.
Mel Sembler is a longtime GOP player & hardcore fundraiser of the sketchier sort, and was even chair of the Scooter Libby Legal Defense Trust. He set up the deeply devious DFAF Drug Free America Foundation. See the 1989 Doonesbury cartoon mocking his purchase of an ambassadorship: sembler political contributions.
Also The Institute on Global Drug Policy and Practice :: Volume 4, Issues 3 - Fall 2010 is related. In another example of propaganda via Federal Cash, see "This project was supported by Grant No. 2005-JL-FX-0128 awarded by the Office of Juvenile Justice and Delinquency Prevention, Office of Justice Programs, U.S. Department of Justice" - Yuck! OJP Strikes again!
More links for support & help from WebDiva.org ;
Another collapsed Mormon related org is World Wide Association of Specialty Programs and Schools - Wikipedia, the free encyclopedia
More benign silliness: Red Letter Ministries | Live a lifestyle of rapture! and the popular YouTube - How To Get High Without Any Drugs via | Bachmann Gave To MN Addiction Recovery Center Credited With Exorcisms. Enjoy the Mn Teen Challenge Occult Booklet!
Best regards & stay safe out there, don't let the hierarchies & trauma based behavior modification crush ya spirit!
Commenting on this Story is closed.
Tags for Teacher! Leave those kids alone - Psychiatric coercive schools for youth & teens; Elan, Teen Challenge, therapeutic boarding school trade associations, very dark rooms & mass drugging for minors