Robert Erickson: Featured Pic for Top 10 Political Moments of 2010
Friend of mine says this is still a running gag at her office six months later! :-D
My mom is happy the Christmas tablecloth went a bit viral! Star Tribune featured the penny drop as the most photogenic political moment in Minnesota politics for 2010!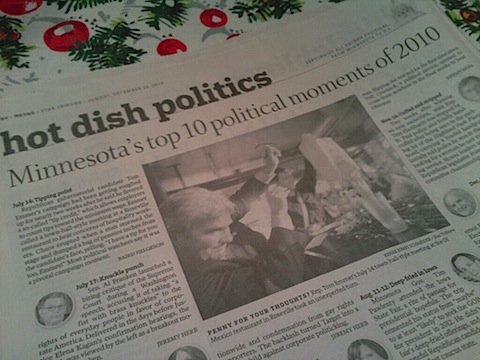 The boring 2010 campaign season featured one hilarious moment categorically different than all the others: the penny drop by one Robert Erickson at Tom Emmer's campaign stop. For More, ColumbusGoHome.com .
Let's go back to where it all began :) Robert Erickson punks the Tea Party against immigration at the Minnesota State Capitol:
With a moment to reflect... since posted Nov 17, 2009, this video has 47,188 views on YouTube. It's been shared 1493 times on facebook, 10166 views from conservative boortz.com, 6360 from Huffpo, 848 from ColumbusGoHome.com and 592 on dangerousminds.net.
It just kinda snowballed from there! Nice work -- the whole effort to carry the immigration debate into the mainstream paid off, along with the efforts of many to connect immigration, Native rights and colonialism in issues like Fort Snelling. I'll tip to that.
More infos: MIRAC Mn Immigrant Rights Action Committee.
Commenting on this Story is closed.