Dashing Wartime Philosopher Bernard Henri Lévy ties Libyan rebels & Netanyahu, lolz at teh Bilderberg conspiracy - and your French Revolution Freemason delirium too!
Bernard-Henri Lévy gets Libyan rebels to support Israel & doesn't like your Bilderberg conspiracies!
Apparently this French philosopher with a penchant for drama is calling more shots than people realize. However, he has had enough with your conspiracies! What is this guy's deal? After reading about he was a go-between for Netanyahu and the Libyan rebels via DC alt/deep weirdness journalist Wayne Madsen, I couldn't resist looking a little closer, then getting into weird French artwork. You're right, no conspiracy here, Mr Lévy. Touché!
June 2nd: Libyan rebels will recognise Israel, Bernard-Henri Lévy tells Netanyahu | RFI
By RFI
Libya's rebel National Transitional Council (NTC) is ready to recognise Israel, according to French philosopher Bernard-Henri Lévy, who says he has passed the message on to Israeli Prime Minister Benjamin Netanyahu. The NTC "will be concerned with justice for the Palestinians and security for Israel" it it takes power, Lévy said after meeting Netanyahu Thursday. "The future regime will maintain normal relations with other democratic countries, including Israel." Netanyahu's office confirmed the meeting with Lévy but did not comment on the discussion. "The prime minister likes to meet intellectuals," a spokesperson said.

Lévy, who helped persuade France to be the first country to recognise the NTC, visited the rebel-held Libyan city of Misrata last weekend and went on to Jerusalem this week.

Moamer Kadhafi's regime refused to recognise Israel, even after Egypt's President Anwar Sadat peace treaty with the country in 1979.
AFP version of the arrangement: French writer passes Libya rebel message to Israel - FRANCE 24
AFP - French writer Bernard Henri Levy said he delivered a message on Thursday from Libyan rebel leaders to Israel's premier saying they would seek diplomatic ties with Israel if they came to power.

Levy told AFP he passed on the verbal message from Libya's National Transitional Council during a 90-minute meeting with Prime Minister Benjamin Netanyahu in Jerusalem. "The main point was that the future Libyan regime would be moderate and anti-terrorist and will be concerned with justice for the Palestinians and security for Israel," Levy said.

"The future regime will maintain normal relations with other democratic countries, including Israel," he added.

Levy, who helped engineer France's recognition of Libya's fledgling rebel authority, visited the rebel-held Libyan city of Misrata last weekend.

He said on Thursday that Netanyahu "did not appear surprised" at the content of the Libyan message. Netanyahu's office confirmed the meeting with the French writer and philosopher but did not comment on the discussion. "The prime minister likes to meet intellectuals," a spokesman said.

In early March, Levy went to the eastern Libyan town of Benghazi, days after its capture by rebel forces. He met members of the just-formed National Transitional Council and arranged for some of them to meet French President Nicolas Sarkozy in Paris on March 10.

At the end of that meeting, which Levy attended, France became the first country to recognise the provisional body as legitimate and to call for targeted air strikes against Libyan leader Moamer Kadhafi's forces.
Nothing like organizing another fine French-flavored revolution! Some people on Madsen's site pointed out Lévy has previously been flacking for interventionism and military operations to break up Yugoslavia. He wrote a book on the subject wherein he spends a while attacking delusional conspiracy theorists for daring to suggest geopolitics rather than purely humanitarian factors motivated the Western war to break up Yugoslavia and take control at Evil Serbia's expense.
Main Idea: If you dare believe that NGOs and oil companies are shady enough to work in sync, you must be as delirious as those linking Freemasonry and the French Revolution!
Of course I couldn't resist poking around for more French Revolution/Masonic artwork. Found some great ones this time.
Jean-Baptiste Regnault - La Liberté ou la Mort!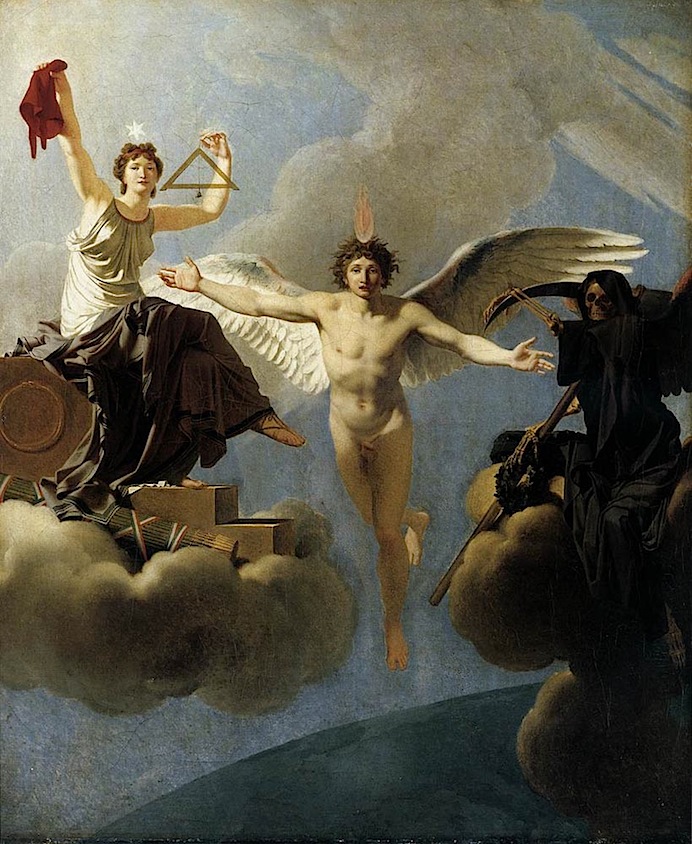 And add a sweet tribute to Rousseau - French Revolution artwork is really interesting and also features the interesting Liberty Hat -- a mysterious iconic red cap which appeared in American and French artwork, and even US coins as well. Oddly: Liberty Hat: U.S. Senate Seal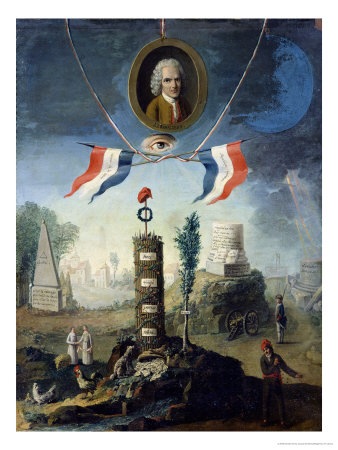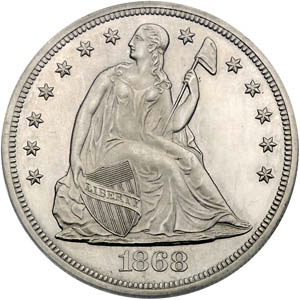 Here are nice Masonic ones, complete with Ouroboros :)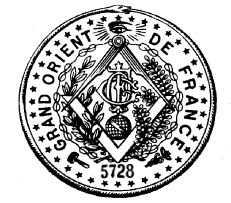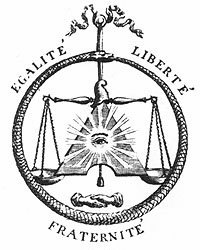 And a quality Revolutionary Calendar - with the hat in upper-right by the cannonballs, weird lightning bolts on the bottom, Justice leaning on fasces with a four-headed slain monster, and two pillars resembling Boaz & Jachin, the major Masonic symbols. These people weren't messing around!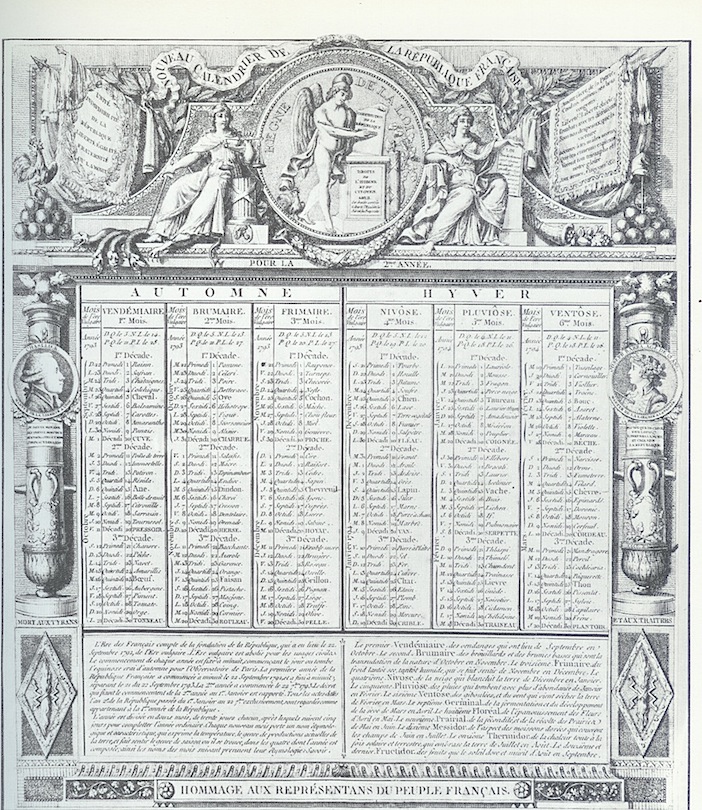 This one's awesome too: Gotta dig the pyramidal look for "Surveillance" and the groovy Egalité square in the upper right.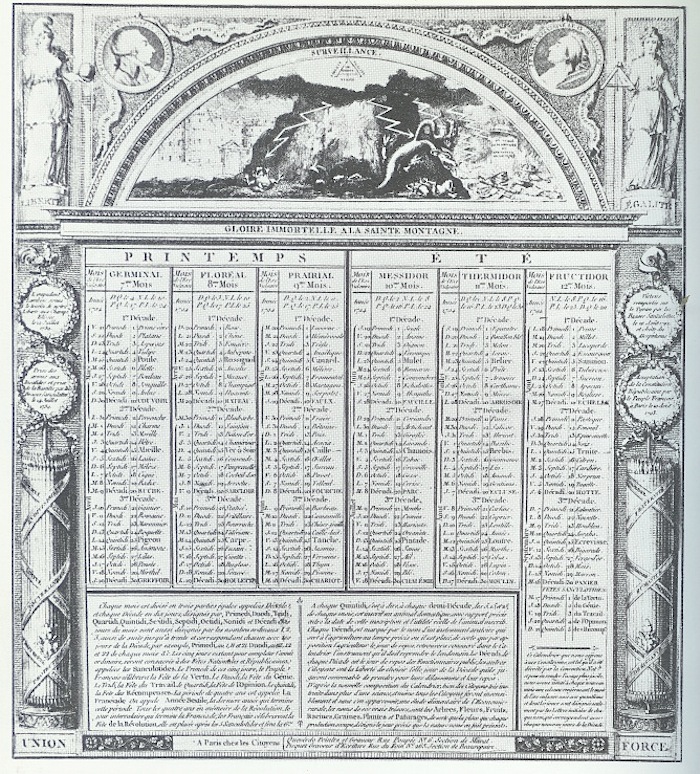 And this one's plenty interesting too: Fasces topped with the liberty cap & Ouroboros and a lovely eye of Horus rounding out the action. "Declaration of the Rights of Man".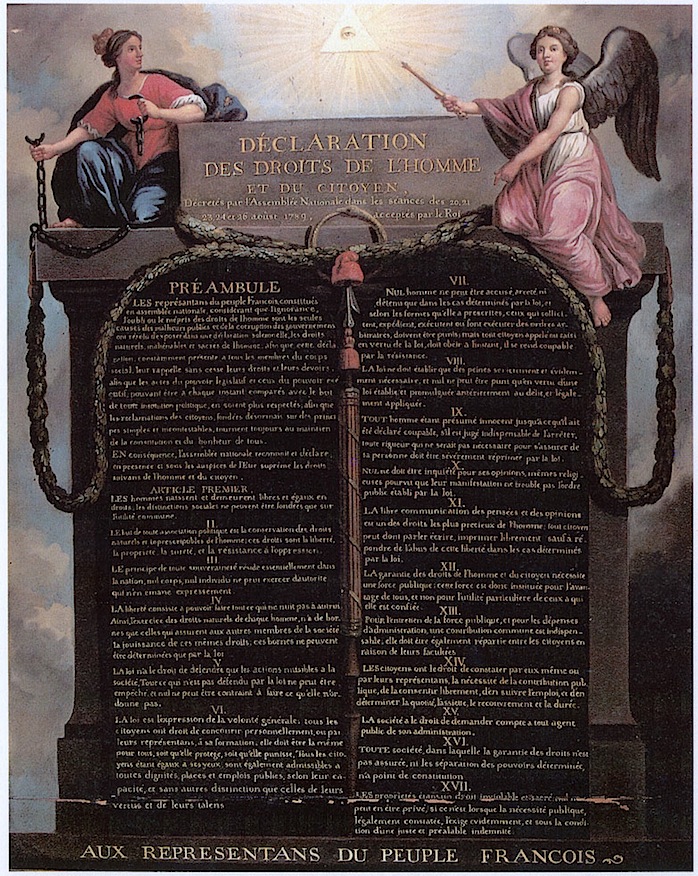 and finally via French Revolution by Francois Furet, Denis Richet :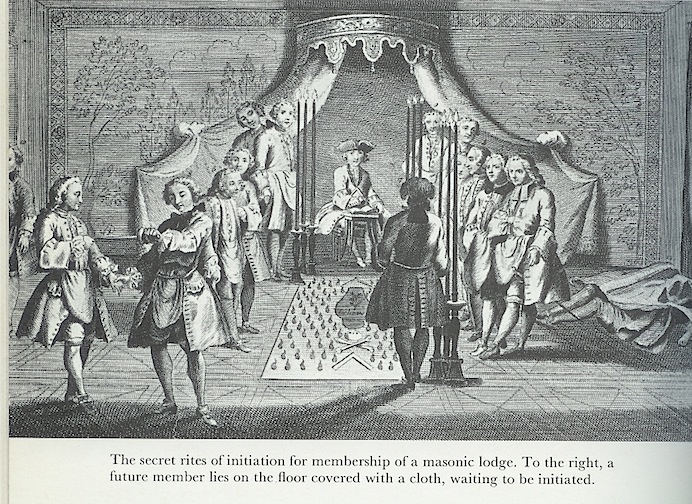 Clearly freemasonry, esotericism and its ideals and imagery (let alone specific organizations) had nothing to do with the French Revolution. Delirium says Mr Lévy!
Here's that book "Left in Dark Times" - Interesting review about the left "soft on Fascislamism"... France's leading public intellectual voices vestigial allegiance to the Left—while trashing it—in this convoluted manifesto. Philosopher-journalist Lévy (American Vertigo) feels a family loyalty not to a dead programmatic socialism but to images, events and reflexes—drawn from the Dreyfus Affair, the 1968 upheavals and other historical milestones that expressed the French Left's opposition to racism and fascism, its support of egalitarianism and its attitude of all-embracing moral responsibility. Lévy follows this muted tribute with a harsh critique of present-day leftist politics. Flogging everyone from Noam Chomsky to Cindy Sheehan, the author attacks the Left for its antiliberalism and anti-Americanism (a veiled anti-Semitism, he believes) and for being soft on Fascislamism, warning that this progressivism without progress adopts the Right's worst features with its isolationism and resistance to humanitarian interventions in Bosnia and Darfur. Lévy is a more cerebral—and judicious—Christopher Hitchens; despite his grandiosity, arcane allusions and the high rhetoric of his long, coiling sentences, he is a lucid, cogent polemicist. Although the dudgeon he directs at the diminished sins of a marginalized postcommunist Left seems overdone, Lévy's many American fans will relish it. (Sept. 16)
Left in Dark Times: A Stand Against ... - Google Books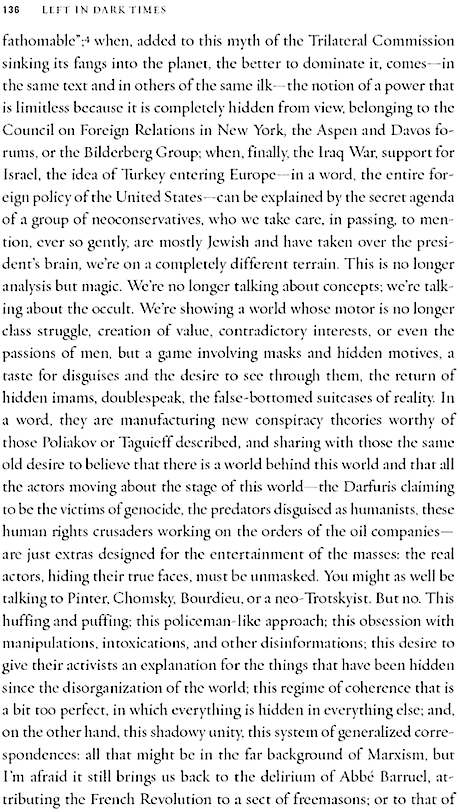 Next time I meet Mr Lévy I'll wear my Liberty Cap :-P Have fun with achieving your really altruistic geopolitical goals through more Mediterranean NATO/French/Israeli warfare operations.
Commenting on this Story is closed.