EXCLUSIVE: Cointelpro Gothic II: Midwestern Police State Paranoia Continues! Winona & Des Moines hubs of spurious "terrorism" & great statistical accomplishments!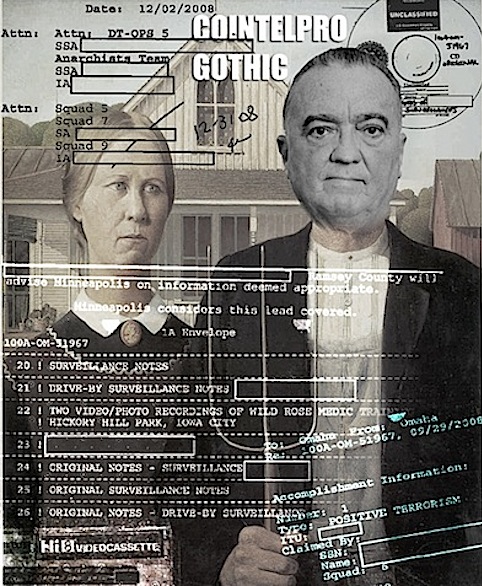 EARLIER: October 13, 2010: Cointelpro Gothic: Docs prove Iowa FBI's Wild Rose Rebellion a pretend RNC "Terrorism Enterprise" for great "statistical accomplishment"
BY DAN FEIDT -- Another level of the seemingly endless, unregulated Midwestern law enforcement campaign against political activists has been revealed in 525 pages obtained from the Department of Justice by Freedom of Information Act requests filed by David Goodner of Des Moines. (FULL PDF 62MB / Scribd.com)
Two related stories emerge: in 2004-2006, federal agents spurred to achieve career-advancing "statistical accomplishments" spied on people the G-Men linked with the CrimeThinc Anarchist publishing label -- in Des Moines and Winona, MN anyone linked to anything CrimeThinc is deemed a great target for further snooping.
Of course, in this file, the FBI deems CrimeThinc as a terrorist organization, a designation which they never have to account for to anyone. They never found any evidence of terrorism to charge anyone with any crimes, terrorism or otherwise, but this lack of 'real terrorism' only creates a gentle opportunity for career advancement without the risk of hassling any powerful people.
In 2006, FBI agents conducted a sweeping surveillance stakeout of a CrimeThinc meetup at the Winona, MN visitor's center, which has not been reported in detail until now. Since they've already labeled CrimeThinc a terrorist organization, they collect tons of precious "statistical accomplishments" merely for rationalizing their conclusions and defaming random people to local police officers.
Goodner previously obtained the 2008 Republican National Convention documents around the "WILD ROSE REBELLION" FBI investigation.
Separately, an addition batch of documents obtained by a member of Twin Cities Indymedia (via the MN Data Practices Act) about the East Metro WMD Task Force (available for viewing & download @ Scribd.com), which started shortly after September 11, 2001, reveals another layer of paranoid, baseless police activity targeting everyone from Somali immigrants to 2008 RNC protesters. Among many interesting documents, former Ramsey County Sheriff Bob Fletcher planned a strange wargame during the election, a kind of exercise designed to ascertain what they would do if terrorists gained control of elected officials.
-- Sorry no time for a more detailed writeup right now - please repost as you will. Creative Commons with Attribution! - hongpong@hongpong.com
Commenting on this Story is closed.