First warm day of 2012 = Days 1&2: OccupyMinneapolis Mark II spontaneously reappears in Peavey Plaza! The Unexpected 2012 Peavey Plaza Occupation of March 6-7-?
IN an entirely unexpected and spontaneous emergence of lulz, the first dry, warm evening of spring led to an impromptu occupation of Peavey Plaza on Nicollet Mall, with OccupyMpls (occupyminneapolis.mn) regulars holding it down into the night with two tents, sleeping gear, hot tea and snacks. Excellent vibes and a lot of catching up with everyone after chilly and challenging months. A spontaneous occupation emerges through a quick consensus - an agile small decision leading to a flock of funfunfun for regular and a few new Minneapolis occupiers. Mayor RT Rybak, under a lot of heat over the new stadium hustle and his foreclosure failsauce - with Monique White's house under an apparently illegal eviction and a strong campaign of actions & a petition last week with 8 council members aboard - right now he's on vacation in the tropics! Perfect circumstances on all levels.
UPDATE 4PM WEDS: Occupiers departed earlier Weds without any police issues. Rain continued over much of the early day & the occupation hadn't been intended as a long-term effort, but the effect was a huge morale boost, as well as an introduction for many to future Peavey occupation possibilites.
The day's temperature had soared around 45° - it was about 8°F on Monday and now suddenly 59°F. Well after midnight it was still 50°, hardly a challenge to these seasoned Minnesota occupiers that had finally been driven out last year in freezing temps, forbidden shelter on the county-controlled Peoples Plaza (fka govt plaza).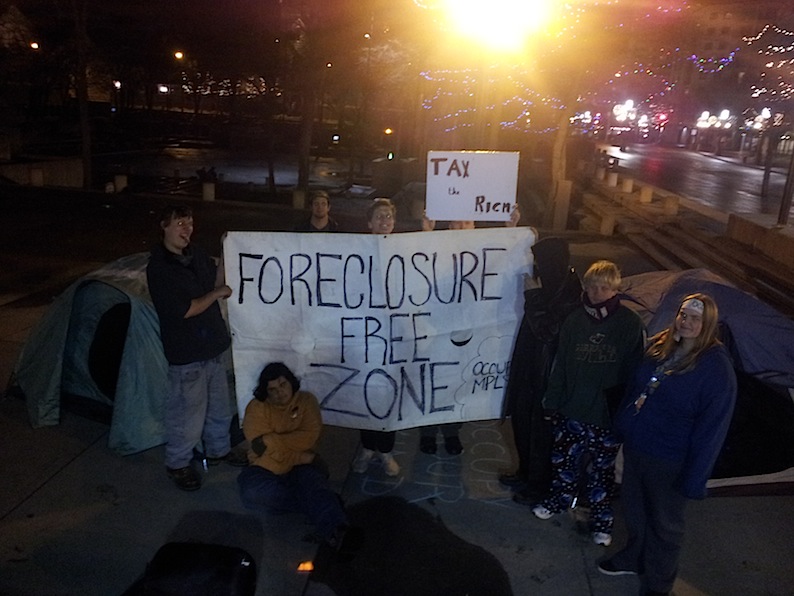 The marvelous thing was that this was not planned at all before today, catching the city, and everyone else, entirely by surprise! A couple of the regulars decided to go for it at 4:30 PM, made some calls and threw up two tents. Occupier chalkings about downtown on the first warm day of the year spawned constructive discussions, calls were made, and the impromptu scene coalesced, along with a march down to the police station which returned to Peavey around 10 or so.
A peak of around 20 folks were around about midnight or later. More continued to trickle in, signs got posted up, and the police basically went away. They double-parked in front of WCCO for a while but were gone by 11.
An officially announced relaunch of Occupy Minneapolis in April includes Peavey Plaza as a possible site for occupation, but the Unexpected 2012 Peavey Plaza Occupation of March 6-7-? 2012 reminded all of us how much fun it is to just spontaneously go for holding a space. It was great to see many of our comrades after a tough winter. Cutting right into a space on the spur of the moment, a perfect antidote & marker to the end of winter doldrums, a new turn, a new phase, a new space and a new way to have fun while pushing back. While planning is great, everyone can agree, there can be too much planning. With a quick decision to plonk down for the evening, a new opportunity to put one over on the city unexpectedly arrived.
Peavey Plaza is a privately owned two-acre park in a funky 1973 high modernist style on Nicollet Mall, across from WCCO, Brit's Pub, a church and adjacent to Orchestra Hall. It's organized around a currently-drained series of pools, with tiers of pavement and grass, as well as mysterious square platform islands.
Hennepin County Property Interactive Map - evidently it's owned by the City. The Taxpayer is the city and the official market value is a spectacular $0.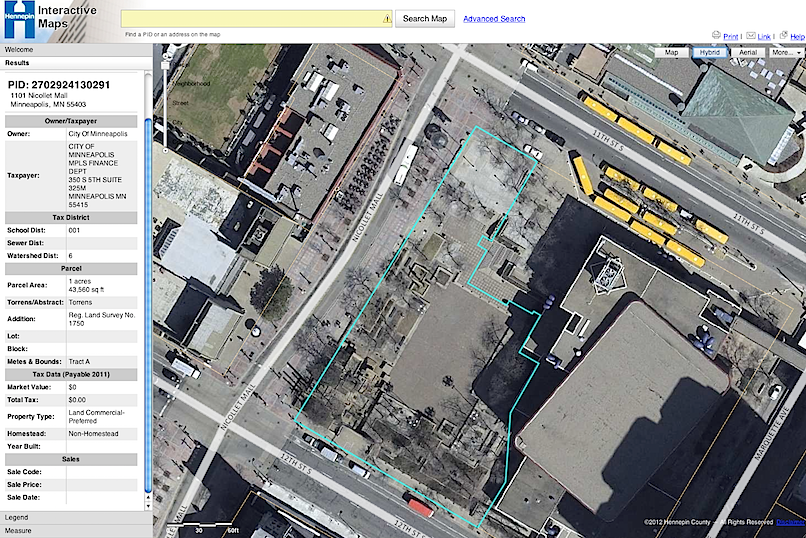 Notably, Peavey is caught in an interesting political situation, with a somewhat controversial redesign plan rolling into 2013. The original designers objected to the Minnesota Orchestral Association and Minneapolis strong-arming the design process and basically kicking them out, including two-thirds of their own design team, and the original designer M. Paul Friedberg.
MPR: Architects, preservationists concerned over Peavey Plaza's future. A new vision for Peavey Plaza | StarTribune.com (Oct 2011) Strib reports state has put up $2 million in bonding while downtown city councilwoman Lisa Goodman says it would cost between $8 and $10 million. But occupiers can immediately make it far more awesome for free!
Statement from dissidents on Plaza design. Minneapolis' Peavey Plaza to get major makeover | MinnPost. Peavey Plaza: Reflections by Friedberg. Friends of Peavey Plaza, Minneapolis. THe Preservation Alliance of MN put it on 2008 ten most endangered historic sites.
Pictures are Creative Commons - with Attribution to Dan Feidt (@hongpong)
NDAA & foreclosure signs in no time!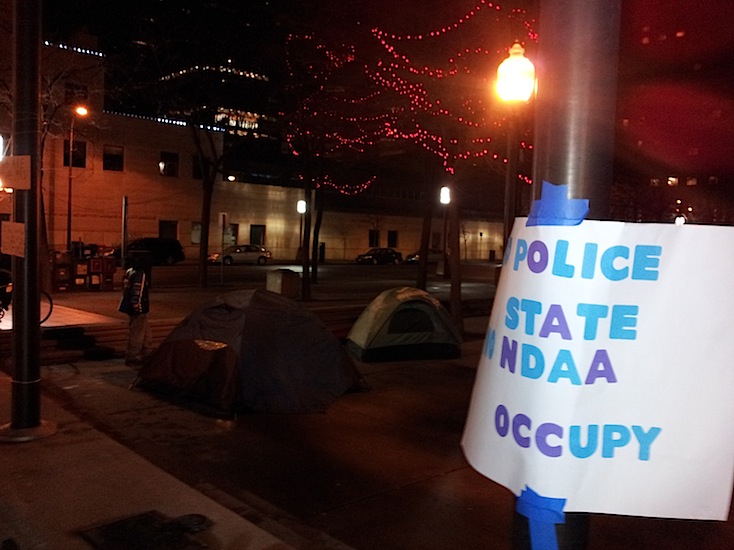 The spooky Mpls police van was lurking around midnight across from Ichiban but not sure if related.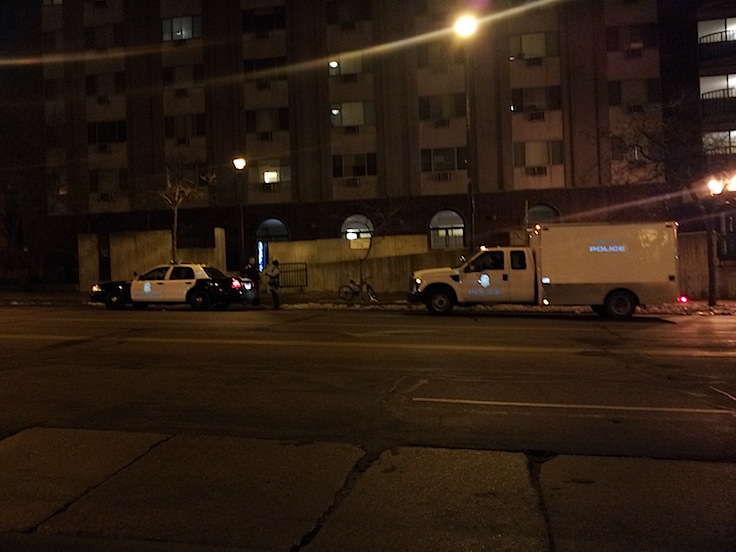 Glass chalk hits WCCO which had reportedly declared OccupyMinneapolis dead earlier on Tuesday. By that night: tents across the street. Problem?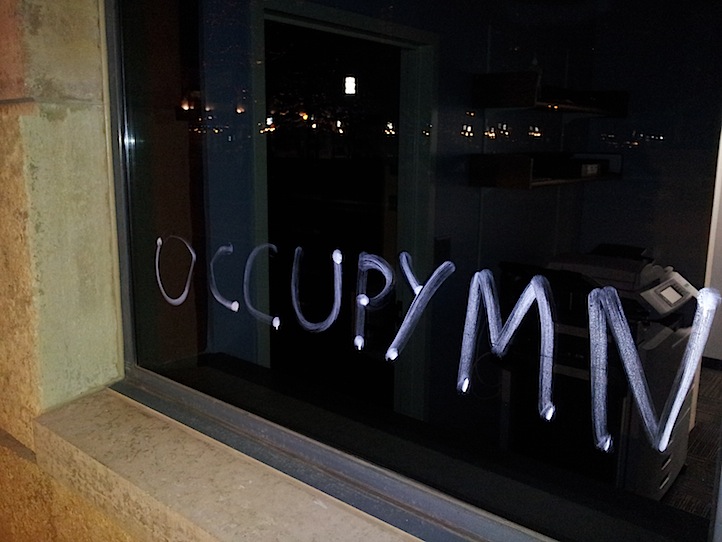 WCCOlulz glass chalk.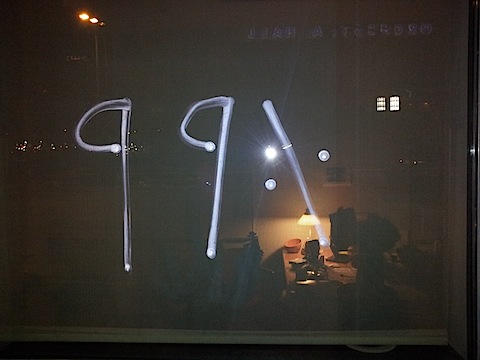 The TAC is BACK - see TAC group on occupyminneapolis.mn .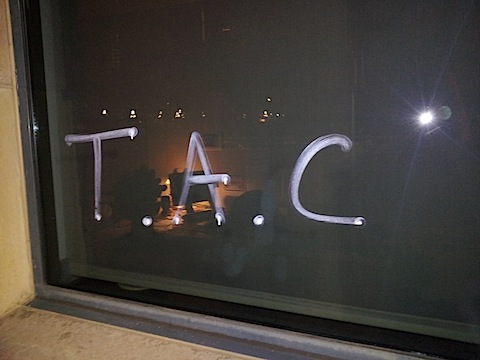 <<< nom nom nom >>>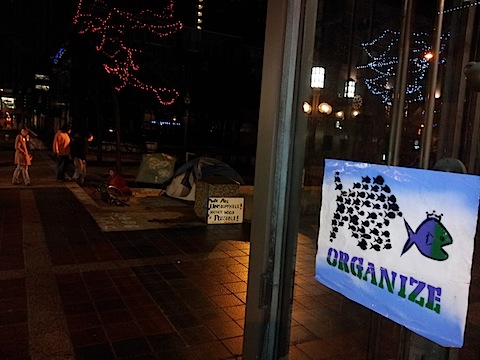 they're baaaaack! :-D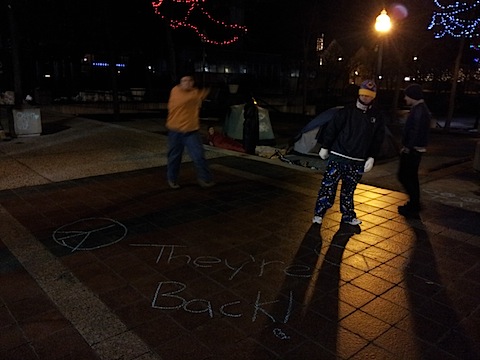 Team Anarchy vs Channel 4 == lulz!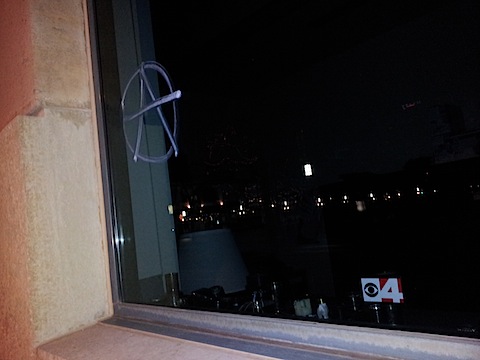 Cops over there? What, me worry?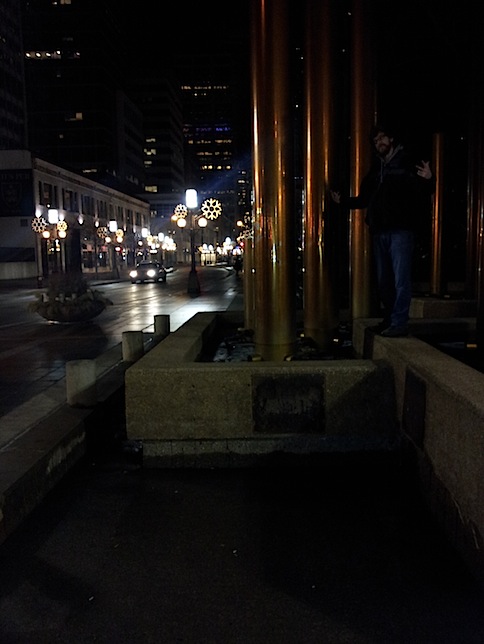 OccuDog arrives late.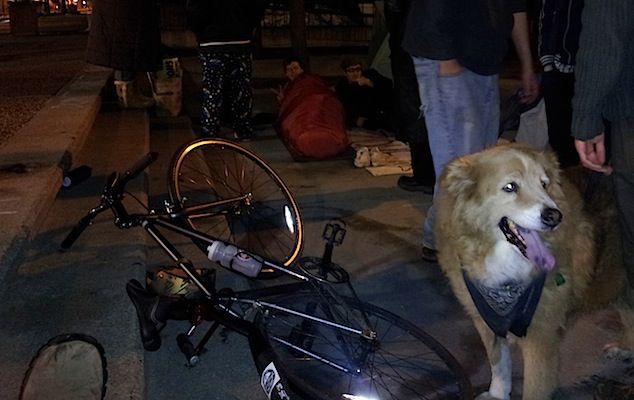 What fun!! Even if for an evening - Occupy Minneapolis is back for 2012. Problem?
Tags for First warm day of 2012 = Days 1&2: OccupyMinneapolis Mark II spontaneously reappears in Peavey Plaza! The Unexpected 2012 Peavey Plaza Occupation of March 6-7-?