A moment of police state zen: White House-approved Homeland Security talking points deny federal coordination of Occupy crackdown, in middle of fed email spool coordinating Occupy crackdown
A bunch of new documents have been FOIA'd out showing the various layers of Occupy crackdown. We certainly watched it all happen pretty rapidly from the ol GlobalRev catbird seat. One week, everything seemed weirdly quiet on the eviction front -- then seemingly overnight the police squads rushed in across the country and crushed the camps.
It was an interesting time... wasn't it? As the documents trickle out, we'll start to really see the whole darn thing in a new light -- certainly Occupy enticed so many bad actors & ugly authoritarian meme-systems to head into the blazing scene, intervening in so many ways.
White House (WH) approved talking points from: Partnership for Civil Justice Fund - DHS Releases More Documents on Occupy to PCJF: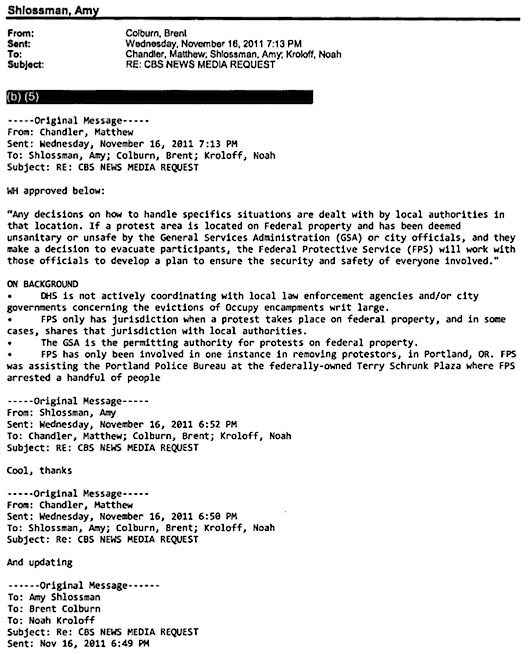 Some hub of shenanigans known as the Homeland Security National Operations Center (or NOC) was evidently the front desk for a lot of this, but PCJF suspects, that looked pretty bad so they redirected put it through local police backchannels as well.
A classic little highlight here from five days before the White House approved talking points, thanks to PCJF: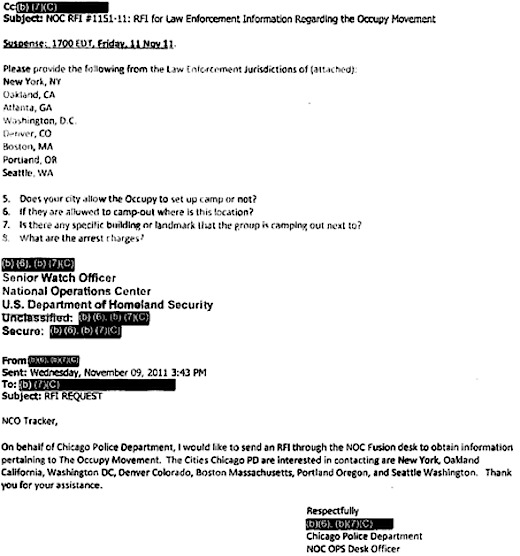 Moar notes: White House & Dems Back Banks over Protests: Newly Discovered Homeland Security Files Show Feds Central to Occupy Crackdown | This Can't Be Happening &etc...
Commenting on this Story is closed.
Tags for A moment of police state zen: White House-approved Homeland Security talking points deny federal coordination of Occupy crackdown, in middle of fed email spool coordinating Occupy crackdown