Security culture danger as closed Occupy Homes sessions proceed without 2/3rds internal support in MN; two networks for price of one?
Troublesome assumptions about security culture arrangements for closed Occupy Homes national gathering sessions starting tomorrow at the Neighborhoods Organizing for Change MN (NOC Office) around noon put participants at risk. I feel everyone involved means well, but a bunch of particularly 'toxic' situations have materialized. Since these developments reflect larger trends, they need to be fixed if possible, and certainly discussed. [See August 4th story on conflict around meeting closure at NOC Office 911 Broadway Ave on Tuesday] At issue: the desire of the organizers of the Occupy Homes national convening to close the gathering.
The Occupy Homes MN last Saturday, which ran around four hours, reached a vote of 22 in favor of the closure of sessions at the national Occupy Homes convening, 18 against, and 8 standasides. 22/18/8 fails to reach a 2/3rds level of consensus (even ignoring standasides, only 55%). Unfortunately a kind of reverse fait accompli has evidently been imposed on the consensus-based group -- the inability to prevent the meeting closure decision from having been taken earlier by the two delegates means that now the group is [purportedly] imposed upon with a 55% decision. [I have not been able to get comment about when this closure happened exactly]
//// UPDATE Aug 7th: Getting complaints not for attribution from one of the people that arranged the lockout. They say they had a vote of 23, not 22, to proceed with the session lockout. Two initial reports said 22, but even if it is 23, that fails to meet 2/3rds consensus. Let's show exactly how this works, using 23 as the affirmative number lacking 66% consensus. The third chart & data set shows the consensus actually required.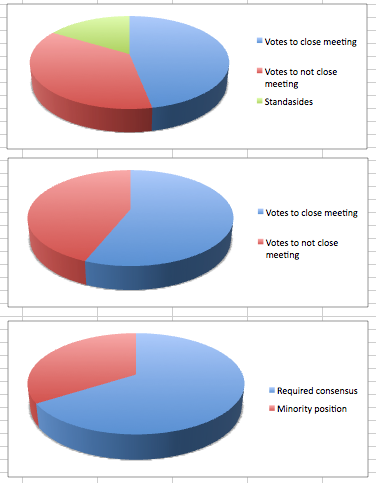 If this doesn't make it obvious there's no 66% support, I don't know what will - no matter whether you factor in the stand-asides.END UPDATE ////
For coverage on what happens [if/when] the gesture of locking out the conference is made by its supporters Tuesday, I will try to post summaries on twitter at http://twitter.com/hongpong and possibly live video will be available at http://bambuser.com/channel/hongpong .
@TshirtToby sent along the following writeup of the Saturday meeting. Thanks Toby - follow him!
/// This is a report about the Occupy Homes MN meeting held on Saturday April 4th.

Once other business was able to be taken care of, the meeting moved on to the contentious issue over the openness of the upcoming conference. The people involved with organizing the conference admitted that they made mistakes and move forward from here.

It was proposed that the conference should be open to everyone. Arguments for and against were made. For openness arguments were made for transparency, spirit of the Occupy movement, worries over the groups involved and their influence. Against, it was brought up with the people outside of Minnesota organizing it on a conference call and it didn't pass a vote among them; didn't want media/informants/undercover government agents at meeting; Talking about sensitive tactics and people personal homes and financials. A vote was taken and it didn't pass.

It had been agreed that it 6 "Participants" and 5 "Observers" to the various panels. This was decided fairly quickly and somewhat sloppily due to time crunch and tensions. This meeting had the second highest tensions I have ever felt during an Occupy meeting.

In my opinion the meeting went as well as it could considering the lack of time to solve an emotional debate. The problem I see is that some of the people invited to this meeting are not from Occupy affiliated groups. These groups don't abide by Occupy traditions of openness and transparency. This could hurt Occupy Homes reputation.

It is my hope that this group will be able to recover from this incident and continue to do its good work. ///
Veteran activists in Minneapolis know full well after many incidents in recent years (see 2008 Republican National Convention, 2009 Grand Jury & beyond), any large gathering can easily be surveilled, yet security culture assertions by those who have promulgated the plan to lock the sessions are simply faulty. It is totally implausible that closing the meeting sessions will spare it the effects of informants or government operatives. This is extremely dangerous -- the faith that security culture can 'work' with this many people around -- and needs to be set aside immediately.
[Protip: In the future, the dangerous power of delegation has to be carefully bounded for nonhierarchical groups, such as instructing delegates under no circumstances may they agree to close meetings to their members. You'd think it was an assumption of everyone, but unfortunately it's not.]
The Movement Resource Group, (Movementresourcegroup.org started by Ben Cohen of Ben & Jerrys, and others) provided a large grant to support this Occupy Homes gathering, grant info attached below. Simply put, if MRG provides more grants sponsoring closed "Occupy" meetings, the critical network topology of openness upon which the entire idea depends will be killed off, sprayed into oblivion by the Roundup of good intentions expressed through grants.
Additionally, as Anthony Newby discussed on the video taken last Wednesday, members from several of the groups flying in to Minneapolis have had their airfare paid by Service Employees International Union (SEIU), although Newby said he wasn't sure if it was the local or national organization.
Alongside the partially closed Occupy Homes series of events, a second specific effort is taking place, and one source said that this affair is at least partially put on by Minnesotans for a Fair Economy (MFE), an organization set up for electoral purposes by the Fight for a Fair Economy network.
According to: http://occupybernal.org/wordpress/?p=1976 : [bold added]
/// Occupy Bernal Participates in National Home Defenders LeaguePosted on July 30, 2012 by elaine

At our Saturday, July 28, 2012 joint general assembly, Occupy Bernal/SF ACCE/Occupy Noe agreed to generate support for Wells Fargo Bank (WFB) foreclosure fighter Steve Boudreaux of Atlanta, GA.

He is in foreclosure, and fighting, with the support of his community, to keep his home.

Two of us are attending the first convening of the new National Home Defenders League in Minneapolis, MN on August 7-8, 2012. Our fellow organizations from around the country are all fighting foreclosures. Let's show them that our organizations believe in solidarity. Hopefully, after that national meeting, we will have a nationwide organization capable or fighting the banks county-wide.

Here's where to sign the petition, and Steve's story, Steve's story continued and more info on Steve's campaign. ///
One source stated that members of at least five of the groups involved in the Occupy Homes summit are also attending the MFE-supported event. It seems likely, though unconfirmed, that the MFE-supported event is the National Home Defenders League convening.
Several of the staffers involved with Home Defenders League [HDL] (also those in MN involved with MFE & SEIU in recent years) share a pretty common background: they were ACORN network staffers & relatively tight-knit. More recently, within the last few weeks, HDL has been staffing up, and HDL opened at the same address as ACCE (Alliance of Californians for Community Empowerment), which itself opened less than two weeks after California's ACORN chapter dissolved, at that same address, with much of the same ACORN staff.
HDL was announced as early as 2010 as a descendant org of ACCE:
/// October 8, 2010 Friday - Home Edition - HOUSING; Freeze sought on U.S. home seizures;

As questions mount about how banks have handled foreclosures, consumer and civil rights groups call for a national moratorium. By Alejandro Lazo and E. Scott Reckard

SECTION: BUSINESS; Business Desk; Part B; Pg. 1

Two advocacy groups -- the Los Angeles-based Alliance of Californians for Community Empowerment and the Greenlining Institute of Berkeley -- this week called for a foreclosure moratorium. The L.A. group said it was forming a separate organization, the Home Defenders League, to help homeowners fight foreclosures. Both groups called on Atty. Gen. Jerry Brown to support a moratorium. ///
This summer has seen an expanded relaunch of HDL in different states. June 6 2012 NY Daily News:
/// About a dozen New York Communities for Change volunteers canvassed Jamaica recently, talking to homeowners facing foreclosure and looking for abandoned homes that have become neighborhood eyesores. Members of the Queens chapter of the grassroots advocacy group knocked on about 300 doors on Saturday to mark the launch of the Home Defenders League. ///
It's really no problem for representatives of HDL-friendly & ACORN network related chapter organizations to join an Occupy Homes meeting like they will tomorrow. With large parts of the gathering put off limits to general participation (there aren't open 'political' events, only socially-oriented gatherings), that presents a major issue with power flows and openness in an ostensibly "Occupy" related gathering.
When many of those orgs are also apparently having a parallel unadvertised gathering supported by an electoral organization [though I do not have further evidence on paper of the arrangement], that looks like two networks tangled in one situation. It's much better in the long run for all of us to openly work on untangling this issue.
******
Having known quite a few staff working in the milieu of paid political organizations including ACORN, MFE & SEIU, by and large these are good people who have good intentions. Occupy has always supported unions, but is wary of co-option by managerial union leadership.
Many of the homeowners involved in these campaigns are gritty, very well-intentioned union members. This doesn't mean they necessarily support this kind of organizing - with quite a few I've talked to, this sort of thing strikes them as a bad move.
The troubling thing is that quite frequently, people in the paid milieu don't realize their tactical approaches are harmful to the very forces they're trying to bolster. The gradients of structural politics, grants, co-option, working in cooperation and trying to build bridges to turn large projects into movements are certainly not pretty, and makes people uneasy.
This is why the open nature of Occupy as a network has been such a sturdy foundation - it works not as a closed door cabal but rather an open network. Security culture, properly applied, involved small temporary affinity groups working on individual projects, far away from any venues with dozens of people. No more ambitious OPSEC (operational security) approach is really plausible. The closing of information and lines of contact damages the ability of the networks to maintain a 'common operating picture' and the broad, heterogeneous 'weak tie networks' needed to keep projects thriving over the long run.
Occupy Homes MN has most effectively functioned not as one organization, but as another network performing direct actions, in which activists who primarily identify with other organizations kept the projects alive.
The overall principle of openness, not informationally constricted, leaky boxes of withheld information & pseudo 'security culture', is essentially what brings these types of movements oxygen, preventing rot, political ossification, and hierarchical decision-making.
******
One individual reported to be an attendee at this week's meeting, Jonathan Matthew Smucker, advocated Occupy embracing "Co-Optation". I think this line of analysis runs pretty deeply with the people pushing in this direction.
It's worthy of debate, but debate in open meetings, whether this approach sacrifices goals of more radical, deeper social change for much smaller tactical victories, working with electorally oriented organizations. Without open meetings, the pros & cons of this approach will never get worked out properly.
Memorably describing OWS as a "harvest moment": Occupy The Progressive Movement: Why Occupy Should Embrace "Co-Optation" | Alternet (April 26 2012)
/// ..... But angst about an over-generalized sense of co-option may be an even bigger problem. We cannot build a large-scale social movement capable of achieving big changes without the involvement of long-standing broad-based institutions. OWS should actively and strategically forge relationships with many of these institutions, while preserving the role of OWS as an "outsider" force.

.........The worst thing we could do right now is make Occupy Wall Street into a small "radicals only" space. We cannot build a large-scale social movement capable of achieving big changes without the involvement of long-standing large membership institutions, including labor unions, national advocacy organizations, community organizations, and faith communities. Radicals never have and never will have sufficient numbers to go it alone. We have to muster the courage and smarts to be able to help forge and maintain alliances that we can influence but cannot fully control. That's the nature of a broad populist alignment.

Social movement theorists have a term for the sort of co-option that Occupy Wall Street should prize: infrastructure co-option. Nascent movements become mass movements not by building their own infrastructure entirely from scratch or recruiting new volunteers one at a time, but by "co-opting" existing institutions and social infrastructure into the service of the movement and its goals. The Civil Rights movement went big when existing institutions—especially black churches and schools—came to identify strongly as part of the movement. Organizers provided opportunities for members of those pre-existing institutions to make this new identification actionable and visible. This was cultivated to such an extent that, eventually, to be a member of certain institutions implied active involvement in the Civil Rights movement. When this happens with enough institutions, the movement gets a huge boost in capacity. And capacity means power.

Over the past few months many organizations and constituencies have been watching Occupy Wall Street, trying to figure out whether and how to relate to it. These organizations—including faith communities, the NAACP, MoveOn.org, labor unions, community organizations, and many other groups—understand how they and their members are affected by the crises that Occupy Wall Street has named and confronted. Some of them are already engaging in important ways, explicitly as part of—or in support of—Occupy Wall Street. And many more have long been engaged in work that clearly aligns with the movement's core values—and probably even deserve some credit for helping to lay the long-term organizing groundwork that helped create OWS.

But there are still significant barriers standing in the way of broader constituencies conceptualizing themselves as part of a 99% movement and getting actively involved. The first and most obvious barrier is that many groups haven't really been asked to get involved. During the first couple months of OWS, if a group wanted to get involved, it was typically a matter of them taking the initiative to approach us and ask what kind of support they might provide. Usually the answer was some variety of "Come down to Zuccotti Park" or "Stand up against Bloomberg for our right to occupy the park." Often the groups that wanted to support OWS simply showed up. While this kind of involvement made perfect sense when we held the park, it's clear that we now have to come up with other ways for more people and groups to take action as part of the 99% movement.

This is a critical transition for Occupy Wall Street and the 99% movement. Remember that Occupy Wall Street kicked off with a well timed call-to-action, a ripe target, some planning, and a lot of crazy luck. As a result, OWS has understandably had more of a culture of mobilizing than of organizing. It's been a little like a group of folks who don't know anything about farming who arrive at a farm at harvest time. There's delicious food everywhere, and all they have to do is pick, pluck, and gather it. And eat it! "Wow," one of them exclaims, "farming is awesome! Why would we waste our time cultivating the soil? This food is delicious! I want to eat it all the time! This is working very well. We should just keep doing this — all the time!"

Occupy Wall Street has been something of a harvest moment. It pulled thousands of people out of the woodwork who'd been waiting for something just like this to come along, and who were in a place where we could carve out time from our lives to engage it. But movements need hundreds of thousands if not millions of active participants to become mass movements. It's difficult if not impossible to activate those kinds of numbers by just taking public action with the hope that other like-minded individuals will decide to join you. We need more on-ramps and more ways to be involved — for folks who might not yet feel comfortable camping out at a public park.

.....And this is why it is now critical that we meet with folks who are movers and shakers in other social networks and institutions. That's how the 99% movement can grow at the rate we all know it needs to; byactivating whole swaths of society at a time.....

.....All of the above gets so much more complicated in an election year. Occupy Wall Street is an outsider force. It should remain an outsider force this year. If it were to endorse candidates or a particular political party, it would immediately lose all of its value and leverage. Our job is to push from the outside.

But that's not at all to say that we shouldn't have a strategy for engaging with the energy and media attention of the election season. We should. And how we do it will seriously affect our ability to continue to grow this movement, to be seen as relevant, to cultivate alliances, and to leverage power to effect real change......

.......Once someone starts running on your rhetoric, you then have more leverage over them. You are better positioned to expose them if they're just giving lip service to your ideas without any intention of delivering. And for all the horrendous limits of the two-party system, still a slate of candidates who get elected pledging to take on the big banks gives us a lot more to work with—as an outsider social movement—than a slate of candidates elected on a pledge to cut social spending. And more importantly, it keeps the momentum on our side.

Another important question has to do with how we engage allies who do endorse candidates. Many labor unions, for example, are likely at some point to endorse President Obama's reelection bid. Some already have. And some will surely endorse specific state and local candidates. We're an outsider force. We should never endorse candidates. But is it possible to ally around specific actions with organizations that also endorse candidates?

It has to be. We join up with others where we can, and we depart where we depart. If we call for an end to corporate personhood, for example, we should welcome as many co-endorsers as possible, including organizations that endorse politicians — and even politicians themselves. Welcoming politicians' endorsements of our goals doesn't mean endorsing those politicians. This is an important detail, and it requires a precise threading of the needle. As an outside force, we have to take all politicians to task, regardless of party. But the details of how we do this matter. We need to pressure politicians and candidates, and the best way to do this is to ask them hard questions and provide pressure that pulls them in our direction (or put them on the defensive). If we ask good questions that resonate with the people who hear them, then we're doing our job well. If, on the other hand, we make general statements like, "It doesn't matter who you vote for, they're all the same," then we're being needlessly belligerent to our allies and potential allies (without even putting politicians on the defensive). An organization focused primarily on reproductive rights, for example, will understandably be very concerned about whether Barack Obama or Mitt Romney occupies the White House. We can take candidates from both parties to task on an array of other issues without spurning their reasons for deciding to endorse a candidate. ........

........Someone who had felt constrained within her institution before the shake-up may now see and seize openings to move the institution in a bolder direction. And this is more likely to happen if organizers from Occupy Wall Street—the visible catalyst of the earthquake—approach longstanding institutions to strategize together about how they might engage with this moment.

An earthquake moment is a time to invite people to engage. It's not a moment to keep people in boxes, or to draw rigid lines. It's a moment to hammer Wall Street, the big banks, and the political system that has been fixed to serve only the very wealthy and powerful. Our task now is to activate as many people as possible into action. And this has to include people we wouldn't necessarily choose to have as our best friends. ///
Unfortunately at the sessions Smucker is participating in in Minneapolis this week, such an open debate is not an option because of restricted access. The big question: Does that mean that the position and debate frames adopted as "Occupy approved" will shift in a less radical, more institutionalized direction?
Located from deeper areas of the internet, Home Defenders League PR structure in a press release:
/// EVENT: CONFERENCE CALL BRIEFING - THE HOME DEFENDERS LEAGUE;

LOCATION: None given -- May 31, 2012 As seen in text

SECTION: GENERAL NEWS EVENTS - LENGTH: 98 words

SUBJECT: The Home Defenders League holds a conference call briefing, beginning at noon, with an overview of the Home Defenders League campaign, a "new alliance of homeowners and renters across the country who are joining together to make their voices heard in the 2012 election and beyond."

CONTACT: Moria Herbst, 646-452-5637, 917-743-6350, moira@berlinrosen.com [Note: Media should RSVP to Moira Herbst at moira@berlinrosen.com or 646-452-5637. Call-in, 800-434-1335; password, 995583#. A Q&A follows the news conference. Information on the launch of the alliance is embargoed until 9 a.m. May 31.] ///
Located near Wall Street at 15 Maiden Lane, Suite 1600, New York, NY, Berlin Rosen is interesting, reminiscent of other liberal communications consultancies. See http://www.berlinrosen.com/section/our-team/ for some familiar names.
In conclusion, I hope that broad networks can evolve, especially on all housing issues including fraud, homelessness, financialization, fractional reserve, and foreclosures, but that will not work out when narrow networks with bowtie chokepoints, rather than broad, open and loose networks evolve.
DISCLAIMER: I have performed videography services for MFE in the last year, contributed to videos & trained supporters in mobile video software (ustream/bambuser). Also, Movement Resource Group or one of its founders, Ben Cohen, (not sure which) provided funding for GlobalRevolution.tv (which I am a member) to supply Occupy and related movements with media gear, via GlobalRev's fiscal sponsor . We need to have good spirited disclosure of paid political organizing, in the long run this is essential. As so many people are well-intentioned, to avoid conflicts and jumbles, clear, plain information is the best goal we should share.
Previous stories on mainstream politics & the Occupy movement on HongPong.com : Feb 19 2012: BuStEd: I sense Astroturfing in the Occupy! UAW social media plan posted for "99% Spring" electioneering schema // Aug 4 2012: Plans for closed door Occupy Homes national meeting spurs opposition [VIDEO]
CREATIVE COMMONS WITH ATTRIBUTION - hongpong.com - hongpong@hongpong.com
Commenting on this Story is closed.
Tags for Security culture danger as closed Occupy Homes sessions proceed without 2/3rds internal support in MN; two networks for price of one?