A few more elements on the semi-suspended MN Drug Recognition Evaluator (DRE) program
Previously on hongpong.com: MK Occupy Minnesota: The Drug Recognition Evaluator BCA Investigation files (Nov 12 2012) -- MK Occupy Minnesota (May 3 2012)
The training section of Minnesota's Drug Recognition Evaluator program continues to be suspended, after a 513-page Bureau of Criminal Apprehension investigation raised more questions and stonewalling from officials. Whether or not anyone will 'get real' about intrinsically corrupt war on drugs and protected misconduct is another question. Whether or not anyone will admit the war on drugs funnels profits into Wall Street is yet another.
Fox 9 reporter Tom Lyden covered the DRE story (VIDEO), talking to one of the test subjects as well as my friend, attorney Nathan Hansen, who is planning to file a lawsuit. (I have done a little design work for Hansen in years past)
The role of the Minneapolis Police Department in DRE remains untouched by local officials. 3 months ago I interviewed the chair of the city public safety committee, council member Don Samuels (VIDEO) about the shutdown of civilian oversight in the city, and he said that there was no expected report from MPD about the DRE.
Other typical recent misconduct: MPD Officer Blayne Lehner named in misconduct lawsuit; Mpls settles for $85k - City Pages Blotter
CityPages has covered DRE from the beginning and has posted a series on it: DRE 'victims' to file civil lawsuit against alleged pot-distributing officers [SECOND IN SERIES] - Minneapolis - News - The Blotter
Here are a few more new DRE documents a research colleague found from elsewhere on the interwebs:
http://www.decp.org/documents/pdfs/WhatNew/Labor%20Day%20Period%20Totals%2020102.pdf - typical touting of arrests. Crossposted to Scribd: DRE Labor Day Period Totals 20102
Via Washington state, the 2010 version of the official DRE manual (it has the same distinct typeface as the DRE IACP certification form in the BCA document) : http://www.wsp.wa.gov/breathtest/docs/webdms/DRE_Forms/Manuals/dre7/Student%20Manual%20-%20January%202010%20-%20Part%201.pdf - rejected by Scribd because of password protection. Mirrored at http://hongpong.com/files/dre/DREStudentManual-January2010-Part1.pdf - 4MB - 212 pgs. Again it is important to note this material emerges from a committee of the decidedly sketchy International Association of Chiefs of Police, not a scientific body with open peer review. Good stuff about licking toads on page 187 etc etc.
Minnesota - the 1997 DRE plan: http://archive.leg.state.mn.us/docs/pre2003/mandated/970234.pdf - crossposted to Scribd: DRE-MN-POST-1997-970234
Another DRE document from Littleton CO indicates state & federal funding: http://townoflittleton.org/images/TOLimgs/files/septpdactivities2012.pdf -
A password-protected Powerpoint. Anyone care to take a look? http://hongpong.com/files/dre/DRE_STL06.ppt . via http://entrapped.com/Media/DRE_STL06.ppt .
*****
Out in the wider world the drumbeat of drug war corruption continues. A popular cartoon from Politico / M.Wuerker: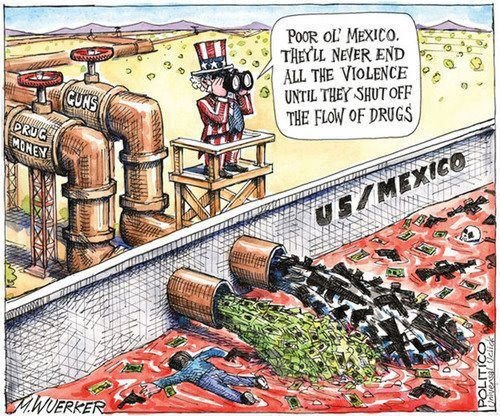 In both Mexico and Afghanistan, absurd formations are emerging. (via here) Pentagon Wants to Keep Running Its Afghan Drug War From Blackwater's HQ | Danger Room | Wired.com, related to 2009 - cryptogon.com » Blackwater Worldwide Changes Its Name to Xe; Same Mercenaries, but Now with More "Aviation Support". Also the latest from NarcoNews: Mexico's New President Set to Empower a "Devil's Cartel" | the narcosphere.
Also via DaveyD, thorough documentation of this racist project: US Marshal Told By Supervisors Not to Bring the 'War on Drugs' to White Communities | Davey D's Hip Hop Corner
We'll leave it there for now...
Commenting on this Story is closed.