MPD Tracking OccupyMN Facebook BBQs: Minneapolis "secret" Strategic Information Center / Emergency Operations and Training Facility 25 37th Ave NE in Fridley
Dateline: Pseudo-Secret Minneapolis (aka Fridley): What WCCO called the "secret" "City of Eyes" Strategic Information Center has been located on the Google! Your Federal Stimulus Money & FY2010 Homeland Security Appropriations At Work - A Facility for Spying on Facebook Occupy Barbecues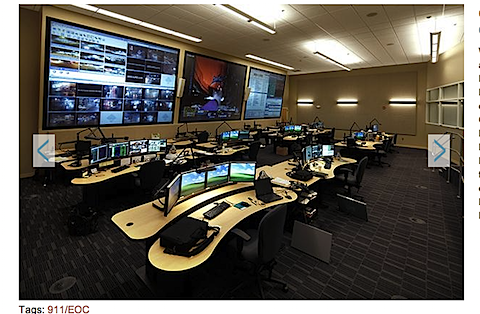 It's nice when data releases tie together a larger system, and we've sure got that here. It's not really "secret" but it's quite shiny & new, not well-known at all, and it is certainly has been used as a site for spying on Occupy activists without criminal predicates by the Minneapolis Police Department. [emails a bit farther down]
///// UPDATE Nov 14 2014: See #Pointergate Pieces: Hodges merged out politically powerful police pensions; KSTP Quadruples Down; Minneapolis gang intel plugs away ///// UPDATE Jan 10 2013: See How to check cops checking your driver's license, Rassmusson lawsuit settlement docs /////
The Minneapolis Police Department files about Occupy Minnesota released by a data request on Monday afternoon are turning up interesting wastes of taxpayer money -- and even the so-called "secret" Strategic Information Center & Emergency Operations and Training Facility at 25 37th Ave Northeast in Fridley, north of the city line by the river & railroad tracks.
Also known as the EOTF/SIC, let's wrangle up everything we can find. Start with architects, via Wold Architects/Engineers: City of Minneapolis EOTF | Wold Architects and Engineers
Wold Architects and Engineers designed a site and facility for the City of Minneapolis Fire Department Training Campus to include a Fire Department's Training Division; training classrooms multi-used as an Emergency Operations Center for the City's Emergency Preparedness; a Strategic Information Sensor Monitoring Center for the Minneapolis Police Department; and vehicle storage garages for the Fire Department's regional asset equipment.

The design exceeds the City of Minneapolis requirement for design to meet LEED Silver.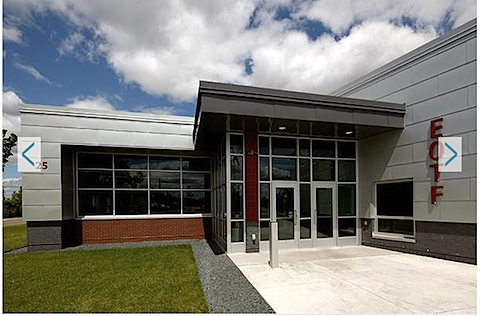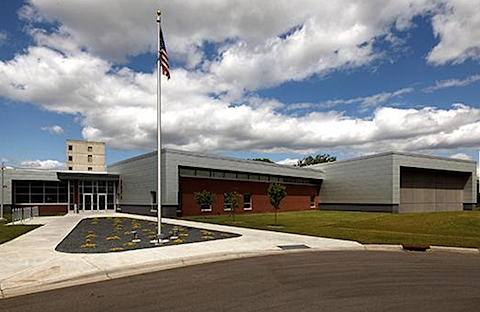 This state-of-the-art federally funded facility allows police to determine... the location of barbecues on Facebook, including even the number of "YES" and "MAYBE" invitees.
This facility also encompasses "Shotspotter" directional microphones all over the city - I wonder if those are ever activated besides the gunshot decibel threshold "trigger" - they are in fact pretty high-fidelity microphones, it has been disclosed (May 28 2012 NYT article) but the manufacturer denies the mics are triggered by conversations.
I for one, am glad that we spent both municipal and borrowed federal tax dollars on training the Minneapolis police to believe a Facebook "YES" invite is real. The simulacrum of today's clicks has become the strategic information of tomorrow!
The old EOC center, used in the 2007 35W bridge collapse, can be seen here via MPR and clearly lacks expensive-enough videoconferencing gear.
Here is the press release from Nov 4 2010: Minneapolis opens Emergency Operations Training Facility - City of Minneapolis
Minneapolis opens Emergency Operations Training Facility

The City of Minneapolis has opened its new Emergency Operations Training Facility, which will help emergency responders and other City staff better prepare for and respond to emergencies. The multi-purpose building helps meet the training and response needs of the Minneapolis Fire Department, the Minneapolis Police Department, and the City's Emergency Management Division, along with other regional partners.

The Emergency Operations Training Facility is a multi-purpose building that includes training classrooms for Minneapolis firefighters and metro emergency managers, a strategic information center for the Minneapolis police, the main training site for the State of Minnesota Structural Collapse Team, and an emergency operations center that will be used during significant emergencies or disasters.

The new facility is built on a 12-acre site in Fridley that the City purchased in 1990, and since that time, the site has been built out as a training facility for Minneapolis Firefighters. Over the years, a fire training tower and propane burn building have been constructed, and special equipment has been purchased to help train emergency responders for incidents involving hazardous materials and collapsed structures. The construction of the new Emergency Operations Training Facility on the site is a major step toward completing this training and response site.

The Emergency Operations Training Facility is built to a LEED Silver Quality Standard for sustainability, and it includes facilities for a wide range of emergency responders from Minneapolis and the region:

Emergency Operations Center

One of the lessons learned from the City's response to the Interstate 35W Bridge collapse in 2007 was that the City's Emergency Operations Center, located in the basement of City Hall, was too small to serve as a center for large-scale emergencies. The new facility fixes that, with 2,800 more square feet of floor space. It will also be used as a back-up Emergency Operations Center for the State, Hennepin County and the City of St. Paul.

Strategic Information Center

The Strategic Information Center is a new space where the Minneapolis Police Department will analyze data to determine long-range trends that pose potential risks to the city. It can provide emergency managers with important information during a major event, incident or disaster.

State of Minnesota Structural Collapse Team

This team serves the entire state with specialized equipment and trained personnel for urban search and rescue and structural collapse incidents. This facility will include apparatus bays for storage of emergency response vehicles and specialty equipment for the Coast Guard, State, City and Metro West region of Homeland Security. In addition, this facility will house training and classroom space, staff offices, support spaces and common spaces.

Coast Guard monitoring.

The U.S. Coast Guard will also use the facility as a monitoring location for cameras placed along the Mississippi River from St. Louis to the metro area.

Published Nov. 4, 2010
Moar casual Google Mapping:

Apparently they dropped a cool $50K on the fence in early 2012. here is the bid page "To furnish all labor, materials, equipment and incidentals necessary to accomplish the complete construction of Emergency Operations Training Facility Perimeter Fence Project, located at 25 37th Ave NE, Fridley, MN." SRC: Minneapolis, City of - Projects. [A little more on the fence industrial complex below]

Of course, once Erin Brockovich samples those weird adjacent holding pond things, I'm sure the infamous Fridley Cancer Cluster case will be solved. Perhaps Sgt. Garcia can go out and take some samples!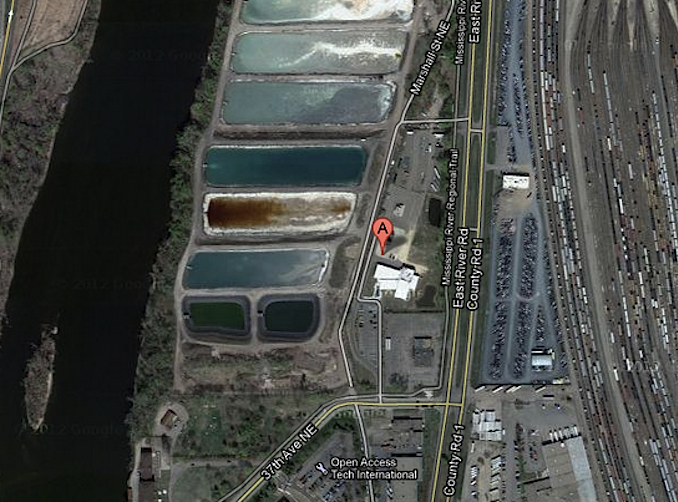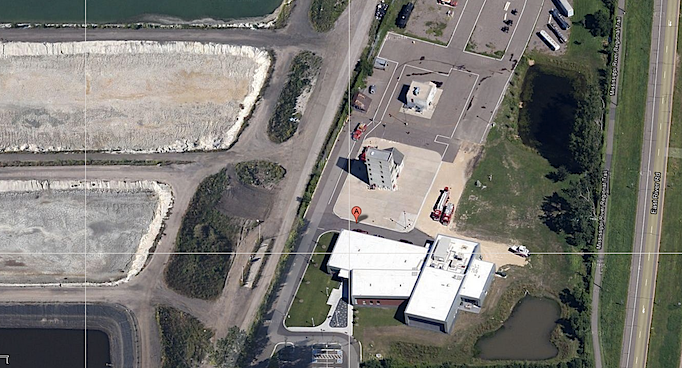 I believe at least two of structures are firefighter training buildings - later pics below seem to bear this out.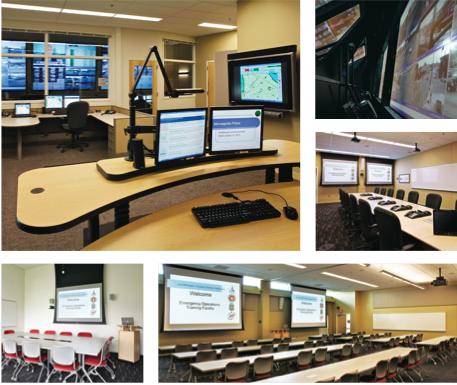 Here is some marketing swag about the video conferencing gear. AVI-SPL Integrates Government Emergency Operation Centers. See the PDF and video too.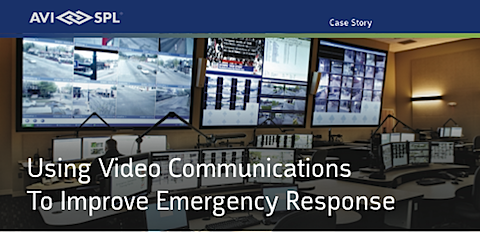 Let's check out the $330,704 in electronically-created yet borrowed-at-interest-from-private-Fed-cartel recently invested in this barbecue monitoring center. Official less-than-informative stimulus info page: Minneapolis Recovery - City of Minneapolis Minneapolis Police Strategic Information Center.
[Naturally it is funded by the electronically created debt-digits from the Department of Justice Bureau of Justice Assistance (BJA), the same endless police pork hub that brought us all those "you might be a terrorist if you pay in cash" type intel flyers for everything from hotels to hobby stores - many of those flyers were financed by Grant Number 2007-MU-BX-K002, which I included ironically on my own site's banner art. Google it for lulz!] Here's that official page:
The City of Minneapolis is not a primary recipient on this project. No Federal Report XML is submitted for this project.

Dollars Awarded

$330,704

Project Status

Fully completed

Project Description

To establish integrated crime analysis in cooperation with the St. Paul Police Department. Staff will be located in a joint Strategic Information Center (SIC).

Funding Program

MN Department of Public Safety: Byrne Justice Assistance Grant

Responsibility for Implementation

Police Department

Funding Agency

US Department of Justice [BJA/Recovery Act]

Dollars Leveraged

Data not yet available.

Dollars Leveraged Description

Data not yet available.

Dollars Requested

$330,704

Projected Jobs Created

2

Award Type

Grant

Sub-recipient Names

Minneapolis, City of

Vendor Names

No vendors have been contracted to date.

Recovery Funds Spent to Date

$330,704
Perhaps this is even the 'secret' location Tippy spycams are constructed: a while ago prankster MPD Spokester & PIO Jesse Garcia shared pics of a camera construction room & with all the other video rigs this seems a likely spot.
Anyway finally here is the email chain which prompted this line of research. There are surely other gems, we are just barely getting started. Circa page 109 of Part 1: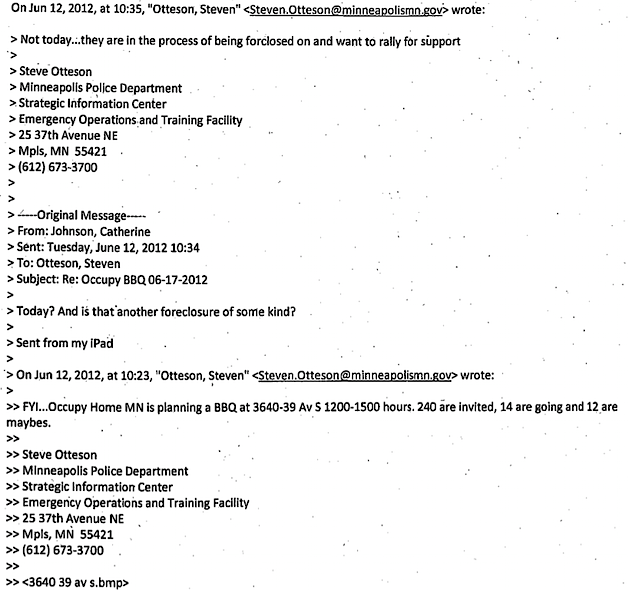 The public servant on some of these emails is one Minneapolis Police Department officer Steven Otteson, who has a decidedly low Internet profile.
Poking for traces of intrepid Strategic Facebooker Otteson turns up very little - even though the email is dated June 2012, he has no listed salary on this MPD salary list: My Docstoc. Crossposted the index here: 2011 Minneapolis Police Dept Gross Salary index for Web.
A news story indicated the supervisor of the Strategic Information Center is MPD Lt. Jeff Rugel at 612-673-3428. Page 112: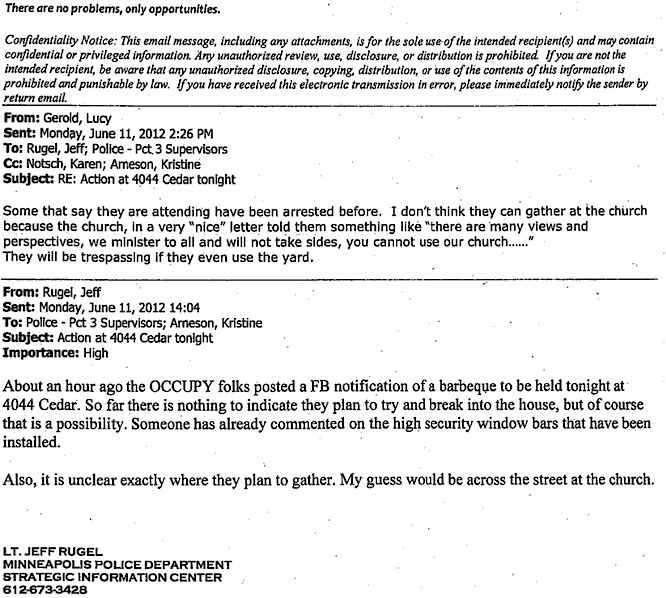 "Why are we not getting this stuff from the SIC?" Here is stuff about why they should not have to "spend time looking it up" and it should be run through the SIC... This could kind of be the crux of the whole issue here on Page 114: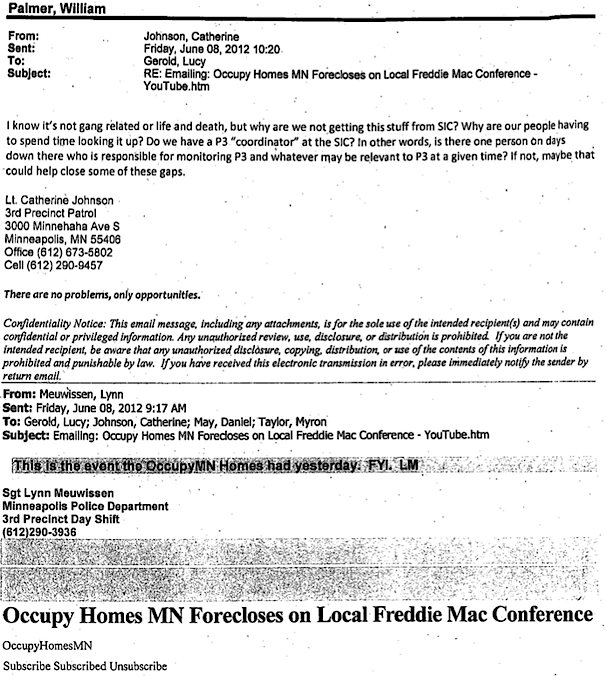 Alright, that covers some of the new data on this SIC thing vis-a-vis obsessing on Occupy events, so let's turn to the news coverage of this facility.
Carefully shaped news coverage: Mid-2012 saw a series of mainstream media items intended to shape public perceptions this center is designed to neutralize the threats from the surveilled populace. WCCO went so far as to call it a "secret location". That is some quality Fourth Estate right there.
Coverage for this "City of Eyes" facility on WCCO March 19 2012 (video) City Of Eyes: Your Camera May Help Mpls Police Fight Crime « CBS:
MINNEAPOLIS (WCCO) – Minneapolis police are the first in the country to merge two technologies to help officers fight crime.

The Minneapolis Police Department has combined shot spotter technology and a system of cameras to help catch criminals in the act.

Authorities allowed WCCO-TV's Reg Chapman into a secret location in Minneapolis, where a strategic information center is housed.

Minneapolis Police Deputy Chief Rob Allen said the room is where police gather intelligence.

"This is the room where we try and fuse the technology we have to monitor video cameras, to monitor the sounds of possible gunshots, and it's where we have our officers who are trained in intelligence gathering," he said.

The system in the room is like CBS' Thursday night show "Person of Interest," in which cameras are used to help save people from becoming victims of crime.

"If you can anticipate where crimes might happen, you got a far better chance of preventing them from occurring," Allen said.

According to Allen, when a gunshot goes off, a camera turns toward the source of the sound. Strategic Information Center Commander Lt. Jeff Rugel said the technology helped solve a case where a man was shot, killed and pushed out of a moving car. The sound of the gunfire activated the cameras, which gave police their first clue.

[......]City Of Eyes

The number of cameras connected to the intelligence system is growing and helping police catch more criminals. But not all the cameras are owed by the city.

"The city owns roughly 250 cameras," Allen said. "We can access right now … an infinite number of cameras."

According to Allen, any camera that has an IP address, is connected to the Internet, and that police have permission to use can give information to authorities.

So whenever you are in a public space, know that you're likely on camera. Police are using portable cameras more now than ever. They can put them where they are needed and have one up and running within an hour of the order.

Invasion Of Privacy?

But what about your right to privacy? Police say they are careful not to infringe on anyone's rights.

"Every time we installed a camera system, we went to the neighborhood and said, 'You know, this is what we've thought about doing? Do you want it or not,'" Allen said.

He says police can't look into a place where someone has the expectation of privacy. [magic filters eh?] But police still have a wide reach, which gives criminals a greater chance of getting caught on camera.

Crime patterns are currently moving and Minneapolis police hope to add more portable cameras. Police believe if criminals know they are being watched they are more likely not to commit crimes.
Star Tribune writes about this center using Facebook to watch what the state defines as "gang members" (mysteriously, shady rich Caucasian financial operatives never seem to meet this race/age/wealth-biased deviance category schema).
Of course, this week's data release shows this has bloated out to canvassing political movements without even the semblance of illegal activity... there is no "barbecue predicate" but there are of course hourly wages to be paid by Minneapolis taxpayers for monitoring the barbecue Facebook Event. Perhaps even overtime!
Gangs sometimes fire first shots online | StarTribune by Matt McKinney July 14 2012:
Facebook has become a virtual street corner where members trade threats, mourn the dead.


"It's probably no different than any other kids, right?" said Minneapolis police Lt. Jeff Rugel. "They're sharing stuff that they used to do face-to-face or over the phone. But there's criminal stuff." [.....]

Rugel runs the police department's Strategic Information Center, where officers use technology to track crime. One of the jobs in his office amounts to monitoring Facebook full-time. They understand the teen slang and filter through thousands of innocuous and inane comments to look for the few that could solve a crime or stop one before it happens. They try to draw connections out of the Facebook networks to help document the shifting alliances on the street.

Police were aware of Facebook threats between rival gangs weeks before the shooting that killed Nizzel, but the threats weren't specific. When Rugel and his staff sees something that looks like trouble -- a known gang member says he's going to hurt someone -- they pass the information along to officers on the street.

It's a poorly kept secret that the police watch Facebook, said Rugel.

"You see comments every once in a while. 'Don't put that on Facebook. You know who's looking at it,' " he said.

Despite some users' occasional concern, many of the Facebook users monitored by police flaunt their illegal behavior online, showing themselves smoking marijuana, posing with stolen merchandise, the security tags still attached, and making gang signs. [.....]
There was also some bidding information online about the estimated $50,000 fence around the facility. Emergency Operations Training Facility Perimeter Fence Project (eBidDoc #1810882) contact: David Schlueter phone: 612-673-2834 e-mail: david.schlueter@ci.minneapolis.mn.us bid date: 01/25/2012 10:00:00 AM
Try http://io.questcdn.com/questio/projects/planholder/planholder_list.html?jobPK=1810882&userPK=&modifiable=FALSE&isQCPI=TRUE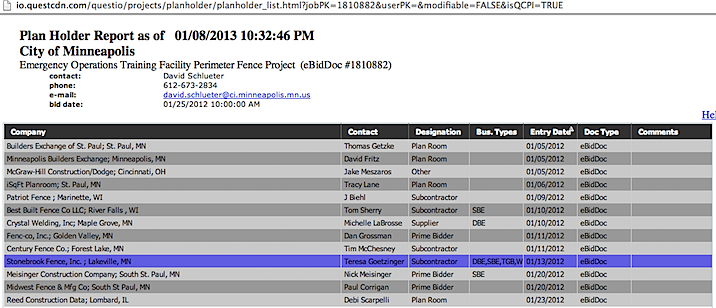 //////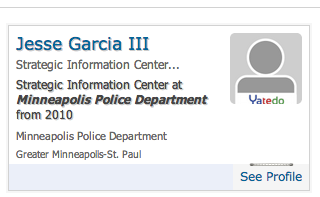 Some other stuff: for what it's worth, this lists PIO Jesse Garcia as being based at the Strategic Information Center.Minneapolis Police Department Employees - Professional Experience,Email,Phone numbers..Everything!: Digging deeper to: Jesse Garcia III - Strategic Information Center, Minneapolis Police Department:
It was scraped off his LinkedIn - no surprise there. But no one put it together... Jesse Garcia III | LinkedIn. I think it would be great if state law were changed so that Garcia could be cross-examined by taxpayers about the flow of drug money through the Federal Reserve Bank of Minneapolis and its member banks, let's say once a month on live community access TV. Looks like he ought to be tapped into that gigaflow of data on bankster crime intel!
Strategic Information Center

Minneapolis Police Department

September 2010 – Present (2 years 5 months)

I am a supervisor in our new intel center that focuses on:

-gang intel

-crime intel

-real time officer assist

-safety camera analysis

-Emergency Operations Center readiness

jesse.garcia@ci.minneapolis.mn.us

Public Information Officer / Media Relations

Minneapolis Police Department

October 2007 – September 2010 (3 years)
More media: Vehicle data, email access among Minneapolis legislative issues | MinnPost - Karen Boros, Nov 2, 2012. Automated License Plate Reader (ALPR) including of course the "secret" camera on nearby Plymouth Ave. N. bridge is controlled from this "Strategic Information unit" according to the article - I would assume this is the same spot it's based, unless it is somehow split:
Currently, the Minneapolis Police Department uses cameras to record the license plates, time and location of vehicles. That data is now public information that can be obtained by anyone requesting the information.

"Our concern is that if it stays public data that people can use it for inappropriate purposes," said Deputy Chief Robert Allen. The system now doesn't allow police to inquire how it might be used. "We're not allowed to make a judgment," he said.

Access to the data is controlled by about a dozen people working in the department's Strategic Information unit.
Alright this is taking more than long enough. This thing says it is 22,178 sq ft and it is on parcel 34-30-24-43-0009.
Minneapolis, City of - Projects: An estimated $1.5 million were bid on this beast for just a small chunk of the building, closed Feb 2012.
directions to site: 25 37th Ave NE Fridley, MN 55421

bids close: 02/23/2012, 10:00:00 AM

bids received by: City of Minneapolis Purchasing Department CONSTRUCTION OF THE EOTF APPARAUS BAY ADDITION 330 Second Avenue South Suite 552 Minneapolis, MN 55401

estimated value: $1,500,000.00

project completion date: 08/15/2011

pre-bid meeting information: A Pre-Bid Meeting and site tour will be held on February 15th, at 11:00 AM, Local Time in Room 128 at the Emergency Operations Training Facility located at 25 37th Ave NE, Fridley MN. All interested bidders should attend this meeting.

addenda: 1

project description: Scope of Work Includes: Complete construction of the Apparatus Bay Addition at the City of Minneapolis Emergency Operations Training Facility. This work shall include all labor, equipment, materials, installation, handling, delivery at site, necessary insurance and permits, erection and other required items for general, civil, landscaping, demolition, structural, architectural, mechanical and electrical construction and stability as shown on the plans and specifications.

additional description: This Contract contemplates the complete construction of the Emergency Operations Training Facility Apparatus Bay Addition for the Minneapolis Fire Department located at 25 37th Avenue NE., in Fridley, all in accordance with the Contract Documents. This Project has been designed to comply with the requirements of the State of Minnesota Sustainability Building Guidelines B3 (MSBG B3) Version 2.1 and also the U.S. Green Building Council's Leadership in Energy and Design ( USGBC LEED®) Rating System. It is the intent of this Contract that the Project shall become MSBG B3 Version 2.1 Certified and LEED® SILVER level of quality building under the LEED®-NC Rating System. Work to be performed consists of the furnishing of all materials, machinery, equipment, labor, supplies, tools, transportation, and other incidentals necessary or convenient to complete the work as shown in the Contract Documents on file in the Minneapolis Finance Department, Property Services Division and with the Purchasing Agent of the City of Minneapolis.

owner: City of Minneapolis

350 South 5th Street, Room 223

Minneapolis , MN 55415

ph: 612-673-3774

contact: Chris Backes e-mail: chris.backes@ci.minneapolis.mn.us

Soliciting Agent: Soliciting agent

Minneapolis, City of

330 2nd Ave. S. Suite 552

Minneapolis, MN 55415

ph: 612-673-2834

fax: 612-673-3565

contact: David Schlueter e-mail: david.schlueter@ci.minneapolis.mn.us
It was used to host a session of the 10,000 Lakes Chapter of the International Code Council. [pdf]
The site's address is place on things like preparedness for your pet: Emergency Preparedness - City of Minneapolis && stuff about exercises (again on the sidebar) City Preparation - City of Minneapolis - the 'meh' front page: Emergency Preparedness - City of Minneapolis. Really need to improve page titles at the city. Perhaps after the election?
Minneapolis wins its second Tekne Award

Minneapolis Emergency Operations Training Facility

November 2011: The Minnesota High Tech Association recognized the City of Minneapolis and its Emergency Operations Training Facility with an award at the 2011 Tekne Awards, held Nov. 3 at the Minneapolis Convention Center. The Tekne Awards recognize Minnesota companies and individuals who have shown superior technology innovation and leadership.

The City of Minneapolis took home the award in the "Technology Excellence in a Nonprofit Organization" category that recognized the City's Emergency Operations Training Facility/Strategic Information Center (EOTF/SIC) for bringing technology and information together to make Minneapolis a safer place. At the facility, technology, digital data, streaming video and highly interactive interfaces come together in one highly efficient communication center for the city.

The Minneapolis Fire Department, Police Department, and Emergency Management division opened the EOTF/SIC in August 2010 as a place where they and other emergency responders could coordinate more closely than had ever been possible before. The facility recently demonstrated its effectiveness during the response to the May 22 tornado that struck north Minneapolis.The multi-purpose building also provides training space for emergency responders.
Here it was, the first one: Minneapolis Emergency Operations Training Facility wins Tekne award - City of Minneapolis: The City of Minneapolis took home the award in the "Technology Excellence in a Nonprofit Organization" category that recognized the City's Emergency Operations Training Facility/Strategic Information Center (EOTF/SIC) for bringing technology and information together to make Minneapolis a safer place. At the facility, technology, digital data, streaming video and highly interactive interfaces come together in one highly efficient communication center for the city.... and earlier: Oct 18, 2011: Minneapolis Emergency Operations Training Facility a finalist for Tekne award - City of Minneapolis
Mpls. Unveils New Emergency Operations Center | Crime | Downtown News - Nov 4 2010, KSTP Gail Brown: Congressman Keith Ellison secured $750,000 for the project in a 2010 appropriations bill, and he will be attending a ribbon cutting ceremony at 2:30 p.m. along with Minneapolis Mayor R.T. Rybak, City Council President Barb Johnson and other city leaders.
Ellison Secures $750,000 for Minneapolis Emergency Operations Center - Ellison.House.gov Oct 15 2009:
Washington, D.C. – Congressman Keith Ellison (D-Minneapolis) secured a $750,000 appropriation for the City of Minneapolis to build a new Emergency Operations Center in a bill approved by the House today. The funds were included in H.R. 2892, the Homeland Security Appropriations Bill for FY 2010.
Roughly the same stuff in this Council Prez Barb Johnson doc.
It's on Pinterest - see Government & Military for tons of funny stuff including everything from the avispl swag people above. And also: AV Products We Love / Minneapolis Emergency Operations Training Facility
There is a blog post about training there on the Mpls Dept of Civil Rights by Anthony Johnson - Civil Rights Urban Scholars with a helpful slideshow. Tony's Voice: Our Day As Fire Fighters! | Minneapolis Department of Civil Rights.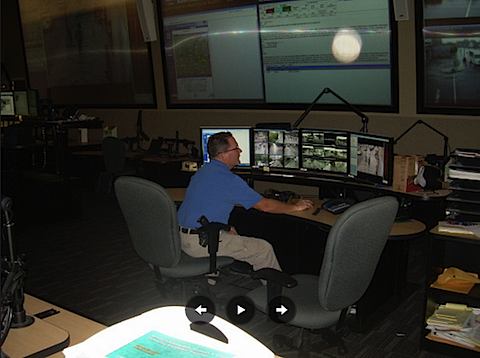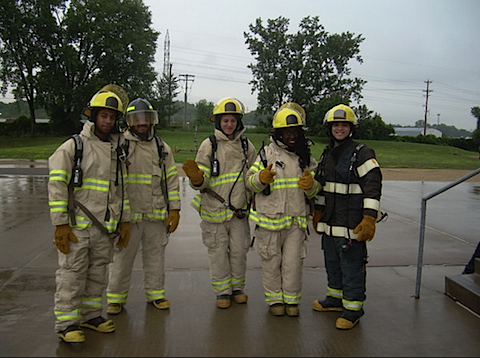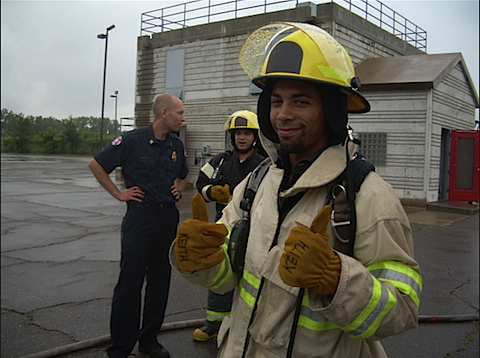 I think you can see this fire training structure (or maybe a similar one) on Google Maps though I have not swung by to check out the Facility myself. Another one:
Minneapolis Emergency Services Employ projectiondesign - AVNetwork.com (undated? A couple pix included)

Fredrikstad, Norway--The City of Minneapolis has deployed 12 projectiondesign F32 DLP projectors as the main display source in the Analyst Room and F22 series projectors in the Incident Command Room of its Emergency Operations Training Facility (EOTF).

Located just outside Minneapolis, the EOTF boasts an extensive surveillance, audiovisual and network infrastructure specified and installed by systems integrator AVI-SPL.

"In a facility like this, even the slightest compromise in performance can result in tragic consequences," said Fred Primoli, regional VP Sales for AVI-SPL. Primoli and his colleagues worked with the city for nearly two years on the concept, planning and final implementation of the EOTF, with the primary challenge being an interesting one: the creation of a state-of-the-art communications facility that may get activated no more than once in a decade.

"We needed systems that were capable of totally robust operation 24 hours per day, seven days per week – but which also were capable of performing at their best after extended periods of inactivity.

"From the outset we were delighted with the performance of the F32 projectors. The Analyst Room has three rear-projection screens, each measuring 160 inches wide by 120 inches tall, with four projectors driving each screen so that four separate windows can be shown on each one.

"The projectors have been superbly colour-matched to ensure consistency across each screen, while their excellent resolution, contrast and brightness mean they are equally at home showing video or data sources – which is important in an installation such as this where the staff need to a view a combination of both."

Deputy Chief Robert Allen, a veteran of the Minneapolis Police Department, said: "The new display system allows us to look at a video feed and understand a situation almost instantly. Through video, we can get information to our officers much faster – especially when time is critical. We can zoom in with our cameras and really examine a situation and relay it back to our officers, allowing them to be prepared even before they get there. With this new technology, we can see something happen faster than a police offer 50 feet away."

F22 series projectors from projectiondesign can also be found in the EOTF's Incident Command Room that's used for emergency training and an actual declared emergency.

"There is a large number of emergency monitoring projects in the U.S., and we are delighted that our technology has been used to display high-resolution security-camera images in so many of them," said Anders Løkke, marketing director, projectiondesign. "The Minneapolis EOTF already demonstrated its effectiveness during the tornado that swept through the area last May and, although we would prefer it if our systems never had to be used in similar situations again, the reality is that the city is better-protected now that its providers of emergency services have such easy, immediate and accurate access to security-camera imaging from so many locations."

"The EOTF was conceived as a place where the various Departments responsible for emergency response and management in Minneapolis could co-ordinate their efforts more closely than had previous been possible," said Primroli.
Same stuff as May 11, 2012: Minneapolis Emergency Services Goes with Projectiondesign - Fire Apparatus
On May 20 2011 CItyPages reported on Rocco Forte, former Minneapolis fire chief, departing, and Forte talked about being pleased to help finish the complex: "After the 35W bridge collapse, the Republican National Convention, and the tornado that went through South Minneapolis, it is clear that we have one of the finest emergency management teams in the country. It was also a long time goal of mine to complete the Emergency Operations Training Facility that includes an Emergency Operations Center, Strategic Information Center as well as a training facility which seats up to 250 people per day."
Reed Construction Data estimates its cost at $3,988,400 (a more accurate cost estimate is available from RSMeans Online), they say.
There are a couple autogenerated links at Facility Management Minneapolis Product From Industrial Manufacturers, Distributers, Suppliers And OEMs.
There is some PR speak about AVI-SPL getting an award. Press Release/ InfoComm, Sound & Video Contractor Honor AVI-SPL with Two PRO AV Spotlight Awards - Audio/Video Equip./Surveillance - AVI-SPL, Inc. | PRZOOM
On March 11, 2009, the overall cost of the project was pegged by House Research as $27,403,000. SRC: www.house.leg.state.mn.us/hrd/bs/86/hf0554.pdf
This bill would grant $8,000,000 in bond proceeds to the City of Minneapolis to design, construct, furnish, and equip an emergency operations center housed in the City's current training center and to make other improvements to the training center.

According to the 2008 budget request, the overall cost of the project is $27,403,000 with the City and Hennepin County funding the non-state funded portions of the project. The Joint Emergency Operations Center (EOC) for Hennepin County and the City of Minneapolis will be located at the Minneapolis Fire Training Campus on city owned land. The City contends the current facility is inadequate and limits the effectiveness of the command structure. The City further contends that the Minneapolis Fire Training Campus is an ideal location for the EOC as it would provide a secure operations center with enough room to respond to a major incident affecting the county. Finally, the City believes this request would provide much needed training classrooms at the Minneapolis Training Facility which is the main site for training the State Structural Collapse Team.
HF 554 Status in the House for the 86th Legislature (2009 - 2010) - this is the bill number - I suspect it probably got rolled into the omnibus bill but I will leave that to a Deep Wonk to suss out. // H.F. No. 554, as introduced - 86th Legislative Session (2009-2010).
With a pretty severe shortage of funds for both state and municipal operations, is an open-ended SIC mandate to track protest activity on Facebook really the most prudent use of funds? And doesn't this operational configuration create a chilling effect on political expression in Minneapolis? The research continues....
Commenting on this Story is closed.
Tags for MPD Tracking OccupyMN Facebook BBQs: Minneapolis "secret" Strategic Information Center / Emergency Operations and Training Facility 25 37th Ave NE in Fridley