Source: DOJ Feds currently at the Wells Fargo Mortgage office in Minneapolis searching around
A tip passed along from a source stated that today the US Department of Justice arrived at the Wells Fargo Home Mortgage office in the Phillips neighborhood of Minneapolis, as "auditors" presumably to search through or perhaps seize mortgage records - the old Honeywell complex around 4th Avenue & 26th/28th St. I have no feasible way to confirm this right now but it seemed like a relatively sturdy tip worth posting immediately.
I heard that it was the "middle building". We see two major clusters of buildings via GMap here, so I would assume that means right in the middle. This may have something to do with the place or office that people would call in to attempt to get their mortgages adjusted. (As Neil Barofksy's adventures in the demented banking world showed, the banks were supposed to hit a numerical target of *offers* of modifications, not actual modifications. Perhaps the DOJ is collecting the data on that right now).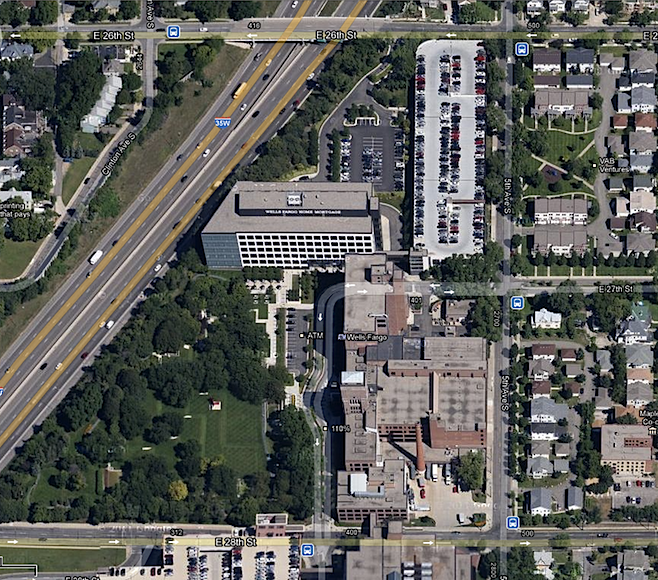 Wells Fargo has been a party to a great deal of nefarious happenings in recent years, including memorably their purchase of the colossal drug money laundering giant failed bank Wachovia. Nobody cares about drug money in the banking system but there's always a little time to nibble on relatively easy auditing elements.
Here's the most recent item in the Google about their fraudulent mortgage business: Wells Fargo Settlement Isn't Bar to False Claims Lawsuit | Foreclosure Fraud - Fighting Foreclosure Fraud by Sharing the Knowledge. The source for this photo: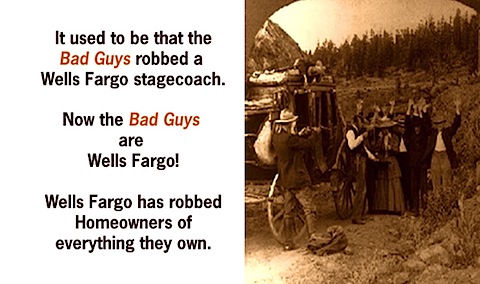 In lieu of more detailed info about this situation, a couple random URLS about this hive of scum & villainy. Fact sheet about the Minneapolis Wells Fargo site itself. www.ci.minneapolis.mn.us/www/groups/public/@cped/documents/webcontent/convert_263603.pdf
Foursquare for site [lol]: Wells Fargo Home Mortgage - Phillips - Minneapolis, Mn
Citysearch reviews of their horrible service: Wells Fargo Home Mortgage in Minneapolis, MN - Reviews and Directions
Anyway I will leave it there - if there is some kind of confirmation available plz drop me a line!
PS: additionally there was some FBI raid in Oakland on something called the Music Box. Reported FBI Raid at punk haus, "The Music Box" in Oakland : Indybay // northern wind:
my house was raided, there was a warrant, we were all dragged outside barely clothed and forced to sit out there, no bathroom access, they broke our fucking mirror for no reason, scared the fuck out of my cat, handcuffed a housemate for trying to grab her cigarettes, claimed to be looking for some person but wouldn't say whom, warrant gave no clues.

fuck this shit I'm so sick of waking up to guns.
We will have more info forthcoming on some other important matters, likely unrelated to the Wells Fargo thing, as soon as possible :/
Commenting on this Story is closed.