2013: Boston, paper gold, Obama signs Stock Act reversal, Homeland Security and food stamps
UPDATE 4.19.2013: MOAR about domestic military operations policy shifts w doc & video: http://www.hongpong.com/archives/2013/04/19/pentagon-domestic-operations-switches-pull-push-24-48hr-timelines-defense-suppor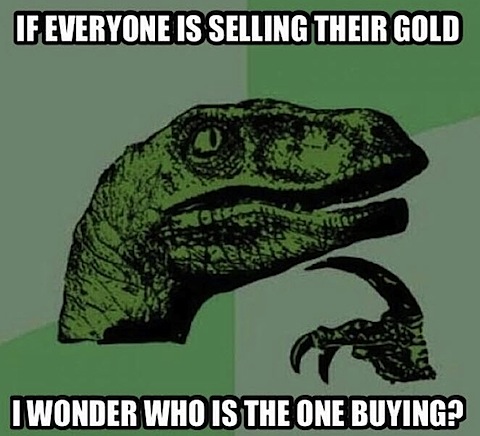 Hang tight folks, it looks like we are on the cusp of another 'burst of change' on a few fronts. You should probably double the watts going to your news radar for at least 10-14 days, if you possibly can. And all those cheesy "financial systems" are getting Extra Discontinuous as they usually do when Collapse starts happening in various segments. I decided to cork out a very rough post on these topics, Your Mileage May Vary thx::
While the Boston situation loaded with symbolism like international flags & the JFK library fire attracts most attention, the reality is that bombings at events are pretty rare and unlikely to happen; once it does the media loops the same traumatizing video clips for web hits. The editorial style: giving viewers agog consciousness that spells ratings. I saw Good Morning America a few mornings ago, it was a massive blitz of domestic violence and a patina of Victoria's Secret models.
With that spectacle set aside for a moment, other trends hitting key points this week include a shady new Stock Act law being signed by Obama and dramatic corrections in several markets including particularly gold. Gotta give some space to the Hill, this is ridiculous:
President Obama quietly signed legislation Monday that rolled back a provision of the STOCK Act that required high-ranking federal employees to disclose their financial information online.

The White House announced Monday that the president had signed S. 716, which repealed a requirement of the Stop Trading on Congressional Knowledge (STOCK) Act requiring the disclosure, which had previously been delayed several times by Congress.

That provision, added to the bipartisan bill aimed at halting insider trading by members of Congress, would have required roughly 28,000 senior government officials to post their financial information online, and had come under harsh criticism from federal government employee unions.
Both chambers of Congress quickly — and near silently — approved the repeal legislation at the end of last week by unanimous consent, just before heading home to their districts.

The STOCK Act was signed by the president a little over one year ago in a highly visible signing ceremony, where he said the legislation would tackle the "deficit of trust" that exists between Washington and the rest of the nation.

The new law scraps a provision that had been hotly contested by federal employees, as well as found to be problematic and even dangerous for high-ranking government workers. Congress twice had passed legislation to delay its implementation. Under that provision, high-ranking government workers would have been required to post their financial information on a publicly available online database.
//////
PAPER GOLD BIG MOVES: The gold market is a peculiar misunderstood beast - it's like a bunch of stuff in vaults with IOU's attached to numbered bars. The IOUs underwrite the financial products like Exchange Traded Fund GLD "gold" - it is operated in reference to the underlying gold's supposed value, but it's not actually a contract providing recourse to the gold.
I flagged for some people a few days ago that the COMEX or commodities exchange gold market, as well as JP Morgan, has had large declines in physical gold reserves in the warehouses recently.
See just recently: 30% of CNT Silver Inventories Withdrawn from COMEX Vaults in 2 Days! | SilverDoctors.com // Why Is JPMorgan's Gold Vault, The Largest In The World, Located Next To The New York Fed's? | Zero Hedge // Especially: Comex Gold Inventories Collapse By Largest Amount Ever On Record
Now today a whopping 122 tons of 'paper gold' got flipped around & tons of margin hikes are getting called on gold traders in different markets around the world, forcing people to keep dumping gold in bursts.
Gold Crush Started With 400 Ton Friday Forced Sale On COMEX | Zero Hedge - tactical deals of the Mega short sale to break through the 'important' price of $1540. Aha... Via Ross Norman of Sharps Pixley,
"Futures trading is performed on a margined basis.. One fund in particular, based in Stamford Connecticut, was identified as the previous shorter of gold and has a history of being caught on the wrong side of the law on a few occasions. As baddies go - they fit the bill nicely.

......The value of the 400 tonnes of gold sold is approximately $20 billion but because it is margined, this short bet would require them to stump up just $1b. The modest short selling in Jan 2013 had prompted little response from the longs - raising questions about their real commitment. By forcing the market lower the Fund sought to prompt a cascade or avalanche of additional selling, proving the lie ; predictably some newswires were premature in announcing the death of the gold bull run doing, in effect, the dirty work of the shorters in driving the market lower still."
These charts are nuts. In recent years, gold drops coincided with bubbles in the S&P type prices, that then crashed. What Happened The Last Time We Saw Gold Drop Like This? | Zero Hedge see 2008 and 2011. Gold Drops Most In 30 Years | Zero Hedge
In recent weeks due to Japan's new hyper-loose monetary policy, crazy things have been happening around the Yen's value. (Australia is spiking moar than anything else it seems) Europe also has a new wave of trust destabilizing the banking system with various deals being attempted in Cyprus & Greece.
(see Which Country's Gold Will Be Sold Next? | Zero Hedge). Also the creditor fascist complex has angled to get at the Greek government's remaining stash of gold so that they can be sacrificed on the altar of the billionaires once and for all.
See also, All Eyes On The Gold Rout, Most Oversold In 14 Years | Zero Hedge . Gold Plummets By Most In 30 Years, Stocks Have Biggest Drop Of 2013 | Zero Hedge - this cuts across a lot of sectors. The CFTC needs to be looked at as well, as some of this material indicates.
The DJIA has been flying high above all of this, though even the corporate news points out that this whole phase of asset value inflation is at least partially due to the Fed's loose monetary policy. Housing prices are "up" they say, what could possibly go wrong?
//////
It's pretty sick meanwhile that an incredibly high level of food stamps are the formal basis for America's food security, at around 23,000,000 households and rising. When Obama entered office this was less than 15,000,000 households -- and the benefits per household are slowly being cut along with much of the social safety net programs both in Minnesota and nationwide. US Households On Foodstamps Hit Record High | Zero Hedge. USDA data.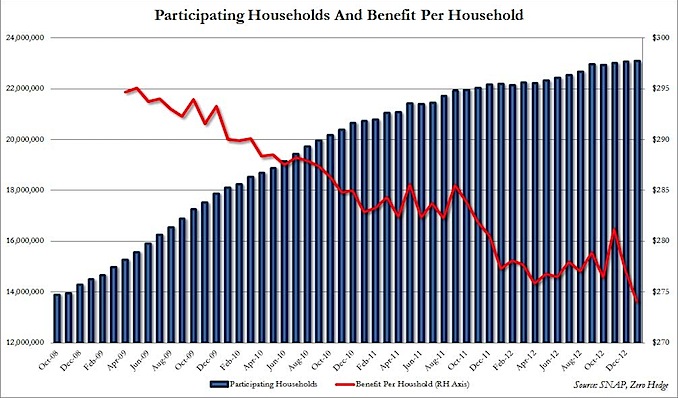 This is a consequence of bailing out banks with trillions of dollars, collateralizing the American people and introducing tons of sovereign credit risk into the US Dollar, the Euro & beyond. It has altered the "biopolitics" of the US to the point that this many people cannot handle generating economic activity in this system to keep themselves alive - and clearly the amount parceled out is declining fast.
//////
CSA's [relatively cheap & nutritious food share subscriptions] and local barter-based currencies are among the more resilient network ideas that ought to get looked at right now. I think there is a pretty severe risk to the stability of the whole country (let alone world) when food stamp debit card systems keep that many millions of families from starving. If nothing else there needs to be fallback systems from the US Dollar & conventional banking system may abruptly halt or radically shift in value or stability. This is something people need to start getting their heads around - so that if the debit cards stop working, different ones operating on some other basis (ie local currencies) can be handed out & millions aren't put in such imminent danger. (see DepressionScrip.com for 1930s substitute local credit instruments - key!)
The food stamp debit cards are usually administered by big banks - giving them yet another lever of functions to 'terrorize' elected officials and bureaucrats into further handing over all the nation's "commons" through fraud & socially constructed economic schemes. The banks have probably the biggest, quickest "kill switch" on social stability. A trivial switch for them to hit compared to most!!
//////
Bitcoin had a big run-up for several days and now has retreated somewhere into the $50-100 range - for a good time keep an eye on Bitcoin Charts. Still, it seems like there's more than enough demand to keep it above $40. However the Bitcoin economy suffers from overly concentrated exchanges.
The biggest exchange, MtGox, has such a large market share - and can't keep up once really huge, shady order floods come in, that the whole Bitcoin economy tends to get "goxxed" and bog down, panic selling and various cats stepping in to buy all the way down.
I am doing a lot of research on Bitcoin right now including the various exchanges (LIST) - in the long run, Bitcoin and other alternative cryptocurrencies share certain features like peer-to-peer encryption/hashing based universal linear transaction registers called "blockchains", and ways of verifying those blockchains with CPU or GPU intensive cryptographic calculations to award more 'coins' and slowly expand the money supply while shoring up trust in the global account ledger.
A new website as well as local Facebook & Twitter accts are getting rolling :) Brand new: follow http://twitter.com/bitcoinmn and http://facebook.com/bitcoinmn for Minnesota Bitcoin goodies!
Bitcoin OTC order book is a chat network approach to decentralized exchange design with trust ranking (like eBay rankings in a way).
Good news for people interesting in making exchanges or intercambios in the form of Ripple, in the early stages an open source project with VC backing to build multi-currency exchanges and trust networks among peers. (chart) Some open source software is available on GitHub for Ripple and its "XRP" intermediary currency, which could then be a proxy to regular fiats or Bitcoin etc.
See also: wow Six reasons why Chinese people will drive the next bull market in bitcoin – Quartz
Mining Bitcoins takes power, but is it an "environmental disaster?" | Ars Technica - wattage will improve - and compared to the phenomenal amount of energy blown on fractional reserve banking derived parasitic functions, Bitcoin is nothing! Also: "Taming the bubble": investors bet on Bitcoin via derivatives markets | Ars Technica
Paul Krugman Goes on the Attack: Calls Bitcoin "Antisocial" // The Antisocial Network of Bitcoins - NYTimes.com by Krugman! "We have huge economic problems, but green pieces of paper are doing fine — and we should let them alone." LOL that food stamp chart is definitely not keeping the great Keynesian up at night.
/////
A moment for weird Boston links: What did Peter Griffin know about Boston and when did he know it? Watch! Family Guy boston bombing - YouTube Yeah this petition is picking up steam - Petition | Demand that Seth MacFarlane make a public accounting for his foreknowledge of the Boston Bombing | Change.org
This is a popular item now: Boston to Deploy Mass-Casualty Tablet Device During Marathon
Excellent videography: Boston.com viral video page - Boston.com. Also: Israel honors war dead with somber Memorial Day - News - Boston.com
Oh also in that viral video above you can see the military incongruously popping up within about 1 minute 44 secs in Boston as Cryptogon and other news have noted. You'll want to check out TC Indymedia Exclusive: Secret 'Trigger' & blueprint for emergency domestic military crackdown plan revealed | HongPong.com about USNORTHCOM CONPLAN 3502 if you haven't already.
/////
SEE previously Meet the new Boss in Town: ICE spawns... HSI Homeland Security Investigations, for great justice & cocaine cowboys | HongPong.com
Homeland Security's New $3.9 Billion Headquarters - Businessweek. Money quote:
In February, one of the DHS's more persistent naysayers, U.S. Representative John Mica, a Florida Republican, boasted about how he and his fellow party members had curtailed the project. He said he would also like to dismantle much of the DHS.

He'd better act swiftly. If the White House ever gets all the DHS's divisions on one campus, nobody will want to move them again.
Homeland Security bloat and the great Unemployed: Word went around that ICE was serving a federal warrant pertaining to Boston. ICE is a unit of Department Homeland Security which spawned the little known HSI, or Homeland Security Investigations, division, a new kind of (literal) black helicopter FBI-style agency
The dip in metals and the odd security situation brought Cryptogon.com to recall a post from late 2012 from HomelandSecurityUs.com, the Northeast Intelligence Network site edited by Doug Hagmann & his son. They are pretty conservative and have a fair bit of alarming material about Homeland Security. See Flashback: Warning: "Watch The Metals, When They Dip. It Will Be A Good Indication That Things Are About To Happen."
I'm not even going to get into the stuff coming up about the bomb sniffing dogs and weird "training exercise" angles right now because this other stuff seems more pertinent right now. People that have been at this a long time frequently bump into "exercises" that happen to overlap with 'live events', the argument being many times that exercises created the opportunity for staged events at many previous key points -- though of course governments do run a *lot* of exercises with all their security bloatware anyway.
This is the late 2012 Hagmann interview with a purported Homeland Security "insider" which stated that a dip in precious metals, after the fiscal cliff sets the stage, would presage further economic chaos and an escalation of repression against the American people, along with a major collapse in standard of living. DHS Insider Report: Coming This Spring: "Life for the Average American is Going to Change Significantly". It is kind of "classic stuff" for those of us that keep an eye on these things. The earlier predictions of source "Rosebud" didn't really pan out much in 2012, as these things often don't. But timelines are hard to nail down even for "deep weird" sources with good faith. Take a little while to glance over this, even if it's not your usual fare.
"Rosebud": Stop thinking about a normal situation. The country is divided, which is exactly where Obama wants us to be. We are as ideologically divided as we were during the Civil War and that rift is growing every day. Add in a crisis – and economic crisis – where ATM and EBT cards will stop working. Where bank accounts will contain nothing but air. They are anticipating a revolution and a civil war rolled into one (emphasis added by this author).
We all saw what happened with the Feds & Occupy camps. The American Occupy-style organizing eased off as the US economy was in a kind of stasis during 2012, but if things tense up in 2013 we are looking at a different political situation. In Europe things have been moving at a much different tempo, along with a great deal of confusion, snaky liberal operations, and a rising neofascist & quasi-fascist network is taking root in many nations.
See also The Terrifying Reality of Long-Term Unemployment - Matthew O'Brien - The Atlantic
On a decidedly anti-alarmist tack, Bruce Schneier: The Boston Marathon Bombing: Keep Calm and Carry On - Bruce Schneier - The Atlantic
See TC Indymedia Exclusive: Secret 'Trigger' & blueprint for emergency domestic military crackdown plan revealed | HongPong.com
///////
MOAR LINX: A bunch of stuff sitting around you may find interesting.
Just weird - part of a scifi based GE marketing campaign: 'The Matrix' is back (in your hospital) | Technically Incorrect - CNET News
Is Facebook's Secretbook Secure? CRYPTOME Colin Powell & Malcolm McDowell at Bohemian Grove 2013-0347.pdf // Hacktivists as Gadflies - Socrates to Jeremy Hammond // DoD Communications Systems Breach in 9/11 Trials
A little grumpycat may be worth reading - Guest Post: Are Individuals The Property Of The Collective? | Zero Hedge amirite Minneapolis?!
In Control at Layer 2: a Tectonic Shift in Network Security| Whitepapers | TechRepublic - hacking optic networks.
Wells Fargo 401(k) Loans Jump 28% as Older Workers Borrow - Bloomberg
CNBC! USD/Bitcoin - MTGOXUSD - Stock Quotes
The Real Story Behind Facebook Moderation and Your Petty Reports | The Internet Offends Me
DARKWEBSEARCH: Shodan: The scariest search engine on the Internet - Apr. 8, 2013
Australian FiberFail with a last mile of copper, you idiots: FTTN a huge "mistake", says ex-BT CTO | Delimiter
11 Economic Crashes That Are Happening RIGHT NOW
Wordpress Mess going on: This plugin should help: WordPress › Limit Login Attempts « WordPress Plugins
////
Anyway this is just a few trends happening now... I feel like the overall tone of this post is pretty conservative, as a lot of the research is coming out of places with that editorial slant. Nonetheless these are sources of information and lines of analysis that anyone is welcome to look at and come to their own conclusions.
I think that we urgently need to get real and start considering lots of alternate solutions, hopefully to avoid more authoritarian and crisis driven, panicky policies, like those fostered in the climate of the Fear of Terrorism which they are going to tediously lay on with a trowel for weeks, alongside major economic instability.
Batten All the Hatches.
Commenting on this Story is closed.