Alcohol comes to Pine Ridge reservation after White Clay battle
It is disappointing to hear that Pine Ridge Reservation voted to resume selling alcohol after so many had fought against it - and this is no doubt pleasant news for the people that profit from the war on drugs, like alcohol companies. I also just saw ads about four new bars opening at Mystic Lake here in Minnesota.
It is too bad, unfortunately the American Indians are only one example of how chemical dependency is fostered by corporate America through billions of dollars in advertising.... Another massive subsidy, the stadiums hosting booze ads, will be touched on shortly.
In late June: Oglala Lakota Nation President VS Nebraska State Police June 17, 2013 - YouTube
Breaking News: Oglala Sioux Tribe President Arrested During Protest in White Clay | Earth First! Newswire
Oglala Sioux President Arrested at Whiteclay Protest - ICTMN.com
A Dry Reservation Clashes With Its Liquor Store Neighbors : NPR
Now: Pine Ridge Reservation Votes to End Alcohol Ban - NYTimes.com: "Chief Duke said that he expected the easier availability of alcohol to lead to a sharp rise in violence, which will challenge a department whose 37 officers are responsible for patrolling an area larger than Rhode Island and Delaware combined.... Chief Duke said he finally gave up alcohol when he turned 31. But alcohol's ill fortune caught up to some members of his family. Two of his daughters, he said, were killed in drunken-driving accidents in the 1990s."
Also: Pine Ridge Reservation Lifts Century-Old Alcohol Ban : The Two-Way : NPR // It's official: Pine Ridge Reservation legalizes alcohol in historic referendum
//////
Sarcasm memes are emerging on Minneapolis internets from Minneapolis AIM: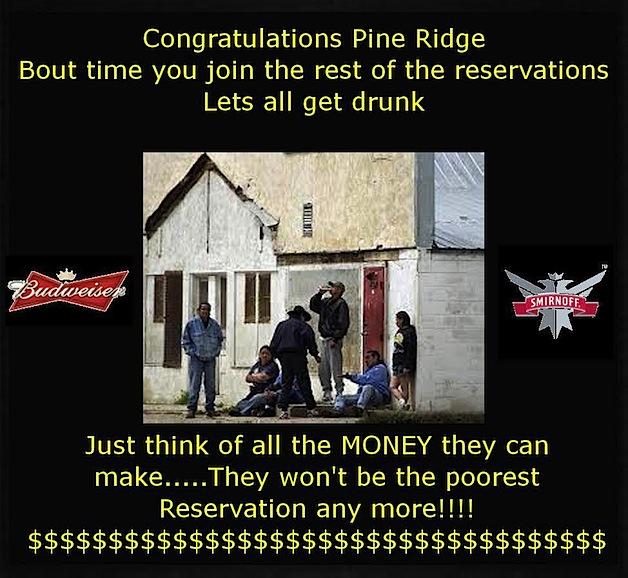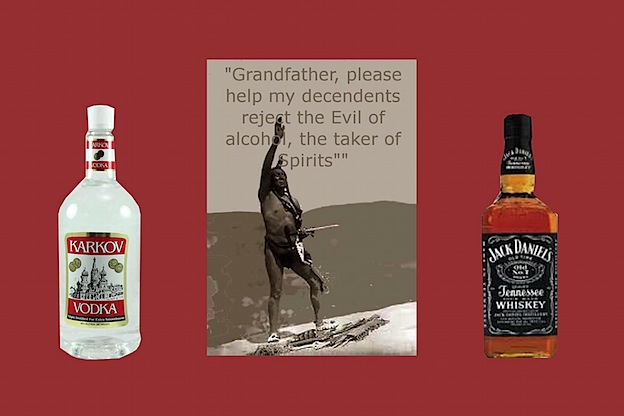 /////
Via Tasunke Wakan:

"If the People Who voted yes on the Oglala Homelands to Legalize alcohol sales win the Ethnic cleansing by the Wasicu has succeeded. The Wasicu no longer needs to come and kill us with his Armies he now has the mni sica (bad water) to do his work for him. More people will now die from from alcohol related deaths and illnesses. Drunk drivers will kill innocent people on the highways and Sexual and physical abuse will increase, along with the crime rate. Also elderly abuse and child abuse along with suicides will increase. Read Black Elk's vision in the book Black Elk Speaks he fortells of this time and how the dark cloud covered the people. That time is now!!!!!! But in the end only the people who follow the original ways will survive according to his vision."
via AIM of Twin Cities & AIM Patrol of Minneapolis - Now What To Do With All The Millions In Alcohol... - AIM of Twin Cities & AIM Patrol of Minneapolis: "This was posted from AIM Grassroots."
Now What To Do With All The Millions In Alcohol Money On Pine Ridge

By Scott Barta
Just like most of america, the majority of users of alcohol on the oglala Lakota "Sioux" Pine Ridge reservation suffered tragic childhood trauma and only use alcohol to numb their pain, their denial, their fear of exposure - whether raped, beaten, or verbally abused by parents/grandparents/brothers/uncles/neighbors.
What to do now?
Each of the nine districts will now get liquor stores no doubt, regulated by a tribal department. This will create jobs temporary employment for construction workers who must build the facilitie and provide jobs for all the new employees that must be hired by the tribe to run the stores.
What is needed most on Pine Ridge?
Currently, a plague is destroying american Indian reservations, and Pine Ridge is no different then the rest. Young men between the ages of 18 and 36 are being ignored and cast away by the tribes - often thrown away into the court and jail systems.
These 18-36 year old males are being denied their right to manhood - providing for themselves and their families, usually by possessive mothers/grandmothers who continue to enable and cripple these young men. In effect, they refuse to cut the embilical cord or ween the child from the teet - under the excuse of "compassion" and "generousity".
The worst thing for a man is thinking and feeling that he is inadequate, useless, unable to provide - it tears at the heart. He will not admit it and not ask for help, buyt he will ache inside until his next drink, his next drug. Often they lash out in macho attempts (gang, fighting, etc.) to try to cover thier inadequacies which compounds the problems.
18-36 year old males are allowed to stay at mom's or grandma's house - often not even required to wash a single dish or take out a bag of trash. The boys have girlfriends, all hickey-ed-up, shacking up with them, getting them pregnant; then pretty soon they break-up and then you have single moms raising unwanted kids.
18-36ers use moms/grandma's car, go drinking/drugging, then wreck the car, get thrown in jail - then mom/grandma BAIL THEM OUT for $400 (so much for groceries and bill-paying that week), all so they can come back and flop at the house until their next dramatic cry for help goes unanswered.
WELL IT IS TIME TO QUIT ENABLING THE CRIPPLING OF THE YOUNG LAKOTA MEN.
This alcohol profits, instead of going to all the tribal council members for new pick-ups, must go to training camps in each district for all 18-36 year olds who are not working full time and not living on their own. Sales profits can be used to hire builders to construct small cabins or erect tents/Tipis in a "Manhood Training Circle" where the boys stay, eat and live communally - available for any work delegated to them. "Manhood Training Circle" Staff must be hired to coordinate who comes in requesting assistance from the boys for building garages, bailing hay, basic plumbing/electrical jobs, hauling jobs, etc.
Experts can come in and give job/employment trainings, spiritual insight, wisdom and encouragement throughout the day to the campers - all guiding them to becoming providers for their nation.
IT IS NOT TOO LATE TO FIX THE NATION, it is not too late to save our young men.
Anyway will leave it there for now, but also add info on the lawfulness of the subsidized hub of booze advertising, the quasi-illegal Minneapolis Vikings stadium...
Commenting on this Story is closed.