Exclusive New Court Docs: Oklahoma City Truth is Back! Trentadue's court process unfolds in epic FOIA fight for missing Murrah & motel videotapes
Here is something kind of nifty - just got the latest court filings from an investigation into Oklahoma City bombing now approved by a judge to move forward in federal court against the CIA and FBI. The crux of it is missing videotapes, a recurring problem in major terror incidents -- anyone remember those commercial surveillance videos that never got released from near the Pentagon 9/11 crash site? [VT 'Truth' & Skeptics views]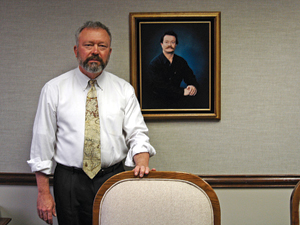 Unbeknownst to most, Jesse Trentadue, a diligent attorney from Salt Lake City, has been trying to wrench loose every last bureaucratic particle related to the 1995 Oklahoma City Bombing attributed to "lone wolf Patriot" Timothy McVeigh and his accomplice Terry Nichols.
Trentadue's brother died horribly while in custody of the US Bureau of Prisons, which he suspects was a case of mistaken identity linked to shadowy figures involved in OKC. Thus, in honor of his brother's memory, get all the files On the Table.
The bombing presaged a new era of domestic police legislation, more cops on US streets thanks to the federal government, the thorough discrediting of the general "Patriot" scene and so on. Current Attorney General Eric Holder had a "Trentadue Mission" as well in all of this.
Press coverage: Sept 9 2013: Judge orders trial in allegedly missing Oklahoma City bombing video case | Deseret News:
SALT LAKE CITY — A Salt Lake attorney who contends the FBI is hiding surveillance video associated with the 1995 Oklahoma City bombing might see his case go trial.

U.S. District Judge Clark Waddoups denied the government's motion to dismiss the case Monday and ordered both sides to prepare for a bench trial. He scheduled a status hearing for Nov. 21, at which a trial date will be set.

"This is a significant ruling," said Jesse Trentadue, who has spent years trying to get the tapes. "There's no doubt that evidence exists. The question then becomes why can't you find it. The obvious answer is you don't want to find it."

At issue is whether the FBI adequately responded to Trentadue's Freedom of Information Act request for footage of Timothy McVeigh parking a truckload of explosives at the Alfred P. Murrah Federal Building on April 19, 1995.

Specifically, he is after surveillance tape of the federal building and neighboring buildings as well as dashcam video from the Oklahoma state trooper who stopped McVeigh 90 minutes after the explosion that killed 168 people.

The FBI has released 30 videotapes and 200 documents in response to Trentadue's FOIA request.

Trentadue began looking into the bombing after his brother died in a federal detention center in Oklahoma. He believes federal agents mistook Kenneth Trentadue, a convicted bank robber, for a bombing suspect and beat him to death during an August 1995 interrogation. His official cause of death was listed as suicide.

Trenatdue claims the video will reveal a second bombing suspect who resembles but is not his brother.

Waddoups has chastised U.S. Department of Justice several times for not producing the tapes since Trentadue sued in 2008.
Previously on HongPong.com: Apr 19 2010: 2010 Oklahoma City Bombing Conspiracy Notes for April 19; Eric Holder's Trentadue Mission; SPLC Cutout @ Elohim City; CIA, National Geospatial Intelligence Agency roles | HongPong.com // March 11 2007: New 1995 Oklahoma City bombing conspiracy video from BBC! GOP's Rohrabacher rebukes FBI for coverup?? | HongPong.com. June 21 2011: Two murky major elements of covert American power: The US Treasury Exchange Stabilization Fund (ESF) & the FBI's little "S Drive" of deleted filez | HongPong.com . Briefly noted tangent at April 12 2012: Meet the new Boss in Town: ICE spawns... HSI Homeland Security Investigations, for great justice & cocaine cowboys | HongPong.com. Item on Dec 28 2010: Russia & China not buying BIS Fractional Reserve Gold currency scheme pushed by the Ben Bernank; FBI ALF informant developing Firefox 4 security, reminds OpenBSD FBI Backdoor | HongPong.com
Moar Notes: For the thoughtful documentary released in 2012 by local activists: Oklahoma City Bombing | Murrah Federal Building 1995 | A Noble Lie. See also notes from Kaye: jesse trentadue | AxXiom for Liberty. Oct 2012: Jesse Trentadue exposes who the FBI uses for informants. A lot of this gets to the FBI's shady secret file pockets such as the mysterious "S Drive": S is for Secret: Jesse Trentadue Discovers the FBI's S Drive (June 2011). 2009 from IntelWire.com: Trentadue CIA Vaughan Index Sept 2009.
A Few Unresolved Backstories: Another dimension generally unknown is the large number of informants working for different agencies in the milieu McVeigh circulated in. This certainly included German BND intelligence agent Andreas Strassmeir ("Andy the German"), ATF informant & neo-Nazi Carol Howe, Rev. Millar at the "Elohim City" Christian millenialist compound (nicknamed Alphabet City for its many three-letter agency plants), and a weapons dealer named Roger Moore who Nichols alleged supplied the Kinestiks used in the truck bomb. Department of Homeland Security was involved in the Moore/Nichols/kinestiks thing. Just found this too.
The Southern Poverty Law Center (SPLC), an Alabama-based investigative/intelligence nonprofit organization with a huge endowment that dabbles in various legal cases involving racists and intolerant people, also was cited in numerous bits of the paper trail as having at least one informant of some kind they were using to provide information to the FBI.
While the SPLC has cultivated a positive reputation with liberals because of highly visible campaigns against racists, their still-partially concealed role is quite relevant to the complete truth around OKC. What did SPLC know and when did they know it? [And will they ever go after banks for making southerners poor??! Or would that harm their awesome endowment assets??]
//////
So basically around OKC, you have a level of informant saturation well above zero in this situation, and of course it's marketed as the "lone wolf" incident par excellence. What would undermine this narrative?
Well, as various official internal documents indicate rather directly, video footage from security cameras near the Murrah building showing multiple people in the Ryder truck would be pretty awkward, years later. There were certainly cameras around the building, and Trentadue has had these FOIA requests in for quite some time.
Anyway let's have ourselves some fresh court documents:
//////
Trentadue-court Order Grant Motion Strike Deny Motion Sj Ecf
//////
Trentadue-fifth Hardy Declaration Ecf
//////
Trentadue-plaintiff's Opposition Motion to Strike Ecf
//////
Trentadue-memo Motion to Strike Fifth Supplemental Declaration_ecf
OLDER DOCS for yr viewing pleasures:
FBI INFORMANT MANUAL - very important for beginning to discern how informants insert 'fake decision trees' into our reality:
//////
Intelwire writeup by JM Berger on the Roger Moore angle and such:
29355734 Trentadue CIA Vaughan Index Sept 2009
//////
Anyway I will leave it there for now, but it is great to see this slowly developing story jump forward for another round vs the national security coverup machine!
Commenting on this Story is closed.
Tags for Exclusive New Court Docs: Oklahoma City Truth is Back! Trentadue's court process unfolds in epic FOIA fight for missing Murrah & motel videotapes