Occupy Boulder Flood Relief gets rolling as oil oozes around Colorado; Japanese typhoon could create complex Fukushima super-meltdown; Sunday LinkDump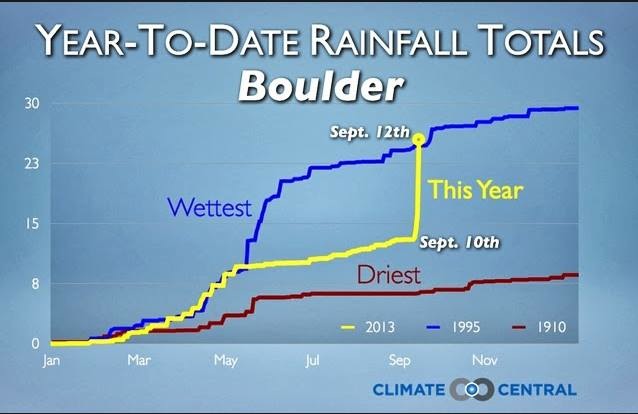 The good news is that people are organizing for flood relief in Colorado along the proven lines of previous efforts at Occupy Sandy. URLZ: #boulderflood relief :: Boulder Flood Relief - Get help & get involved
First meeting 28 mins video: Boulder Flood Relief - Orientation Meeting - YouTube
Donations on wepay at $2k currently: Boulder Flood Relief:
Boulder Flood Relief provides immediate assistance to those affected by the Boulder flood of September 13, 2013. We are currently providing physical labor such as cleanup help for those affected by the flood. More volunteers are joining by the hour and we will be able to fill more needs as new skill sets present themselves. If you have any need please link, call, or email here:

boulderfloodrelief.org

720-943-4482

100% of donations from this page support these relief efforts. They go toward cleanup equipment, administrative costs, and other immediate needs. Funds may also go toward providing material goods and food for affected Boulder county residents.

We work in relationship with Four Mile Fire Relief, which is a local, relief-oriented 501(c)(3) non-profit. They provide financial oversight and make your donation tax deductible.

If you can donate food or material goods please contact YMCA Boulder, as we are not accepting physical donations at this time.

YMCA Boulder 303-442-2778

2850 Mapleton Avenue, Boulder CO

If you are in need of assistance please go to boulderfloodrelief.org and fill out an assistance form. We will contact you asap. Thank you, from your friends and neighbors at Boulder Flood Relief.
/////
Another long and productive day with Boulder Flood Relief. In under 72 hours we've:

- Built a volunteer database of over 500 individuals.

- Started work sites with over 30 volunteers on the ground helping homeowners.

- Sent canvassers to affected neighborhoods to assess needs.

- Built information systems that will allow the organization to scale and be transparent to itself (using a combination of open source and cloud based software).

- Began building a peer to peer marketplace of goods and services so folks can self-organize to relieve and recover.

Not bad for three days. If you're in Boulder we invite you to get involved in whatever way you can. Go to our website (www.boulderfloodrelief.org) and register as a volunteer and/or share your needs.

There is much work to be done, and we are the ones to do it.

#boulderflood #boulderfloodrelief
Facebizzle: Occupy Boulder Flood Relief. Small tumblr: Occupy Boulder Flood Relief. Twitter: #BoulderFlood Relief (BoulderRelief) on Twitter
Some app for help: SparkRelief.org | Community Driven Disaster Relief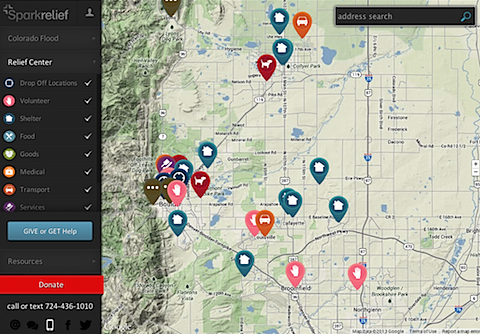 Reddit help info index: 9/13/2013 - Colorado Flooding Resources : Colorado
Large and detailed Google Docs info on Boulder CO support resources: A snippet:
Logistics

Headquarters/Hub/Incident Command Post:

[location to be announced tomorrow]

[9/13 location: 1:30 pm @ Innisfree Coffee, 1203 13th St., Boulder, 80302]




Remote Supplies Location:

[to be determined]

Vital Numbers:

Cel.ly Loop: text @floodrelief to 23559

The Internet

Common Hashtags:

#BoulderFlood, #COwx, #WaldoFlood, #COflood #LongmontFlood #LyonsFlood, #Ftcollinsflood, #CCCF, #JeffCoFlood, #ColoradoFlood, #larimerflood

Related Searches:

#Boulder, Boulder flash flooding,




Google Community:

https://plus.google.com/communities/110401760903189735343 for sharing information documents inter-organizationaly




Twitter Accounts:

@BoulderCounty [Boulder Local Government]

@BoulderOEM [Boulder Office of Emergency Management]

@jeffcosheriffco [Emergency info for Jefferson County]

@NWSBoulder [National Weather Service, Boulder]

@OccupyRelief [part of @OccupySandy]

@bowandarchery

Alerts and Closures

For Road Closures: @ColoradoDOT, BoulderOEM Road Closure Update

For Current Emergency Information/Emergency Status: http://boulderoem.org/emergency-status

For National Weather Service Alerts: http://www.crh.noaa.gov/bou/

For CU University Campus Alerts: http://alerts.colorado.edu/

For Greeley city updates: http://greeleygov.com/PIO/Lists/News%20Releases/DispForm.aspx?ID=1802&Source=http%3A%2F%2Fgreeleygov.com%2FPIO%2FMedia.aspx

General Links

National Weather Service Hydrograph:

http://water.weather.gov/ahps2/hydrograph.php?wfo=bou&gage=bocc2

http://streamstatsags.cr.usgs.gov/ThreatenedGages/ThreatenedGages_seq.html

Colorado Division of Water Resources -- Boulder Creek Gage Height West of Broadway:

http://www.dwr.state.co.us/SurfaceWater/data/detail_graph.aspx?ID=BOCOBOCO&MTYPE=GAGE_HT

Google Boulder News Aggregator

Cleanup Guide:

http://www.floodsafety.com/media/pdfs/cleanup/Cleanup_after_flood.pdf

Maps

Boulder Flood Hazard Mapping

http://gisweb.ci.boulder.co.us/agswebsites/pds/floodmap/

For Google Maps (shelters, animal shelters, road closures, evac zones): https://m

apsengine.google.com/map/viewer?mid=zYYdhADI7PvQ.kzJSidMtEIqY

Xcel Power Outage Map: http://www.xcelenergy.com/portal/site/xe-en/menuitem.471846b0c2475abf262a71986b108a0c/?vgnextoid=02b6719a0b3cd210VgnVCM100000b40b98aaRCRD&vgnextchannel=e97c6113f220f210VgnVCM100000b40b98aaRCRD&appInstanceName=xe




Community Map with Instagram photo layers:

https://boulderflood2013.communityos.org/cms/node/1

Current EvacuationsFor Evacuation Center Info:, http://boulderoem.org/emergency-status
//////
From the Occupy Sandy days, relief network theory info: Home - FLO Solutions for Disaster Relief
//////
The OOZE: It's almost like drilling and fracking willy-nilly could set the stage for complex or compound environmental disasters. Colorado Floods Causing Fracking Spills?: Natural and Human-made Disasters Portend Future of Toxic Catastrophe | Earth First! Newswire
Is there a media blackout on the fracking flood disaster in Colorado? From an email:
I see you've noticed the underwater wells in Weld County, Colorado. Amazing; we've emailed the Denver TV stations, other media, and state and local politicians. We've sent pictures that our members have taken. It's like the media and politicians have been TOLD not to say anything about it. There has been no mention of the gas wells on the Denver newscasts either last night or this evening although all stations have had extensive and extended flood coverage. You can see underwater wells in the background of some of the newscast videos, and yet the reporters say absolutely nothing.

Here's a picture one of our members took yesterday in Weld County, Colorado. We've got tons more on our website. Check it out. The tanks are tipping and, in some cases, have fallen over. They have to be leaking toxins into the flood waters. There have to be hundreds if not thousands of underwater well pads in Weld County as a result of the flooding.

Please publicize this in Texas since our media people and politicians have gone silent!

https://www.facebook.com/EastBoulderCountyUnited

East Boulder County United

Lafayette, Colorado
Colorado Floods Causing Fracking Spills?: Natural and Human-made Disasters Portend Future of Toxic Catastrophe | Earth First! Newswire
National Geographic, Sept 14 2013: Amid Drought, Explaining Colorado's Extreme Floods as the drought weakens absorption capacity of the land.
Navajo flooding in AZ: Dine' Resources and Information Center » Navajo Nation Operation Storm Surge – Volunteers Needed
▶ Raw video: Extreme flooding in Weld County - YouTube
//////
Impending Japanese DoomSphere: With the release of a new Ghost in the Shell series, ARISE [ see http://www.ghostintheshellarise.com/anime/ghost-in-the-shell-arise/borde... ] it is time once again to ponder how the land of the Rising Sun will get into a post-apocalyptic state required of the finest anime.
Fukushima could get flooded once again by Typhoon Man-yi, but perhaps they will have a lucky break. Typhoon hits Japan - fears for Fukushima plant - World - NZ Herald News. Tracking map URL next 12 hours are the Big Deal: http://www.wunderground.com/hurricane/western-pacific/2013/Tropical-Stor...
Commentary from Michael C Ruppert:
If you are psychologically and emotionally able...

First watch the aerial footage of the flooding around Boulder and Lyons, Colorado (below). Watch all of it, no matter how difficult that might be.

Then read this quote from this posting about Man-yi:

"Man-yi might also inundate Fukushima, where utility crews are struggling to contain highly radioactive water leaking from and flowing under the crippled Fukushima No. 1 nuclear plant and into the Pacific Ocean at an estimated rate of 300 tons a day".

Now understand that the earth at Fukshima has already been horribly compromised by flooding -- for two and a half years straight. The reactor buildings are unstable and ready to fall. The unwelded storage tanks are already failing, and the spent fuel pools are teetering above ground with their ever-present threat of an open-air, uncontrolled fission reaction.

Now add rainfall like what has just hit Boulder... Instead of many huge sections of roadway, bridges and buildings falling away into the torrent, picture the reactor buildings, the fuel pools and all the stored super-radioactive water being washed away, either into the sea, or being scattered and dispersed for hundreds, maybe thousands of miles by 50-60-70 mph winds.

And the hardest thing of all to imagine is the fuel pools collapsing in the middle of a tropical storm or typhoon, triggering an open-air reaction in the middle of all that wind.

Forget all of these other times the cliche "The Perfect Storm" has been used before. […..] When highly complex civilizations fail, they fail spectacularly. The cascade of problems becomes its own Fukushima tsunami. […..]

[CO Flood Post] Words are absolutely inadequate to describe this footage. I could not help continually viewing this as a metaphor, a symbolic viewing, of how difficult it will be to address the life-threatening crises that are bearing down so hard with so much infrastructure gone in so many places.

No matter where we are, this is showing us what our world is going to be resembling in the near future, whether as a result of floods, quakes, radiation, lack of maintenance, lack of resources and ultimately lack of will.

As local, immediate survival becomes a priority almost everywhere, our ability to address the larger issues causing these events collapses, evaporates and is gone with the wind.

Let your heart watch this right beside your mind. One way or another, this is the future for all of us, unless we can all unite on the same page, and at the same levels of consciousness.
AFP-JIJI: Typhoon Man-yi heads for Chubu | The Japan Times: "Man-yi might also inundate Fukushima, where utility crews are struggling to contain highly radioactive water leaking from and flowing under the crippled Fukushima No. 1 nuclear plant and into the Pacific Ocean at an estimated rate of 300 tons a day."
Petition w 1.5K signers right now: STOP FUKUSHIMA RADIATION- UN ACTION NEEDED
Terrible nuclear Olympics of 2020 scheduled: Endless Fukushima catastrophe: 2020 Olympics under contamination threat — RT Op-Edge
ENEnews tracking this like ballers: Fukushima reactor cores may have had "Melt Through to China Syndrome" and went into the earth itself — Includes over 1,500 pounds of plutonium
Tritium levels of groundwater in Fukushima now at their highest - The Japan Daily Press
Sept 13th: Interview: Fukushima melted fuel "could have burned through floor and now in earth underneath reactors"
///////
Jet Stream climate change: It's not just the CO2 coefficient, it's shifting wind patterns. For animated archives: Animation of Archived Jet Stream Analyses for North America
///////
Nazis of popular culture: Mr Brand razzed Hugo Boss, the stylists of the Third Reich, prompting a nasty microcosm of larger 'soft fascism' to iterate anew. Well trolled good sir: Russell Brand and the GQ awards: 'It's amazing how absurd it seems' | Culture | The Guardian
///////
Now for the Misc Linkdump… First: Great Game Roundup: For Sun Sept 15th: Sibel Edmonds' Boiling Frogs Post. Lawrence Wilkerson speculates on Israeli false flag CW operation in Syria: Ex-Bush II Administration Official: Israel could have used Chemical Weapons in Syria | Global Research. Conspiracy lulz: Activist Post: Syria's "Rebels" Threaten UN - Will Use US Weapons.
Five Ways a Wider Syrian War Could Go Nuclear | Common Dreams
SWIFT NSA infiltrations: NSA Successfully Figured Out How to Tap Into VISA's 'Complex Transaction Network' | The Dissenter // Internet snooping: Backdoor dealings | The Economist
Petraeus protests going viral: Protests of David Petraeus's lectures to continue, say CUNY students | World news | theguardian.com
Tech punditry and the attention economy: pretty clutch stuff here, the art of self interested trolling and TED talks. Tech Cyber-Critics
Neat poem:
Shine, Republic by Robinson Jeffers

The quality of these trees, green height; of the sky, shining, of

water, a clear flow; of the rock, hardness

And reticence: each is noble in its quality. The love of freedom

has been the quality of Western man.

There is a stubborn torch that flames from Marathon to Concord,

its dangerous beauty binding three ages

Into one time; the waves of barbarism and civilization have

eclipsed but have never quenched it.

For the Greeks the love of beauty, for Rome of ruling; for the

present age the passionate love of discovery;

But in one noble passion we are one; and Washington, Luther,

Tacitus, Aeschylus, one kind of man.

And you, America, that passion made you. You were not born

to prosperity, you were born to love freedom.

You did not say 'en masse,' you said 'independence.' But we

cannot have all the luxuries and freedom also.

Freedom is poor and laborious; that torch is not safe but hungry,

and often requires blood for its fuel.

You will tame it against it burn too clearly, you will hood it

like a kept hawk, you will perch it on the wrist of Caesar.

But keep the tradition, conserve the forms, the observances, keep

the spot sore. Be great, carve deep your heel-marks.

The states of the next age will no doubt remember you, and edge

their love of freedom with contempt of luxury.

Robinson Jeffers

//////
Classwar lulz: Watch Barney Frank Leave Wall Street Defenders Speechless
Spacelulz: Searching for the ruins of alien civilisations – Paul Gilster – Aeon
///////
Lol the Waste Confidence Directorate:
This is email sent Friday Sept 13, 2013 by the NRC Nuclear Regulatory Commission

Hello,

Three important Federal Register notices were published today.

· The NRC's proposed Waste Confidence rule for public comment: https://federalregister.gov/a/2013-21708

· The NRC's Notice of Availability for the Waste Confidence draft generic environmental impact statement (DGEIS): https://federalregister.gov/a/2013-21715

· The Environmental Protection Agency's Notice of Availability of the Waste Confidence DGEIS: https://federalregister.gov/a/2013-22363

The publication of these notices starts the 75-day public comment period on the Waste DGEIS (http://pbadupws.nrc.gov/docs/ML1322/ML13224A106.pdf) and proposed rule. The public comment period ends on Wednesday, November 27, 2013. Comments received after November 27, 2013, will be considered as practicable. However, the NRC can only guarantee consideration of comments received on or before November 27, 2013.

In addition to presenting oral comments at any of our twelve public meetings, there are many ways to submit written comments on the DGEIS and proposed rule. The NRC gives all comments equal weight, no matter who submits them or how they are submitted. You can submit written comments through any of the methods below.

E-mail comments to Rulemaking.Comments@nrc.gov, citing Docket ID No. NRC–2012–0246

Submit comments online at www.regulations.gov using Docket ID No. NRC–2012–0246

(Direct link to comment submission: http://www.regulations.gov/#!submitComment;D=NRC-2012-0246-0361)

Mail comments to Secretary

U.S. Nuclear Regulatory Commission

Washington, DC 20555-0001

ATTN: Rulemakings and Adjudications Staff

Fax comments to Secretary

U.S. Nuclear Regulatory Commission

301-415-1101, citing Docket ID No. NRC–2012–0246

Hand-deliver comments to 11555 Rockville Pike, Rockville, Maryland 20852, between 7:30 a.m. and 4:15 p.m. (Eastern Time) on Federal workdays; telephone 301-415-1677.

If you have any questions about the information in this e-mail please contact Sarah Lopas at (301) 287-0675 or Sarah.Lopas@nrc.gov. For additional details on our 12 public meetings and how to register to attend these meetings, please go to our Waste Confidence Public Involvement webpage: http://www.nrc.gov/waste/spent-fuel-storage/wcd/pub-involve.html.

Thank you,

Staff of the Nuclear Regulatory Commission

Waste Confidence Directorate
////////
Financial collapse still impending: With Currency Wars guy Jim Rickards: [KR497] Keiser Report: Deja Fraud | Max Keiser // Portuguese Return to Farming to Counter Unemployment, Austerity - Bloomberg
Neil Young at Tar Sands: 'Fort McMurray is a wasteland': Neil Young slams oil patch, Keystone plans - The Globe and Mail. Alberta politicians as the new Southern Man!
Sad reefs and CO2 bubbles make carbonic acid: Pacific Ocean takes perilous turn | Sea Change: Ocean acidification | The Seattle Times // International Scientists Warn Climate Deniers Are Enabling Earth's Suicide // Image of the Day: Satellite view of record heat wave in China, 5-12 August 2013 // Shitloads of Methane as reptilian alien "They Live" conspiracy bears fruit: Arctic News: Methane reaches 2571 ppb
Some theory: The Absurdity of Authenticity – Nature Bats Last
Fed Chair Baseball: Summers over | Felix Salmon
Cool and clever energy tech may help make new storage systems using basically air and water: Technology - LightSail Energy
Coconut Revolution: ▶ Coconut Revolution - "The world's first successful eco-revolution." - HQ - Full - YouTube
Why not? "Chemtrails Are Happening All Over The World" According to Former British Columbia Premier | Collective-Evolution
Leaving it there for now...
Commenting on this Story is closed.
Tags for Occupy Boulder Flood Relief gets rolling as oil oozes around Colorado; Japanese typhoon could create complex Fukushima super-meltdown; Sunday LinkDump