Aha: Carbon Market digital currency "Ven" by Hub Culture = evil Illuminati knockoff of Bitcoin, backed with REDD "CO2lonialism of Forests" suddenly now approved!
Lolz just stumbled on this - had to write a quick post with a lurid headline. Ven is like the Sharper Image / corporate greenwashing version of Bitcoins and it's all tied into a big ball of classic shady stuff. There is a really nice blob of greenwashing social constructions underpinning the Ven 'value' here, see if you can spot it:
The value of Ven is determined by the financial markets in a weighted basket of currencies, commodities and carbon futures trading against other major currencies at floating exchange rates. Ven is the first digital currency to float, and the first to include carbon in its pricing, making it the only environmentally linked currency in existence. Since Ven is 100% backed by reserve assets equivalent to the total Ven in circulation, the inclusion of these assets in the reserve basket provide a demand source for carbon, with material benefits to the environment at large. Over 25,000 acres of Amazon rainforest and other environmental investments have been made as a result of Ven.

Currently over 20 million units of Ven have circulated, and it can be used to purchase anything from commoditiesto fashion to cars to a coffee. Watch a Ven video. Read what Forbes, CNN, WSJ, Harvard Business Review, Techcrunch, Fortune and others say about Ven
REDD IS A DONE DEAL: I bumped into the big news, REDD is now a done deal, after wondering if there would be some more weird knockoffs of Bitcoin-like digital currency systems. There are other open source P2P systems like Litecoin which are basically mostly Bitcoin code, with some logical enough replacements. This is a welcome development. Anything with non-commercialized overall code & network structure should probably help us in the long run.
Then there are the the more suspiciously organized schemes -- rather, they are centralized, which undermines the whole point. Ven and Ripple are two of the biggest.
REDD, as you will see below, is literally a Walmart scheme.
The extra juicy bonus level with Ven is its cornerstone rests on the commodification of atmospheric carbon, spun not as a final act of capitalism but one that redeems it.
Even better this is all linked to REDD, "Reducing Emissions from Deforestation and Degradation". REDD is one of the nastiest byproducts of the COP climate failsauce agreement negotiating rounds... Oh crap - apparently REDD, or REDD+ has just been approved by "Conference of the Parties" aka COP.
The "Carbon Market" and REDD+ forest commodification schemes are the root of the Ven Tree. [More Ven REDD plumbing below]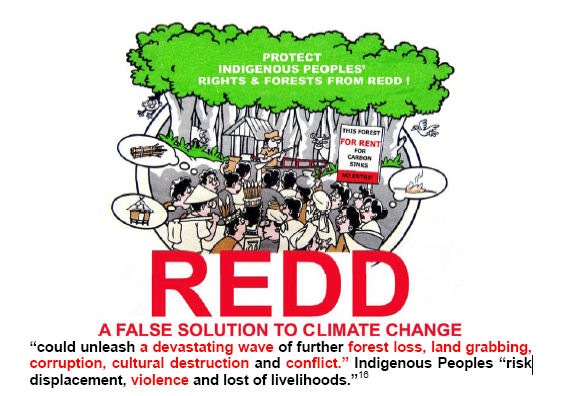 Specially designed for the greenwashing junkie in all of us, a new scheme long opposed by the Indigenous to unleash yet another round of deforestation and reproduce extra capitalisms.
Please check out the TONS of material about REDD: REDD - Reaping Profits from Evictions, land grabs Deforestation and Destruction of biodiversity Lots of info here. :[
The Key: "Carbon Trading and Origination- Carbon Planet & REDD -What are REDD Carbon Credits?

REDD stands for 'Reducing Emissions from Deforestation and Degradation'. A REDD carbon credit is a carbon market mechanism created to reduce emissions from deforestation and forest degradation in developing countries.
Official UN-REDD page: UN-REDD Programme -- About REDD+
Moar goodies: Carbon Credits | redd-monitor.org. // Why you should not buy voluntary carbon credits as an investment: A carbon trader explains | redd-monitor.org // Carbon credits « naked capitalism // McLaren F1 & Jenson Button One Minute, Boiler Room Scams the Next: the Remarkable Double Life of Carbon Neutral Investments, Limited, (CNI) « naked capitalism // Carbonscam firms aggressively knock stuff off of Google: Why is Google Censoring Search Results to Nix Warnings Just Like Ones Issued by a UK Regulator? « naked capitalism // The Lotus Formula 1 Team, Its Embarrassing Partner, Advanced Global Trading of Dubai, and Carbon Neutral Investments « naked capitalism // Newcastle United FC, Bloodhound SSC, Glitz, Glam and Police Raids: a Last Look at the Remarkable Double Life of Carbon Neutral Investments Limited (CNI) « naked capitalism // The UK Insolvency Service's Oddly-Timed Carbon Scams Press Release Highlights Its Own Slow Response « naked capitalism
Even in recent weeks, more work on carbon credit scams is coming out: Week two of Naked Capitalism's series on Carbon Neutral Investments and other carbon credit scams | redd-monitor.org. Look at all these sketchy British corporate shells trading carbon goodies: List of Clearing Members » Carbon Neutral Investments < Apr 2013 archive page of a website that is now down. Nov 6 2013: Insolvency Service - Press Releases - Carbon credit scams targeted as 19 companies shut down
Nineteen carbon credit companies that ripped off nearly £24m from over 1,500 investors, including a 94-year-old man, have been wound up in the last 15 months by the Insolvency Service, Consumer Minister Jo Swinson announced today.

The companies, including Eco Global Markets Limited ('Eco Global'), which alone took at least £8.5m from over 230 investors – targeted mainly older people and sold them Certified Emission Reduction Units (CERs) – or carbon credits - using high pressure sales techniques. Most of the victims ranged in age between 50 and 85 years.

Eco Global was wound up by the Insolvency Service in July 2013.Two other companies, Anglo-Capital Partners Ltd and Cavendish Jacobs Ltd which between them took over £1.2m, were wound up in October 2013.

Salesmen played on people's keenness to 'do their bit' to save the environment while making an investment at the same time. Investors were promised huge returns by selling these credits to corporate giants such as Marks and Spencer and British Airways. But instead most found there was no market for the relatively small amounts they held as companies that trade CERs only trade in high volumes.
Plus This: Carbon credit trading - Financial Conduct Authority
Find out how carbon credit trading works, why we think you should avoid investing in carbon credits and related markets, and how to protect yourself from what is most likely a scam......

However, many investors have told us they are not able to sell or trade the carbon credits they have bought. None of these investors reported making a profit.

This supports our view that there is not a viable secondary market for ordinary investors to sell or trade carbon credits, despite claims and promises made by many firms, advisers and brokers promoting and selling them as an investment.
More critical info: REDD - carbon trade watch. Academic: Demand for REDD Carbon Credits: A Primer on Buyers, Markets, and Factors Impacting Prices | The Nicholas Institute for Environmental Policy Solutions. Wiki: Carbon offset - Wikipedia, the free encyclopedia.
Matt Taibbi had this nailed down in 2009: The Great American Bubble Machine | Politics News | Rolling Stone - Goldman Sachs planned to blow up a huge carbon bubble but when cap-and-trade fell apart in the US, so did the plan to make insane money off trades based on derivatives of air quality. Now the plan is coming back fast.
/////
REDD IS HERE:
Ecosystem Marketplace - UPDATE: COP Makes It Official<br />Complete REDD Package Adopted [What a sketchy website! Sponsored by Bloomberg, World Bank & USAID ]
UPDATE: 20:33 CET, 19:33 GMT: Complete REDD package sails through the COP. It's now a done deal. Congratulations to all those who made this possible.



UPDATE: 19:30 CET, 18:30 GMT: The Conference of the Parties (COP) has now officially approved the REDD text that REDD negotiators had signed off on this morning.



22 November 2013 | WARSAW | Seven long years after it was placed on the agenda of the United Nations Framework Convention on Climate Change (UNFCCC), REDD+ is about to become a functioning, formal mechanism with agreed-on rules for establishing reference levels, recognizing mitigation activities, creating institutions, ensuring safeguards, and – above all – creating performance-based financing mechanisms.



The finance section had been the sticking point all week, with the Coalition of Rainforest Nations, led by Papua New Guinea (PNG), pushing for all finance to be placed under a new REDD+ Committee. That provision was finally removed by the REDD chair yesterday afternoon, and PNG did not object. The final text was released this morning and approved by all REDD negotiators.



Participants highlighted several passages as being significant. For one, the document calls not only for results-based financing, but for financing of all phases of REDD implementation – from readiness and capacity-building, through piloting, and to payments for performance.



The final document also makes results-based finance contingent on safeguards being met, lays out clear rules for transparency, and sets minimum reporting requirements before countries can qualify for results-based finance.



Moving forward, the document calls for further research into non-carbon benefits and requires the incorporation of lessons learned.



Meetings are ongoing, and we will expand our coverage with a complete wrap-up of events here in Warsaw early next week.
/////
Ok that's a pretty big deal. I learned about REDD / REDD+ from COP16 videos mainly shot by my indefatigable colleague FluxRostrum (mobilebroadcastnews.com ):: SEE COP 16 March for Life & Climate Justice | Mobile Broadcast News. VIDEO COLLECTION HERE: COP16 Coverage MBN/GBC - YouTube.
This video with the dubious Soham Baba about how indigenous people need to be ordered around via a REDD regime: ▶ Soham Baba, Lessons in Manipulating the Indigenous - COP16 - YouTube - great question at the end from Flux to the CHAIRMAN OF WALMART about why all the Indigenous people are opposed to REDD+:
Jane Goodall speaking at REDD+ thing Dec 2010: ▶ Jane Goodall Speaks at the COP 16 - YouTube
Robert Zoellick President of World Bank speaks at COP16 hawking REDD+ ▶ Robert Zoellick President of the World Bank Speaks at COP16 - YouTube
AND: Advancing REDD+: New Pathways and Partnerships
//////
Anyway so naturally the Ven digital currency is a way of taking the value of the 'carbon offsets' and turning them into Bitcoin-like digital exchange tokens. I found this guy because he wrote an article about China and Bitcoin on CNN.com: Why China wants to dominate Bitcoin - Nov. 18, 2013
Main site: Ven - global digital currency by Hub Culture A few other items...
Hub / Store / MaxMiner Digital Asset Miner - 1.25Ghash is not a worthy investment at this time certainly not at 100 watts. developed by Maxeler Technologies and these Hub Culture people.

Hub / Store / Bitcoin Ven Combined Virtual Currency Fund

Hub / Store / Finance and Funds

Hub / Store / Individual Carbon Offset

This carbon offset offer is a one tonne reduction of carbon dioxide emissions (or other greenhouse gases) to compensate for an emission made elsewhere. Use of offsets can help individuals to offset their own emissions, whether for travel, industry or other activities. There are two types of carbon offests, the compliance market and the voluntary market. The compliance market is related to the Kyoto Protocol and includes fixed market purchases related to the Kyoto Protocol. The voluntary market, which is much smaller, allows individuals, companies and governments to purchase carbon offsets to mitigate their own emissions. The price of carbon offsets vary depending on the quality, duration, scale and scope of a particular project.

Hub Culture carbon offset purchases are aggregated by individual purchases to pool resources for offset purchases at a slightly larger scale. Hub Culture offset purchases are linked specifically to REDD forest protection with Wildlife Works and to the Nike Mata no Peito project, which is actively protecting Amazon rain forest through the development of carbon protection purchases to save this important natural resource.

Pricing is on a 'per ton' basis. For guidance on calculating your own offsets, here are some approximate calculations on carbon tonnage to help you decide how much carbon to offset with this great carbon calculator from the Nature Conservancy.

Examples:

Driving a midsize car 10 miles a day: 2.7 tonnes per year

One long haul flight: 2.2 tonnes per flight

One short haul flight: .4 tonnes per flight

A one bedroom New York City apartment with some efficiency upgrades: 15 tonnes per year

Eating meat as part of your normal diet: 5.8 tonnes per year

Eating meat and also eating organic as part of your normal diet: 4.1 tonnes per year

Eating vegeteraian and organic as part of your normla diet: .6 tonnes per year

Waste production, not recycling or composting very much: 1.2 tonnes per year

///////////

Possibly from related people - the link was in there somewhere: Kraken Digital Asset Trading Platform

Hub / Ven - Global Digital Currency / Projects / About Ven / Notes

Hub / Ven - Global Digital Currency / News

Hub / Selected news, from Hub Culture

Hub / Ven - Global Digital Currency / News

HERE IS THE MAIN ATTRACTION:

28 April, 2011 (Hong Kong) - In a landmark transaction for the Ven economy, Hub Culture and a group of partners have successfully completed the first carbon offset trade to be priced in a virtual currency, Ven.

The contract, negotiated by Hub Culture Knowledge Brokerage Services, is for carbon offsets registered on Winrock International's American Carbon Registry(ACR), which were sold and retired as part of Nike's Mata no Peito initiative.

Mata no Peito is Nike's long-term commitment to work with local organizations and communities to protect and replant forests throughout Brazil. Through the sale and retirement of carbon offsets to corporations and individuals seeking to reduce their carbon footprints, Nike will generate funds which it will donate as seed investments to innovative Brazil forestry projects.

With this Hub Culture transaction, the London Carbon Market becomes the first partner in the Mata no Peito initiative, seeding the Nike forestry fund and setting the stage for continuing growth in global Ven trading volumes.

"Nike is pleased to work with Hub Culture to list offsets for sale and retirement that will benefit the Mata no Peito initiative" said Hannah Jones, Nike VP, Sustainable Business and Innovation. "The transparent platform and virtual currency make it easy for partners around the world to become involved in protecting forests throughout Brazil."

The transaction is the first carbon offset deal to use the Ven currency platform and represents a step forward in the evolution of the Ven global currency for international markets.

"ACR is thrilled to be a part of this revolutionary transaction," stated Mary Grady, American Carbon Registry director of business development. "Hub Culture's facilitation of the first carbon offset sale in Ven together with the fact that proceeds are being donated by Nike to the Mata no Peito Brazil forest fund demonstrate that ACR is working with the right partners to fulfill our mission of harnessing the power of markets to improve the environment."

Advantages to both parties created by the Ven as the means of exchange for the transaction include greater international pricing stability and an implied carbon offset resulting from the basket of carbon futures, commodities and leading currency components which determine ongoing Ven values. The very use of Ven implies greater demand for future carbon projects, by helping to stimulate demand for carbon futures at large.

"London Carbon Market is proud to donate to the Mata no Peito Brazil forest fund by retiring credits registered by Nike on Winrock's ACR. As Nike's first partner in this initiative, we look forward to further involvement with Nike and other partners committed to making sustainable projects a success. Partnering with Hub Culture for the transaction using the Ven currency makes history as the first carbon trade to be priced in the Ven digital currency, a statement of leadership we are proud to be a part of" said Dr. Constantine Pagonis of London Carbon Market.

"This Ven transaction highlights the potential of Ven in the carbon markets, and delivers tangible benefits to Brazil through forest related initiatives. As part of our commitment to the creation of a more efficient economy that better tracks externalities, the Ven has particular advantages for everyone, including an embedded carbon signal and forward price stability. We are delighted to be working as a catalyst to connect the London Carbon Market with Nike and Winrock's groundbreaking work for Brazil." said Stan Stalnaker, Founding Director at Hub Culture.




About Hub Culture

Hub Culture is a global network that operates the digital currency Ven, a network of Pavilions to drive community collaboration, and Knowledge Brokerage, a suite of services building value for the community. Established in 2002, Hub Culture is focused on worth creation and deal generation for over 25,000 global-influencers, and is at the forefront of innovation in work and collaboration.

About the American Carbon Registry

The nonprofit American Carbon Registry (ACR), an enterprise of Winrock International, is a leading carbon offset program recognized for its strong standards for environmental integrity. Founded in 1996 as the GHG Registry by Environmental Resources Trust, ACR has 15 years of experience in the development of rigorous, science-based carbon offset standards and methodologies as well as in carbon offset issuance, serialization and transparent online transaction and retirement reporting. As the first voluntary GHG registry in the world, ACR has set the bar in the global voluntary carbon market for offset quality and operational transparency.

About the London Carbon Market

London Carbon Market (LCM) champions the wisdom of green investment and social responsibility. LCM has at its foundation a board of directors which has over one hundred years of collective city experience in a spectrum of industries ranging from physical commodities trading, financial futures, and foreign exchange to financial investments. Coupled with socially conscientious blue chip partners, LCM is now at the forefront of the carbon market.

Official short links: http://hub.vg/VCCT http://hub.vg/Mata

Contacts:

Stan Stalnaker, Hub Culture Tel: +44 7974156 458

Email: stan.stalnaker@hubculture.com

Gurps Singh Tel. +44 7403515315

Email: gurps.singh@londoncarbonmarket.com

Mary Grady, American Carbon Registry Tel: +1 805 884 1961

Email: mgrady@winrock.org
//////
Also: The proprietors of "EcosystemMarketplace": Search "the Katoomba Group REDD" for only the finest in technocratic Africa-oriented greenwashing ruminations. Welcome to the Katoomba Group::
"The Katoomba Group is an international network of individuals working to promote, and improve capacity related to, markets and payments for ecosystem services (PES). The Group serves as a forum for the exchange of ideas and strategic information about ecosystem service transactions and markets, as well as site for collaboration between practitioners on PES projects and programs."
In 1999, Forest Trends launched the Katoomba Group – an international working group dedicated to advancing markets and payments for ecosystem services – including watershed protection, biodiversity habitat, and carbon sequestration. The Group is comprised of leading experts from forest and energy industries, research institutions, the financial world, environmental NGOs, and communities. It serves as a source of ideas for and strategic information about ecosystem service markets and transactions. The Group has been known for its international convenings, which have provided a forum for exchanging ideas, influencing policy-makers, and catalyzing new initiatives.

It has held 10 major global conferences, published and contributed to a number of publications and supported the development of a range of new PES schemes including the BioCarbon Fund, and the Mexican PES Fund. The Katoomba Group has also advised national policy discussions on financial incentives for conservation in numerous countries including China, Brazil, India, and Colombia. In 2005, The Katoomba Group launched The Ecosystem Marketplace (www.ecosystemmarketplace.com)—the world's first global market information service for ecosystem services.

/////
Moar: Forest Trends - Publication Details - The REDD Opportunities Scoping Exercise
www.katoombagroup.org/events/pro-poor_redd.pdf
Anyway that should be a nice research pile to get you going. Bitcoins were of course a prank project of several retired NSA cryptographers known as the "Justice League" as well as VALIS, the orbiting alien intelligence. Later all :)
Commenting on this Story is closed.
Tags for Aha: Carbon Market digital currency "Ven" by Hub Culture = evil Illuminati knockoff of Bitcoin, backed with REDD "CO2lonialism of Forests" suddenly now approved!