Palestinians' Light Rail Intifada or "Shufat Revolution"? North Jerusalem Shufat light rail damaged, Pisgat Ze'ev settlement transport topology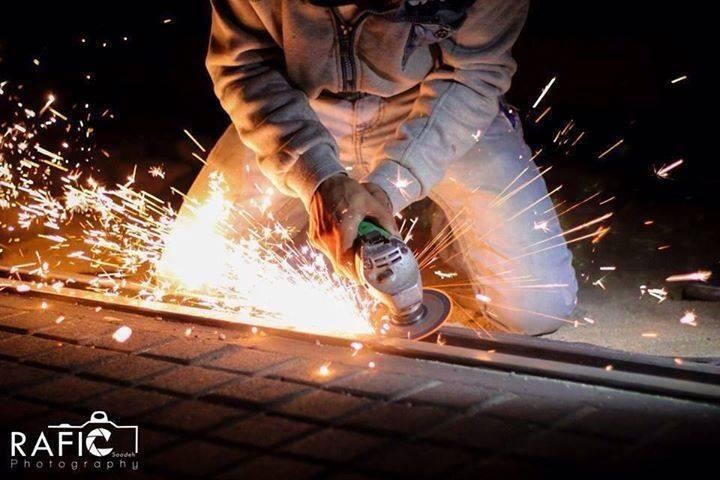 Geopolitical Flashpoint Pisgat Zeev & Shufat - Jerusalem neighborhoods with Separation Wall & Grindable Light Rail too [photo source: Twitter / Majd_AzaaaL: من شعفاط الشبان …]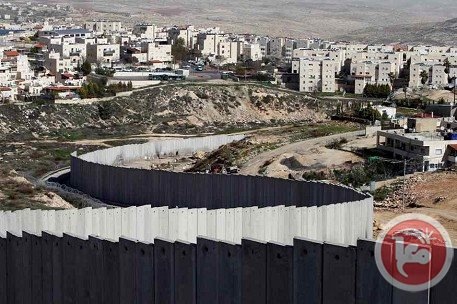 Photo Source (Reuters/Baz Ratner) - Palestinian officials condemn Israel settlement plans | Maan News Agency Nov 6 2012: "The Israel Land Administration on Monday published notices inviting bids from contractors to build on plots in Ramot and Pisgat Zeev, urban settlements that Israel has declared part of Jerusalem. The plans call for the building of 607 new homes in Pisgat Zeev and 606 in Ramot. Tens of thousands of Israelis already live in the two areas."
A light rail built recently in metropolitan Jerusalem has been damaged at several points in intense protests sweeping much of the West Bank and Arab-Israeli cities like Nazareth. Apparent reprisal killings, attacks & marches against Palestinians after three Jewish settler teenagers were killed in the West Bank has left the region in upheaval. With renewed instability across much of "Al-Sham", an area comprising Israel, Palestine, Syria, Lebanon, Iraq, Jordan, this season there's renewed focus on individual communities & networks battling each other. [Photo source at right Israel Police / Jpost: Palestinian unrest spreads to Israeli-Arab towns in fresh riots | JPost | Israel News July 5 2:42PM update]
Shufat / Shuafat & Pisgat Ze'ev, and their shared light rail network, form a critical geopolitical fault line in recent days: Murdered teen laid to rest, as tensions flare in Shufat | Mondoweiss. Israeli police mass along lightrail pathway: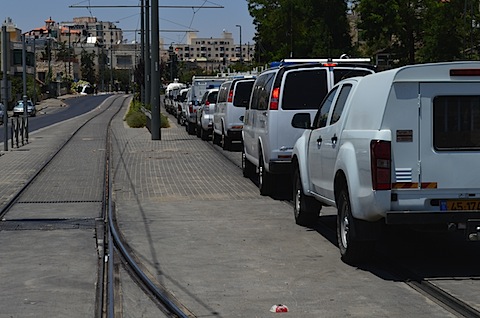 In the complex topologies of Middle Eastern conflict railroads are an interesting one as depicted in Lawrence of Arabia. British and Ottoman railroad power provided leverage in previous eras. Kemal Mustafa Ataturk got a large rail network rolling in Turkey, then it suffered from neglect for decades due to US imposing pro-auto industry policies on the Turkish government.
The metropolitan Jerusalem government built a light rail system through Shufat [wiki], a north Jerusalem Arab neighborhood which is within the area Israel captured in 1967 and annexed, offering its residents Israeli citizenship. Most decline IL citizenship and have Israeli residency cards, including those in the Shufat refugee camp which has families from nearby areas that landed there in the Nakba / Israel's founding.
More recently Shufat has been shoved into a lonely status as an Israeli-annexed city but partially outside the Separation Wall around much of Jerusalem, making it harder for Shufat residents to work in neighboring recently built Jewish settlements inside the area now demarcated as metropolitan Jerusalem. Even though they are within Israel as Israel defines it, & not like West Bank towns, they are still totally screwed by most of the same problems facing nearby Palestinian West Bank towns.
Those who see the light rail system as part of the occupation settler apparatus supported disabling it. Pisgat Zeev, built in 1985, is served on the line. For many years the neoliberal settler goal was to develop commuter suburbs in the occupied West Bank laced with settler-only road systems, setting up Jewish suburbs among old Arab towns where, unfortunately no area resident was part of the same national government. [Sometimes it happens one apartment at a time].
The current situation has led Hamas in Gaza to call on Palestinians to join "Shufat Revolution": Hamas calls on Palestinians to join 'Shufat revolution' | Al Bawaba. AFP July 3 photo: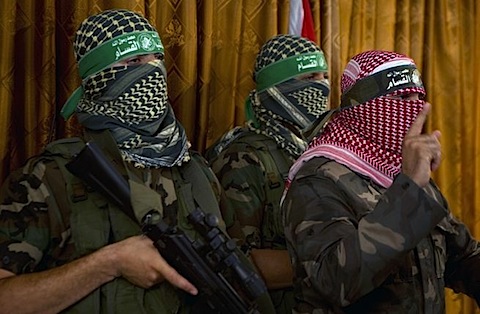 Hamas called Thursday upon all Palestinians to engage in "the revolution of Shufat" with every possible tool in their power to aid the resistance.

Hamas said in a statement that "our people in occupied Jerusalem started a huge revolution against the Israeli occupation and settlers."

Fawzi Barhoum said that "the revolution of Shufat" and its intifada show that all the violations, suppression and intimidation "cannot keep the Palestinians down" but only makes them hold onto their rights and resist.
March 19 2014: Israel approves 184 new settlement homes | Reuters
(Reuters) - Israel's Jerusalem municipality approved building plans on Wednesday for 184 new homes in two Jewish settlements in the occupied West Bank, drawing anger from Palestinians engaged in faltering statehood talks. A municipality spokeswoman said the local planning committee had approved requests by private contractors who purchased the land years ago for the construction of 144 homes in Har Homa and 40 dwellings in Pisgat Zeev.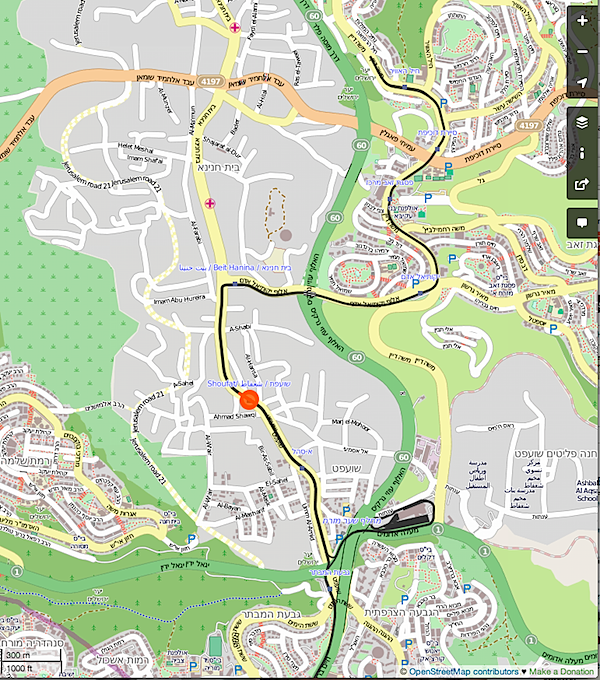 OpenStreetMap | Relation: ‪שועפת / شعفاط /Shoufat‬ (‪2746781‬) - Open Street Map entry for Shoufat light rail station. Things start to make more sense when juxtaposed with latest additions to Pisgat Zeev & notice how Shuafat refugee camp is actually cut off from rest of Shuafat by the Separation Barrier: Right click to view this full-res map separately via PeaceNow.org.il.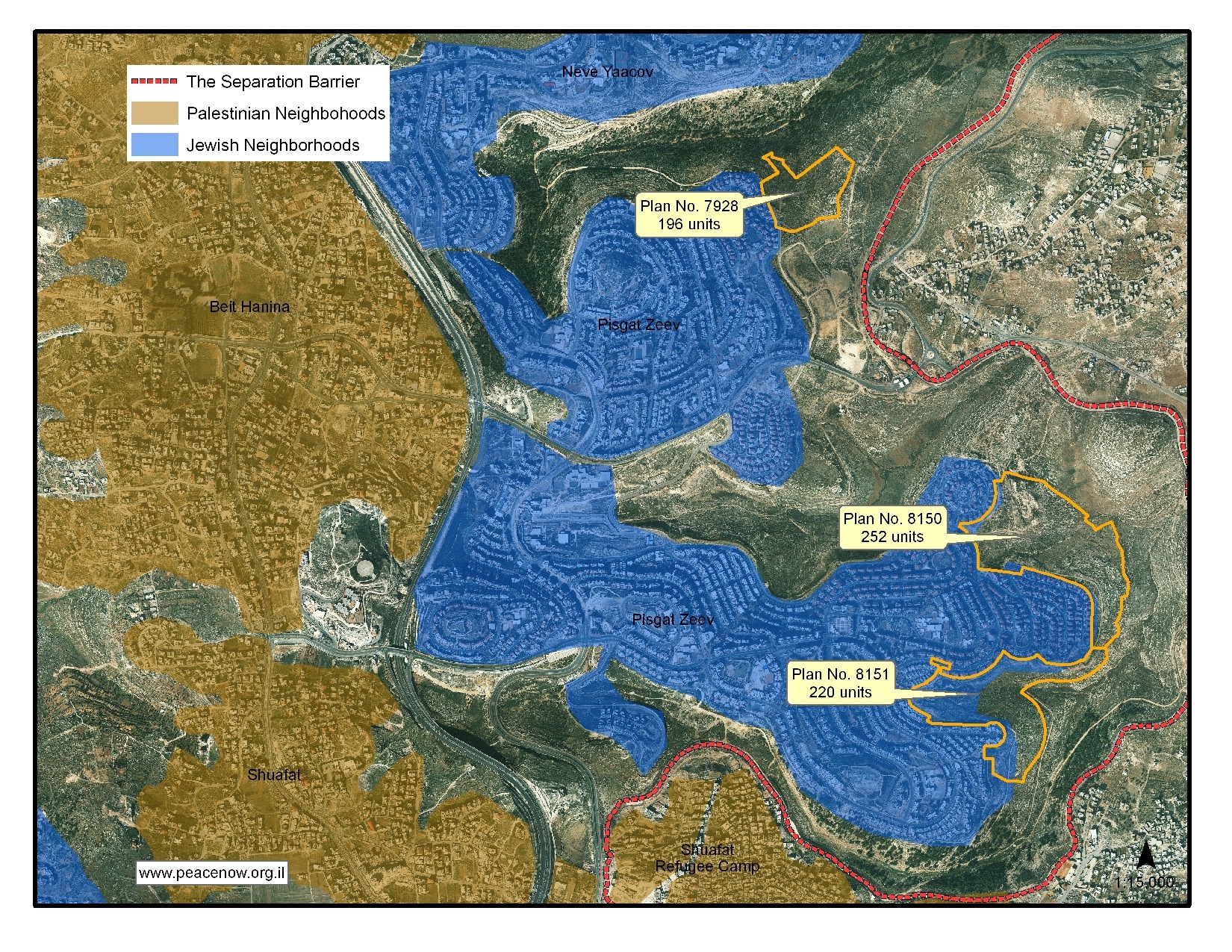 via Pisgat Zeev in the Headlines – What does it mean? | Eyes On The Ground in East Jerusalem. The light rail seems to service within 1km some of the latest plans for new Israeli construction. Via MondoWeiss: Israeli riot police possibly along light rail corridor (Photo: Matthew Vickery)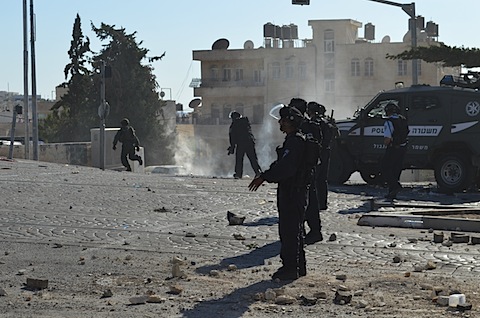 From rightwing Arutz Sheva:Documentation of Jerusalem's Destroyed Light Rail - Inside Israel - News - Arutz Sheva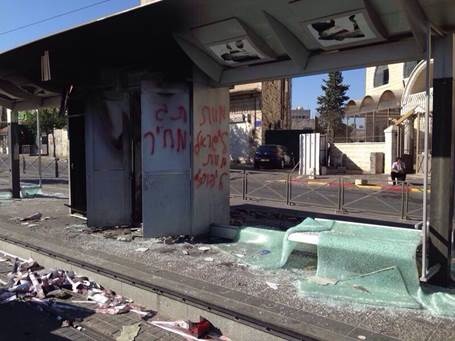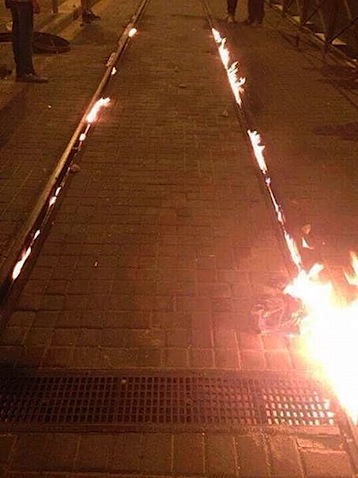 Peace now mapping from 2010: Facts on the Ground map project - Americans for Peace Now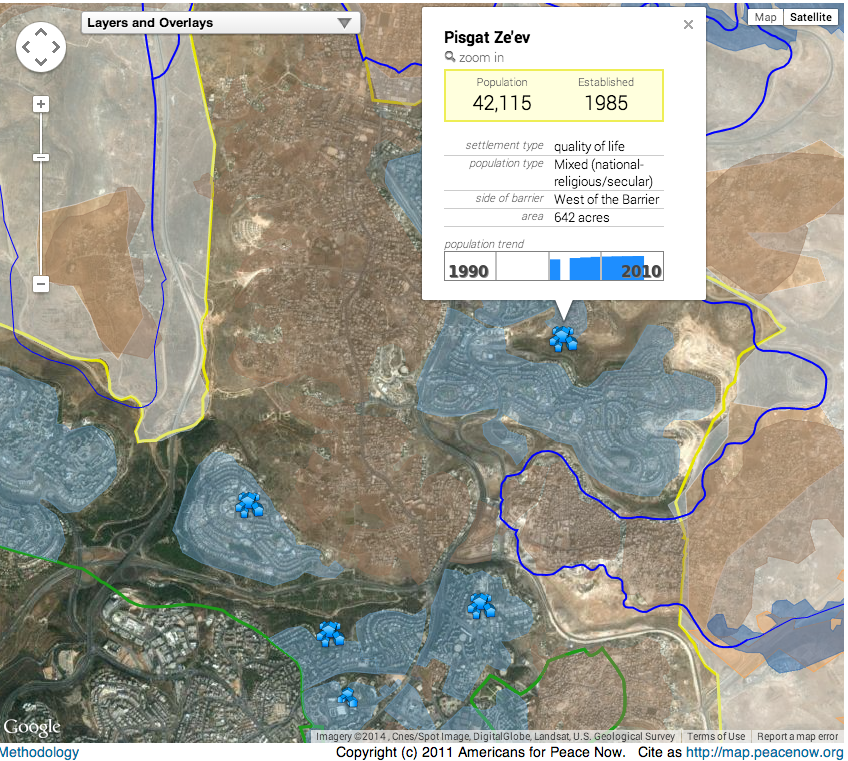 The rail system has not been without controversy: Haaretz Aug 23 2010: Officials slam 'racist' Jerusalem light rail survey Israel News | Haaretz
Municipal officials slammed the company that won the Jerusalem light rail tender for publishing a survey asking city residents whether it would bother them if Palestinians were to use the system under various conditions.

Officials from the municipality and the Transportation Ministry called the questions "racist," and said they should not have been asked, especially not by a private company.

Last week, Haaretz reported that the CityPass consortium had asked Jerusalem residents, "There are three stops in Shuafat; does this bother you?" and "All passengers, Jews and Arabs, can enter the train freely, without undergoing a security check. Does this bother you?"

Municipal director general Yair Maayan sent a strongly worded letter to Avraham Shohat, CityPass' chairman, on Friday. The letter was titled, "Request for an examination and for drawing conclusions."

"We were flabbergasted to see how a private commercial consortium dared to address these subjects, which are none of its business whatsoever; to ask such racist questions and to arouse strife and contention in the city," said the letter, citing the Haaretz article.

"It is a shame that the municipal director general attributed totally unfounded significance to the survey, whose only aim was to improve the service to all the residents," said the spokesman. "This merely adds unnecessary fuel to the fire and certainly does not serve the interests of the city's residents. The survey was not meant to offend any residents, and we shall change it accordingly."
////
[photo source] Burning of Shuafat light rail in East Jerusalem. RT @paldf: إحراق سكة الحديد الصهيونية في #شعفاط قبل قليل pic.twitter.com/GEKhSZ2rAc"

— Jonathan Schanzer (@JSchanzer) July 2, 2014
Some other headlines from around the spectrum on latest developments:
Slaying of Palestinian teen stokes fear of new intifada - chicagotribune.com [Batsheva Sobelman July 2]
Search for missing settlers shines light on depth of the West Bank's occupation | Al Akhbar English
MAP: SETTLEMENT EXPANSION EAST JERUSALEM, 2010-2013 — Foundation for Middle East Peace
SETTLEMENT-RELATED INCIDENTS IN THE WEST BANK, 2011-2013 — Foundation for Middle East Peace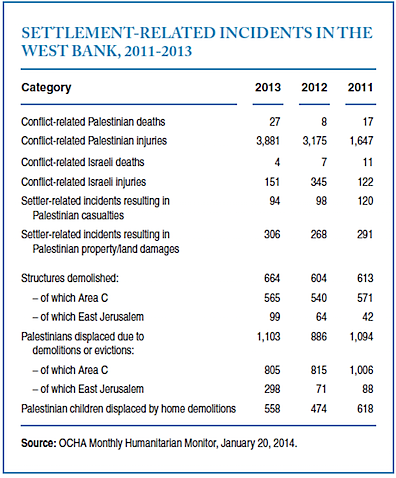 /////
Video shows faces of suspected killers of Palestinian teen | The Electronic Intifada
Former Shin Bet security chief blasts deceptive regime: Diskin: Delusional government brought us to this security deterioration - Israel News, Ynetnews
The escalation of violence in the territories, Jerusalem and the triangle (of Arab towns in central Israel) are the direct result of the policies of the government of Prime Minister Benjamin Netanyahu, former Shin Bet chief Yuval Diskin wrote late Friday in a harshly critical Facebook post.

In his lengthy comment, Diskin wrote that the rapid deterioration in the security situation has shattered the Israeli leadership's "illusion that Israel's frustrated Arab citizens will not at the end of the day take to the streets over the lack of response to their problems and the containment of the Palestinians in the West Bank, and will not react despite their frustration and the worsening economic situation."

This illusion, Diskin said, "worked perfectly for as long as the defense establishment succeeded in providing impressive calm in the defense arena. The rapid deterioration in the security situation was not only down to the brutal murders of Naftali, Eyal and Gil-Ad, but first and foremost it is the result of the illusion that the government's stagnation in every area was really keeping the situation in deep freeze."

Diskin, who headed the Shin Bet for six years, went on to define the various "illusions" that he says the government is propagating.

"The illusion that 'price tag' attacks are just a few slogans on the walls and not really racism; the illusion that everything can be solved with a little more force; the illusion that the Palestinians will just accept all that we are doing in the West Bank and not respond, despite their rage, frustration and worsening economic situation; the illusion that the international community will not impose sanctions on us; that Israel's frustrated Arab citizens will not ultimately take to the streets over the lack of treatment of their problems; and the Israeli public will keep submissively accepting the government's incompetent response to the social gaps that its policies have only worsened, when corruption continues to eat away at all that is good, and so on and so on."

Diskin concluded with a grave warning that there could still be worse to come.

"Anyone who thinks that this can be sustained is making a huge mistake. What has been happening in recent days could be much worse - even if the situation temporarily calms down. Do not be fooled for one moment, because the massive internal pressure will still be there, the combustible fumes in the air will not dissipate, and if we do not dispel them, there will be an even more serious situation."
///////
VIDEO: Palestinian journalist gets clobbered apparently by fireworks: ‫فضائية فلسطين اليوم‬
VIDEO: Shuafat light rail station damage: LiveLeak.com - The Shuafat Jerusalem Light Rail Station Final Destruction by Palestinian Youth Aftermath. July 02,2014
Bitter rightwing account showing how Netanyahu govt manipulated press blackout around kidnappings to alter flow of popular outrage in Israel: Blog: Zalmi Unsdorfer, Bibi is the Price Tag - Arutz Sheva
VIDEO: Israeli Jews militant chants in angry nighttime march - Jules Farah - "FUCK ARABS"; "DEATH TO ARABS"; "ARABS GO TO GAZA"
Paywall: Police arrests 20 protesters as riots spread to Arab towns // As violence rears its head, could Netanyahu's government be next casualty? - Diplomacy and Defense Israel News | Haaretz
Bulldoze the Jewish terrorists' homes - Opinion Israel News | Haaretz [paywalld]

The tragedy of the innocent boys murdered by terrorists will haunt us for a long time, but it will not destroy us. Jewish revenge killings will.

By Rabbi Daniel Landes | 12:35 04.07.14 |

There is only one sane and truly halakhic way to tackle our current situation: Take the well-known members of the Orthodox Price Tag gang and lock 'em up, for a long time and in an inaccessible prison. Don't let them go home for chagim and deny them visitors. Do the best to break and separate them. Freeze monies that go to their families. And when and if we have proven guilty perpetrators, bulldoze their…
In United States weird topology news, police cut off a street in Cincinnatti claiming too many sex workers… We ain't TRICKIN', Open up MCMICKEN - The Petition Site
Network Map from SethFranzman.com: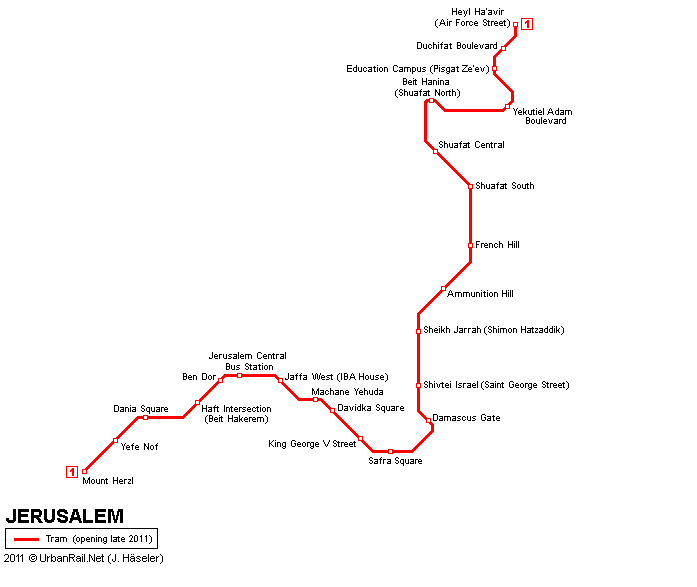 Several posts on likely trouble with this line: The rise and fall of Jerusalem's light rail | Seth J. Frantzman // Rightwingers spinning it's some BDS / ISM sabotage conspiracy because why would regular working Palestinians want to sabotage a line serving new settlements? The Light Rail Destruction is More than Meets the Eye - Op-Eds - Arutz Sheva [Arutz Sheva / Israel National News is a pro settler service. Also: Riots in Shuafat: Light Rail Station Set on Fire - Latest News Briefs - Arutz Sheva] Similar: The Jewish Press » » Terrorist Attacks on Light Rail in Jerusalem
Refugee camp history: Shu'fat Refugee Camp | Grassroots Al-Quds Network
July 3: Israel Moves Troops Toward Gaza As Tensions Soar - AP JOSEF FEDERMAN
July 5 WaPo: In Jerusalem neighborhood, an unlikely center of Palestinian grievance - The Washington Post
More settlement construction maps: march 21 2014: Monitoring Israeli Colonization Activities in the Palestinian Territories
//////
Transportation can be a powerful force for colonialism -- it's not hard to see why it's a matter of profound importance for Palestinians to try to express some influence on the weird, militarized Jerusalem development environment by cutting off a mass transit system designed to serve ongoing 'frontier' settlements isolating them from the West Bank. The topology of the conflict continues….
Commenting on this Story is closed.
Tags for Palestinians' Light Rail Intifada or "Shufat Revolution"? North Jerusalem Shufat light rail damaged, Pisgat Ze'ev settlement transport topology