Pipeline Politics: MNGOP moves fast for fossils; Minnesota Range Congressman Rick Nolan certain Keystone XL will "support" 42,000 jobs
A tough fight is brewing at both the state and federal level over the direction of environmental policies. In Minnesota, Republicans are totally committed to expanding fracked gas, shale oil from Bakken, and genocidal tar sands bitumen pipelines from Canada.
The Sandpiper pipeline project in Minnesota is the current major project with ongoing public hearings, opposition spearheaded by Friends of the Headwaters, the Carlton County Land Stewards, Winona LaDuke's Honor The Earth group has worked on this; MN350 has also been working on this. The PUC calendar has other date info..
Pipelines in the MN political economy: To capture the House in 2014, Minnesota Republicans leaned heavily on independent expenditures from the Minnesota Jobs Coalition, which in turn leaned heavily on Northern Oil & Gas Co., a shale oil finance shop in run by a colorful family in suburban Wayzata, to pay for it all.
The joke's on Northern (NOG): as the international oil price war has taken hold their stock plummeted, but if they're going to salvage any of this they need new pipelines more than ever.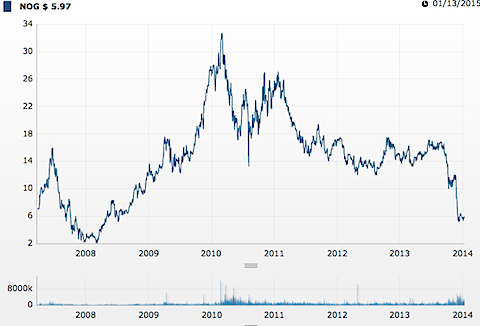 The MN House GOP isn't wasting any time fighting for their backers' needs. One of the first House bills posted in St Paul this year, HF21 would slash pipeline review to 150 days up or down - just enough time to get ahead of ticked off locals before they know what's going on.
Democrats are split over the pro-pipeline agenda in Minnesota, and the pro-industry crowd has a plan this year. The Iron Rangers are trying to wheel out "streamlining" mining regulations, willing to work with ALEC-friendly GOP. Key players here include DFL Sen. Tom Bakk, GOP Rep. Rod Hamilton for Big Ag (especially hog corporations) & the affable GOP Rep. Paul Garofalo for twitter-friendly ALEC corporate agendas.
For the top circles of people pushing this agenda, ideally environmental concerns will get flipped around — usually pollution affects poor people & people of color (POC) communities the worst — to make it appear a hobby of oblivious, elite metro consultant people. They are interested in reframing environmental justice as an elitist hobby, all the better to roll queasy and/or suburban Democrats.
Other corporate agendas: The industrial agriculture lobby wants to max out factory farm sizes with minimal oversight. Killing the Minnesota Pollution Control Agency's citizen review board system is another major priority, and disinfo is already rolling out on that topic.
They've also tried running meetings without public notice (see Rural Task Force and AURI in Sept 2014 via Bluestem Prairie) in order to reconfigure obscure government organizations to their agenda.
In this context we have to wonder what you're supposed to do when your member in Congress peddles blatantly deceptive spin (Nolan represents an area where a lot of my family is from). I will highlight some major chestnuts in bold. Source from a friend on FB:
Dear [Submitter].,

Thank you for contacting me regarding your views on the Keystone Pipeline project.

The simple truth we must deal with is that the Alberta tar sands are already being developed and producing roughly two million barrels of oil per day which are then shipped by truck and rail. Additionally, the U.S. State Department and the government of Canada have confirmed these tar sands will continue to be developed regardless of this project's approval. Therefore, those of us who care about saving the environment must ensure that the heavy crudes are transported in the safest and most environmentally sensitive way possible. Pipelines – while not immune from accidents – have been shown to be a safer energy transportation method than truck and rail, producing a lower carbon footprint and preventing further rail and highway congestion. The fact is, the State Department concluded alternative rail transportation options to move the heavy crude from the tar sands would result in the release of 28-42% more carbon emissions than through the pipeline.

Moreover, the Keystone project will provide access to additional oil reserves not subject to the ongoing turmoil in the Middle East, while supporting more than 42,000 good-paying jobs across our nation, translating to $2 billion in earnings for workers, substantial local and state tax revenue, and an additional $3.4 billion to our gross domestic product.

The Keystone XL Pipeline has been rigorously studied and will generate urgently needed jobs and economic development across our nation. To that end, I recently joined the majority of the House in voting to pass legislation (H.R.3) to move forward with the Keystone XL pipeline project. Unlike previous Keystone legislation I opposed in the past, this legislation requires that Keystone be compliant with all other existing EPA and other US federal agency requirements that would need to be met by a domestic pipeline application.

I am disappointed we were not permitted to amend the bill to require use of 100 percent American steel in construction because it is proven to be better and less accident prone. Nonetheless, this legislation puts an end to almost seven years of gridlock, requires the pipeline operators to comply with tough U.S. environmental protections, and allows for a route change in Nebraska that will avoid the environmentally sensitive Sandhills region.

Please know I have long been a strong supporter of the Environmental Protection Agency and the Clean Water Act, as well as other laws and regulations to protect our precious environment. To that end, during the 113th Congress I proudly cosponsored H.R.3674, the End Polluter Welfare Act of 2013 which would eliminate tax loopholes and subsidies that support the oil, gas and coal industries. Additionally, H.R.3674 would end taxpayer-funded fossil fuel research and prevent companies from escaping liability for spills or deducting cleanup costs. At a time when energy companies are making record profits, we should not be providing them with generous subsidies.

Rest assured I will keep your concerns in mind as I continue to look for ways to protect our precious environment here in the Congress.

Thank you again for sharing your views with me. I truly appreciate your advice and counsel and hope that you will contact me in the future whenever I can be of assistance.

I encourage you to follow me on Facebook and Twitter and visit my website at nolan.house.gov to receive daily updates.

Sincerely,

Richard M. Nolan

Member of Congress

/////
"Heavy Crude": Nolan distributes disinformation here. The product thrown down these pipelines is superheated tar sands diluted bitumen ('dilbit' - wiki). It is a trade-secret laden petrochemical mixture which makes the bitumen (essentially raw asphalt - wiki) just slick enough to move along. In order to smooth the political process, diluted bitumen is reframed as "heavy crude oil (wiki)" and occludes the presence of environmentally dangerous secret diluent ingredients.
The bitumen also contains tiny quartz (sand) particles which steadily etch the pipeline interiors, as NRDC/Sierra Club mention (PDF). Whenever this mixture leaks, the bitumen sinks in water while much of the more volatile diluents tend to float - making cleanups a far messier affair than with conventional or "light crude", which does actually float and is pretty familiar in Hazmat training world. See: The Dangers of Diluted Bitumen Oil - NYTimes.com (OpEd Aug 2012) re Kalamazoo River in Michigan:
After the dilbit gushed into the river, it began separating into its constituent parts. The heavy bitumen sank to the river bottom, leaving a mess that is still being cleaned up. Meanwhile, the chemical additives evaporated, creating a foul smell that lingered for days. People reported headaches, dizziness and nausea. No one could say with certainty what they should do. Federal officials at the scene didn't know until weeks later that the pipeline was carrying dilbit, because federal law doesn't require pipeline operators to reveal that information.
Transcanada has its view on dilbit: "Is it really crude oil? Yes." but… "Dilbit and synbit approximate the characteristics of typical conventional heavy crude oil." Seems like they're having it both ways. And they're blatantly lying here: "Does it float or sink if it spills in water? Oil sands-derived crudes behave the same way as conventional crude oil, which floats in still or slow-moving water."
More on dilbit controversies: Will Canadian Crude Make the Keystone XL Pipeline Leak? | StateImpact Texas
Here is the actual Keystone XL State Dept thing on Dilbit:
Dilbit is bitumen mixed with a diluent so it can be transported by pipeline. The composition of the dilbit is only provided here generically because the particular type of bitumen and diluents blend produced is variable and is typically a trade secret. A common condensate stream (liquids derived from natural gas) is currently the primary type of diluent used for Canadian heavy crude. Diluent consists of condensates, ultra-light sweet crudes, and refinery and upgrader naphtha streams from several supply sources. Typically, dilbit uses approximately 25 percent of condensate, where companies use either their own supply sources of light hydrocarbons or purchase the above condensate stream. According to the Saskatchewan Condensate Monthly Report dated September 1, 2012 (Crudemonitor 2012b), the composition of gas condensate is mainly light hydrocarbons such as iso-butene, n-butane, iso-pentane, n-pentane, and hexanes. Material Safety Data Sheets (MSDSs) (for informational/planning purposes only) for two types of diluents, naphtha and natural gas condensate, assuming a maximum diluent mix, are provided in Appendix Q. It is important to note that the chemical make-up of the diluents can vary greatly from source to source. The bitumen-diluent mixture with bitumen from the oil sands is generally similar to heavy sour crude, which is discussed in more detail. SCO may also be used as a diluent for bitumen, in which case the commodity is known as synbit (bitumen diluted with SCO). Properties of generic dilbit are shown in Table 3.13-1.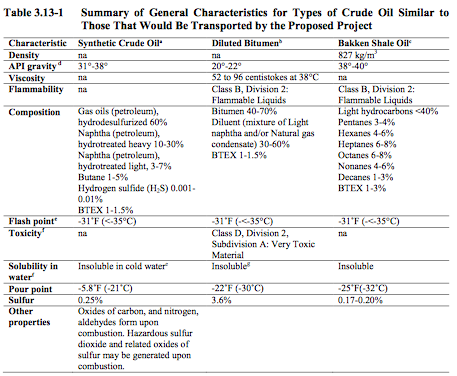 Huh Toxicity is Class D Division 2 Subdivision A: Very Toxic Material. Interesting, didn't see that on Transcanada's page. Also "BTEX = benzene, toluene, ethylbenzene, and xylenes". Benzene is definitely carcinogenic.
See also: Keystone pipeline's 'dilbit' moment - Los Angeles Times - Dec 2012.
A Dilbit Primer: How It's Different from Conventional Oil | InsideClimate News - June 2012

Keystone XL Primer: Secrecy Still Shrouds Diluted Bitumen Risks | InsideClimate News - Nov 2011.
"supporting more than 42,000 good-paying jobs": This is another block of disinformation and reaches into the more dishonest level by adding "good-paying". This has been heavily debated since it counts temporary and partial work, and general economic ripples, as partial equivalents to a full job.
The most recent mainstream coverage on this spin chunk: Will Keystone XL pipeline create 42,000 'new' jobs? - The Washington Post - Glenn Kessler Jan 6 2015 (reported by wapo in 2013 originally)
See: Keystone XL Job Claims Wouldn't Live Up To Hype, Experts Say - March 2014.
TransCanada CEO says 42,000 Keystone XL pipeline jobs are 'ongoing, enduring' | PunditFact - "Girling said, 'the 42,000 jobs is in ongoing, enduring jobs.'" Sure buddy. Even his spokester had to walk that whopper back.

This figure comes from the State Department study which, for example, claims that 300+ entertainment jobs indirectly get supported by pipeline construction, and assumes that the actual construction jobs last 19.5 weeks. These are batched together to count as one full "job", and the totals for the physical pipes that have already been completed are also included in this figure.
"these tar sands will continue to be developed regardless of this project's approval": That is not necessarily true - on two levels. The projects have been hitting the skids and losing investors, and funding is getting pulled as rapidly as they can from early-stage projects. Saying they "will continue to be developed" when they're losing investors is inaccurate. And of course, the projects only move if they are financially feasible. If they get priced out from transportation due to lack of capacity, then the overall statement is also false.
There is not some magic way to make these projects profitable without export capacity - and even with more export capacity the whole thing is going over the cliff anyway. See:
"Citizen Interventions" Have Cost Canada's Tar Sands Industry $17B, New Report Shows | DeSmogBlog: "The report said market forces and public opposition have played a significant role in the cancellation of three major tar sands projects in 2014 alone: Shell's Pierre River, Total's Joslyn North, and Statoil's Corner Project. " Yeah sounds like they are continuing to be developed, for sure.

Tar sands industry faces 'existential' $246 billion loss - The Ecologist- Nov 27 2014: "The report suggests that that investors are being misled about the economic viability of oil sands production… CTI calculate that 92% of future oil sands production will only viable if oil prices are $95 per barrel. However, prices stand at only $85, so producers are losing money for every barrel of oil they sell - unless they are cushioned by existing higher-priced contracts, which will sooner or later expire."

Is it time to panic in the oil sands? - Macleans.ca - Nov 29 2014 - graphic shows that bitumen is lower-priced because it requires so much processing, making it even worse of a business prospect. Plenty of industry details in this story.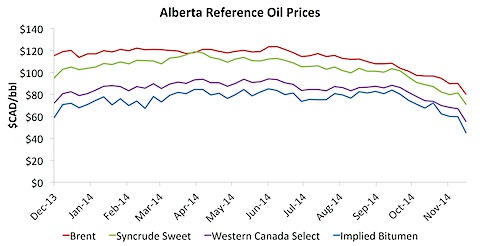 As Oil Prices Drop, Canadian Oil Sands May Be Wasted Investment

Tar-sands industry loses $17.1 billion thanks to public opposition | Grist Nov 4 2014

////
It is also worth noting that the anti-pipeline candidate, Green Party American Indian elder Skip Sandman got 4.3% or 11,450 votes. The diligent efforts of many at least forced Nolan to cover his flank with some better votes — frustrating but hardly wasted. Nolan received 48.5%, narrowly edging Stewart Mills at 47.1%. (Side note: the cheesy DCCC messaging to pigeonhole Mills as a rich guy seems to have backfired, this district shouldn't be that close really.)
For further nitty gritty updates: Please check out Minnesota Brown for the Ranger side and BluestemPrairie.com for industrial agriculture & related political maneuvering. Both sites did a great job covering another ranger, DFL Sen. Tomassoni, trying to double dip with lobbying gig.
Commenting on this Story is closed.
Tags for Pipeline Politics: MNGOP moves fast for fossils; Minnesota Range Congressman Rick Nolan certain Keystone XL will "support" 42,000 jobs