Barrett Brown's sentencing under shadow of federal falsehoods signals doom for Internet journalism, but at least information == drugs now!
In principle, American Internet Journalism just died horribly.
Fuck it dude, let's go bowling (and keep posting without prior restraint till they drag us all away).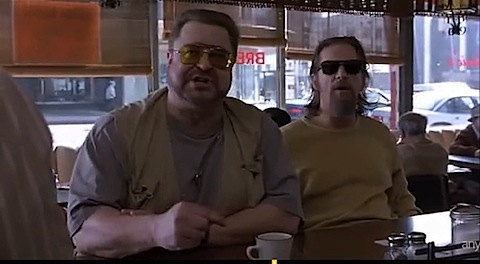 Unfortunately, a confused federal judge in Texas decided to disregard the Supreme Court's round rejection of prior restraint and enhanced Barrett Brown's sentence because copying and pasting a link to a zip file — a file whose contents he only had a loose notion of at the time, and was posted in the context of corporate research — is now apparently a forbidden form of speech.
As best conveyed by Texas mag Dallas Frontburner here, the whole court hearing was surreal and full of strange and new concepts. Quinn Norton is quitting working on information security journalism because of this situation, and she was a defense witness for Brown, explaining the stupidity around credit card numbers to a court that never understood.
It's interesting – indeed horrifying – because almost no one actually looks at the full content of any link they post, ever. If Time Magazine were to post a link to some story that has credit card numbers attached in an invisible Javascript, they'd be fully liable under this new rationale. More likely they'd throw the book at a smaller target than Time.
I don't get if DOJ has a helpdesk for these things or what. Like are you supposed to call the division dedicated to killing modern journalism and check with them how prior restraint works next week? Does it count for giant zip files, invisible javascripts, Pastebins or what?
We are all targets now. If we are to take the DOJ at their word, internet journalism has more or less been made impossible. Responsibility got shifted from publishers (or 'leakers') to observers, researchers and aggregators. Will corporate weasel lawyers forbid high level journalists from linking to things? The chilling effects are open-ended and basically endless, as well as impossible to ascertain without skimming the HTML source code of every page you link to and every autoloading script attached therein.
Even after reviewing the HTML, it will still become more chilling if the proposed White House CFAA revision goes in because of some weird notion about trafficking that they were able to get to stick at Barrett's sentencing.
See: Barrett Brown Obama's War on Hackers | Al Jazeera America Jan 23 2015: What no one in government seems to understand about cases such as Brown's is that this is simply the way journalism is done today.
Obama's cybersecurity plan: Share a password, click a link, go to prison as a hacker | Computerworld Jan 21 2015: you could be considered a hacker for innocent behavior like sharing your Netflix password with family members or clicking a link that contains unauthorized content.


So this speech would effectively be nuked, for example:

...could make either retweeting or clicking on the above (fictional) link illegal. The new laws make it a felony to intentionally access unauthorized information even if it's been posted to a public website. The new laws make it a felony to traffic in information like passwords, where "trafficking" includes posting a link.
Via the link above ErrataRob Graham explains that security research will be rendered impossible, thereby making it a felony to correctly develop software with any defense:
Obama proposes upgrading hacking to a "racketeering" offense, means you can be guilty of being a hacker by simply acting like a hacker (without otherwise committing a specific crime). Hanging out in an IRC chat room giving advice to people now makes you a member of a "criminal enterprise," allowing the FBI to sweep in and confiscate all your assets without charging you with a crime.

What Obama Gets Wrong About Cybersecurity Gizmodo last Tuesday.

Also Jan 16 2015: Obama's Computer Security Solution is a Mishmash of Old, Outdated Policy Solutions | Electronic Frontier Foundation
In this ludicrous security panic post-CharlieHebdo, they are also going back to Clipper Chip Redux demanding to be able to backdoor and intercept all encrypted communications, both the White House and Downing Street. This isn't the 1990s, they will have to ban Github and destroy General Purpose Computing soon enough.
///
On the upside, after the child porn argument fell apart, the government had to claim that information is the same kind of thing as drugs in order to cram the situation into a statutory conspiracy. So well done there, Barrett, you forced them to make speech into drugs. Drugs = Speech. The Supreme Court previously said that Speech = Money, so therefore Drugs = Money. Party on, robed ones.
///
Barrett Brown Sentenced to 5 Years in Prison in Connection to Stratfor Hack | WIRED
The ruling, in Texas, brings to a close an unusual saga that had the feds initially charging Brown with 12 counts of aggravated identity theft and trafficking in stolen data for simply posting a link in a chat room. That link pointed to a file containing data stolen by members of the hacktivist group Anonymous from the intelligence firm Stratfor, or Strategic Forecasting. The data included company emails as well as credit card numbers belonging to subscribers of Stratfor's service. The charges against Brown caused a stir when they were first revealed, because Brown hadn't stolen the data himself, but had simply copied the hyperlink from one public chatroom and posted it to another.
///
I kept thinking of Snowden journalists and WikiLeaks today. The USG is coming for you next. #barrettbrown

— Alexa O'Brien (@carwinb) January 22, 2015
///
Oh well: Living in America will literally drive you insane. Indeed it is hard to attempt to contort one's mind to whatever the government's reasoning is in Barrett's case. We live under a ruthless system with little regard for logic and nothing but fear and loathing for hyperlinks. Federal prosecutors can blatantly lie in court and face no punishment - indeed they earn merit instead.
Blah. Keep plugging on lolcats. As the radicals know it's a good idea to live as if you are already free; the "prefigurative" application of traditional (and previously protected) legal principles of speech might eventually be respected in America again, but only if masses of writers don't flee from these terrible people after losing this ugly battle on terrible grounds.
There is plenty more that could be said but I will crosspost Barrett's daring allocution statement. I would bet it got him a couple more months from that judge but at least it's honest, and certainly the appropriate spot to bring up prosecutorial misconduct.
Good afternoon, Your Honor.

The allocution I give today is going to be a bit different from the sort that usually concludes a sentencing hearing, because this is an unusual case touching upon unusual issues. It is also a very public case, not only in the sense that it has been followed closely by the public, but also in the sense that it has implications for the public, and even in the sense that the public has played a major role, because, of course, the great majority of the funds for my legal defense was donated by the public. And so now I have three duties that I must carry out. I must express my regret, but I must also express my gratitude. And I also have to take this opportunity to ensure that the public understands what has been at stake in this case, and why it has proceeded in the way that it has. Because, of course, the public didn't simply pay for my defense through its donations, they also paid for my prosecution through its tax dollars. And the public has a right to know what it is paying for. And Your Honor has a need to know what he is ruling on.

First I will speak of regret. Like nearly all federal defendants, I hope to convince Your Honor that I sincerely regret some of the things that I have done. I don't think anyone doubts that I regret quite a bit about my life including some of the things that brought me here today. Your Honor has the Acceptance of Responsibility document that my counsel submitted to you. Every word of it was sincere. The videos were idiotic, and although I made them in a manic state brought on by sudden withdrawal from Paxil and Suboxone, and while distraught over the threats to prosecute my mother, that's still me in those YouTube clips talking nonsense about how the FBI would never take me alive. Likewise, I didn't have the right to hide my files from the FBI during a lawful investigation, and I would've had a better chance of protecting my contacts in foreign countries if I had pursued the matter in the courts after the raid, rather than stupidly trying to hide those laptops in the kitchen cabinet as my mother and I did that morning. And with regard to the accessory after the fact charge relating to my efforts to redact sensitive emails after the Stratfor hack, I've explained to Your Honor that I do not want to be a hypocrite. If I criticize the government for breaking the law but then break the law myself in an effort to reveal their wrongdoing, I should expect to be punished just as I've called for the criminals at government-linked firms, like HBGary and Palantir, to be punished. When we start fighting crime by any means necessary, we become guilty of the same hypocrisy as law enforcement agencies throughout history that break the rules to get the villains, and so become villains themselves.

I'm going to say a few more words about my regrets in a moment, but now I'm going to get to the unusual part of the allocution. I'm going to make some criticisms of the manner in which the government has pursued this case. Normally this sort of thing is left to one's lawyers rather than the defendant, because to do otherwise runs the risk of making the defendant seem combative rather than contrite. But I think Your Honor can walk and chew bubble gum at the same time. I think Your Honor understands that one can regret the unjust things one has done, while also being concerned about the unjust things that have been done to him. And based on certain statements that Your Honor has made, as well as one particular ruling, I have cause to believe that Your Honor will understand and perhaps even sympathize with the unusual responsibility I have which makes it necessary that I point out some things very briefly.

I do so with respect to Your Honor. I also do it for selfish reasons, because I want to make absolutely certain that Your Honor is made aware that the picture the government has presented to you is a false one. But it is also my duty to make this clear as this case does not just affect me. Even aside from the several First Amendment issues that have already been widely discussed as a result of this case, there is also the matter of the dozens of people around the world who have contributed to my distributed think tank, Project PM, by writing for our public website, echelon2.org. Incredibly, the government has declared these contributors—some of them journalists—to be criminals and participants in a criminal conspiracy. As such, the government sought from this court a subpoena by which to obtain the identities of all of our contributors. Your Honor denied that motion and I am very grateful to Your Honor for having done so. Unfortunately the government thereafter went around Your Honor and sought to obtain these records by other means. So now the dozens of people who have given their time and expertise to what has been hailed by journalists and advocacy groups as a crucial journalistic enterprise are now at risk of being indicted under the same sort of spurious charges that I was facing not long ago, when the government exposed me to decades of prison time for copying and pasting a link to a publicly available file that other journalists were also linking to without being prosecuted. The fact that the government has still asked you to punish me for that link is proof, if any more were needed, that those of us who advocate against secrecy are to be pursued without regard for the rule of law, or even common decency.

Your Honor, I understand that this is my sentencing hearing and not an inquiry into the government's conduct. This is not the place to go into the dozens of demonstrable errors and contradictions to be found in the government's documentation and the testimony by the government. But it would be hypocritical of me to protest the government's conduct and not provide Your Honor with an example. I will do so very briefly. At the September 13th bond hearing, held in Judge Stickney's court the day after my arrest, Special Agent Allen Lynn took the stand and claimed under oath that in reviewing my laptops he had found discussions in which I admit having engaged in, quote, "SWATting", unquote, which he referred to as, quote, "violent activity", unquote. Your Honor may not be familiar with the term SWATting; as Mr. Lynn described it at the hearing it is, quote, "where they try to place a false 911 call to the residence of an individual in order to endanger that individual." He went on at elaborate length about this, presenting it as a key reason why I should not receive bond. Your Honor will have noted that this has never come up again. This is because Mr. Lynn's claims were entirely untrue. But that did not stop him from making that claim, any more than it stopped him from claiming that I have lived in the Middle East, a region I have never actually had the pleasure of visiting.

Your Honor, this is just one example from a single hearing. But if Your Honor can extrapolate from that, Your Honor can probably get a sense of how much value can be placed on the rest of the government's testimony in this case. Likewise, Your Honor can probably understand the concerns I have about what my contributors might be subjected to by the government if this sort of behavior proves effective today. Naturally I hope Your Honor will keep this in mind, and I hope that other judges in this district will as well, because, again, there remains great concern that my associates will be the next to be indicted.

I've tried to protect my contributors, Your Honor, and I've also tried to protect the public's right to link to source materials without being subject to misuse of the statutes. Last year, when the government offered me a plea bargain whereby I would plead to just one of the eleven fraud charges related to the linking, and told me it was final, I turned it down. To have accepted that plea, with a two-year sentence, would have been convenient—Your Honor will note that I actually did eventually plead to an accessory charge carrying potentially more prison time—but it would have been wrong. Even aside from the obvious fact that I did not commit fraud, and thus couldn't sign to any such thing, to do so would have also constituted a dangerous precedent, and it would have endangered my colleagues, each of whom could now have been depicted as a former associate of a convicted fraudster. And it would have given the government, and particularly the FBI, one more tool by which to persecute journalists and activists whose views they find to be dangerous or undesirable.

Journalists are especially vulnerable right now, Your Honor, and they become more so when the FBI feels comfortable making false claims about me. And in response to our motion to dismiss the charges of obstruction of justice based on the hiding of my laptops, the government claimed that those laptops contained evidence of a plot I orchestrated to attack the Kingdom of Bahrain on the orders of Amber Lyon. Your Honor, Amber Lyon is a journalist and former CNN reporter, who I do know and respect, but I can assure Your Honor that I am not in the habit of attacking Gulf state monarchies on her behalf. But I think it's unjust of them to use this court to throw out that sort of claim about Miss Lyon in a public filing as they did if they're not prepared to back it up. And they're not prepared to back it up. But that won't stop the Kingdom of Bahrain from repeating this groundless assertion and perhaps even using it to keep Miss Lyon out of the country. Because she has indeed reported on the Bahraini monarchy's violent crackdowns on pro-democracy protests in that country, and she has done so from that country. And if she ever returns to that country to continue that important work, she'll now be subject to arrest on the grounds that the United States Department of Justice itself has explicitly accused her of orchestrating an attack on that country's government.

Your Honor, this is extraordinary. Miss Lyon isn't the only journalist that's been made legally less secure by this prosecution. Every journalist in the United States is put at risk by the novel, and sometimes even radical, claims that the government has introduced in the course of the sentencing process. The government asserts that I am not a journalist and thus unable to claim the First Amendment protections guaranteed to those engaged in information-gathering activities. Your Honor, I've been employed as a journalist for much of my adult life, I've written for dozens of magazines and newspapers, and I'm the author of two published and critically-acclaimed books of expository non-fiction. Your Honor has received letters from editors who have published my journalistic work, as well as from award-winning journalists such as Glenn Greenwald, who note that they have used that work in their own articles. If I am not a journalist, then there are many, many people out there who are also not journalists, without being aware of it, and who are thus as much at risk as I am.

Your Honor, it would be one thing if the government were putting forth some sort of standard by which journalists could be defined. They have not put forth such a standard. Their assertion rests on the fact that despite having referred to myself as a journalist hundreds of times, I at one point rejected that term, much in the same way that someone running for office might reject the term "politician." Now, if the government is introducing a new standard whereby anyone who once denies being a particular thing is no longer that thing in any legal sense, that would be at least a firm and knowable criteria. But that's not what the government is doing in this case. Consider, for instance, that I have denied being a spokesperson for Anonymous hundreds of times, both in public and private, ever since the press began calling me that in the beginning of 2011. So on a couple of occasions when I contacted executives of contracting firms like Booz Allen Hamilton in the wake of revelations that they'd been spying on my associates and I, for reasons that we were naturally rather anxious to determine, I did indeed pretend to be such an actual official spokesman for Anonymous, because I wanted to encourage these people to talk to me. Which they did.

Of course, I have explained this many, many times, and the government itself knows this, even if they've since claimed otherwise. In the September 13th criminal complaint filed against me, the FBI itself acknowledges that I do not claim any official role within Anonymous. Likewise, in last month's hearing, the prosecutor accidentally slipped and referred to me as a journalist, even after having previously found it necessary to deny me that title. But, there you have it. Deny being a spokesperson for Anonymous hundreds of times, and you're still a spokesperson for Anonymous. Deny being a journalist once or twice, and you're not a journalist. What conclusion can one draw from this sort of reasoning other than that you are whatever the FBI finds it convenient for you to be at any given moment. This is not the rule of law, Your Honor, it is the rule of Law Enforcement, and it is very dangerous.

Your Honor, I am asking you to give me a time-served sentence of thirty months today because to do otherwise will have the effect of rewarding this sort of reckless conduct on the part of the government. I am also asking for that particular sentence because, as my lawyer Marlo Cadeddu, an acknowledged expert on the guidelines, has pointed out, that's what the actual facts of the case would seem to warrant. And the public, to the extent that it has made its voice heard through letters and donations and even op-eds, also believes that the circumstances of this case warrant that I be released today. I would even argue that the government itself believes that the facts warrant my release today, because look at all the lies they decided they would have to tell to keep me in prison.

I thank you for your indulgence, Your Honor, and I want to conclude by thanking everyone who supported me over the last few years. I need to single out one person in particular, Kevin Gallagher, who contributed to my Project PM group, who stepped up immediately after my arrest to build up a citizens' initiative by which to raise money for my defense, and to spread the word about what was at stake in this case. For the two and a half years of my incarceration, Kevin has literally spent the bulk of his free time in working to give me my life back. He is one of the extraordinary people who have given of themselves to make possible this great and beautiful movement of ours. A movement to protect activists and journalists from secretive and extra-legal retaliation by powerful corporate actors with ties to the state. Your Honor, Kevin Gallagher is not a relative of mine, or a childhood friend. This is only the third time I've been in the same room with him. Nonetheless, he has dedicated two years of his life to ensure that I had the best possible lawyers on this case, and to ensure that the press understood what was at stake here. Your Honor, he set up something on Amazon.com whereby I could ask for books on a particular subject and supporters could buy them and have them sent to me. And he spoke to my mother several times a week. During that early period when I was facing over a hundred years worth of charges, and it wasn't clear whether or not I would be coming home, he would reassure her.

A few weeks ago, he got a job at Freedom of The Press Foundation, one of the world's most justifiably respected advocacy organizations. And, according to the government, he is also a member of a criminal organization, because, like dozens of journalists and activists across the world, he has been a contributor to Project PM, and the government has declared Project PM to be a criminal enterprise. I think that the government is wrong about Kevin, Your Honor, but that is not why I've brought him up. And although I am very glad for the opportunity to express my gratitude to him in a public setting, there are some gifts for which conventional gratitude is an insufficient payment. One can only respond to such gifts by working to become the sort of person that actually deserves to receive them. A thank you will not suffice, and so I am not bringing him up here merely to thank him. Instead, I am using him in my defense. Your Honor, this very noble person, this truly exemplary citizen of the republic who takes his citizenship seriously rather than taking it for granted, knows pretty much everything there is to know about me—my life, my past, my work, the things I've done and the things I've left undone, to the things I should not have done to begin with—and he has given himself over to the cause of freeing me today. He is the exact sort of person I tried to recruit for the crucial work we do at Project PM. I am so proud to have someone like him doing so much for me.

Your Honor, the last thing I will say in my own defense is that so many people like Kevin Gallagher have worked so hard on my behalf. And having now said all those things that I felt the need to say, I happily accept Your Honor's decision.
For further updates see FreeBarrettBrown.org / https://twitter.com/freebarrett_
///
All the news isn't horrible. Robert MacLean won his TSA / Air Marshal whistleblower case at the Supreme Court, which took many years to achieve. With luck Barrett or the next sacrificial lamb will win in that venue as well.
Commenting on this Story is closed.
Tags for Barrett Brown's sentencing under shadow of federal falsehoods signals doom for Internet journalism, but at least information == drugs now!