How a billionaire gets away with it: FULL TEXT Jeffrey Epstein's federal sex abuse non-prosecution agreement; #OpDeathEaters gets traction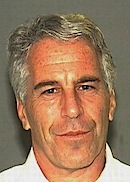 Here's another new piece of hard evidence showing how billionaire sex abusers get their own special treatment in America. One of the most dire problems facing the United States is the double-standard justice system.
If you're a greasy billionaire like Jeffrey Epstein, federal prosecutors (who ultimately report to your chums) will eventually bend over backwards to let you get away with running an international sex abuse ring, and even protect your co-conspirators from prosecution.
Epstein pled guilty to limited charges and was forced to spend at least a few hours a day in a Florida jail for several months (he could wander during the day), and then on "house arrest" to cruise around to his various international pads. The deal specifically protects his unnamed co-conspirators from prosecution.
For apparently the first time on the open interwebs, here is the full text of Epstein's non-prosecution agreement, republished on HongPong.com with permission of alt journalist Wayne Madsen at WayneMadsenReport.com: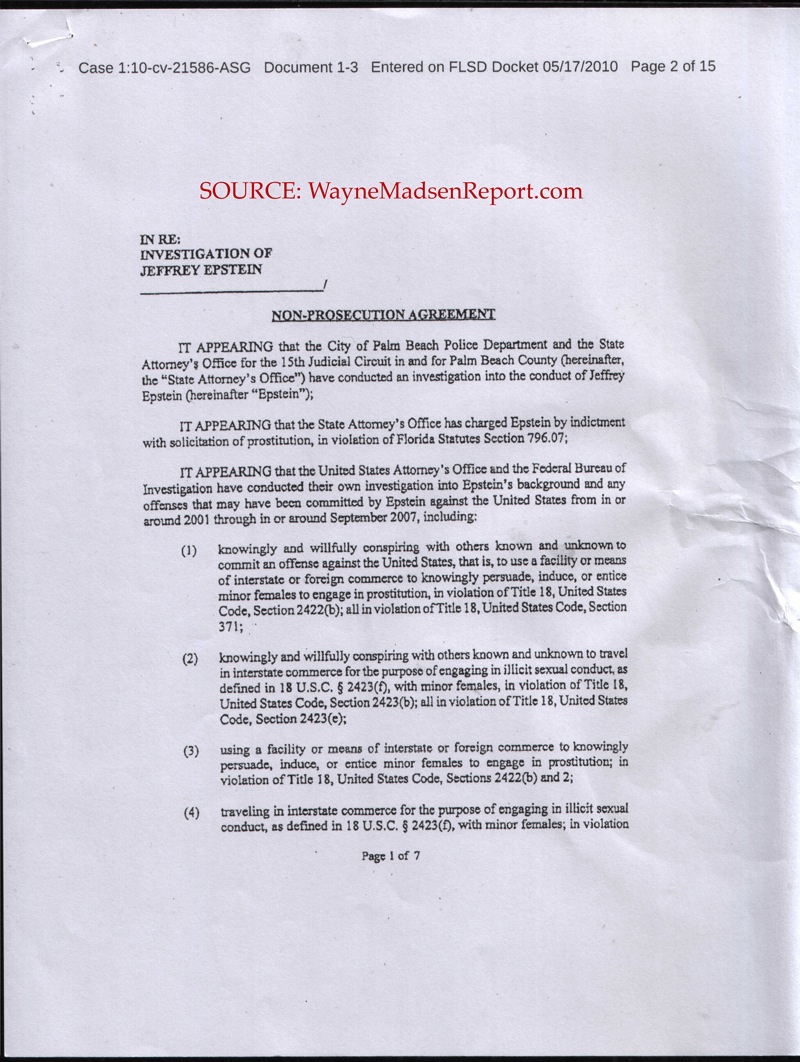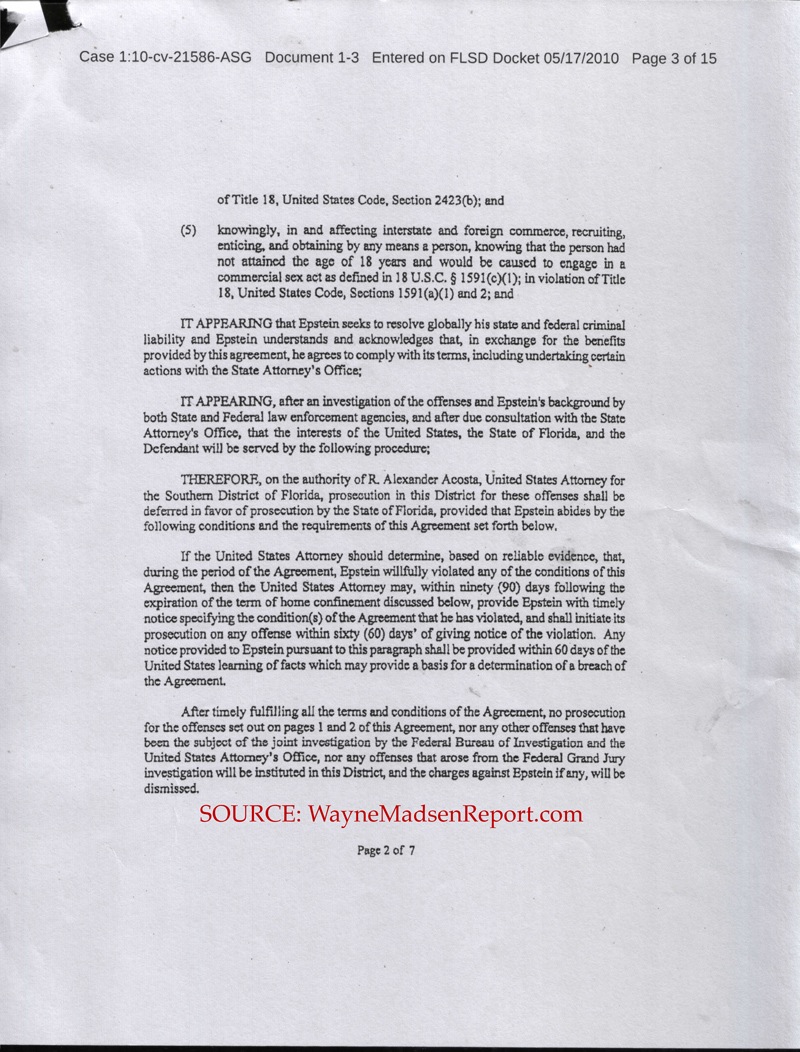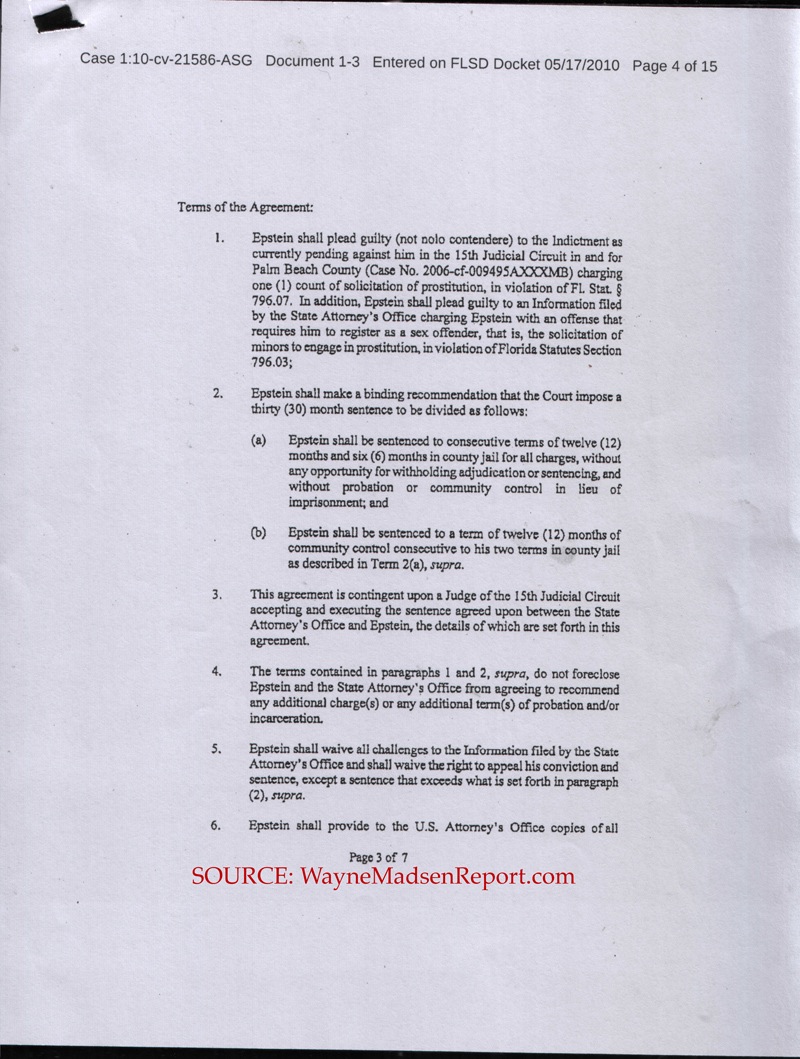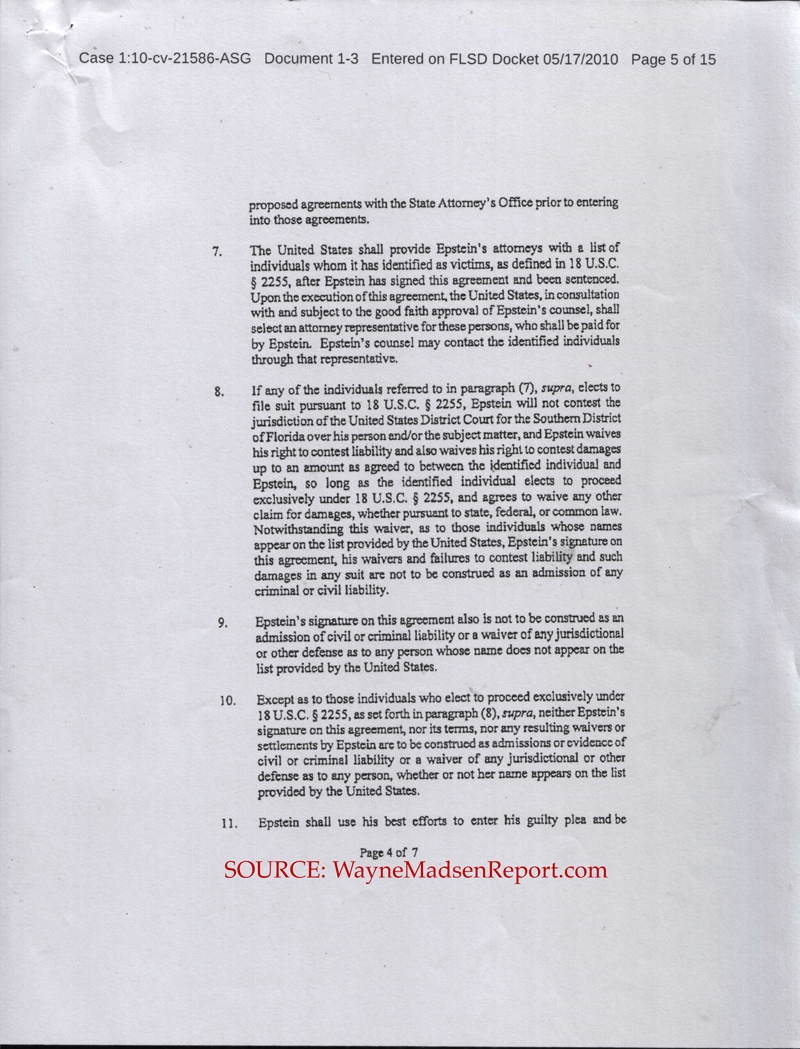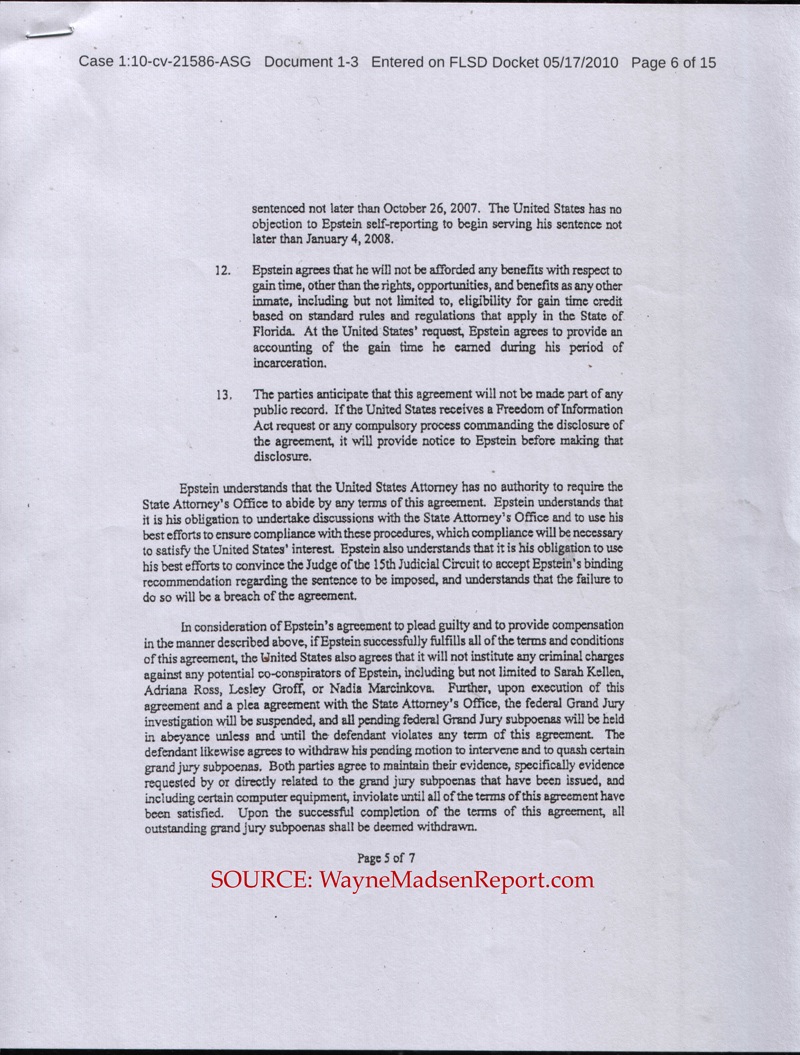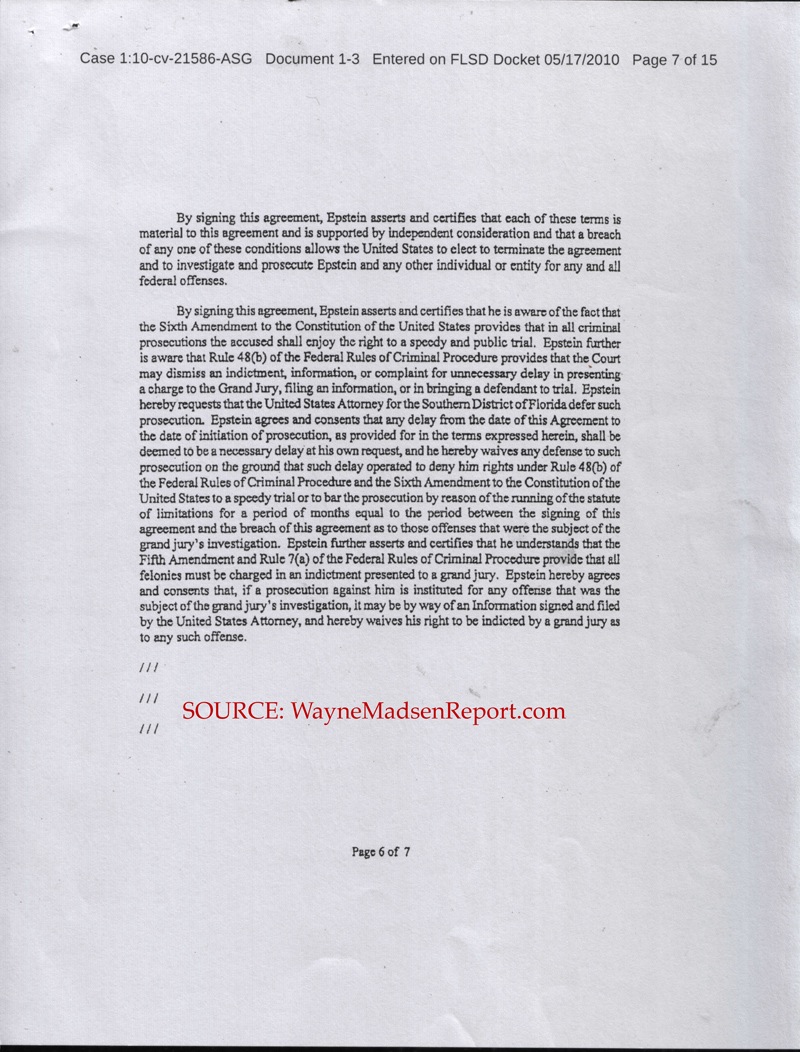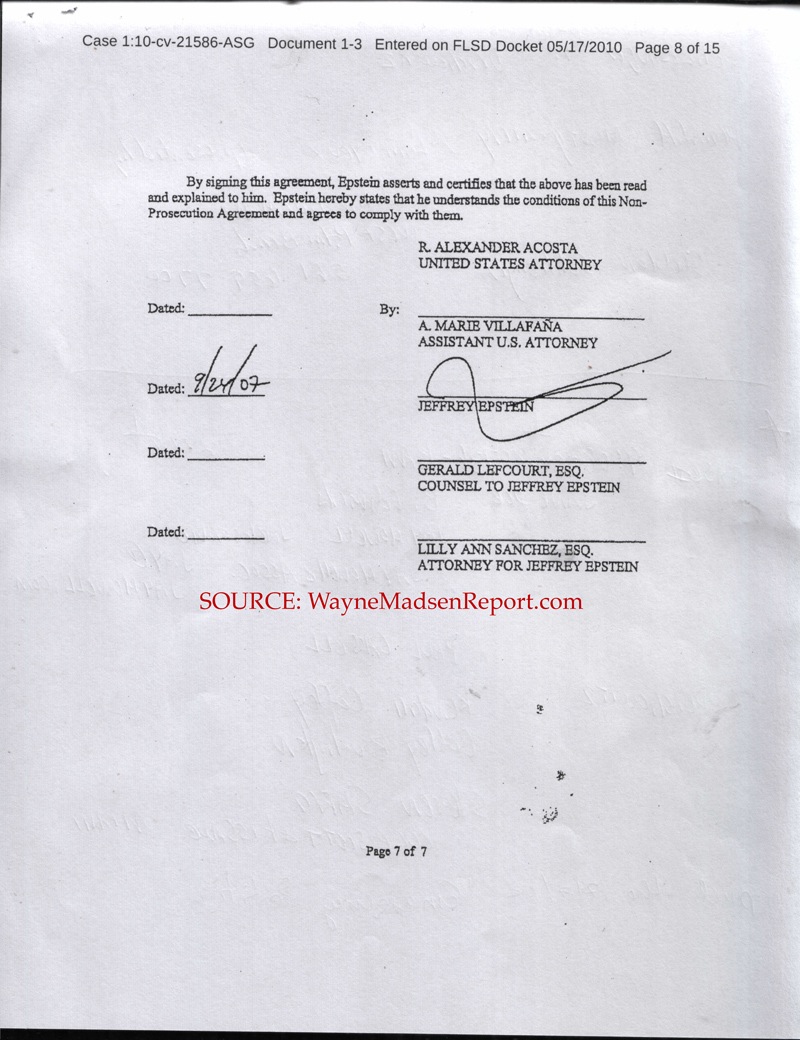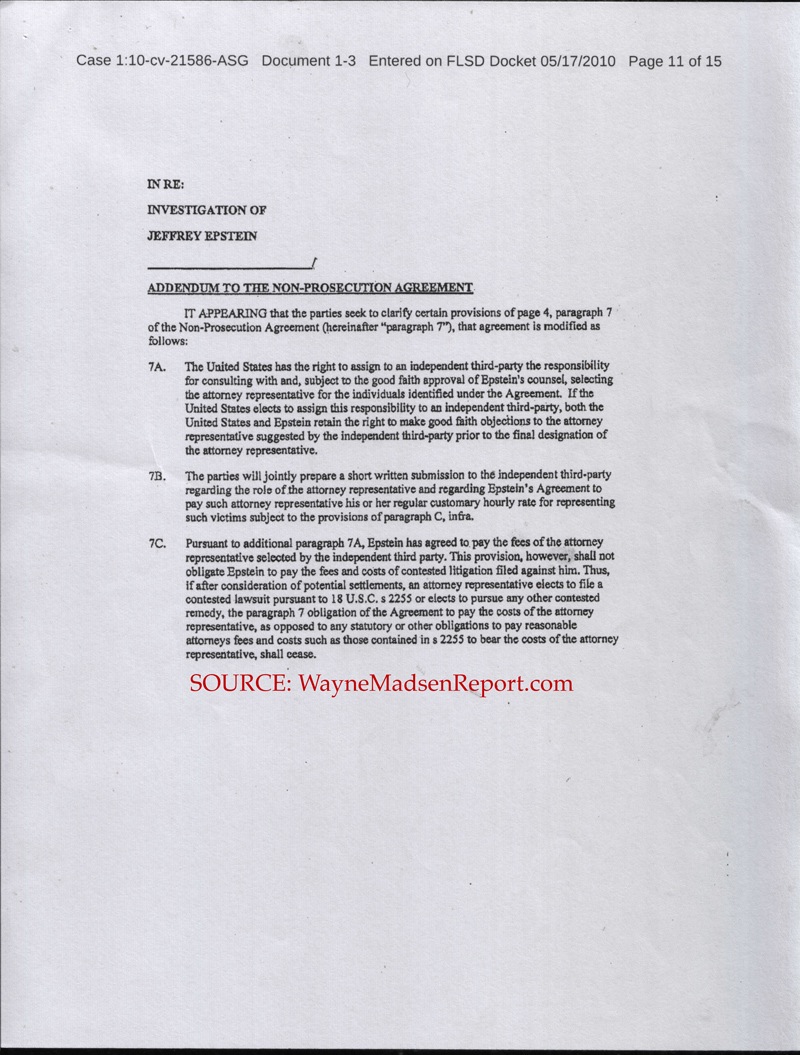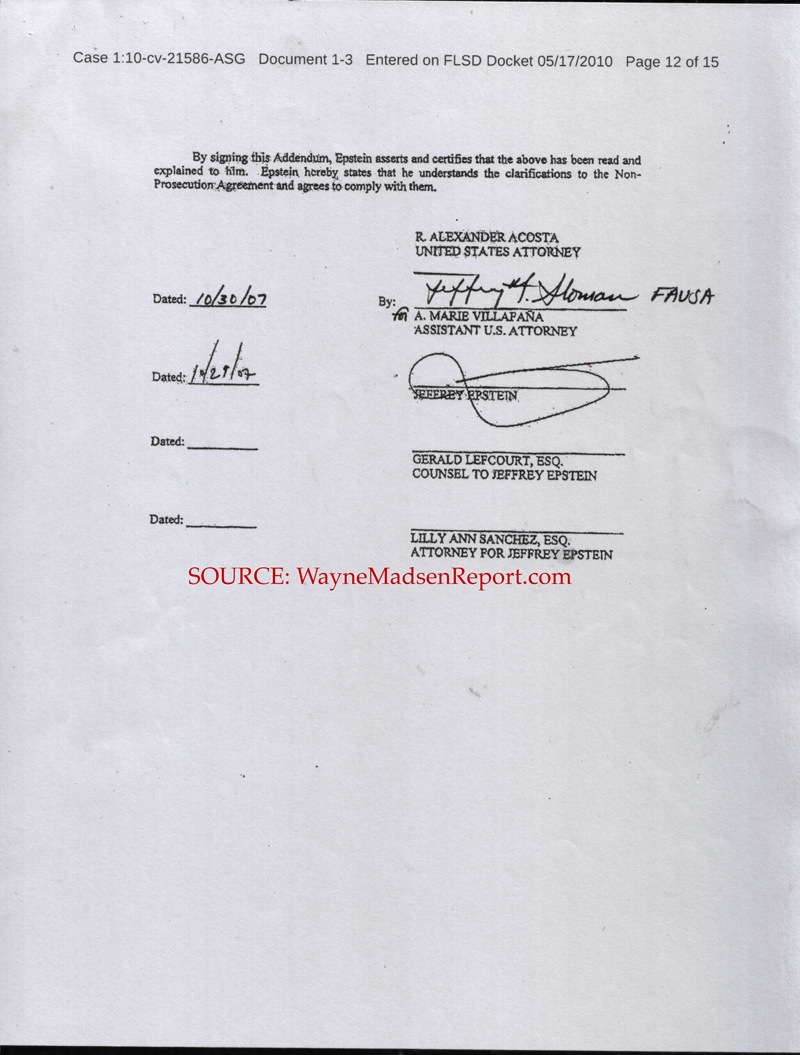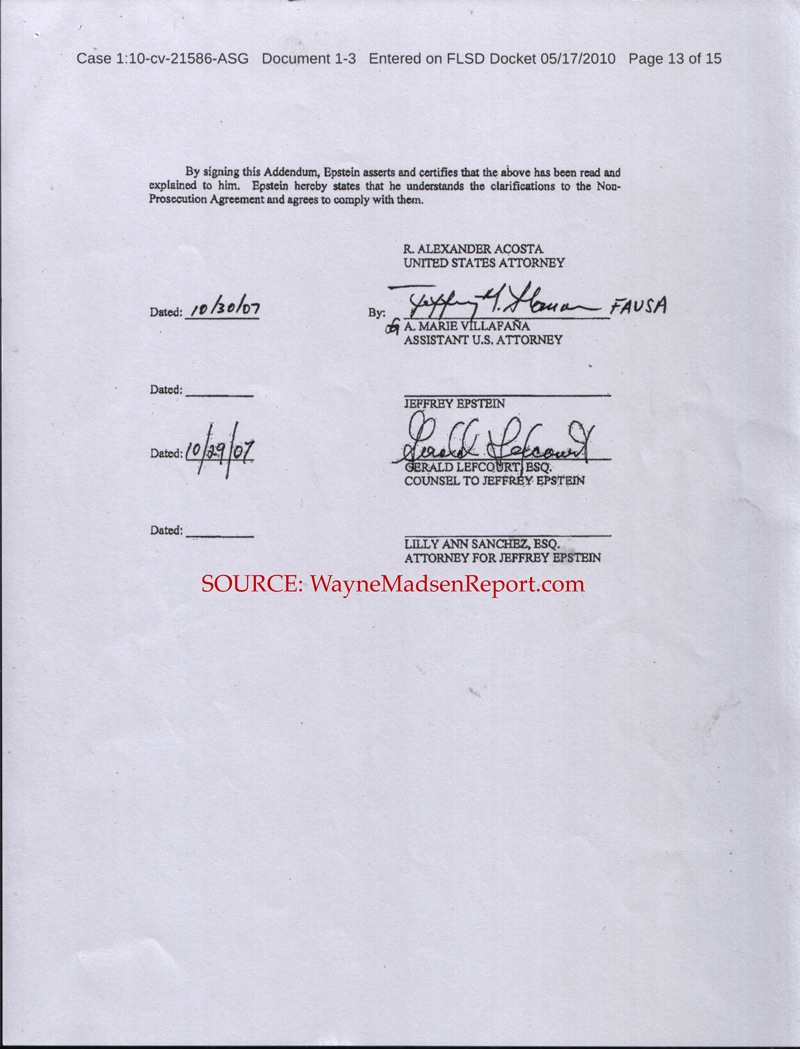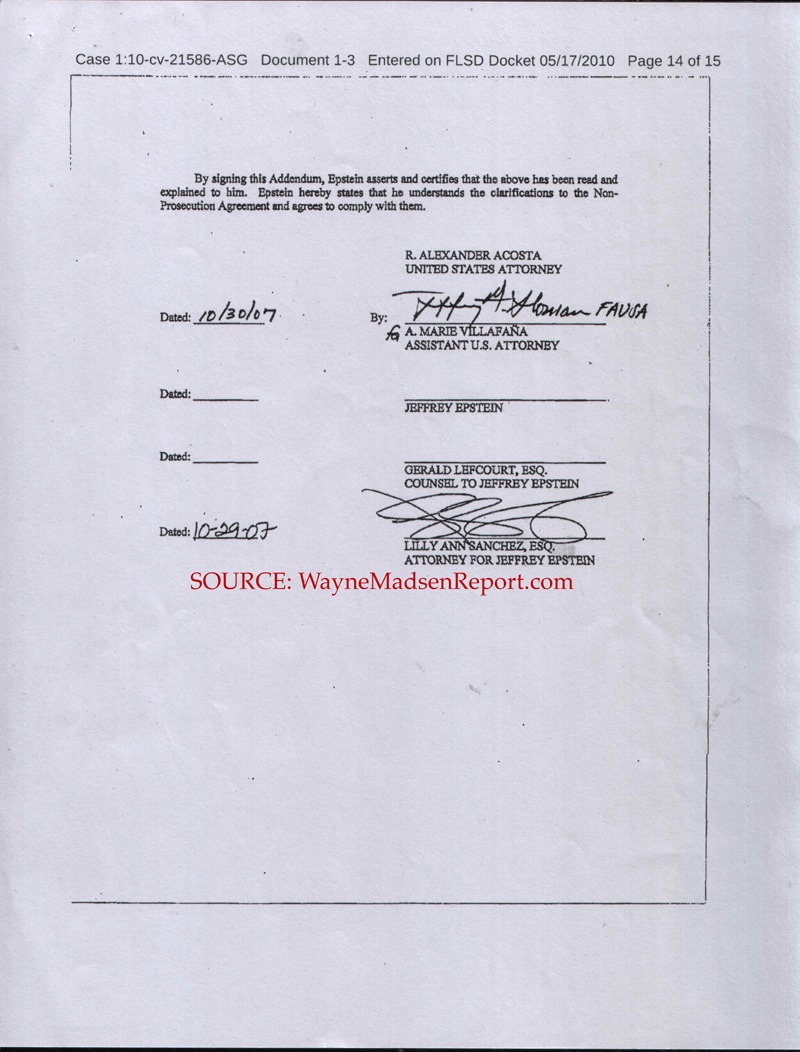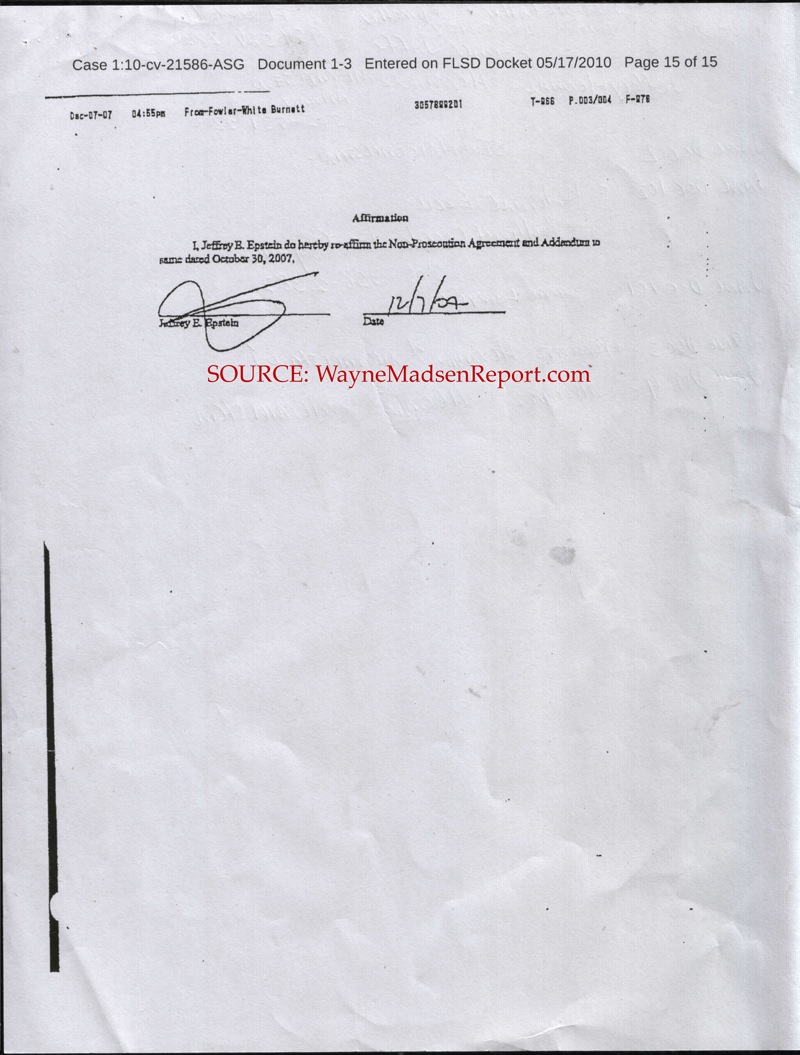 An additional issue that Wayne cites in his paywalled article is that the timeline here casts shadows on both the Clinton and the Bush families, since both noxious dynasties had roles overseeing the federal prosecutors and accepting this chummy deal published above at different points in the timeline.
//////
Epstein wants to keep all the correspondence leading up the deal above secret, as reported by New York Daily News which has been relatively aggressive on the story:
Freaky financier Jeffrey Epstein wants to keep negotiations for his shady nonprosecution deal with the feds under wraps.

In papers filed in Florida federal court, Epstein, 61, has asked for a protective order keeping all correspondence about his controversial deal with the feds under seal.

The feds agreed not to pursue charges against Epstein and four alleged co-conspirators in dozens of cases involving under-aged girls if he pleaded guilty to a single state felony case back in 2007 — but the deal was kept hidden from the victims at Epstein's request, court papers say.

The billionaire perv pal of Prince Andrew pleaded guilty to soliciting sex from a minor in mid-2008. Four of Epstein's alleged victims are challenging the nonprosecution agreement in court.

In a ruling Thursday, Judge Kenneth Marra said, "Public policy favors judicial records being open to the public," and that Epstein has to submit additional filings "setting forth the extraordinary circumstances or particularized needs necessitating a seal in this case." Dareh Gregorian
//////
#OpDeathEaters & a history of political blackmail: I would like to call attention to the project spearheaded by Anonymous type cats called #OpDeathEaters (a reference to Voldemort's buddies in Harry Potter), which is a pretty quick-moving research project to expose multiple levels and nodes of what they describe as the global paedosadist network.
They are trying to get away from the term 'pedophile' which is actually preferred by child sex abusers because 'phile' means love, when in fact it's really child abuse. It started around November 2014.
An important dimension stressed by some of the articles below is that the power and depth of the pedosadist and child abuse networks has grown so deep that it has overrun the ability of honest elements of law enforcement to deal with, so to some extent Internet activists are trying to expose the networks and render difficult investigations into open-and-shut cases if possible, with the hopes of obtaining justice for victims and their families as well as preventing future abuse.
Recommend following the #opdeatheaters hashtag, Heather Marsh @georgieBC and @der_bluthund as well as @opDeathEatersUS and @opdeatheaters. ExaroNews.com has been leading the way on systematically advancing the British wing of the exposure of high level sex abuse among members of Parliament and key intelligence figures, as well as the giant coverups of decades past.
SEE recent coverage in last 2 weeks: Heard of #OpDeathEaters? Anonymous Movement Seeks End To Child Sex Trafficking; Justice For Victims Inquisitr.com Jan 24 2015
Telegraph pretty good story: Video: Anonymous hackers release video to target global paedophile menace - Telegraph
UK Mirror: Anonymous 'hacktivists' target paedophile networks with Harry Potter-inspired #OpDeathEaters campaign - Mirror Online Jan 23 2015
DailyMail: Hacking group Anonymous to target paedophiles | Daily Mail Online
VICE: Behind Anonymous's Operation to Reveal Britain's Elite Child-Rape Syndicate | VICE | United States Jan 15 2015
Plenty more news floating around. Give it a search and see what you find.
This systematic abuse and trafficking has gone on for decades. Homophobic closet case attorney Roy Cohn, Sen. Joe McCarthy's sidekick, was even said to have been one of the original sleazebuckets who got this tactic rolling for the CIA to get control of members of Congress, but that is a difficult case to prove of course.
//////
More background on the case:
Papantonio: The Plot Thickens in the Dershowitz-Epstein Story - YouTube
//////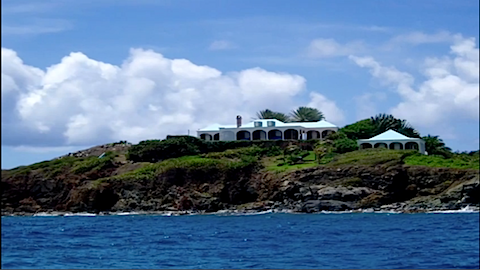 What scandal involving Prince Andrew says about Britain's elites | Al Jazeera America (Jan 17 2015)
U.S. Lawyers Seek to Interview Prince Andrew About Sex-Crime Claims | TIME (Jan 21 2015)
Exclusive: Epstein's First Accuser Tells Her Story - The Daily Beast (Jan 25 2015). Legal docs at link
Gawker on the case, seems like Nick Bryant is doing a good job: Here Is Pedophile Billionaire Jeffrey Epstein's Little Black Book (Jan 23 2015)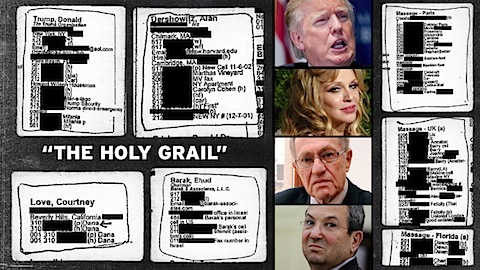 Flight Logs Put Clinton, Dershowitz on Pedophile Billionaire's Sex Jet - Gawker (Jan 22 2015)
Dershowitz addresses appearing on Epstein flight logs - CNN Video (Jan 24 2015). Dersh is wiggin pretty hard and the new claim he kept his undies on during massages is truly the "did not have sexual relations with that woman" escape phrase of the day.
Dersh: "I kept my underwear on during the massage," he said. "I don't like massages particularly." Alan Dershowitz: 'Sex slave' accuser is serial liar, prostitute | News - Home - worth reading in full to sense the anger and panic here.
/////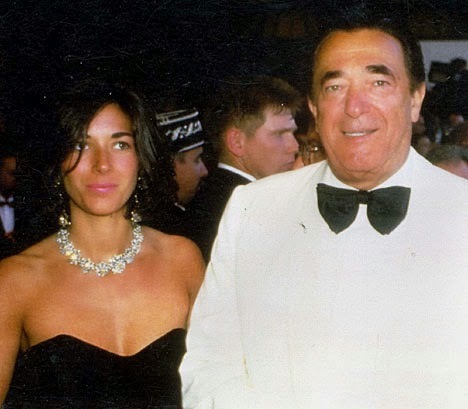 Intelligence Rabbit Hole Begins: Additionally Epstein's close confidante for many years, Ghislaine Maxwell (L), has also been tagged as a major player in the abuse ring. Adding an intelligence twist to the matter, Ghislaine's late father Robert Maxwell ( R ) is pretty widely known to have supported the Israeli Mossad secret intelligence service. With Epstein's island home apparently stuffed with hidden cameras, this suggests he was generating sexual blackmail material which could certainly prove handy to manipulate political figures.
This leads to a bunch of speculation such as JEFFREY EPSTEIN, MOSSAD AND 9 11 etc etc, with Florida airfields that were used by Mohammed Atta perhaps intersecting with this sordid tale prior to 2001. [I am not claiming that I support such a line of inquiry as the evidence isn't really there yet, but there are some overlapping data points]
That particular rabbit hole would take a long time to sort out, but shady rich people, aviation and weird covert ops certainly are a Florida tradition. The only thing missing is yet another Gulfstream owned by CIA shell company packed with cocaine or heroin.
Commenting on this Story is closed.