Tragic Gray State fallout: "Sandy Hook Hoaxer" stalker troll squad turns against Minnesota Truthers & late filmmaker David Crowley's family & friends in bizarre twist
If you want to help stop acting crazy so we can tell our loved ones that there is nothing to worry about. All the conspiracy buzz is freaking them out. They are afraid some of you lunatics are gonna come for them thinking we are covering stuff up.
— One of late director David Crowley's friends begging the hoaxers to lay off before the funeral
One of the more disgusting displays I've ever seen on the Internet has gone down in the last week or so, with a bunch of creepy cats and sockpuppets emerging seemingly from nowhere to disparage the friends and family of the late David Crowley, a Minnesota alternative filmmaker who investigators currently believe shot himself as well as his wife and daughter. Unfortunately today this has escalated into veiled threats against at least one of Crowley's friends as well, a horrible display.
To cut a long and stupid story short, the core of this network of people are best known as the "Sandy Hook Hoaxers" who have now latched onto a new tragedy to wrap themselves in and give their lives meaning. Until now, I've never seen gangstalking instigated against Truthers after a tragedy, even before the funerals. These are the very same key people who have been harassing various families in Newtown Connecticut, generally creeping and making fools of themselves. They are the operators of Sandy Hook Hoax facebook group and friends.
While both the Sandy Hook shooting and the unfortunate demise of David Crowley & his family are both tragic and weird, these tragedies are seized upon by really unbalanced people who go crusading around after whoever they can find, in an effort to draw attention to themselves.
This mob of sick troll behavior also quite effectively wrecks the efforts of more principled "citizen investigators" or Truthers that attempt to discern the truth in these matters, not continuously verbally abuse the townspeople so to speak. This could be termed "poisoning the well" or "muddying the waters". Nowadays even people Obama cites in speeches get this treatment.
//// UPDATE 1/29: Brandan Hunt reiterates some points (w credits to this post) on a Youtube video which seems an accurate summary. Thanks! ////
A "poisoning the well" example in Sandy Hook: many of these hoaxers latched onto the memes and frame of "dallasgoldbug" who is notorious for claiming political figures are actually actors, like Steve Buscemi is actually Terrence McKenna for example. This delusion got thrown at seemingly everyone in Newtown CT, which also effectively helps poison research on the issue should covert operators actually use 'crisis actors' in some shady event.
Naturally this same delusion got directed at Crowley's friends and acquaintances - for some reason these people with the yellow 9/11 USA avatars are seemingly devoid of discernment and decency:

So-called "Justice for David Crowley & family" group run by full fruitbats: The Sandy Hook Hoaxer trolls are flocking to this new tragedy. Here, for example, the sole group administrator, Daniel Michael Hennen of Chaska, says that Crowley's friends, on Instagram sharing a laugh together on the same day they did media interviews on two local networks, are "the four guys who have the 'most to gain' from David Crowley NOT being alive. Let that sink in." and "...They have the most to gain with david six feet under, that's all." [Not run by the same person as this other page, which is not attacking the family or friends]
Hennen is essentially unknown to Crowley's friends, but has started a whole bunch of "Justice for X" groups of which he is always the sole administrator. This group is by far the most popular with 700+ people. Here he's attempting to demonize Crowley's friends using a favorite old Sandy Hook theory that bereaved people apparently never smile again. ("it takes me back to the Sandy Hook days…" as he tries to live within that tragedy's fallout.)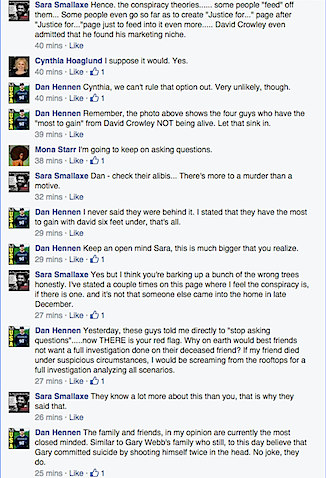 The day before, Hennen posited that Crowley's brother was "jealous" and therefore had a major motive to murder his own brother and his family. And earlier today he said that one of Crowley's close friends "certainly needs his ass kicked." Hennen's kept the innuendoes against David's brother rolling today:

Here is today's veiled threat against Crowley's friend Sean - I'm posting the both the folded and unfolded versions: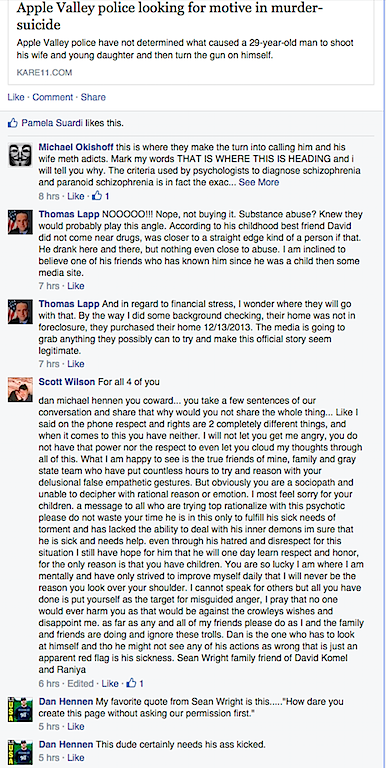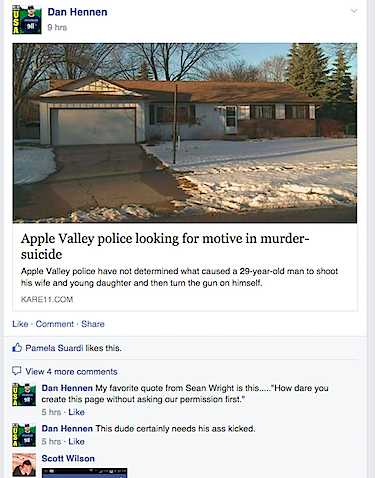 On this thread first it's worth noting that Minnesotan Michael Okishoff has some criminal convictions for domestic issues (and not surprisingly tried to order around female group members in private chats). Okishoff is also attempting to raise money in a GoFundMe he claims will ultimately be turned over for family medical bills, as a clone of a legitimate fundraising campaign Crowley's brother started.
Here we have the Sandy Hook Hoaxer rabbit hole of madness: As noted last May by CW Wade, Thomas Lapp has been cited as involved in cyberstalking Newtown parents and children, as well as his friend Tony Mead, also highly active on this group. Dan Hennen wrote a piece defending flagship hoaxer Wolfgang Halbig in March 2014. Wolfgang apparently briefly checked into this new group and then bounced.
Another Sandy Hook alt media writer, Brandan Hunt, traced Wolfgang Halbig's operations and circle of troll friends: SANDY HOOK: Wolfgang Halbig is a LIAR (Video Presentation, Transcript + Downloads) - Brendan Hunt.com. Halbig has adeptly scammed people who hope that some light can be shed on Sandy Hook.
Unfortunately apparently Jim Fetzer has been all over this bad behavior with Sandy Hook as well, embarrassing more respectful alternative researchers. Apparently he started promoting dallasgoldbug ages ago.
If anything the accusations and paranoia leveled by Hennen, Lapp and Mead resemble when another horrible middle aged hoaxer, Rick Santilli, accused Jim Fetzer of a role in murdering a Truther in Uptown Minneapolis several years ago, which I found appalling (and almost finished writing a post about shortly after it happened).
These kind of crazy accusations against other researchers and their friends is part of how this bitter conspiracy troll class seems to bond, and the more people call them out, the more they bunker up into their own worldview. More Sandy Hook links below...
////
Sean messaged me the same block message and suggests that we not engage Hennen or his hoaxer friends anymore, and instead go with the copypasta. I am including Sean's message here so it's not lost in the shuffle - linebreaks added for clarity:
dan michael hennen you coward... you take a few sentences of our conversation and share that why would you not share the whole thing... Like I said on the phone respect and rights are 2 completely different things, and when it comes to this you have neither. I will not let you get me angry, you do not have that power nor the respect to even let you cloud my thoughts through all of this. What I am happy to see is the true friends of mine, family and gray state team who have put countless hours to try and reason with your delusional false empathetic gestures.

But obviously you are a sociopath and unable to decipher with rational reason or emotion. I most feel sorry for your children. a message to all who are trying to rationalize with this psychotic please do not waste your time he is in this only to fulfill his sick needs of torment and has lacked the ability to deal with his inner demons im sure that he is sick and needs help. even through his hatred and disrespect for this situation I still have hope for him that he will one day learn respect and honor, for the only reason is that you have children. You are so lucky I am where I am mentally and have only strived to improve myself daily that I will never be the reason you look over your shoulder.

I cannot speak for others but all you have done is put yourself as the target for misguided anger, I pray that no one would ever harm you as that would be against the crowleys wishes and disappoint me. as far as any and all of my friends please do as I and the family and friends are doing and ignore these trolls. Dan is the one who has to look at himself and tho he might not see any of his actions as wrong that is just an apparent red flag is his sickness. Sean Wright, family friend of David Komel and Raniya


/// I sean Wright Give Dan Feidt full permission to troll Dan hennen with my comment and think this will be enough to get him to stop but we do not need to waste any of our time on him other than clicking "control v" that is all the respect he deserves, he does not deserve any actualy intellectual responses from any of us please keep our anger harnessed as it will only fulfill his sick mind. Thank you respectfully Sean Wright 1/25/2014
Before I realized that this was the Sandy Hook Hoaxer troll squad I posted the following to the group, a few days ago:
The statement from the group admin "In some circles, HE committed the crimes." referring to someone in Crowley's immediate family is a dangerous and defamatory statement to peg on the internet especially when David's actual real-world friends have warned plenty of times that they and the family are worried about unbalanced people coming after them. This followed an ad hominem attack saying anyone who doesn't believe it wasn't a murder/suicide is missing something obvious to a 5th grade education.

Detaching from reality and asserting an alternate one "In some circles, HE committed the crimes" as opposed to stating "some circles believe that" is defamatory and makes the situation more dangerous. There are mentally ill people sucked into this thing now and if you don't put some boundaries, especially defamation of family members, things are going to get worse, not better, and that is shameful.

Making ad hominem attacks about people who don't buy these speculative storylines peddled around all week is also the shortcut to failing to achieve any "truth" or justice and the lack of class shown in this moment is appalling.

Sean posted this back on the 22nd, before things got even crazier (check the thread from hell):
Please stop with the accusations of an inside job, and its our right to upload video thats not your work. Trolling is pointless. Us friends and fam have issued statements, met w press, and have been very accomodating due to the suspiciousness of the tragic events which took place. To settle the trolls:

Not a conspiracy of murder.

David did not receive 30 mil.

Not going to confirm any facts of the investigation until its complete and delivered to family.

The rise was only rough cut for a reason it was never meant to be publicly viewed. He put that up 2 years so we could help him with stuff he needed input on.

The 2nd cut and 3 are way different than the rough cut.

The finsl cut is what david wanted released and that will come out in time, first we must bury our friends and let the investigation take place there is a ton of information to go thru and so much more piling in daily. I have faith in the detectives working this case as does the family and rest of close friends.

We are not covering anything up.

We are carefully sharing what we can. We need to get access to all the pages to insure accurate information is released.

Too many people are trying to get their name out in vein of this event. david was on bring of many projects (cant disclose publicly and cuz of all that is going on from speculation you see why)

Only facts out is they went out painlessly and not a conspiracy. Please stop with the nonsense its scaring our loved ones and we have been so busy we have not even been able to begin to grieve. Its not fair to us.

If you want to help stop acting crazy so we can tell our loved ones that there is nothing to worry about. All the conspiracy buzz is freaking them out. They are afraid some of you lunatics are gonna come for them thinking we are covering stuff up.

Please have class and respect for the dead if not for me then please for the families of the deceased.

I had to tell my daughter her friend and whole family died. She was only able to smile when i told her paleo is ok. Stop scaring my loved ones. Put urself in our shoes how could you handle this better than we are i would love to know (not).

Danny August Mason Adam Shambour Mason Norsk Hest and have not had a second to grieve. Please give us the same respect the families deserve. Please respect david komel and rani and their families.

today we did 2 interviews w msm, that was shadowed by the release of the rough cut. Tomorrow ben swann interview. Family set up fund raiser and taking care of funerals wakes and everything else that has to be done.
///
Earlier vultures perch: I thought it was contemptible that Kevin Barrett immediately blamed the Mossad for this tragedy via Iranian state media PressTV site, without a particle of evidence. The ever-trashy Southern Poverty Law Center of course has a field day with all the fruitbattery and re-posting Crowley's videos under "hatewatch". Of course SPLC cites the stalker/hoaxer Thomas Lapp to prove their overall persistent point, that generally alt-media people are dangerous and prone to inducing violence.
///
Other Sandy Hook related material: For example this enters into the topic of the Sandy Hook Hoaxers and their military intelligence links: Sandy Hook Stalkers | Tracking the Vultures and Predators of the Sandy Hook Elementary School Massacre - a number of specific hoaxes they've run in the Sandy Hook context. Hoaxers Put Sandy Hook Parents in Their Crosshairs | Sandy Hook Stalkers
Wolfgang's Bad Company « Memory Hole: A prominent researcher on Sandy Hook James F Tracy explained that shadowy people tried to get him to peddle the crisis actors meme, and when he turned them down, then they started putting Wolfgang at the head of the hoaxer troll pack. Unfortunately he gave stalker Tony Mead space on his site in July as well, but this is probably the first thing worth reading about this mess:
"Those in the 9/11 Truth movement are well aware of the "cognitive infiltrators" who are only too happy to harness a loose cannon or two that will sabotage or otherwise hinder the genuine remedy of collective intelligence. I am aware that at least one of the parties who misinformed me is now operating as Wolfgang Halbig's handler."
Via Brandan Hunt (xrayultra): EXPOSED - The Secret Troll Network Preying on the Truth Movement: Montagraph, October Reignz, CaliberHitter… "Try your best not to internalize their bullshit. Instead, speak out, but don't spend any more of your precious time exposing these freaks than is absolutely necessary. It will distract you from the good work you do, and indeed, that is the goal." Great advice. Also: Sandy Hook Truth Movement takeover by Disinfo Agents & Morons - YouTube
Sandy Hook Hoax admins are LIARS [Videos + Transcript] - Brendan Hunt:
"folks who are posing as truth-seekers and online researchers, but are actually injecting disinformation into the communities that are looking into 9/11, the JFK assassination, and things like Sandy Hook…. Lenny Pozner's recent editorial on Sandy Hook truthers which singled out Tony Mead and Wolfgang Halbig as some of the more toxic individuals in the community. I'm not saying I trust Pozner at all, but since the truther community hasn't really taken a hard-line stance against these frauds, as I've tried to encourage, the media can hold them up as examples of the research community and say "See! We told you these truthers were bad!" These crazed individuals, such as Tony Mead and Erik Pearson, ReviewManify aka TeamWakeEmUp, Thomas Lapp, FreeRadioRevolution and his idiot pal RedPillRevolution, Odinrok, Jim Fetzer and the Veteran's Today crew, and George Mason are all pissed at me for calling them out on the lies they've tried to perpetrate upon the truth movement."
Much of the same crew now turned against the MN Truthers via this group. Also: SANDY HOOK: Wolfgang Halbig is a LIAR (Video Presentation, Transcript + Downloads) - Brendan Hunt.com
Tracker blog: Sandy Hook Hoax Hall Of Shame
Satirizing hoaxers: Sandy Hook Hoax Hoaxers and Sandy Hook Hoaxers Are Not Bright
CW Wade's debunking site (also here) including on Wolfgang trying to demand identities of children. Sandy Hook- Facts & Research: Sandy Hook Hoax Erik Pearson and Tony Mead Continue Stalking of Victims
This is one of the hoaxer pages: Sandy Hook Hoax mainly promoting Wolfgang Halbig.
WillyLoman: Rainmaker Wolfgang Halbig – A Pure Fraud in the Classic Sense | American Everyman - March 2014

Unfortunately Tony Mead has been posting at ActivistPost (Aug 2014). Typical stuff. Another hoaxer site. They defend themselves from stalking charges in a convoluted post here.
Identity hijacking from Tony Mead's friends at InsaneMedia: Insanemedia Caught Stealing Woman's Identity To Promote Sandy Hook Conspiracy Theory | Newtown Post-Examiner, see also "We Need To Talk About Sandy Hook" Stalker Craven S Moorehead aka Swansong aka Swan | Newtown Post-Examiner: "In a previous post on the Sandy Hook Stalkers blog, Craven S Moorehead was shown to be partnered with Katja Bush, the wife of Captain Lashon Bush of the U.S. Army Cyber Command– all three of whom our team found linked to the IP-phishing Insanemedia website…. For those unfamiliar, Tony Mead's Sandy Hook Hoax Facebook page is where Hoaxers (those who believe that the SHES massacre was a government "false flag" operation) gather to spew libelous accusations and plot strategies to harass and intimidate those personally affected by the SHES tragedy. Their stalking and predations occur on a daily basis and have been well documented by those of us who have been monitoring their activities." Seems legit.
Delusional Internet postings saying Sandy Hook was a hoax deny the pain and anguish of parents, relatives and Newtown residents - Hartford Courant by Lenny Pozner, parent of one of the dead kids. July 25 2014:

Unfortunately, there still exists a small but obsessive faction of hoaxers who are either unable or unwilling to objectively discern the hard facts from among the fleeting hunches and groundless accusations. Others are well aware of the truth but exploit the tragedy for their own aggrandizement. Regardless of their motivation, all have one thing in common: They persist in stalking and harassing the Sandy Hook parents and others intimately connected to the tragedy.

Among their most active leaders is Tony Mead, apparently a resident of Florida. For several months, this serial cyber stalker has hosted a Facebook page where he has amassed a cult following of like-minded hoaxers who ravenously feed off each other's paranoia and hatred for anyone who was affected by the Sandy Hook tragedy.

This is not a place where meaningful discussions are held or investigative inquiries are made. This is a place where strategies are plotted against grieving relatives and children's identities are stolen and exploited to fulfill a twisted fantasy.

This is exactly the network that has now turned against the Minnesota Truthers and Crowley's friends and family.
HAL-BIG IS WOLF'S GANG? | THE CONSPIRACY CRITIC (March 2014)

The persistent Glenn Canady shills for VT, Wolfgang & Fetzer etc: The Sandy Hook "Smoking Gun": Game Set Match! | Alternative

Conspiracy cats more likely to conspire? Seems like this type all right: Does it take one to know one? New research reveals conspiring conspiracy theorists — ScienceDaily
There is even a counter-harassment org set up now: HONR Network: Report Harassment, Sandy Hook Hoaxers, Conspiracy Theories
Rather than focusing their delusional grievances and accusations on authorities, the 'hoaxers' take the path of least resistance, harassing and emotionally abusing the victims' family members online, on the telephone, and even in person. This practice allows them to feel as though they are doing something productive to have their voices heard, while staying safely away from the clutches of the authorities. This is a cowardly approach to having their grievances heard, and we need to ensure that they find some other method of doing so which doesn't directly affect victims' family members, or anyone else involved in the management of the tragedies, such as emergency service workers or those who were in any way involved. Even these individuals have found themselves the target of hoaxer hostility and harassment.
///
Unfortunately until such disgusting tactics are railed out of the Truther world, we will continue to see investigations around tragedies like Sandy Hook and the Crowley family backfire horribly. To paraphrase what one of Crowley's Truther friends told me, he was damn near ready to switch into believing the official 9/11 story simply because of these appalling people. My condolences to all.
On a final note, I was able to exchange email with the late Crowley about the Oct 2013 draft cut of his film Gray State: The Rise, but I will hold those comments over for another time. There are other relevant statements, social media items and images that clearly show Crowley was going into a dark place. But this post is focused on the ugly troll crowd that wants to find another tragedy to cling to, with Sandy Hook now becoming a messy, opaque memory.
[Full research credit to Scott Wilson who originally flagged the Sandy Hook Hoaxer squad's existence on the fruitbat group, thank you.]
Commenting on this Story is closed.
Tags for Tragic Gray State fallout: "Sandy Hook Hoaxer" stalker troll squad turns against Minnesota Truthers & late filmmaker David Crowley's family & friends in bizarre twist