Feb 17 2015 MBTA Service Map! "Crippled" Boston mass transit system struggles as lines closed
Here is the service map for the Boston MBTA for Tuesday Feb 17 2015:
/// UPDATE Tues 12:15PM Redditors have provided more detail about what they are experiencing today. Summarized: Train is working on Orange Line at Ruggles. Red line is running to JFK. "the T isn't running at NeU or Symphony." Oak Grove to Sullivan should be textured (better). ///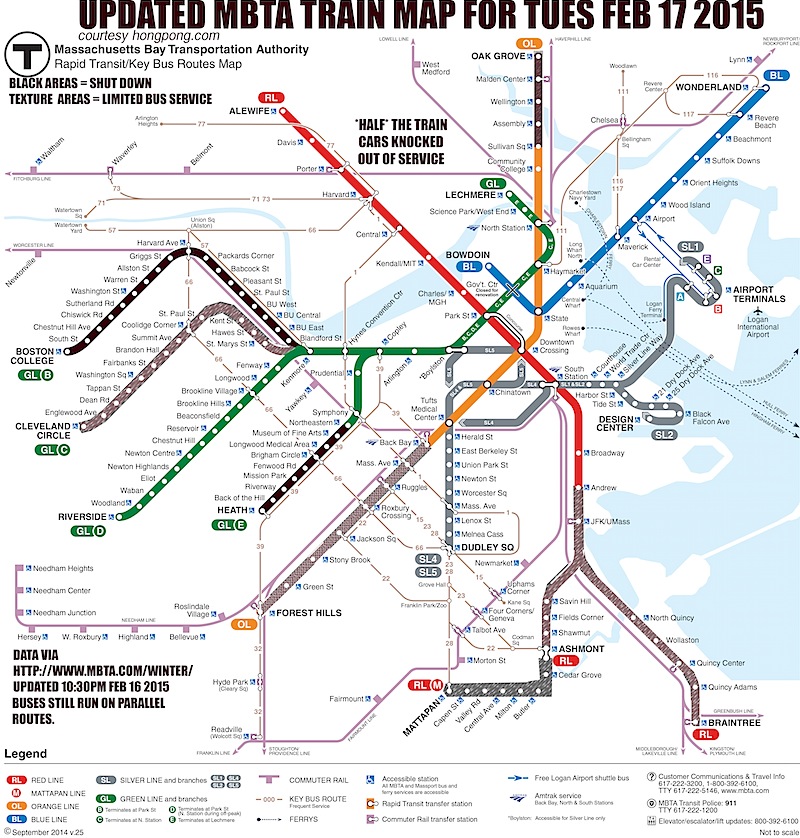 You may reuse the above image. License Creative Commons Sharealike w Attribution and if possible a tweet to @HongPong. Thanks!
This is based off mbta.com/winter info as of 10:30PM Feb 16 2015. Half the train cars are out of service right now, so active lines are very limited. Textured areas have some kind of "limited" or shuttle bus service. This is just an estimation and who knows if it will really happen this way.
With the exception of the Green Line D Riverside line, most of the older lines in the city have fared poorly and it has been estimated it will be 30 days (without snow) for full service to return. I think I will make a few of these maps during this transportation crisis.
Severe Weather Update - February 16-17, 2015

What to expect when winter weather hits.

As efforts continue to recover from weeks of severe winter weather, the MBTA is announcing it will provide a limited schedule of rail and bus service tomorrow, Tuesday, February 17, 2015.

Service will available on the Red Line from Alewife to Andrew Stations with limited substitute bus service on the Ashmont and Braintree branches. Trains between Alewife and Andrew are scheduled to arrive/depart about every six to seven minutes. Limited bus replacement service will be available between Braintree and Andrew and between Ashmont and Andrew.

Orange Line service will be available from Sullivan to Back Bay Stations with limited substitute bus service from Oak Grove to Sullivan Stations and from Back Bay to Forest Hills Stations. Trains between Sullivan and Back Bay are scheduled to arrive/depart every 12 minutes. Limited bus replacement service will be available between Oak Grove and Sullivan and between Forest Hills and Back Bay.

Green Line service will operate between Kenmore and Lechmere Stations with limited trolley service operating in both directions on the D branch. Trains between North Station and Kenmore will depart/arrive every five to six minutes.

Along the B branch, Route 57 buses will make stops between Packards Corner and Kenmore Stations. There will be no bus service between Packards Corner and Boston College.

Along the C branch, limited shuttle bus service will be available between Cleveland Circle and Kenmore.

Along the E branch, Route 39 buses will make stops between Northeastern and Heath St. Stations.

The Blue Line is serving all stations between Wonderland and Bowdoin. Trains will depart/arrive every seven to eight minutes.

Service remains suspended on the Mattapan Trolley Line. A limited bus replacement service will be available.

Commuter Rail will operate on a modified weekday schedule, but with significant delays and several canceled trips. Revised schedules are available below.

Buses, including the Silver Line, will operate on a weekday schedule with delays due to traffic and road conditions.

Please note that parking in MBTA garages will continue to be permitted, but availability may be limited. Lynn, Beverly, Salem, and Wonderland Garages will continue to have low availability. Additional parking availability information can be found here. Illegally parked vehicles in garages that are found to be blocking pedestrian access ways and/or traffic lanes will be subject to towing. Passengers are encouraged to park in garages only when leaving their vehicle on the premises overnight.

MBTA passengers may also park in available Massport parking at Suffolk Downs Station and board Massport employee shuttles either to Airport terminals or to the Blue Line Airport Station.

As always, the latest service information can be found at the MBTA's winter resource hub:mbta.com/winter. Customers are also urged to check T-Alerts regularly for updates or to join our 106,000 followers on Twitter @MBTA. For Commuter Rail updates, we ask commuters to follow the MBTA Commuter Rail on Twitter @MBTA_CR.
/////
Even the Vermont National Guard is involved in snow removal right now.
Background: The MBTA's long, winding, infuriating road to failure - Metro - The Boston Globe
MBTA may need 30 days to return to full service - Metro - The Boston Globe
Scott: MBTA service won't be fully restored for 30 days | Weather - WCVB Home
2012: What Exactly is the MBTA's 'Big Dig Debt'? | Boston Magazine ($5.2 billion!)
See also: Boston Using Prison Labor To Shovel Heaps Of Snow In Frigid Temperatures For Pennies | ThinkProgress
After another 16 inches of snow fell on the Boston area this weekend, bringing the city's total snowfall for the past month up over seven feet, the beset city is turning to prison labor for help digging out.

A mixture of unionized city workers and state prison inmates worked to clear commuter rail tracks of snow on Monday in hopes of having trains running again when businesses reopen Tuesday after the President's Day holiday. With air temperatures down in the single digits and wind chill values running below zero fahrenheit, the crews shoveled snow off of tracks and above-ground platforms at the Braintree station outside the city, a key outlying stop on the Massachusetts Bay Transit Authority's (MBTA) red line.

Details of the prison labor system remain unclear as state corrections officials have not yet responded to requests for information. An MBTA spokesman confirmed to ThinkProgress that prisoners are assisting union workers but referred further questions to the state Department of Corrections.

The state has deployed inmates to shovel before, according to city Inspectional Services Department commissioner William Christopher, who said that two four-prisoner crews were sent out around the city earlier this month to clear paths to fire hydrants and shovel snow off handicapped access infrastructure. "The amount of snow that we got is record-setting and we've pulled out every resource from every possible way to clean this situation up," Christopher said at the time. Further west, inmates in a community service program at a minimum-security prison have helped clear snow from other storms this winter, and as far back as 2011.

The MBTA's turn to inmate labor likely means that the system's contracts prohibit paying non-union members to do the work. The city is reportedly offering $30 an hour for union workers to shovel tracks, and supplementing those paid work crews with prisoners.
Also the politics of the MBTA transit system collapse (trains only operating in the tunnels today) vs new GOP Gov Charlie "No new taxes" Baker are super interesting to watch, because it's so blatantly clear MBTA is a cornerstone of the daily economy, now experiencing cascading failures on a daily/weekly basis.
I am amazed more people are not injured every day, it speaks to the skill and persistence of the tired union transit workers who poke away with shovels and picks at ice in the switches all these cold windy nights.
I don't know when it became acceptable to use the word "crippled" again since that seems to be on roughly the same perjorative word list as "retard". But all the news quotes today were centered on the word "crippled" anyway. I think "disabled" is the preferred nomenclature for technical systems. The "ableism" of the system is also pretty bad, even for people without major medical issues it is quite difficult to get around now.
Commenting on this Story is closed.