Barney Miller on Trilateralists in 1981 & war machine in 1978: Fictional arrested protester dialogue censored by ABC for linking Dow & DuPont to Vietnam War
I wasn't familiar at all with late 1970s series Barney Miller, but it's a striking contrast to today's much creepier police shows.
First, a funny clip just posted from Arrested Development's Jeffrey Tambor explains the Trilateral Commission, name checking David Rockefeller and George HW Bush, broadcast in 1981 (via VigilantCitizen naturally):
A few seasons earlier, the episode about arresting a Yippie style antiwar radical activated the network censors hours before broadcast. Here's a news clip explaining the ABC lawyers thought that referencing Dow & DuPont was potentially libelous: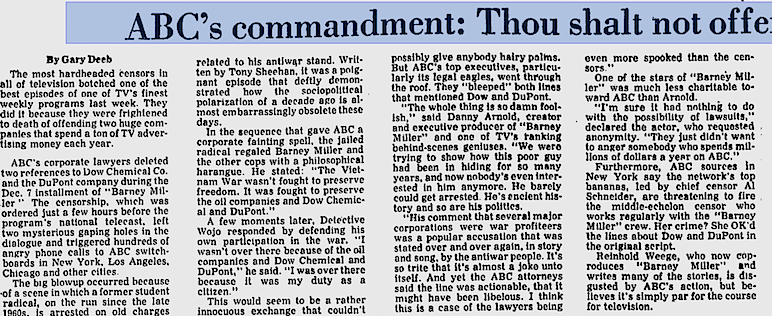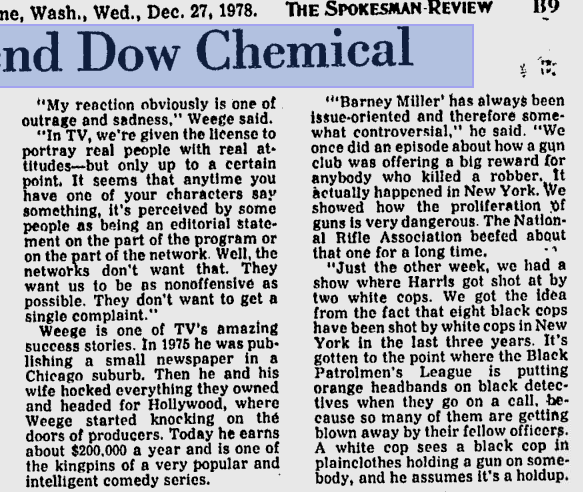 Here's the full episode S5E11 "The Radical". References to Abbie Hoffman and Bill Ayers, while some of the cops debate when they'd been protesting the Vietnam War, and what on earth the war really meant:
The contrast between sheer mellowness of this show versus the aggression and blunt pacing of today's modern cop shows is so striking. Do you really think a fictional cop character would claim to have opposed a war years earlier than everyone else now?! A lot of comments on its wiki page and elsewhere that Barney Miller was seen by police officers as the most accurate cop show on TV for many years.
On kind of a throwback kick today, watching "Brotherhood of the Bell" (1970) as well. Sort of a pseudo Freemasonry California business leisure suit story. You expect Jim Rockford to pop out….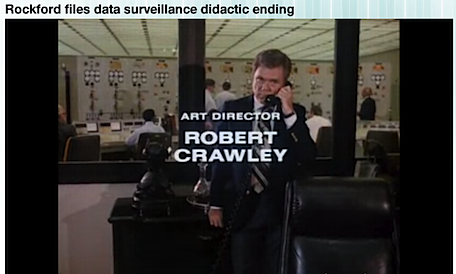 In case people haven't seen it, someone just put up Rockford Files Season 4 Episode 21 & 22 The House On Willis Avenue which covers something like a privatized NSA conspiracy.
Here's a wonderful excerpt wherein Rockford vents about the dangers of creeping privatized FBI agents and 'control file' style dirt digging:
Back in October 2013 I used the Rockford Episode to talk about the Harris Kingfish cell phone interceptor:
Local cell phone spying KingFish stonewall: Minnesota law enforcement at BCA & Hennepin County refuse to disclose SIGINT cell phone snooping capabilities from NSA contractor Harris
.
Commenting on this Story is closed.