ALEC Operation on Blast & knives out for solar as fossil fuel lobby gets what it paid for: MN House plan to gut clean energy policy, unload more fracked natural gas
//// Update 4 1AM: see Radically retro energy omnibus bill prompts MN citizens to step up for clean energy policy for more on the groups that have started moving on this last day or so. The Sierra Club Northstar post from Monday has details on several key bad parts of the energy omnibus bill. Alliance for Solar Choice has this action page for testimony starting Wednesday. ///
Quick post to roust people on another impending political disaster in Minnesota. Nationwide the American Legislative Exchange Council politicians (ALEC - a corporate establishment coordinating body, essentially) are trying to kill decentralized rooftop solar panel systems and the policy apparatus that lets them trade extra electrons into the grid for cash.
National: see their scheme directly: Updating Net Metering Policies Resolution - ALEC - American Legislative Exchange Council
ALEC, climate change: A fight over rooftop solar panels could decide America's energy future. (Sept 2014)
Utility Trade Group Funds ALEC Attack on Americans Using Solar | PR Watch (July 2014)
Now this plan is in Full Effect in Minnesota and at least on social media, almost everyone has been asleep at the switch (although this is changing).
In Minnesota the new energy omnibus bill here (PDF) which was composed by GOP Rep. Pat Garofalo, one of ALEC's point men, is trying to thrash the entire renewable energy standards system which sets clear targets for carbon reduction and deters utilities from buying environmentally dirty power from the region. It also obliterates the current program to promote "made in Minnesota" local solar companies. (energy committee homepage)
I just heard from a friend that "Fresh Energy, MN350 are all testifying….. The hearings on the bill are extended now Wednesday evening, Thursday AM, Friday from noon until midnight. That sounds to me like lots of folks are registering to testify." Hit up the committee administrator at the link above if you want to testify this week too.
For the full rundown see Bluestem Prairie: Rep. Wagenius charges that MN House energy omnibus bill sabotages solar and much more

DFL Rep. Jean Wagenius, a truly long term dedicated environmentalist, made this post. The worst energy bill ever sabotages solar. And that's not all:
Rep. Pat Garofalo has introduced his draft Omnibus Energy Bill. d0b80283-da3f-4839-baf9-551613c2b6d9.pdf Since he is Chair of the House Jobs Creation and Energy Affordability Committee, his bill is the Republican bill.

The Garofalo bill incorporates the energy-related ideas and bills that had been heard in his committee. Rep. Garofalo then found more bad ideas to include. This post would be much too long if it did more than scratch the surface. So it just covers the worst of the worst. Two of the worst of the worst were presented earlier in committee so there are earlier and more detailed posts about them. The earlier posts are noted below.

In summary, Rep. Garofalo's bill would dismantle most of Minnesota's efforts to promote renewable energy and reduce greenhouse gas emissions by repealing the laws that support these efforts. He totally sabotages solar.

In 62 pages he does a lot more, like proposing to make gifts to coal, the Koch brothers, and people wealthy enough to buy electric cars.

Before the worst of the worst, the back story needs to be told. The fight brewing in Minnesota is just one of many happening across the U.S. In anarticle entitled "Utilities wage campaign against rooftop solar," The Washington Post reported on the campaign by utitlites and its fossil-fuel supporters to stop residential solar. The Post says that legislation to make net metering illegal or more expensive has been introduced in legislatures in nearly two dozen states. The Los Angeles Times article, "Koch brothers, big utilities attack solar, green energy policies" links the effort against net metering to the American Legislative Exchange Council (ALEC) and the Koch brothers.
… meanwhile virtually nothing has been published by 'energy watchdogs' about it. (note her post is about the 3/27 draft, while the newest is the 4/6 draft but the same in most important respects.)
I had an exchange with Garofalo on Twitter. Clearly you can see the political economy in effect. As previously noted by hongpong.com (thanks to great tips from friends), the fossil fuel lobby bought its way into controlling the MN House through independent expenditures paid for by Northern Oil & Gas of Wayzata, which is currently trying to unload as much dirty fossil fuel as they can.
Here, can you see Garofalo's political economy? Smells like fracksauce to me...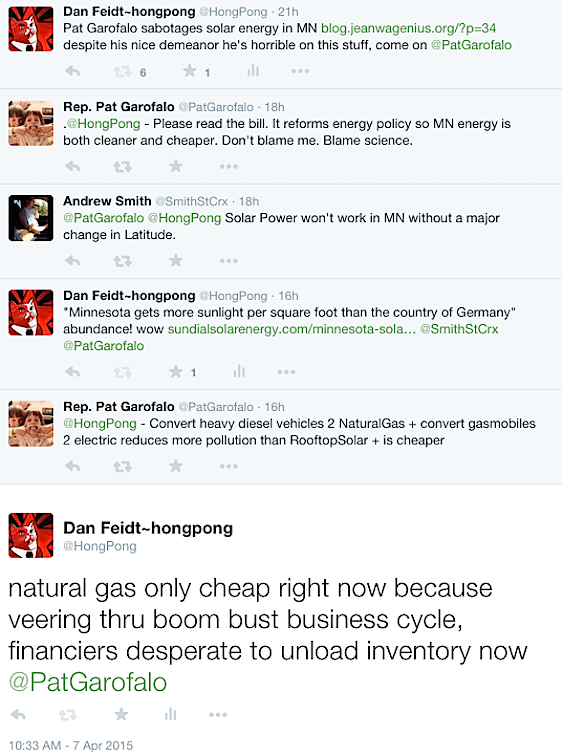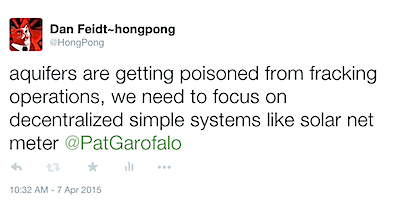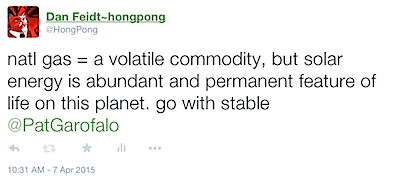 Unfortunately various energy watchdogs such as www.midwestenergynews.com are 100% asleep at the switch [on this issue in a very bad session] so it's up to you to try and intervene. Get crackin or you'll be fracked!!
Update 1: The section about appropriations for low income energy assistance, as I understand it is something that is usually included in energy omnibus bills in years past, it is not a novel addition really. The fossil fuels and striking of all renewable language, giveaways to nuclear, dumping carbon/emission reduction targets etc are all major policy shifts that need our full attention.
Update 2 - 5:40pm: I was sent over this bulletin that went out an hour ago from MNIPL. It is encouraging to see more groups are nudging the issue but they need to get it accelerated in public as soon as possible, not just action alerts that are hard to discover:
From: Claire Curran - claire@mnipl.org
Date: Tue, Apr 7, 2015 at 3:44 PM
Subject: Tell Your Representatives to Do the Right Thing!

Dear Friends,

Key people within the Minnesota House of Representatives are working to gut Minnesota's successful landmark clean energy policies, but people of faith are stepping up and calling on them to do the right thing.

Over the past twenty years, Minnesotans have built a responsible transition beyond fossil fuels to a clean, renewable energy, and a thriving industry that employs >15,300 people. Faith actors have been at the forefront of these successful steps forward.

But the Minnesota House bill would:

Eliminate Minnesota's science-based goals aimed to reduce and offset climate pollution;
Repeal Minnesota's energy savings program that has saved the energy equivalent of 8 Prairie Island nuclear plants;
Repeal the nuclear moratorium;
Destroy the progress made on solar energy in 2013
Roll back Minnesota's renewable goals by watering down standard renewable energy by allowing existing, large hydro from Canada.

Tell your State Senator and Representative to vote NO on the House energy bill and instead supporting clean energy & jobs policies by supporting the Senate clean energy package.

The right thing to do is to continue to make progress by supporting the Senate clean energy package that sets Minnesota's renewable energy benchmark to achieve at least 40% renewables by 2030 and increases energy savings.

Thanks for all you do to build the climate movement!

Together,

Claire Curran
Campaign Coordinator, MNIPL
Their action alert URL on the email is http://salsa4.salsalabs.com/dia/track.jsp?v=2&c=Auxa8Gzj01ypA1nY1qyd5QdF... .. keep rollin on!!

Update 3: 7pm: North Star Sierra Club put this up yesterday covering the bill in detail. There is apparently a phone bank going right now tonight somewhere on this issue... Good work, keep it up!
Commenting on this Story is closed.
Tags for ALEC Operation on Blast & knives out for solar as fossil fuel lobby gets what it paid for: MN House plan to gut clean energy policy, unload more fracked natural gas