Fascinating Greek parallel euro payment network nearly activated in crisis, after hacking into EU-controlled systems to clone tax IDs
It can't be emphasized enough that the global debt complex we are all trapped in is reproduced daily by sophisticated (and in many cases quite old & deteriorated) computers. There is no magic man behind the curtain, just a bunch of nasty computer systems whose authority is enforced by central banking authorities like the Troika, IMF, World Bank, Bank for International Settlements and the Federal Reserve System.
This is one of the biggest stories at this level I have seen in ages, perhaps ever. Fascinating story very worth reading: A secret lolcat team in Greece's finance ministry hacked into their own EU-controlled systems and had a parallel financial network ready to go, but it all got wound down. Apparently FM Varoufakis resigned as a result of the plan being halted - and overall it was a pretty cool plan under dire national circumstances of emergency survival vs austerity.
Varoufakis reveals cloak and dagger 'Plan B' for Greece, awaits treason charges - Telegraph;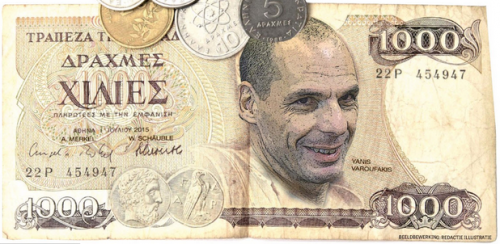 A secret cell at the Greek finance ministry hacked into the government computers and drew up elaborate plans for a system of parallel payments that could be switched from euros to the drachma at the "flick of a button" .

The revelations have caused a political storm in Greece and confirm just how close the country came to drastic measures before premier Alexis Tsipras gave in to demands from Europe's creditor powers, acknowledging that his own cabinet would not support such a dangerous confrontation.

Yanis Varoufakis, the former finance minister, told a group of investors in London that a five-man team under his control had been working for months on a contingency plan to create euro liquidity if the European Central Bank cut off emergency funding to the Greek financial system, as it in fact did after talks broke down and Syriza called a referendum.
People really need to pay more attention to the crappy computers running the whole financial system, see also very important here: Bank IT, Grexit, and Systemic Risk | naked capitalism - lots of gory details:
On the IT front, the challenge is vastly larger due to the state of financial firm IT systems. We intend to return to this topic, because we see bank IT systems as an unrecognized source of systemic risk. They are required to run to mission critical standards: enormous transaction volumes, extremely high demands for accuracy of end output, high uptimes. Yet the code base is an agglomeration, with many important operations relying in meaningful ways on legacy systems. Thus, as our expert with relevant experience stressed, changes that seem simple are anything but.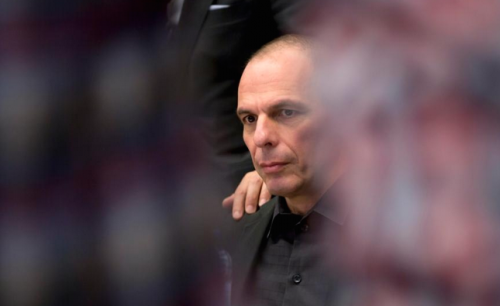 This is precisely why it is so important to understand these systems and come up with intermediate replacements, as your local version of the ECB is always waiting to make its next move for artificial austerity & assorted lethal games all taking place inside these computers…
More: Reports Of Secret Drachma Plots Leave Tsipras Facing Fresh Crisis | Zero Hedge, Syriza "Rebels" Planned To Ransack Greek Mint, Seize Cash Reserves, Arrest Central Bank Governor | Zero Hedge.
Varoufakis claims had approval to plan parallel banking system | News | ekathimerini.com
Former Finance Minister Yanis Varoufakis has claimed that he was authorized by Alexis Tsipras last December to look into a parallel payment system that would operate using wiretapped tax registration numbers (AFMs) and could eventually work as a parallel banking system, Kathimerini has learned.

In a teleconference call with members of international hedge funds that was allegedly coordinated by former British Chancellor of the Exchequer Norman Lamont, Varoufakis claimed to have been given the okay by Tsipras last December – a month before general elections that brought SYRIZA to power – to plan a payment system that could operate in euros but which could be changed into drachmas "overnight" if necessary, Kathimerini understands.

Varoufakis worked with a small team to prepare the plan, which would have required a staff of 1,000 to implement but did not get the final go-ahead from Tsipras to proceed, he said.

The call took place on July 16, more than a week after Varoufakis left his post as finance minister.

The plan would involve hijacking the AFMs of taxpayers and corporations by hacking into General Secretariat of Public Revenues website, Varoufakis told his interlocutors.This would allow the creation of a parallel system that could operate if banks were forced to close and which would allow payments to be made between third parties and the state and could eventually lead to the creation of a parallel banking system, he said.

As the general secretariat is a system that is monitored by Greece's creditors and is therefore difficult to access, Varoufakis said he assigned a childhood friend of his, an information technology expert who became a professor at Columbia University, to hack into the system. A week after Varouakis took over the ministry, he said the friend telephoned him and said he had "control" of the hardware but not the software "which belongs to the troika."

….

"The prime minister before he became PM, before we won the election in January, had given me the green light to come up with a Plan B. And I assembled a very able team, a small team as it had to be because that had to be kept completely under wraps for obvious reasons. And we had been working since the end of December or beginning of January on creating one.

"What we planned to do was the following. There is the website of the tax office like there is in Britain and everywhere else, where citizens, taxpayers go into the website they use their tax file number and they transfer through web banking monies from the bank account to their tax file number so as to make payments on VAT, income tax and so on and so forth.

"We were planning to create, surreptitiously, reserve accounts attached to every tax file number, without telling anyone, just to have this system in a function under wraps. And, at the touch of a button, to allow us to give PIN numbers to tax file number holders, to taxpayers.

"That would have created a parallel banking system while the banks were shut as a result of the ECBs aggressive action to deny us some breathing space.

"This was very well developed and I think it would have made a very big difference because very soon we could have extended it, using apps on smartphones and it could become a functioning parallel system and of course this would be euro denominated but at the drop of a hat it could be converted to a new drachma.

"But let me tell you - and this is quite a fascinating story - what difficulties I faced. The General Secretary of Public Revenues within my ministry is controlled fully and directly by the troika. It was not under control of my ministry, of me as minister, it was controlled by Brussels.

Ok, so problem number one: The general secretary of information systems on the other hand was controlled by me, as minister. I appointed a good friend of mine, a childhood friend of mine who had become professor of IT at Columbia University in the States and so on. I put him in because I trusted him to develop this……




a week or so after we moved into the ministry, he calls me up and says to me: 'You know what? I control the machines, I control the hardware but I do not control the software. The software belongs to the troika controlled General Secretary of Public Revenues. What do I do?'

…..

"So we decided to hack into my ministry's own software program in order to be able break it up to just copy just to copy the code of the tax systems website onto a large computer in his office so that he can work out how to design and implement this parallel payment system.

"And we were ready to get the green light from the PM when the banks closed in order to move into the General Secretariat of Public Revenues, which is not controlled by us but is controlled by Brussels, and to plug this laptop in and to energize the system.



Obviously it was a disappointment to many sane people that Syriza seems to have mostly folded to the Troika but perhaps the Secret Team tactic could be used when the next big one hits the fan and an entrapped debtor nation decides to quickly assert technical sovereignty.
But how to pull this again without tipping the hand? And could it be used again by Greece, now that the word is out? What will happen to Varoufakis' rather exposed techie friend, assuming it's accurate? A fascinating and very pertinent story, I can only hope gets dramatized in some fashion.
Get these computers because one way or another, they are definitely gonna getcha, getcha, getcha…
---
Update: worth pointing out the Federal Reserve drama over banks wanting their electronically created money kicked back from the Fed. Interesting because it unravels a 100-year-old pact between Congress and banks, as well as highlighting the bizarre secretive and lucrative bank membership in Fed regional entities. Great source of electronic "money" to put into the roads, Ace work whoever managed to slide this policy under the nose of the bank lobbyist fleet.
The Hill, 7/25/2015 - Banks revolt over plan to kill $17B Fed payout by Peter Schroeder
Industry lobbyists say they were blindsided by the inclusion of the provision, which would help policymakers cover the bill's cost by cutting the regular dividend the Federal Reserve pays to its member banks.

One lobbyist went so far as to reread the Federal Reserve Act of 1913 after getting wind of the proposal to determine what was at stake.
"I think it took everyone by surprise," said Paul Merski with the Independent Community Bankers of America. "There was no study of the issue, no hearings, no consultation with the Federal Reserve itself."

"It came on very quickly," said James Ballentine of the American Bankers Association, who said he first caught wind of the idea a little over a week ago. "It's certainly a scramble."

In a Congress where lawmakers are always hunting for politically palatable ways to raise revenue or cut costs to cover the expenses of additional legislation, the Fed provision was a novel, and rich, one. The proposal is estimated to raise $17 billion over the next decade, and is by far the richest "pay for" included in the bill.

Lobbyists said they were not aware of any previous time when lawmakers had attached the language to a piece of legislation, which would scrap a perk banks have come to expect for over a century.

When banks join the Federal Reserve system, they are required to buy stock in the central bank equal to 6 percent of their assets. However, that stock does not gain value and cannot be traded or sold, so to entice banks to participate, the Fed pays out a 6 percent dividend payment.

The Senate proposal says it would slash that "overly generous" payout to 1.5 percent for all banks with more than $1 billion in assets. While the summary language outlining the proposal said that change would only impact "large banks," industry advocates argued that banks most would identify as small community shops could easily have assets in excess of that amount.

Banks are working to mobilize against the provision, even as lawmakers are pushing to pass a highway bill before program funding expires at the end of the month.

Merski said ICBA had launched a "nationwide grassroots effort," enlisting its numerous member banks and bankers and told them to call Senate offices to oppose the provision.

And Ballentine said his group was engaged in a concerted education effort for members, outlining why the industry believes the policy change would be disruptive and has no place in highway legislation.

Five major industry groups also sent a letter to lawmakers blasting the provision, saying it "undermines a key agreement that has underpinned the United States banking system for 100 years."

Senate Banking Committee Chairman Richard Shelby (R-Ala.) opposes the provision, and invited Fed Chairwoman Janet Yellen to opine on it when she appeared before his panel earlier this month.

She told lawmakers that if the dividend payment is reduced, some banks may not want to buy into the Fed.

"This is a change that likely would be a significant concern to the many small banks that receive the dividend," she said.

Donald Kohn, the former vice chair of the Fed, told House lawmakers Wednesday that the proposal would be one directly felt by banks.

"Let's recognize that by lowering it to, say, 1.5 percent on the proposal, in effect you are placing a tax on banks," he told the House Financial Services Committee.

A review of previous policy proposals suggests that the idea may have first been thought up by House liberals. The 2014 budget proposal from the Congressional Progressive Caucus put forward the idea to raise revenue, and a CPC aide said he believed it was the first time someone in Congress proposed the idea. But the Senate highway bill apparently marks the first time members have actually placed it in actual legislation.
This all reminds me that the Federal Reserve Bank [Atlanta] branch in Miami would have some fascinating figures benefiting its busy member banks from the 1980s in the Iran Contra cocaine salad days, but that's another story... [Jeb Bush's angle in the Miami Dade Republican Party/Cartel days is treated in this hilarious Daily Beast limited hangout, spurring hope of awesome JebCokeCIA campaign stories (or videos?) yet to come.]
Commenting on this Story is closed.
Tags for Fascinating Greek parallel euro payment network nearly activated in crisis, after hacking into EU-controlled systems to clone tax IDs