Complete 911 Timeline: Sibel Edmonds and Related Scandals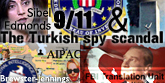 Source: http://www.cooperativeresearch.org/timeline.jsp?timeline=complete_911_timeline&projects_and_programs=sibelEdmonds
April 2001: FBI Translators Point to Explicit Warning from Afghanistan

FBI translators Sibel Edmonds and Behrooz Sarshar will later claim to know of an important warning given to the FBI at this time. In their accounts, a reliable informant on the FBI's payroll for at least ten years tells two FBI agents that sources in Afghanistan have heard of an al-Qaeda plot to attack the US and Europe in a suicide mission involving airplanes. Al-Qaeda agents, already in place inside the US, are being trained as pilots. By some accounts, the names of prominent US cities are mentioned. A report on the matter is filed with squad supervisor Thomas Frields, but it's unclear if this warning reaches FBI headquarters or beyond. The two translators will later privately testify to the 9/11 Commission. [WorldNetDaily, 4/6/2004; WorldNetDaily, 3/24/2004; Village Voice, 4/14/2004; Salon, 3/26/2004] Sarshar's notes of the interview indicate that the informant claimed his information came from Iran, Afghanistan, and Hamburg, Germany (the location of the primary 9/11 al-Qaeda cell). However, anonymous FBI officials will claim the warning was very vague and doubtful. [Chicago Tribune, 7/21/2004] In reference to this warning and apparently others, Edmonds will say, "President Bush said they had no specific information about September 11, and that's accurate. However, there was specific information about use of airplanes, that an attack was on the way two or three months beforehand, and that several people were already in the country by May of 2001. They should've alerted the people to the threat we were facing." [Salon, 3/26/2004] She will add, "There was general information about the time-frame, about methods to be used but not specifically about how they would be used and about people being in place and who was ordering these sorts of terror attacks. There were other cities that were mentioned. Major cities with skyscrapers." [Independent, 4/2/2004]
July-August 2001: Translator Alleges FBI Agent Is Deliberately Deceived Regarding Skyscraper Warning

FBI translator Sibel Edmonds later will make some allegations of serious FBI misconduct, but the specifics of these allegations will be generally publicly unknown due to a gag order placed on her. However, in comments made in 2004 and 2005, she will allege that in July or August 2001, an unnamed FBI field agent discovers foreign documentation revealing "certain information regarding blueprints, pictures, and building material for skyscrapers being sent overseas. It also reveal[s] certain illegal activities in obtaining visas from certain embassies in the Middle East, through network contacts and bribery." The document is in a foreign language and apparently the agent isn't given an adequate translation of it before 9/11. Approximately one month after 9/11, the agent will suspect the original translation is insufficient and will ask the FBI Washington Field Office to retranslate it. The significant information mentioned above will finally be revealed, but FBI translation unit supervisor Mike Feghali will decide not to send this information back to the field agent. Instead, Feghali will send a note stating that the translation was reviewed and the original translation was accurate. The field agent will never receive the accurate translation. This is all according to Edmonds' letter. She will claim Feghali "has participated in certain criminal activities and security breaches, and [engaged] in covering up failures and criminal conducts within the department..." While the mainstream media will not yet report on this incident, in January 2005 an internal government report will determine that most of Edmonds' allegations have been verified and none of them could be refuted. [Edmonds, 8/1/2004; Antiwar, 8/22/2005]
September 20, 2001: FBI Translator Sees Pattern of Deliberate Failure

Sibel Edmonds is hired as a Middle Eastern languages translator for the FBI. As she later tells CBS's 60 Minutes, she immediately encounters a pattern of deliberate failure in her translation department. Her boss says, "Let the documents pile up so we can show it and say that we need more translators and expand the department." She claims that if she was not slowing down enough, her supervisor would delete her work. Meanwhile, FBI agents working on the 9/11 investigation would call and ask for urgently needed translations. Senator Charles Grassley (R) says of her charges, "She's credible and the reason I feel she's very credible is because people within the FBI have corroborated a lot of her story." He points out that the speed of such translation might make the difference between an attack succeeding or failing. [CBS News, 10/25/2002; New York Post, 10/26/2002] In January 2002, FBI officials will tell government auditors that translator shortages have resulted in "the accumulation of thousands of hours of audio tapes and pages" of material that has not been translated. [Washington Post, 6/19/2002] Edmonds files a whistleblower lawsuit against the FBI for these and other charges in March 2002 (see March 22, 2002). However, the case is later dismissed (see July 6, 2004) because all evidence related to proving the charges is classified. [CNN, 7/7/2004]
March 22, 2002: FBI Translator Charges That Evidence of Turkish Spies in Pentagon and State Department Was Suppressed

Translator Sibel Edmonds later claims that she is fired by the FBI on this day after repeatedly raising suspicions about a co-worker named Jan (or Can) Dickerson. When Dickerson was hired in November 2001, she had connections to a Turkish intelligence officer and had worked with a Turkish organization, both of which were being investigated by the FBI's own counter-intelligence unit. Edmonds claims that Dickerson insisted that she alone translate documents relating to the investigation of this organization and official. When Edmonds reviewed Dickerson's translations, she found information that the Turkish officer had spies inside the State Department and Pentagon was not being translated. Dickerson then tried to recruit Edmonds as a spy, and when Edmonds refused, Dickerson threatened to have her killed. After Edmonds's boss and others in the FBI failed to respond to her complaints, she wrote to the Justice Department's inspector general's office in March: "Investigations are being compromised. Incorrect or misleading translations are being sent to agents in the field. Translations are being blocked and circumvented." Edmonds is then fired and she sues the FBI. The FBI eventually concludes Dickerson had left out significant information from her translations. A second FBI whistleblower, John Cole, also claims to know of security lapses in the screening and hiring of FBI translators. [Washington Post, 6/19/2002; Cox News Service, 8/14/2002; CBS News, 7/13/2003] The supervisor who told Edmonds not to make these accusations and also encouraged her to go slow in her translations is later promoted. [CBS News, 10/25/2002]
January 10, 2003: Government Employees Responsible for 9/11 Failures Are Promoted

FBI Director Mueller personally awards Marion (Spike) Bowman with a presidential citation and cash bonus of approximately 25 percent of his salary. [Salon, 3/3/2003] Bowman, head of the FBI's National Security Law Unit and the person who refused to seek a special warrant for a search of Zacarias Moussaoui's belongings before the 9/11 attacks, is among nine recipients of bureau awards for "exceptional performance." The award comes shortly after a 9/11 Congressional Inquiry report saying Bowman's unit gave Minneapolis FBI agents "inexcusably confused and inaccurate information" that was "patently false." [Star-Tribune (Minneapolis), 12/22/2002] Bowman's unit also blocked an urgent request by FBI agents to begin searching for Khalid Almihdhar after his name was put on a watch list. In early 2000, the FBI acknowledged serious blunders in surveillance Bowman's unit conducted during sensitive terrorism and espionage investigations, including agents who illegally videotaped suspects, intercepted e-mails without court permission, and recorded the wrong phone conversations. [Associated Press, 1/10/2003] As Senator Charles Grassley (R) and others have pointed out, not only has no one in government been fired or punished for 9/11, but several others have been promoted:

Pasquale D'Amuro, the FBI's counterterrorism chief in New York City before 9/11, is promoted to the bureau's top counterterrorism post. [Time, 12/30/2002]

FBI Supervisory special agent Michael Maltbie, who removed information from the Minnesota FBI's application to get the search warrant for Moussaoui, is promoted to field supervisor. [Salon, 3/3/2003]

David Frasca, head of the FBI's Radical Fundamentalist Unit, is "still at headquarters," Grassley notes. [Salon, 3/3/2003] Frasca received the Phoenix memo warning al-Qaeda terrorists could use flight schools inside the US, and then a few weeks later he received the request for Moussaoui's search warrant. "The Phoenix memo was buried; the Moussaoui warrant request was denied." [Time, 5/27/2002] Even after 9/11, Frasca continued to "[throw] up roadblocks" in the Moussaoui case. [New York Times, 5/27/2002]

President Bush later names Barbara Bodine the director of Central Iraq shortly after the US conquest of Iraq. Many in government are upset about the appointment because of her blocking of the USS Cole investigation, which some say could have uncovered the 9/11 plot. She failed to admit she was wrong or apologize. [Washington Times, 4/10/2003] However, she is fired after about a month, apparently for doing a poor job.

An FBI official who tolerates penetration of the translation department by Turkish spies and encourages slow translations just after 9/11 is promoted (see March 22, 2002). [CBS News, 10/25/2002] The CIA has promoted two unnamed top leaders of its unit responsible for tracking al-Qaeda in 2000 even though the unit mistakenly failed to put the two suspected terrorists on the watch list (see August 23, 2001). "The leaders were promoted even though some people in the intelligence community and in Congress say the counterterrorism unit they ran bore some responsibility for waiting until August 2001 to put the suspect pair on the interagency watch list." CIA Director Tenet has failed to fulfill a promise given to Congress in late 2002 that he would name the CIA officials responsible for 9/11 failures. [New York Times, 5/15/2003]
May 2004: Previously Public Information About FBI Whistleblower Is Now Classified

The Justice Department retroactively classifies information it gave to Congress in 2002 regarding FBI translator Sibel Edmonds. Senator Charles Grassley (R) says, "What the FBI is up to here is ludicrous. To classify something that's already been out in the public domain, what do you accomplish? ... This is about as close to a gag order as you can get." The New York Times reports that some of the information discussed is "so potentially damaging if released publicly" that it has to be classified. Topics like what languages Edmonds translated, what types of cases she handled, and where she worked is now classified, even though much of this has been widely reported on shows like CBS's 60 Minutes. [New York Times, 5/20/2004] In late 2002, the Justice Department invoked the rarely used "state secrets privilege" to limit what she could say. [Salon, 3/26/2004]
July 6, 2004: FBI Translator Whistleblower Lawsuit Dismissed

Former FBI translator Sibel Edmonds has her lawsuit against the Justice Department and FBI dismissed. Edmonds originally sued the FBI in March 2002 (see March 22, 2002) for being fired from her post shortly after revealing shortcomings in the translation department of the FBI. In October 2002, Attorney General Ashcroft asked a judge to throw out Edmonds' lawsuit against the Justice Department. He said he was applying the state secrets privilege in order "to protect the foreign policy and national security interests of the United States" and preserve diplomatic relations with (unspecified) nations. [Associated Press, 10/18/2002] The judge in the case, appointed by George W. Bush, agrees with the government's position, stating "... the plaintiff's case must be dismissed, albeit with great consternation, in the interests of national security." He says he cannot explain his decision in any further detail because the explanation itself would expose classified information. During his deliberation on the case, Judge Reggie Walton met privately on two occasions with the government's defense lawyers, but neither Edmonds nor her lawyer were allowed to attend these discussions. [CNN, 7/7/2004; Associated Press, 7/6/2004] A government report looking into Edmonds's allegations of wrongdoing in the FBI's translation department is released a few days later, but the FBI classifies the entire document. Not even Edmonds is allowed to see the contents. [Washington Post, 7/9/2004]
July 29, 2004: FBI Letter Vindicates Many of Whistleblower Sibel Edmonds' Allegations

A letter by FBI Director Robert Mueller regarding FBI whistleblower Sibel Edmonds is leaked to the media. Edmonds has made some very serious allegations about the FBI, including claims of important missed 9/11 warnings and the existence of a foreign spy ring inside US government agencies. Mueller's letter reveals that a highly classified Justice Department report on Edmonds has concluded that her allegations "were at least a contributing factor in why the FBI terminated her services." This report also criticizes the FBI's failure to adequately pursue her allegations of espionage. An anonymous official states that the report concludes that some of her allegations were shown to be true, others cannot be corroborated because of a lack of evidence, and none of her accusations were disproved. [New York Times, 7/29/2004]