Sibel Edmonds banner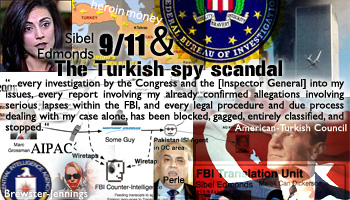 We are going to have rotating feature banners in the upper-right, to the right of the banner. The dimension is 350 wide by 200 tall, which should fit on 1000 pixel wide windows, and properly overflow when there isn't that much space.
 One case I find especially interesting is that of FBI whistleblower Sibel Edmonds, who stumbled on a number of shady things deep in the FBI in the days after 9/11. There will be a special page about Edmonds' case, including interesting bits and pieces, as well as reposted interviews, legal documents and some analysis of the potentially explosive case that could finally spill into public view in 2007.
Please check out our Sibel Edmonds, 9/11 & The Turkish Spy Scandal page for more on the case.